Looking for healthy 4th of July snacks that your kids will love? These stars and stripes frozen yogurt cups will be a hit with kids and adults alike!
I love creating delicious and festive treats while keeping them simple and healthy. With the 4th of July just a few days away, I wanted to create something that the kids would love and wouldn't think for a second that they were actually eating something healthy! These stars are stripes frozen yogurt cups are the a combination of festive and tasty, that your kids will never know they're snacking on something good for them! I'm partnering with Solo Cup to celebrate the upcoming holiday in a deliciously healthy way!
These stars and stripes frozen yogurt cupcakes are a treat that is simple to make, but my favorite part is the presentation. The gorgeous colorful layering really gives that WOW factor everyone will love!
How do you create the colorful frozen yogurt layers?
The red, white and blue stripes are created with all-natural ingredients you probably already have in your fridge! The blue layer is created with greek yogurt, blueberries and a little bit of blue food coloring.  The white stripes are made with vanilla greek yogurt.  Finally, the red layer is created with raspberries and strawberries!
The key is to puree each fruit individually, and water it down just slightly so that it's just runny enough to create a smooth layer of color.  For the blueberry layer, I added just a bit of blue food coloring, because blueberries are more of a purple color.  If you don't want to add any artificial coloring, just omit it! It will taste just the same!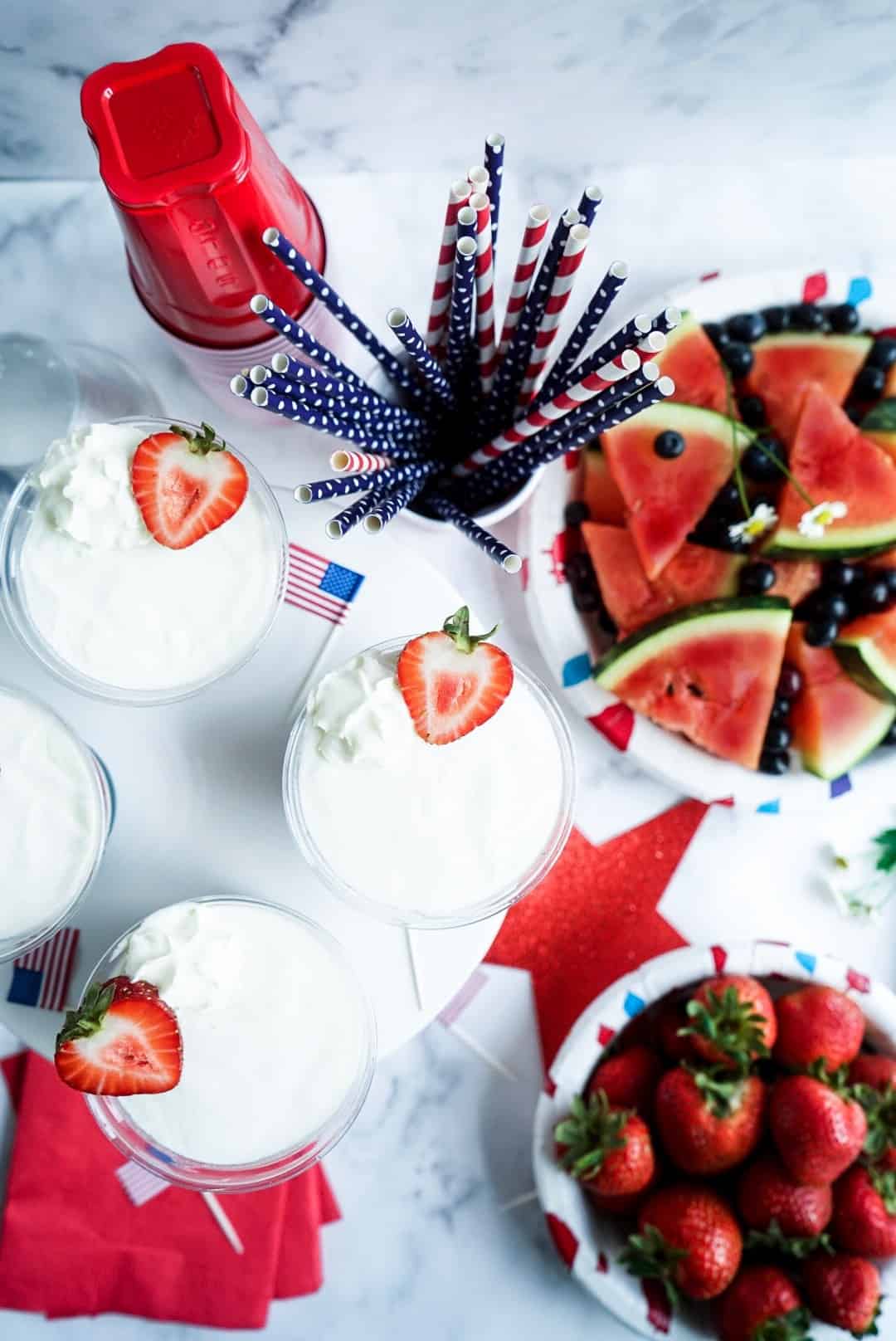 Start by blending each of your fruit layers individually.  I have a great immersion blender at home, but you're welcome to use a food processor, regular blender, or just a whisk will do! Water each layer down slightly, and if you'd like, add some sugar to taste.  That's completely optional!  I think that the fruit has enough natural sweetness on it's own, so I didn't add any sugar to mine.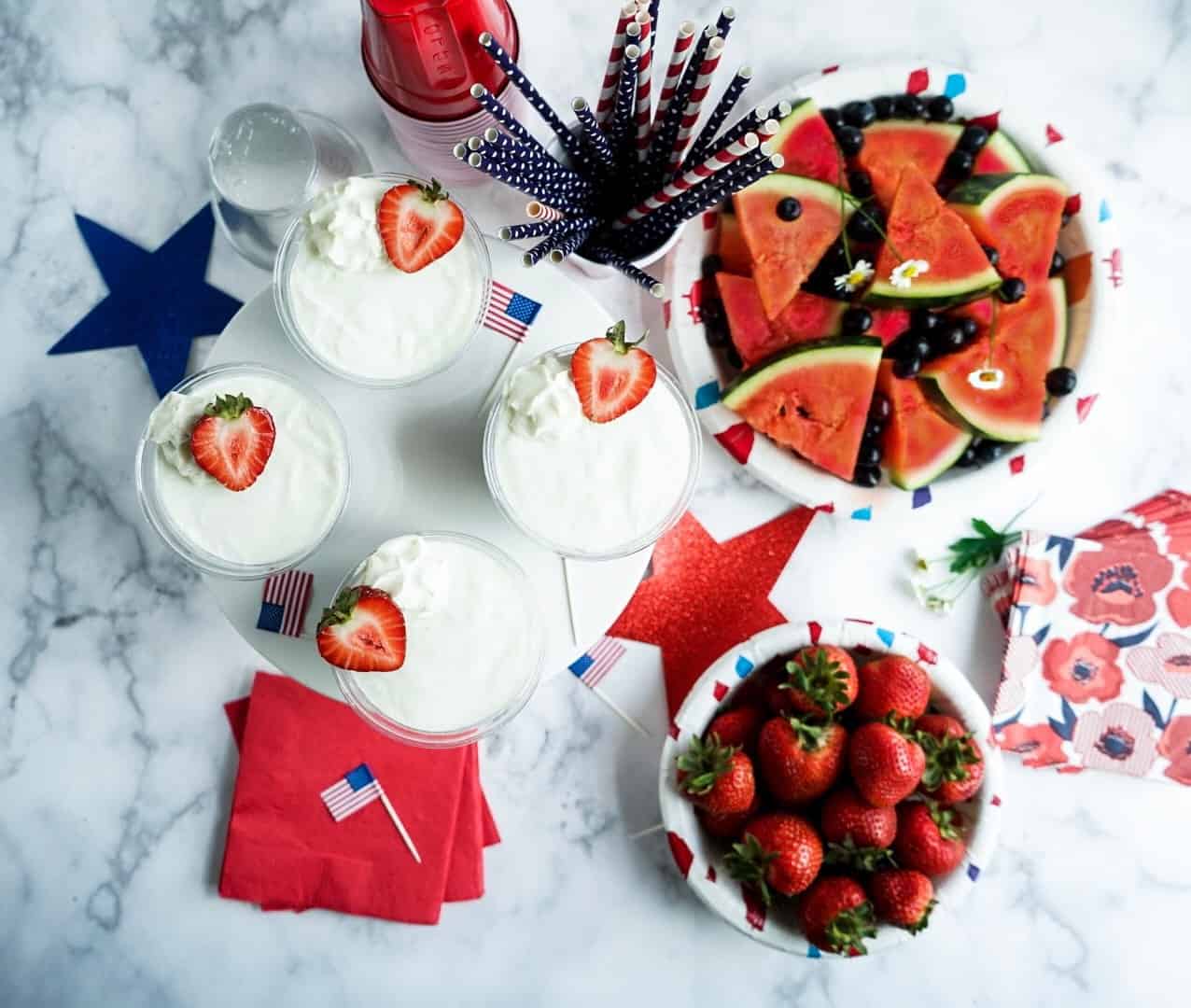 How do I assemble the stars and stripes frozen yogurt cups?
It takes some time to assemble each frozen yogurt cup because you have to freeze each layer completely before adding the next layer.  Take a Clear Solo 9 oz cup, and start layering! Starting with about 3/4″ of the blueberry layer, then alternate vanilla greek yogurt, strawberry, then vanilla greek yogurt again! The red and white stripes should be about 1/2″ wide.  Top with a fresh strawberry and whipped cream if you'd like!  Grab a spoon and dig in!
I really think these stars and stripes frozen yogurt cups will be a hit with both kids and adults! They're festively fun, and will fit in with all your festive party garb!
Your guests will comment and smile and happily take one because it looks like you worked so hard on them! And as an added bonus, they're less than 60 calories per cup!
Now grab your favorite cocktail in a solo cup and let's get this party started!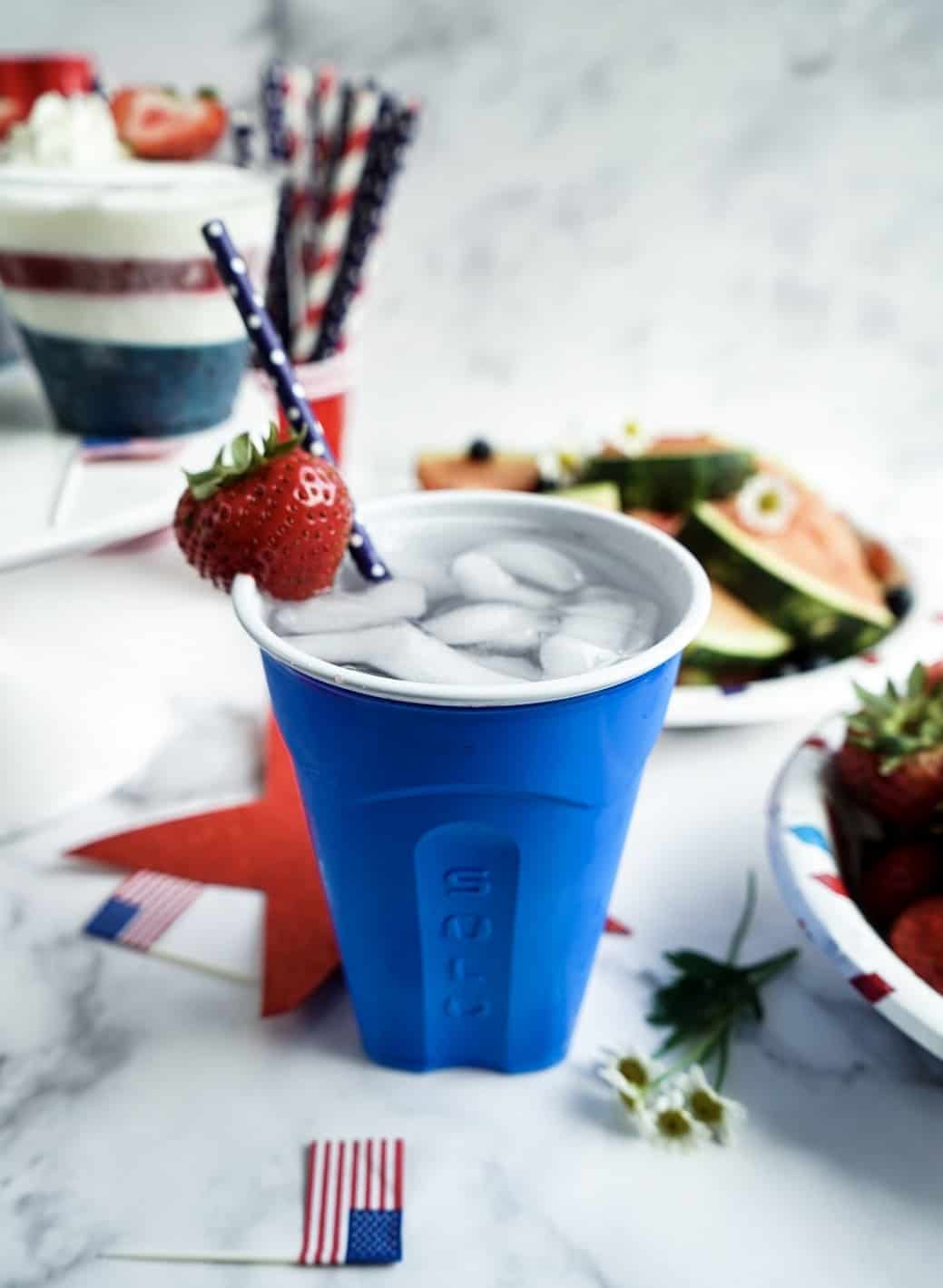 If you loved this recipe, be sure to check out my Firework Popcorn!
[simple-recipe:10355a]
Want to pin this for later? Click on the image below!