With just a few ingredients, this fun Southern twist on traditional hummus will be a your go-to snack for a wine night with girlfriends or your next potluck!
If you follow me on Instagram, you know that Allison and I just got back from a delicious adventure to one of my new favorite places, Charleston, South Carolina.  This charming town was a culinary dream, filled with the fluffiest biscuits and creamiest grits a girl has ever tasted.  I literally stuffed myself at every meal and didn't regret a second of it.  That's what the holidays are for, am I right?  I may do another post exclusively for our trip to Charleston, but for now I'll just give you a sneak peek.
For New Year's Eve we dined at one of the best restaurants in Charleston, Husk.  We ordered a split pea hummus as a snack while we sat at the bar, and I was blown away by this dip! I could probably eat an entire baguette with it and call it a meal, that's how much I loved it.  The second I got back to Chicago, I made a goal for myself to try and recreate the split pea hummus in my kitchen.  I think I've done it.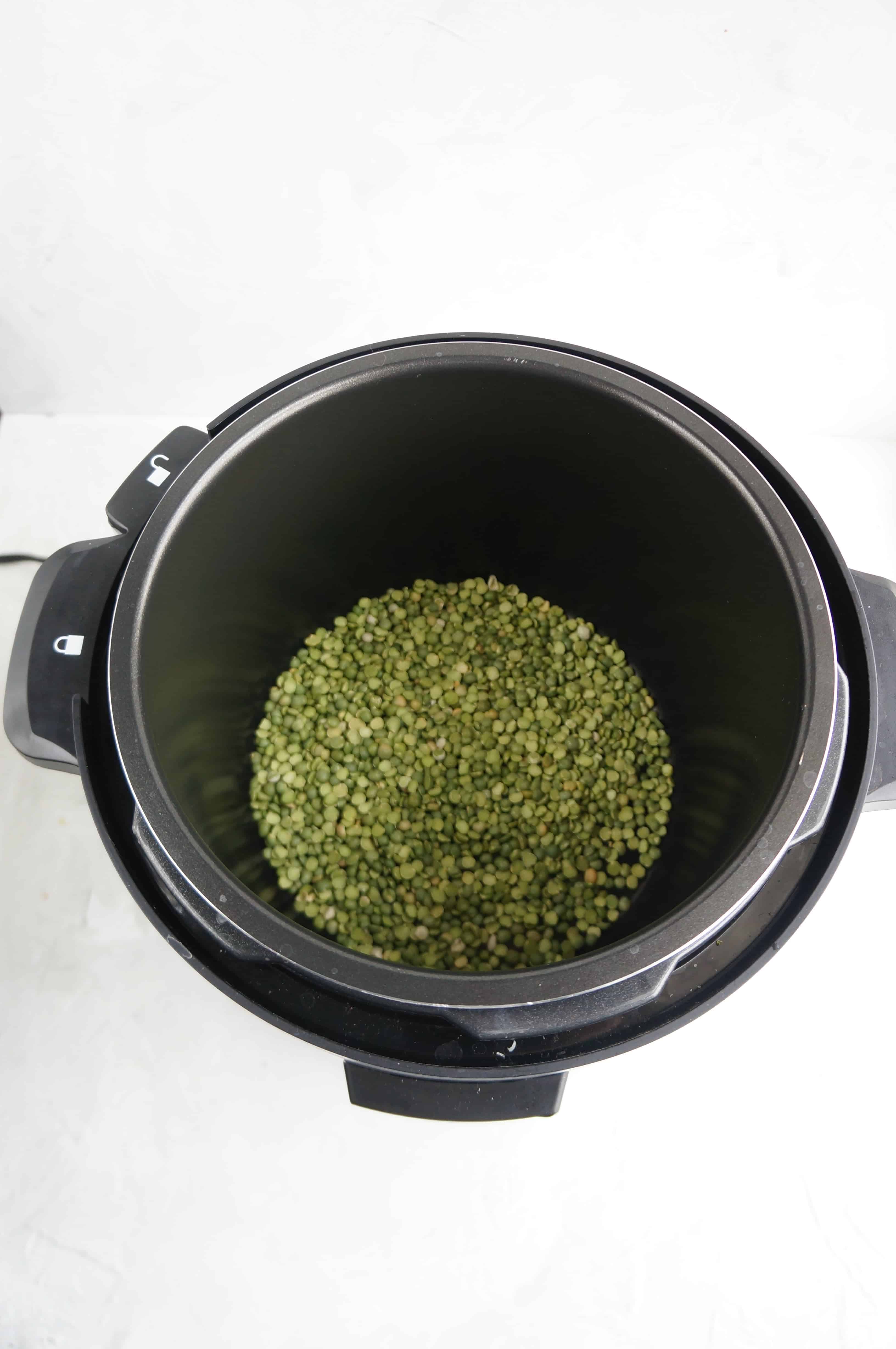 Oddly enough, split peas were a little difficult to find in my local grocery store, so I hopped on Amazon so I could try and recreate this as soon as I could. If someone could tell me where I find split peas in the grocery store and help a sister out, I'd really appreciate it.  Because I want to make this every damn week! 
This isn't like a traditional hummus because it doesn't include any chickpeas, but it does have tahini, so hence the name.  You can call it whatever you'd like!
What's the difference between split peas and lentils?
While both are legumes, split peas and lentils come from different varieties of legumes. Split peas are a type of field pea, which is a pea grown specifically for drying, while lentils are their own type of legume, harvested as the seed of the plant and dried.
Split peas are field peas, which are a variety of yellow or green peas grown specifically for drying. When these peas are hulled and then split in half along the natural seam, they become split peas, which allows for faster cooking and eliminates the need to presoak. Split peas can be stored in an airtight container for up to one year.
Split peas are high in protein and fiber, and low in fat. There is no need to soak split peas before cooking, and they turn very creamy when cooked through.  I used green split peas for this recipe, but yellow split peas also exist.  Green split peas are sweeter and have less starch than yellow. 
What if I don't have an Instantpot or pressure cooker?
No need to worry! You can cook the split peas on the stove top, it's just going to take a bit longer.  Bring the garlic and 3 cups of water to a boil in a medium saucepan.  Add the peas and return to a boil.  Cover and reduce the heat and cook for 25 minutes.  Stir in 1/4 tsp salt and cook for another 15 minutes and then drain.
What do I serve the split pea hummus with?
I sliced up a crusty baguette and served it with some sliced tomatoes and feta.  It's delicious on it's own, or with some veggies or pita chips, too!  What will you serve it with?
Print
Instant Pot Split Pea Hummus
Author:

Nicole Triebe

Prep Time:

5 minutes

Cook Time:

20 minutes

Total Time:

25 minutes

Yield:

10

1

x
---
1/2 onion, diced
1 cup dried green split peas
2 cups water
2 garlic cloves, diced
1/4 cup olive oil
2 tbl lemon juice
1 tbl tahini
1/4 tsp ground cumin
1 tbl sesame oil
1 tsp salt
Additional salt and pepper to taste
---
Instructions
On browning mode, saute onion in Instantpot for 5 minutes. Add garlic and saute for 2 minutes. Add salt and split peas and stir, add water. Cover and secure lid, set for 10 minutes on high manual mode.
When cooking time is over, let the pressure come down naturally for 15 minutes. Remove the lid, being careful of the steam.
Stir the peas, add lemon juice, olive oil, sesame oil, cumin and tahini and salt and pepper to taste. If you like your dip really smooth, pulse in a food processor until desired consistency. Garnish with additional sesame oil and sesame seeds. Serve with veggies or a sliced baguette.
---
If you want to pin this for later, click on the image below!