This Spicy Mango Ginger Margarita is going to be your adult beverage of summer! So easy to make, you can have a tasty margarita in your hand in minutes!

Patio season is officially open! The weather was just gorgeous yesterday and we got a sweet taste of what summer will be like. We may still be social distancing, but at least we'll have a margarita in hand!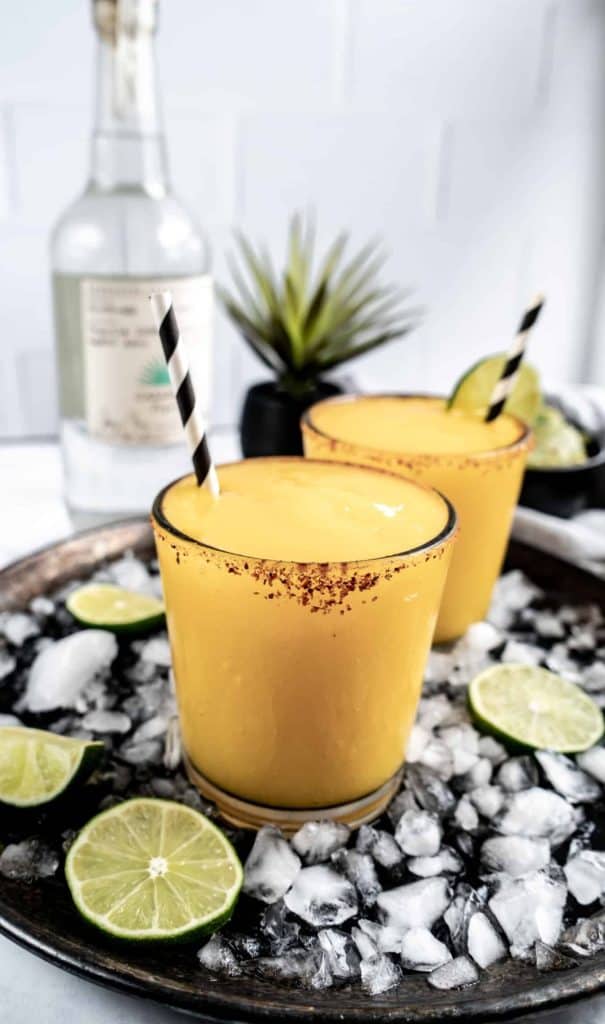 There's just something that just screams summer like a nice frosty margarita with a touch of lime, and today we're putting some mango in the mix to make the perfect adult beverage! You'll be living for that first salty sip–all the way to the last drip.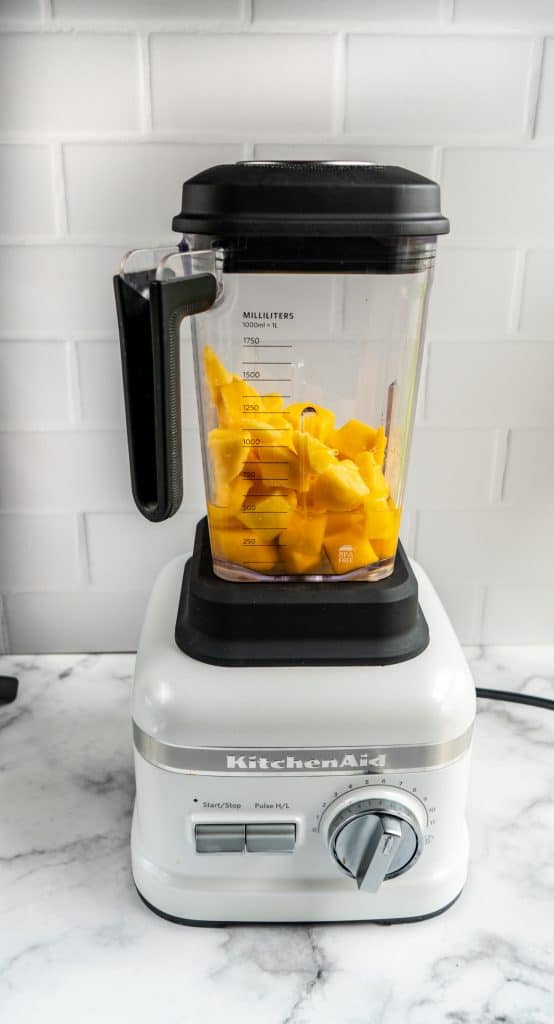 What's in a spicy mango ginger margarita?
Whether frozen or on the rocks, your spicy mango ginger margarita will include:
Mango – if you're choosing to go the frozen route, pick up some frozen mango from the freezer section at your local grocer. If you like it on the rocks, grab some mango nectar!
Triple sec – Triple Sec is an orange-flavored liqueur made from the dried peels of bitter and sweet oranges. If you don't have Triple Sec, Cointreau would also work. It is sightly stronger in alcohol content than Triple sec, so keep that in mind!
Lime juice – a classic margarita ingredient! Fresh is best, but if you don't have fresh limes on hand, you can substitute bottled lime juice for fresh. The flavor of fresh lime juice is much brighter and more intense than bottled, but if you're in a pinch, bottled is just fine! Before substituting, check the label to be sure it is pure juice. Some brands are sweetened with high fructose corn syrup, which will sweeten your spicy mango margarita.
Ginger – This spicy root is a great flavor compliment to the flavor of the sweet mango, and adds a little kick to this spicy mango margarita! Add to your taste – more if you like it extra spicy!
Tequila – A silver or Blanco tequila is best for margaritas. This tequila is young, only aged in oak for up for two months. It has a stronger flavor that mixes well, like in a margarita! Gold tequilas, not ideal for margaritas, have been aged longer in the oak. My favorite is Casamigos!

How do I make a spicy mango ginger margarita?
IF you want a frozen margarita:
Combine frozen mango, tequila, lime juice, triple sec, ginger and ice water in a blender. Blend until smooth.
If you want it on the rocks:
It's tempting to just dump ingredients into a glass and call it a day, but there are actually good reasons why you should take the time to use a cocktail shaker:
Ingredients like fruit juice and simple syrup have different densities than alcohol. Shaking them together ensures they are thoroughly combined.
Shaking gives drinks like margaritas a light, frothy texture because of the air bubbles produced during shaking.
A shake in a cocktail shaker will ensure your spicy mango margarita is perfectly chilled and just slightly diluted before it is served to ensure the perfect flavor from the first sip.
So combine mango nectar, tequila, lime juice, triple sec, and ginger in a cocktail shaker and give it a good shake.
For both drinks, rim the top edge of the glass with sliced lime. Pour Tajin seasoning on a plate and dip the rimmed edge in the seasoning. Pour in your margarita! Garnish with a lime and enjoy!
Need some snacks to go along with your margs? Check out my steak fajitas!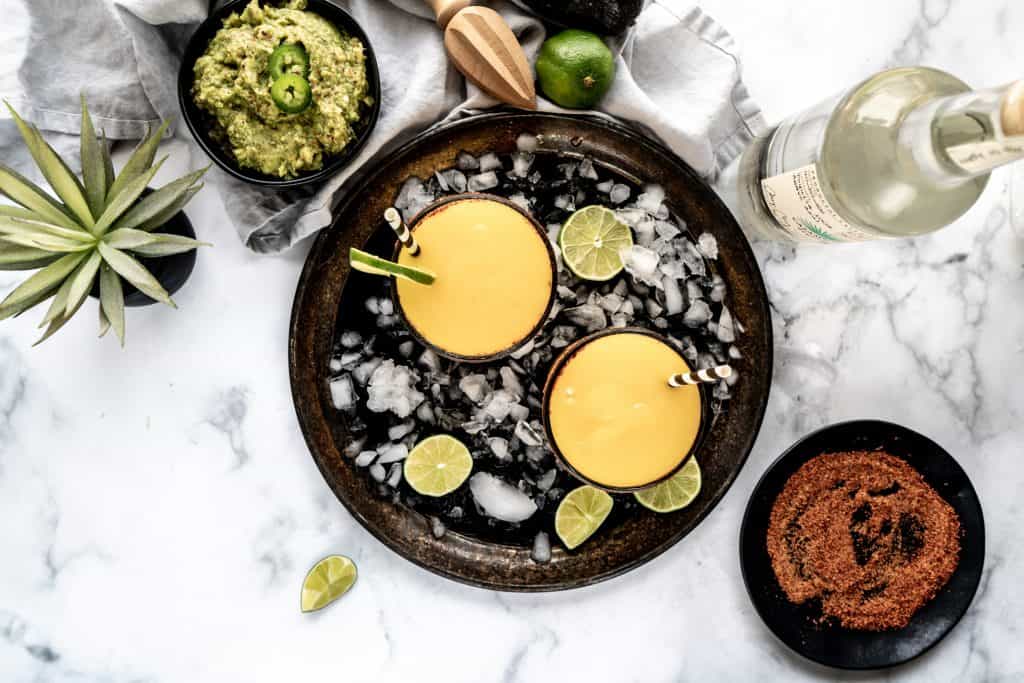 Print
Spicy Mango Ginger Margarita
Author:

Nicole Triebe

Prep Time:

5 minutes

Total Time:

5 minutes

Yield:

4

cocktails

1

x
---
10 oz frozen mango
2/3 cup good tequila
1/4 cup fresh lime juice
2 tbl triple sec
2 cups ice water
1–2 tsp grated ginger
---
Instructions
Combine all the ingredients in a blender and blend until smooth.  Run a sliced lime over the rim of your margarita cups and pour Tajín Clásico Seasoning on plate.  Dip rim of the glass into Tajín Clásico Seasoning and pour margarita into glasses.  Garnish with lime.  
---
Want to pin this for later? Click on the image below!