This Arugula Salad with Sesame Salmon is a light salad, full of diverse flavors and textures in every bite. It's the perfect plate for a light summer lunch!
Allison and I just got back from northern Michigan yesterday, and I feel so refreshed!  Her parents have a cottage on a lake up north and we try to go there a couple times a summer.  The weather was a little rainy the first day we were there, so we traveled up to Traverse City for the day. We were able to explore a few of the wineries there, which was amazing. I'll go into that on another post, but I just want to give you a sneak peak of the views we had!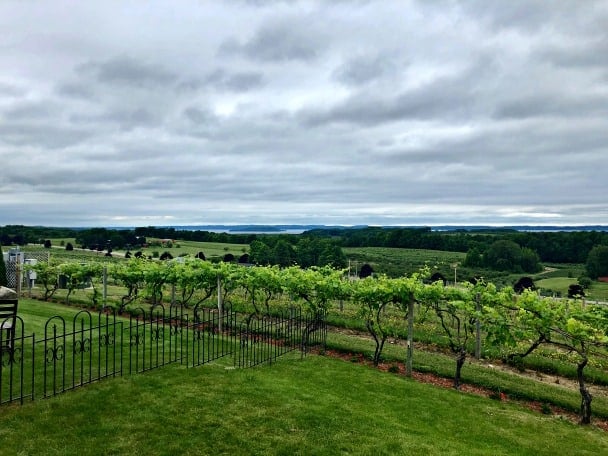 As I mentioned on my last post, I used to feel a huge sense of guilt whenever I took time off work. If you're new to following me, I just quit my corporate job to pursue Windy City Dinner Fairy full time.
It's been terrifying and exciting all at the same time.  May 1st of 2018 was my 6 months anniversary, and I'm just starting to feel like I'm more comfortable.  Don't get me wrong, I still have moments of panic and worry that I'll fail. Overall, I feel more confident in my ability to really succeed as an entrepreneur.  Allison has been so supportive and I feel like that really gives me a confidence boost.
I've also found a couple groups of strong, independent women to bounce ideas off of.  We are planning on getting together once a month or so to talk about issues we're having in our business.  It honestly helps so much.  I am a huge advocate of helping fellow female business owners, not competing against them.  There's so much business to go around in Chicago, and everyone benefits when we stick together!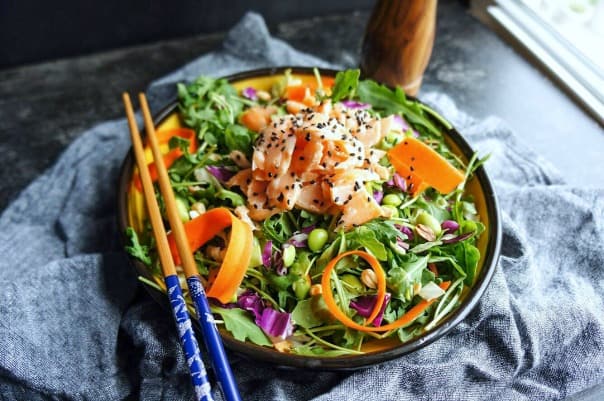 Ok, back to the food!
Up north we ate really simple meals with the freshest ingredients.  I really feel so much better when I eat with fresh veggies and produce, don't you? So when we got back, I tried to focus on doing the same.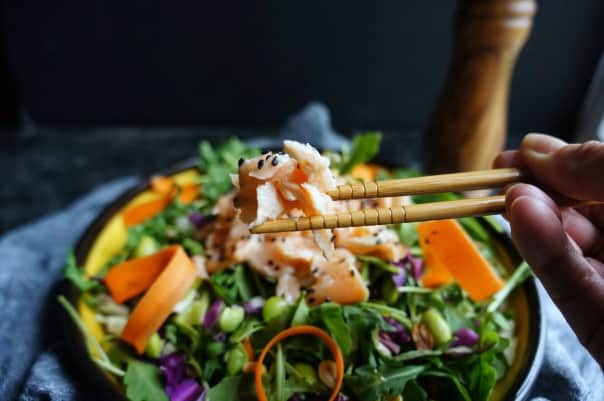 I recently discovered Here dips and marinades and I'm obsessed with them! Their carrot sesame miso dressing is perfect for marinating and dressing salads! I love anything sesame, so when I opened this bottle, I knew it would be a great marinade. I immediately thought of marinating fresh salmon to top a salad. I have been sous vide obsessed for a while now, so I just put 1/2 a cup in a ziplock bag with my salmon and let the sous vide do it's magic.
After the salmon is done cooking, throw it on top of some yummy mixed greens and top with more carrot sesame miso dressing for the perfect lunch! This Arugula salad with Sesame Salmon has become my go-to at home lunch!
If you loved this recipe, be sure to check out my Spicy Asian Meatballs with Zucchini noodles or my Honey garlic meatballs!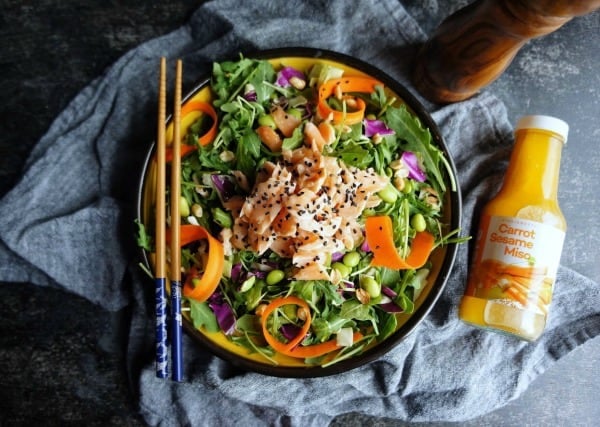 Print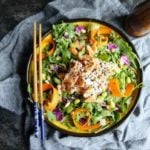 Arugula Salad with Sesame Salmon
Author:

Nicole Triebe

Prep Time:

10 minutes

Cook Time:

1 hour

Total Time:

1 hour

Yield:

1

1

x
---
1 4-6 oz piece of fresh salmon
1/2 cup Here Carrot Sesame Miso dressing, plus 1 tbl more to toss salad
1 cups arugula
1/2 cup purple cabbage, chopped
1 carrot, sliced or cut into ribbons
1/8 cup edamame
2 tsp tablespoons black sesame seeds
---
Instructions
Preheat your sous vide to 110 degrees F.
Once the water temp is reached, combine fresh salmon and 1/2 cup here marinade in a ziplock bag.  Attach bag to the side of the pot with a clip and let the salmon cook for 1 hour (for 1″ thick salmon)
While the fish is cooking, assemble the salad.
---
Notes
Chop up spinach, purple cabbage
Combine in large bowl with carrots and edamame.
Toss with dressing, and mix until everything is evenly coated.
Place into a bowl, top with salmon, and sprinkle with black sesame seeds.
Want to pin this for later? Click on the image below!