This herbaceous twist on a classic cocktail, the Rosemary Old Fashioned, uses rosemary to provide a nice aromatic note and orange bitters to round out the drink.
The Cubs season may be over, but Wrigley Field isn't closed for the season!  The Bourbon Legends Boxcar Tour is traveling across the United States and is making a stop in Chicago next week!  Jim Beam's parent company, Beam Suntory, is bringing its Bourbon Legends Boxcar Tour to Chicago Nov. 7 and 8, tenting off Wrigley's outfield to set up an immersive whiskey pop-up.  This uniquely delicious pop-up will be one's ticket to the world of America's native spirit, letting you taste a variety of bourbons, learn about the process of making it, and discover the places behind some of the most legendary bourbons in the world!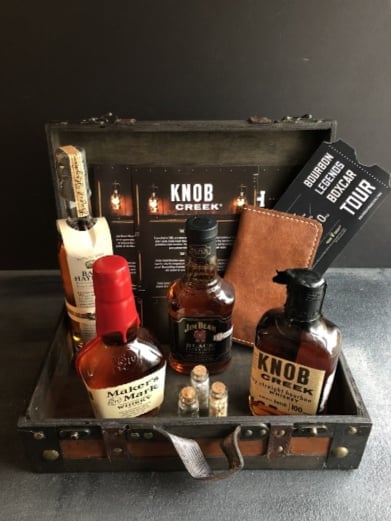 TheBourbon Legends Boxcar Tour will include Bourbon experts and icons that will walk you through professional tastings, and food pairings, from the premium collection of their bourbon legends. As an added bonus, local bartenders will be creating refreshing bourbon cocktails customized to your personal taste preferences!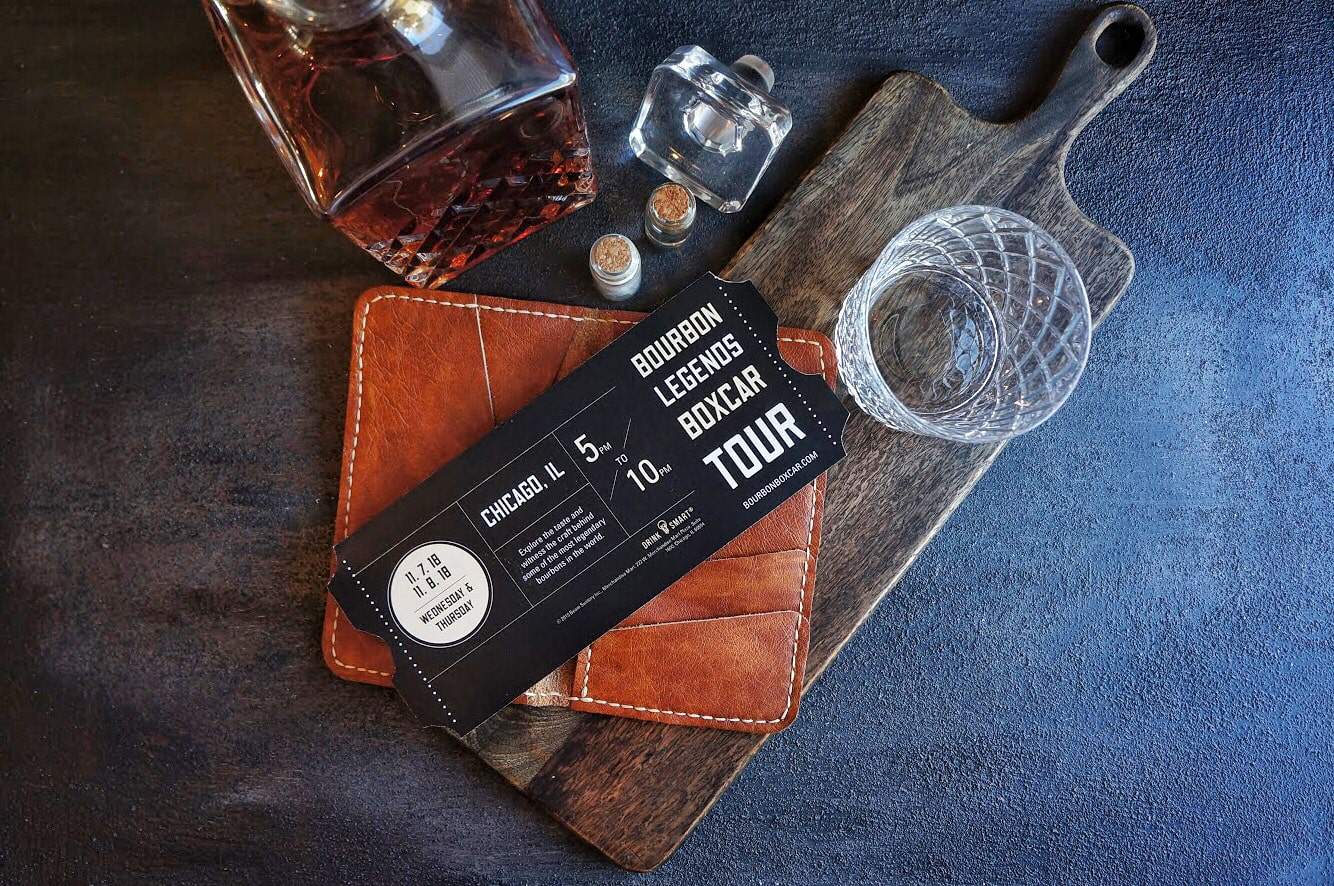 In addition to getting an behind the scenes look at the world of Kentucky bourbon at the Bourbon Legends Boxcar Tour , you'll have the chance to sample iconic bourbons from the legendary labels themselves: Jim Beam®, Maker's Mark®, Knob Creek® and Basil Hayden's®!  While savoring each sip, you'll also be able to munch on mouth watering Kentucky BBQ, enjoy delicious cocktails and capture Insta-worthy memories right on the historic Wrigley Field!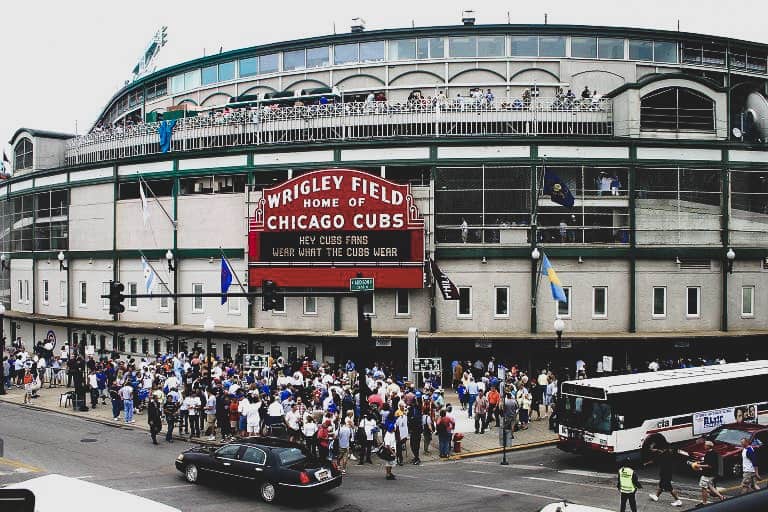 TheBourbon Legends Boxcar Tour event runs from 5 to 10 p.m. both days, and it's free, but there's a catch!  You need to RSVP at least 24 hours in advance on the event website, www.bourbonboxcar.com/chi, if you want to go.  Click on "Reserve Your Spot Now." Select the city and input your Access Code. If you have not received an access code, then click the Join the Waitlist button.  They will email you an access code if spots are still available.
I'm doing a giveaway NOW on my Instagram, so follow along to enter!
Must be 21+ to attend the event and fans interested in attending must RSVP at www.bourbonboxcar.com at least 24 hours in advance.
To get you even more excited about this iconic event, I wanted to give you a little background on bourbon!
When was bourbon invented? 
This is a disputed fact; many believe that bourbon was not invented, but instead evolved with many hands in the barrel, so to speak, such as those who emigrated from Pennsylvania because of the Whiskey Excise Tax. It is a fact that in 1789 Elijah Craig, Baptist minister, opened a distillery in Georgetown, Kentucky.
Why does bourbon only come from Kentucky? 
Bourbon is All-American. Whiskey may be made everywhere from Brooklyn to Scotland but in 1964, Congress declared bourbon "America's Native Spirit." That means to be called bourbon, it must be made in the U.S. But really, everyone knows that means Kentucky—95 percent of the world's bourbon is made in Kentucky!
What's the difference between Whiskey and Bourbon?
The main difference between scotch and whisky is geographic, but also ingredients and spellings. Scotch is whisky made in Scotland, while bourbon is whiskey made in the U.S.A, generally Kentucky. Scotch is made mostly from malted barley, while bourbon is distilled from corn.
Have you entered to win your pass to Bourbon Legends Boxcar Tour ? What are you waiting for?!? Now let's warm up your palette by making this Rosemary Bourbon Old Fashioned!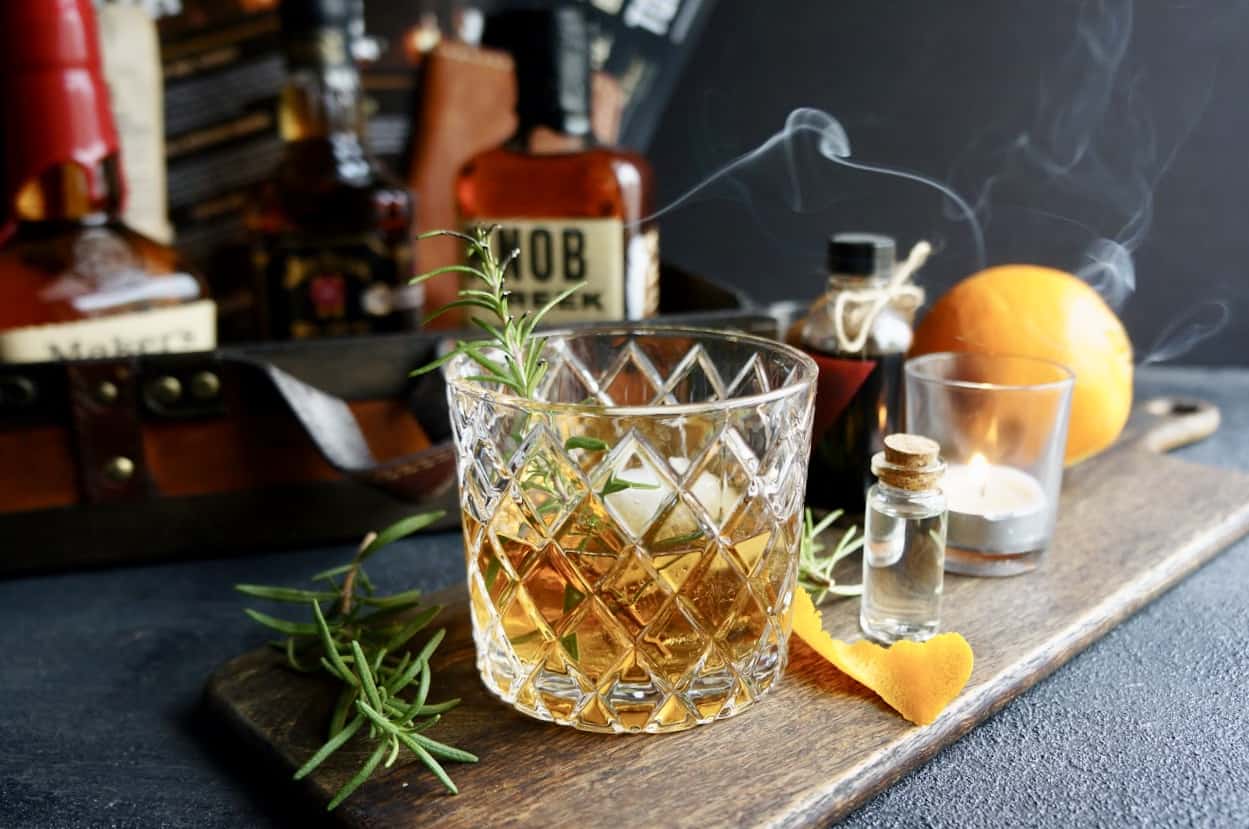 If you loved this recipe, be sure to check out my blood orange whiskey sour!
Print
Rosemary Bourbon Old Fashioned Cocktail
Author:

Nicole Triebe

Prep Time:

10 minutes

Total Time:

10 minutes

Yield:

1

1

x
---
2 oz

Bourbon
.25 oz Rosemary Syrup (see recipe below)

2

Dash Orange Bitters
---
Instructions
To make the rosemary syrup, combine equal parts water and sugar in a pot. Add several sprigs of fresh rosemary. Heat mixture until just barely simmering and remove from heat. Let the syrup steep for 10 minutes, and then remove the rosemary.
In a rocks glass combine the bourbon, rosemary syrup, and orange bitters. Add ice and stir to chill the drink. Garnish with a rosemary sprig and an orange peel.
---
Want to pin this for later? Click on the image below!