This creamy rigatoni with vodka dish has a perfect blend of creamy marinara sauce and just a touch of vodka. So easy and deliciously Italian!
This Italian classic was my favorite dish to eat when I worked at an Italian restaurant right out of culinary school. I had never had vodka sauce before and fell in love with this decadent creamy tomato sauce. I quickly realized how easy it was to make and now it's my favorite sauce to make at home! This recipe is perfect for dinner with family, friends, or a date night at home!

How do you make vodka sauce?
Similar to most sauces, you'll start with olive oil, butter, and minced onion. Over medium heat, let the onion cook until it's translucent. Next, add in the spices: dried oregano, basil, salt, fresh ground black pepper, and crushed red pepper. Once the onion has cooked down, I add in minced garlic and sun-dried tomato and cook for about a minute until the garlic is fragrant. Deglaze the pan with white wine and scrape up any bits of cooked onion and spices.
Next, you'll add the tomatoes! I always use a combination of stewed tomatoes and tomato sauce. Stewed tomatoes come in different varieties, so make sure you use ones that are stewed with basil and garlic. I also like to add a bit of tomato paste to my sauce to achieve a more intense tomato flavor. When it comes to tomato paste, a little goes a long way!
Lastly, you'll add the vodka, cheese, and cream and blend!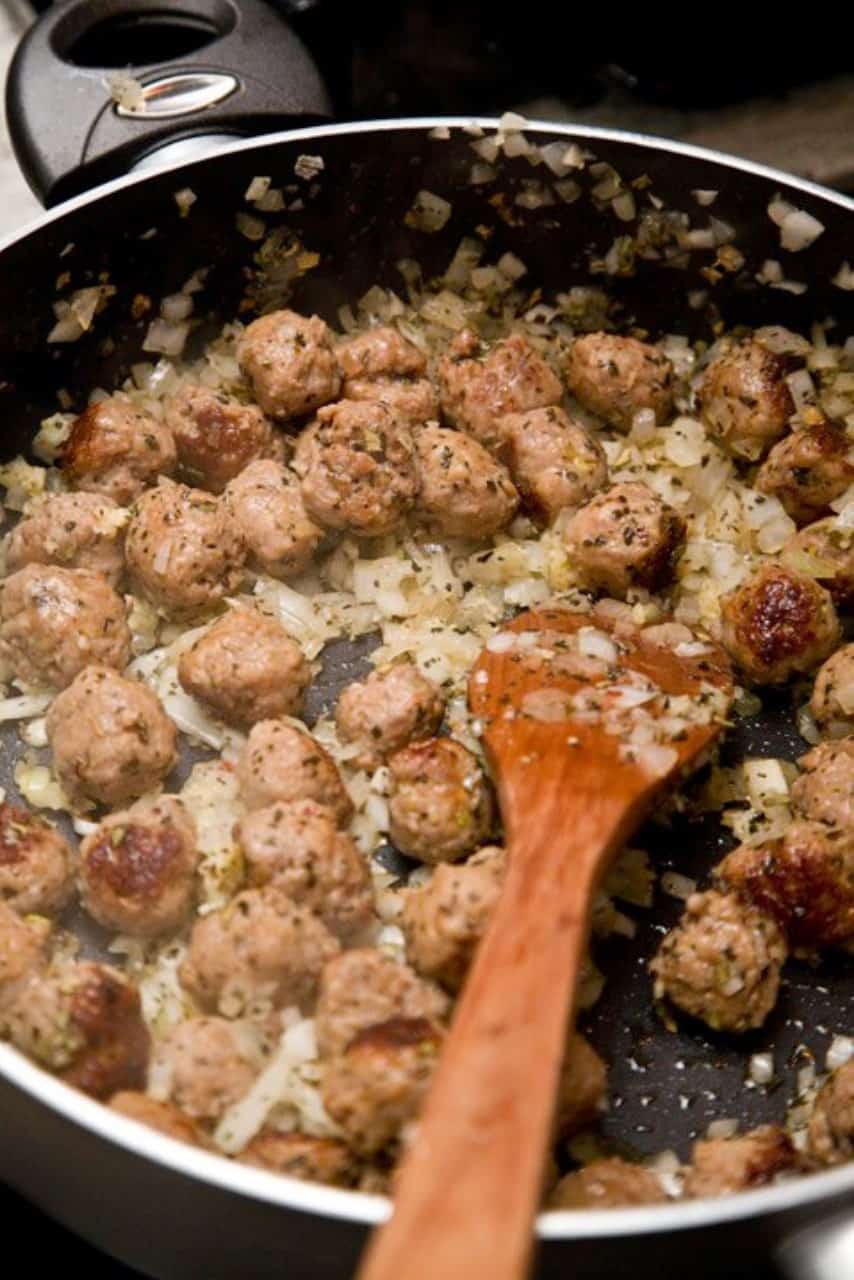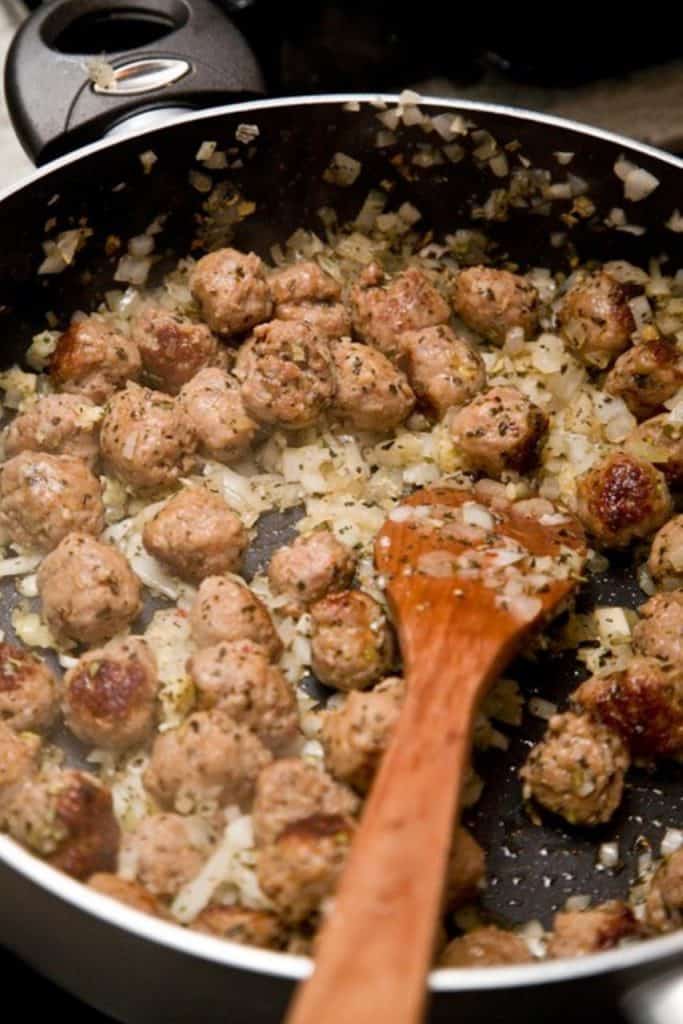 What does the vodka do in vodka sauce?
Although vodka drinks are generally flavorless, vodka adds tons of flavor to a marinara sauce when it's added. At first, you taste a bit of heat and a slightly peppery flavor, and then you'll discover herbal flavors in the vodka sauce you wouldn't expect. The vodka helps balance out the sweetness of the tomatoes and cream and leaves you with a beautifully creamy sauce.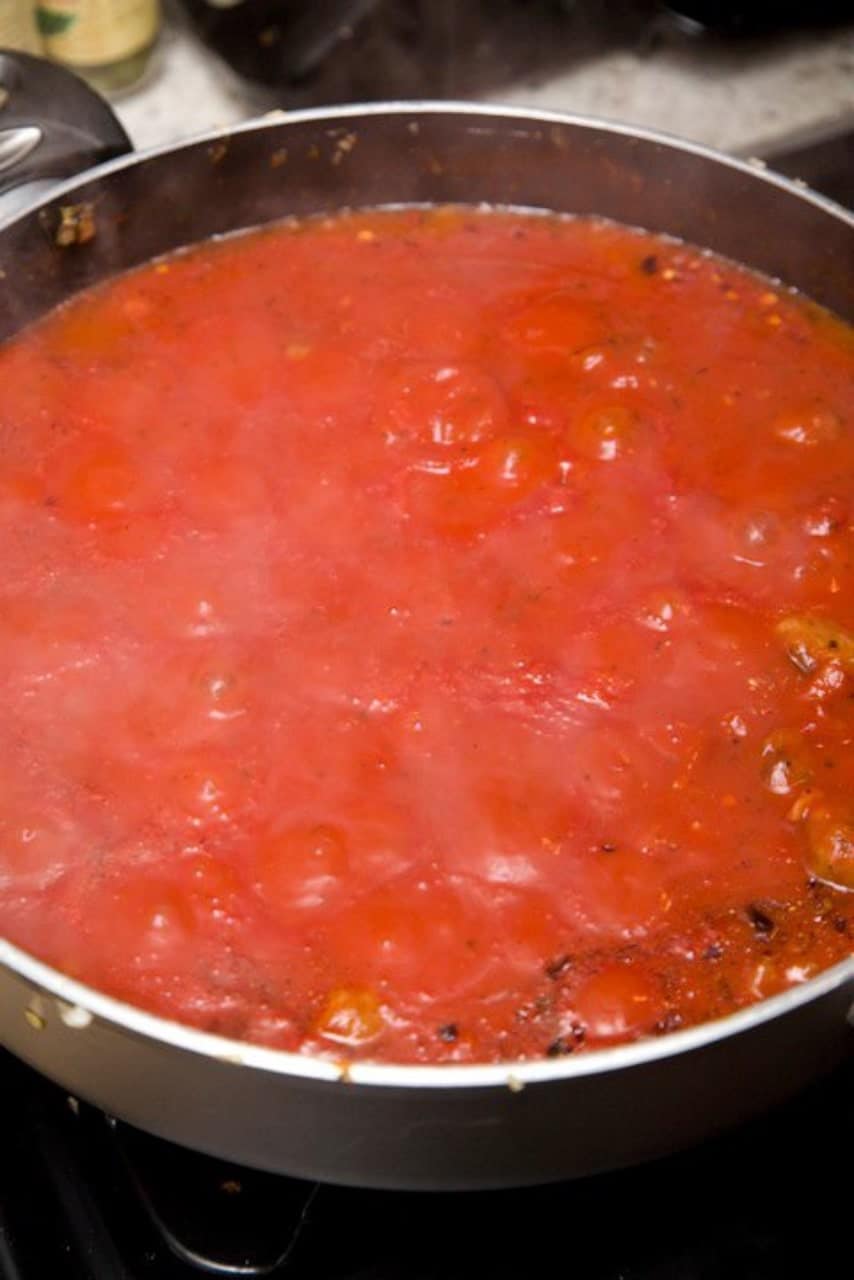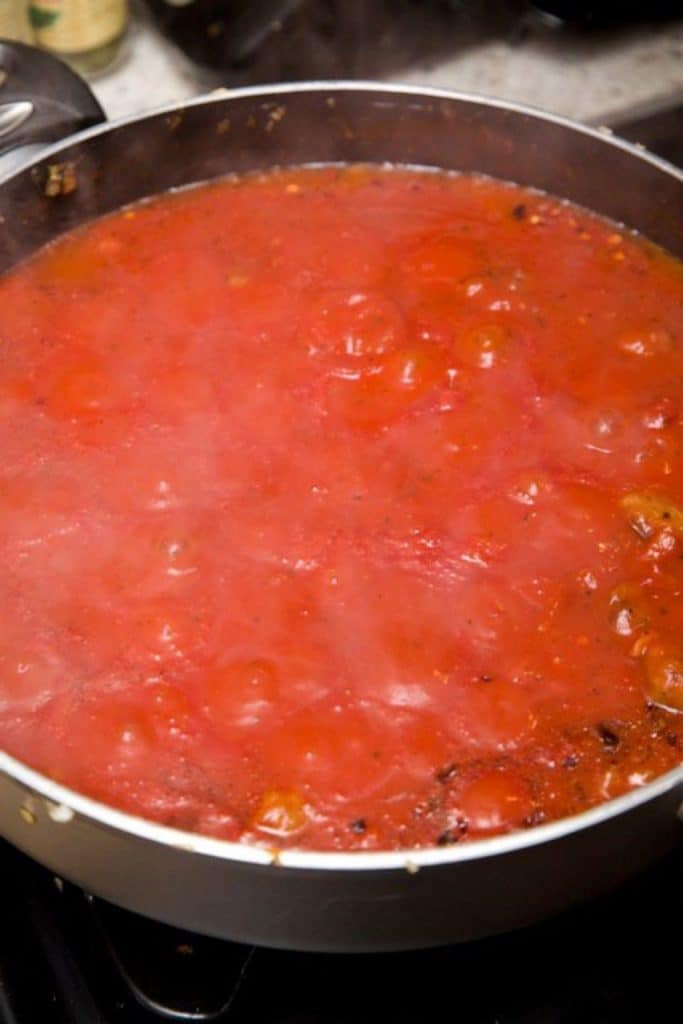 Can I freeze this sauce?
This sauce is perfect for freezing! Make sure you cool the vodka sauce to room temperature after it's finished cooking. Freezing it before cooling will cause ice crystals to form and can cause freezer burn. Freeze it in a shallow container or ziplock bag so it freezes quickly.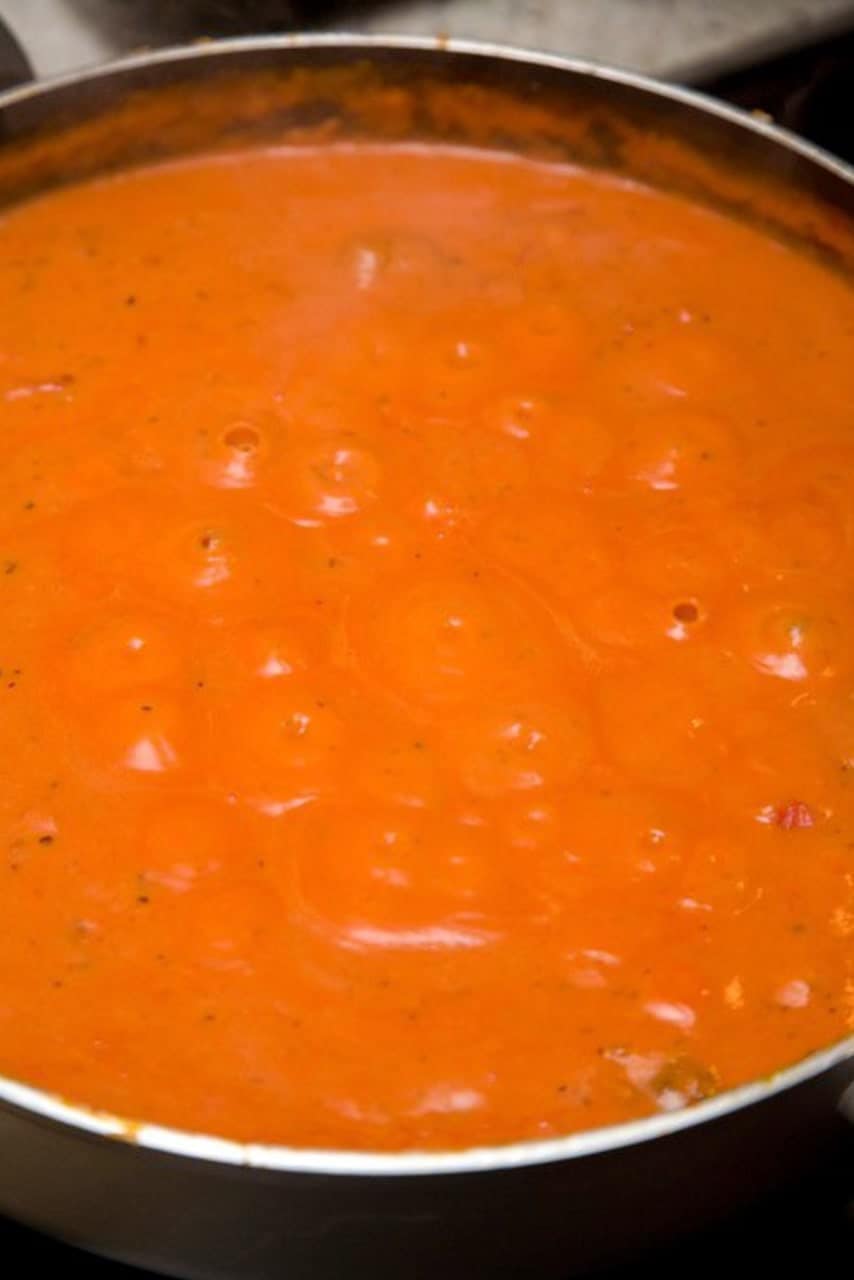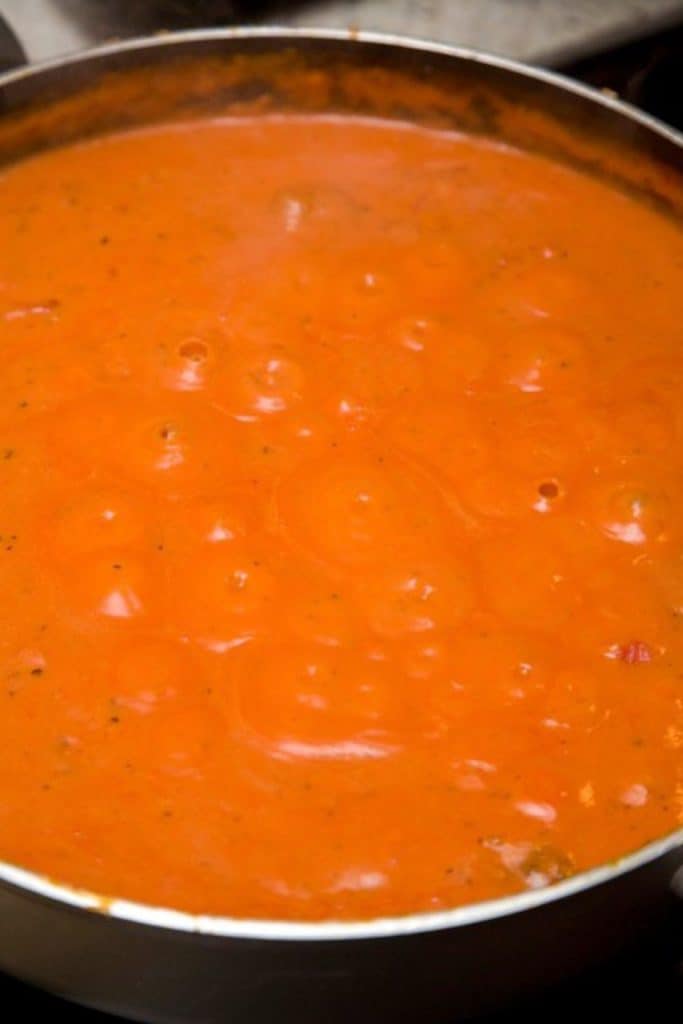 To use the sauce after freezing, remove the bag from the freezer and allow it to thaw completely in the fridge for several hours or overnight. When ready to use, pour the sauce into a saucepan. You may notice that the sauce has separated or has a gritty texture, but don't worry! Take a whisk and stir the sauce as it heats in the saucepan. Once the sauce is heated through, it should have returned to its original consistency.
Prepare the Rigatoni noodles according to the package instructions! Don't overcook– it's actually better if you remove it from the water when it's somewhat al dente, rather than soft. Garnish with fresh parsley or basil! I threw some burrata on there for good measure. Bon appetit!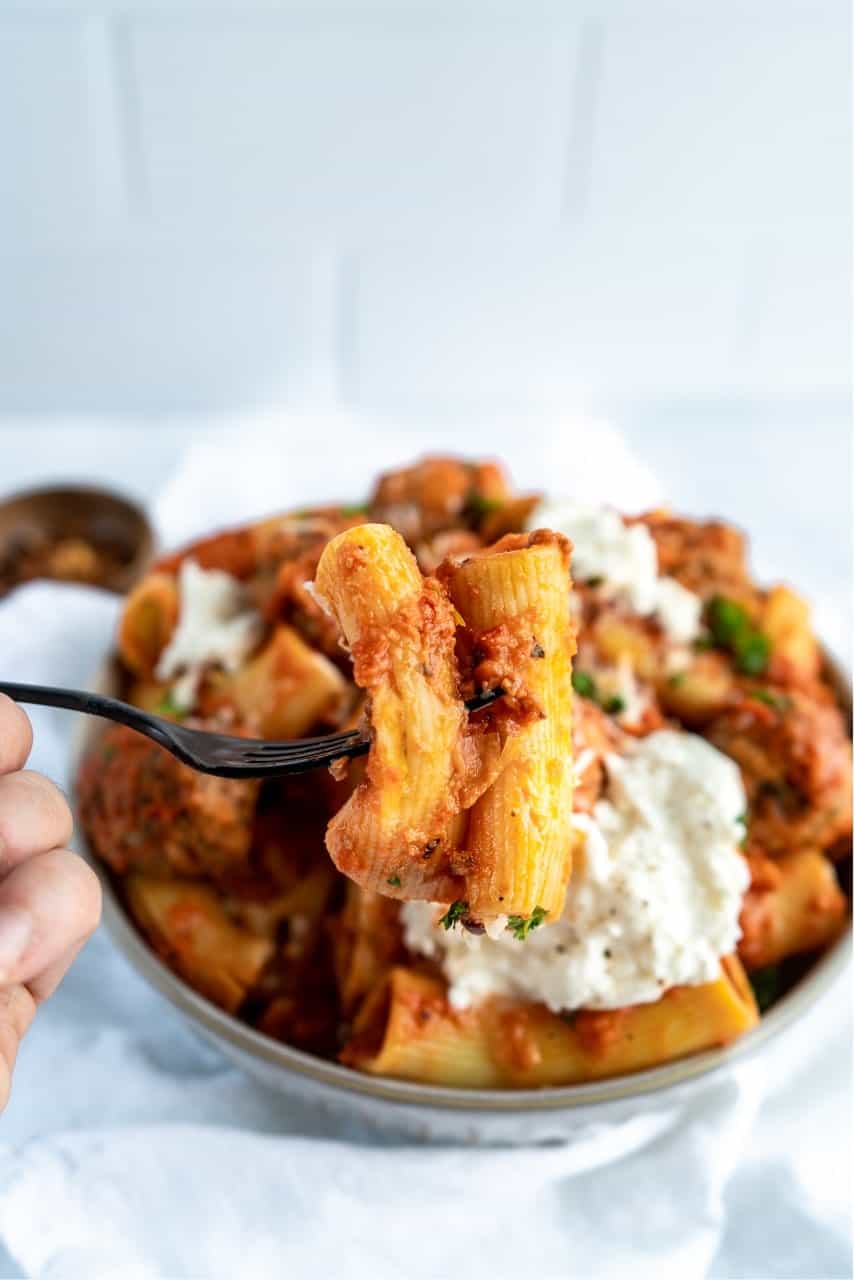 Print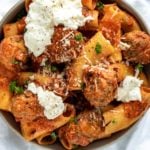 Rigatoni with Vodka Sauce and Spicy Sausage
Author:

Nicole Triebe

Prep Time:

10 minutes

Cook Time:

50 minutes

Total Time:

1 hour

Yield:

4

1

x
---
1

tbl olive oil

1

LB spicy italian sausage, casings removed

1/2 cup

chopped onion

4

cloves garlic, finely chopped

2 tsp

italian seasoning
handful basil leaves, chopped

1

bay leaf

2

tbl sundried tomato, chopped

1 1/2 tsp

red pepper flakes

2

cans (15 oz) tomato sauce

1

can (15 oz) stewed tomatoes

1/2 cup

dry white wine

1/2 cup

vodka

1 cup

heavy cream

1

LB rigatoni

1 cup

grated parmesan cheese
Basil to garnish
salt and pepper
---
Instructions
Remove casings from sausage, and roll pieces of sausage into quarter size balls. Bring a large pot of water to boil for the pasta. In a large saute pan over medium heat oil. Add sausage meatballs and brown, 3 to 4 minutes.
Add onions and garlic and saute until softened, about 5 minutes. Add sun dried tomatoes, Italian seasoning, basil, bay leaf, red pepper, salt and pepper, to taste, and cook 3 minutes more. Deglaze the pan with white wine and cook for 3 minutes. Then add tomato sauce and stewed tomatoes.
Bring to a simmer and cook for 20 minutes.
Salt the pasta water and add the penne. Cook until al dente, about 12 minutes.
Add vodka, cream and cheese and cook another 10 minutes.
After the pasta is cooked, reserve a cup of pasta water and set aside. Drain the pasta it and add to the sauce. Toss in basil leaves and mix until pasta is coated.
---
Want to pin this for later? Click on the image below!