It's only Tuesday but I'm already thinking about the weekend.  Chicago weather has been teasing us with a few warm days here and there, but today it's back to chilly. But Friday calls for SUN and 70s!  That calls for cocktails on the patio!  I'm not saying you have to wait until Friday to make these delicious Raspberry Smash cocktails.  No judgement here, promise!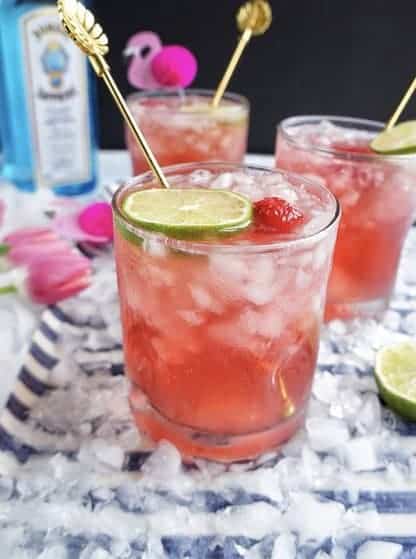 You don't have to panic about what appears to be a whole lot of ingredients! Because smash drinks are easy to make, especially for the beginner. An easy way to think of the Smash cocktail is this: It's like a Mint Julep with seasonal fruit.  How easy is that?!? I don't know about you guys, but when I get home from a long work day, the last thing I want to do is cook a complicated meal.  So put your feed up, order some takeout, and sip these delicious drinks on the patio!
There are so many different types of "smash" cocktails out there.  The classic is a whiskey smash (my favorite!), but basically the following:
A spirit
A sweetener
An herb
Seasonal fruit
Ice
Water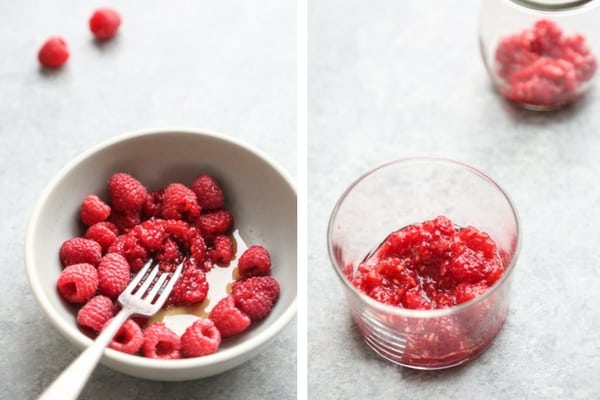 Since the definition of the Smash drink has a lot of wiggle room, it's hard to screw up! The ice can be served in the drink or strained; the seasonal fruit can be muddled in glass or act as a garnish.
The best part is these Raspberry Smash cocktails are perfect for summer, and this one in particular is so pretty!
Being a food stylist and lover of all things cute, I had to get some super cute accessories for my summer cocktails.  These palm leaf swizzle sticks are from Nordstrom Rack (and these are super cute too) and I got a fun summer drink tray from Fog Linen that I found a local store here in Chicago.  These adorable little flamingo drink picks  (or cupcake toppers!) were so festive and perfect for summer.
If you love these Raspberry Smash Cocktails, be sure to check out my blood orange whiskey sour or my apple cider moscow mules.
Print
---
---
Instructions
Place mint leaves in cocktail shaker. Add a handful of raspberries; mash with muddler or wooden spoon.
Fill cocktail shaker with ice; add gin, Simple Syrup, and lime juice. Cover; shake vigorously until cold.
Strain into highball glass filled with ice.
Top with raspberry lime Spindrift
Garnish with fresh raspberries and a slice of lime
---