This delicious and refreshing Raspberry Frosé cocktail recipe is perfect for summer! This recipe is sure to be a hit at your next gathering!
This summer has flown by! We just got the word that school is remote last year for most in Illinois, so I know parents around here are just begging for a cocktail! Frosé was all the rage a couple of years ago, and it's still a hit in my book! I'm partnering with Solo Cup to show you how to make this raspberry frosé cocktail! Perfect for relaxing on the patio or entertaining friends!
How do you make Raspberry Frosé?
There are a couple of different ways to this delicious summer cocktail. You can wait for hours for the rose to freeze, similar to my bourbon peach lemonade granita, or you can use my shortcut method of using frozen raspberries! Those extra steps aren't entirely necessary this time!
So this version of raspberry frosé is similar to a smoothie! Simply combine your favorite bottle of Rosé, some frozen raspberries, ice, and a couple of other ingredients in a blender and blend until smooth!  Just three minutes from start to finish and you'll have a frosty cocktail in your hand for the end-of-summer sipping in your Solo Cup!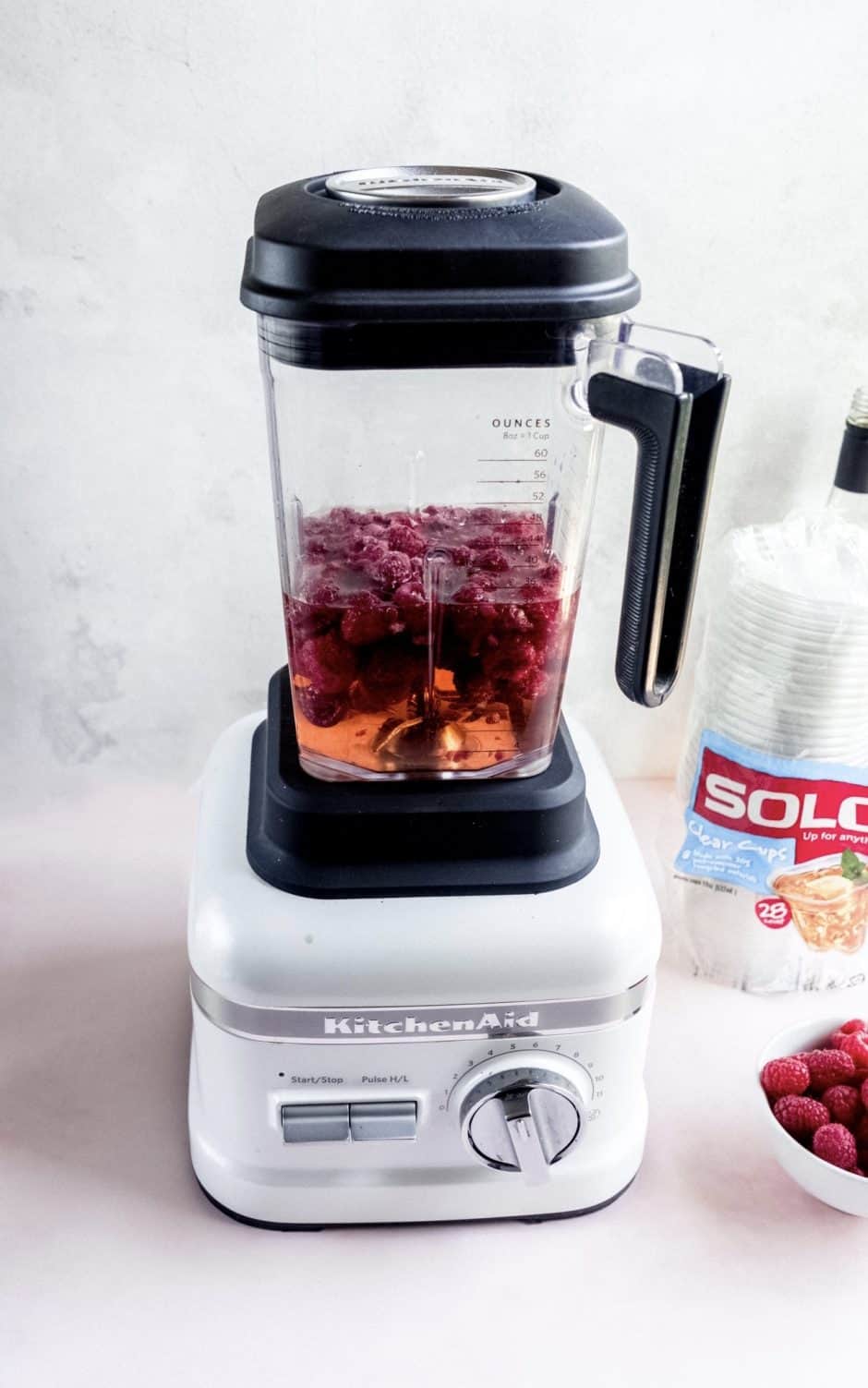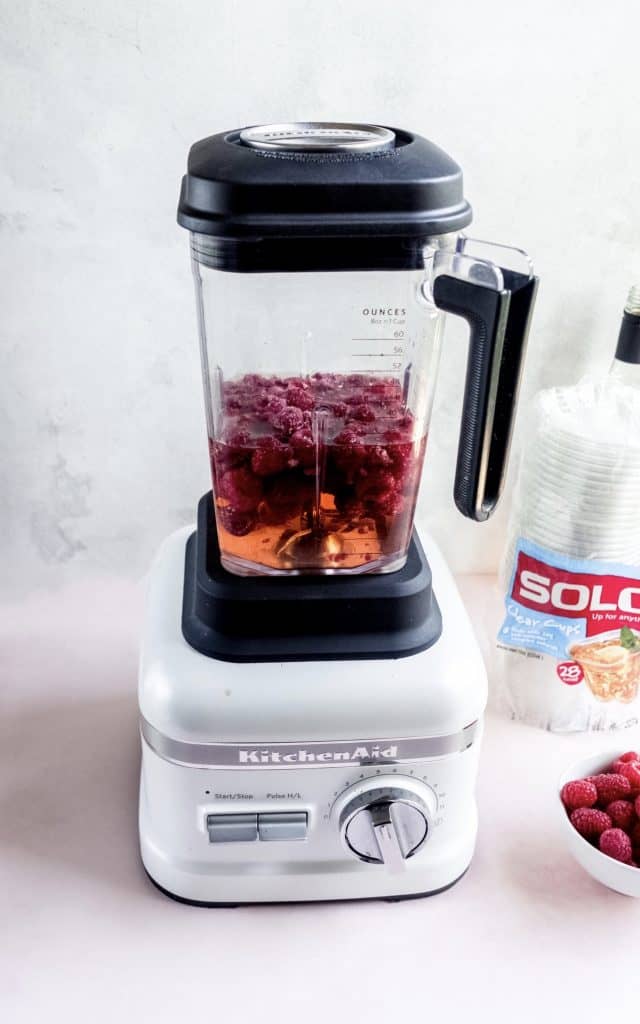 Why should I use frozen raspberries?
Using frozen raspberries is the key to getting that perfect slushy texture without diluting your Frosé too much with ice.
Raspberries tend to be tart in flavor, so we're adding both Triple Sec and Simple Syrup. If you don't have any simple syrup on hand, don't worry! Simple syrup is also super easy to make at home! Simply combine one part sugar one part water in a saucepan and bring to a simmer over medium heat. Stir until sugar has dissolved and let cool. Simple syrup can be stored in the refrigerator for up to one month.
If you aren't a fan of refined sugars and want to use a more natural sweetener, feel free to use honey or Agave syrup instead of simple syrup!
Blend up your ingredients and pour into Solo's 18 oz Eco-Forward Plastic Clear cup to show off that beautiful pink color of the Raspberry Frose. Garnish with fresh raspberries and a lemon wedge if you'd like. Stick a straw in it and enjoy!
Need a snack to go with these fruity cocktails? Check out how to make a beautiful charcuterie board!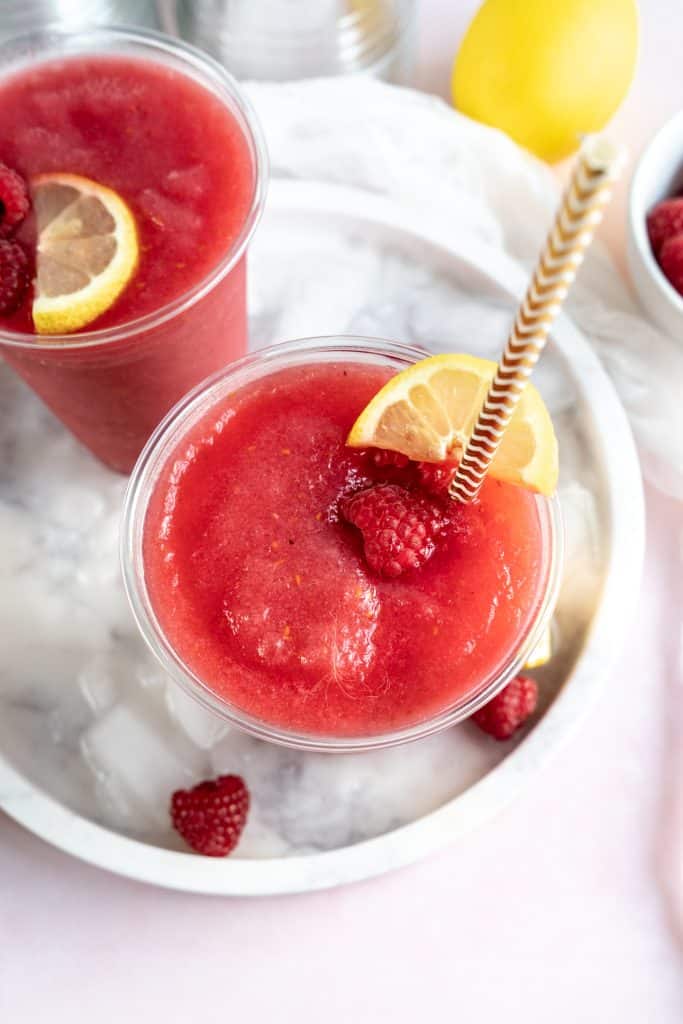 Print
---
1 bottle of Rose
4 cups frozen raspberries
1/2 cup triple sec
1/2 cup simple syrup
1/4 cup lemon juice
1 cup ice
---
Instructions
Combine all ingredients in a blender and blend until smooth.  Serve in a Solo Cup!
---
Want to pin this for later? Click on the image below!