This moist copycat Starbucks pumpkin bread is filled with warm spices and sweet pumpkin. It's the perfect quick bread recipe for your family all year round!
Pumpkin season never ends at the Dinner Fairy household! Although it's a classic fall recipe for most, this moist pumpkin bread is a treat that I'll gladly eat all year long!
This bread has just the right amount of sweetness and warm spices that come together to make a delicious breakfast treat! It tastes just like Starbucks Pumpkin loaf! I like to use my own blend of pumpkin pie spices, like cinnamon, allspice, ginger, and a touch of nutmeg. However, you can use pumpkin pie spice if you have that on hand! This is a great Starbucks copycat recipe!
What makes this bread so moist?
The combination of brown sugar and oil is what makes this pumpkin bread so moist. Oil-based quick breads and cakes are more tender and moist than ones made with butter. This is because oil coats wheat flour proteins better than butter does. If the proteins aren't adequately coated, they bond with water and create stretchy gluten, a form of protein that holds ingredients together and makes bread chewy.
As I've discussed before in my chewy chocolate chip cookies, brown sugar contains molasses, which is a liquid sweetener and therefore makes baked goods moister with a chewier texture.
Can you freeze pumpkin bread?
Like most quick breads, pumpkin bread is perfect for freezing!
If you don't plan on freezing it, you can maximize the life of this pumpkin bread by covering it with foil or plastic wrap or place in a plastic bag. This prevents the pumpkin bread from drying out. When it is properly stored, pumpkin bread will last for about 1 to 2 days at room temperature. It will also keep for about 1 week in the fridge.
If you're planning on freezing the pumpkin bread, wrap it tightly with aluminum foil or plastic freezer wrap or place in a heavy-duty freezer bag.
It should last about 2 to 3 months when frozen!
When thawing, let it sit on the counter for several hours. If you need to expedite this process, you can unwrap the plastic and wrap the bread in foil. Put the foil-wrapped pumpkin bread in a 250° oven for 20-30 minutes prior to serving.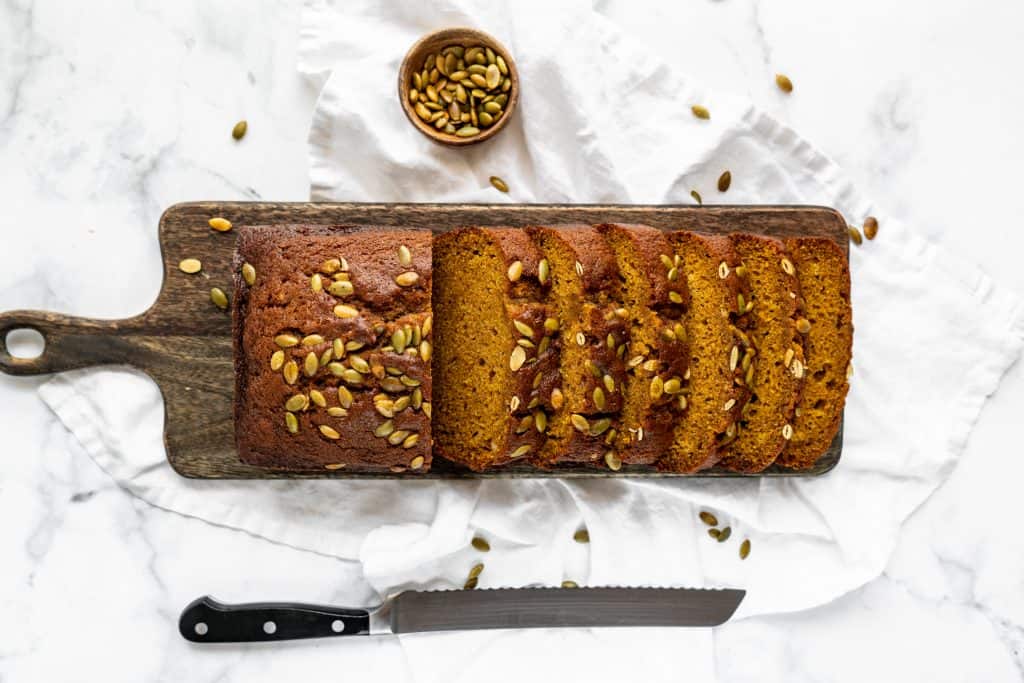 Pair this yummy bread with an iced lavender cold brew latte for a perfect breakfast!

Print
---
16 oz can pumpkin
4 eggs
1 cup oil
1 cup granulated white sugar
1 cup brown sugar
2 teaspoon ground cinnamon
½ teaspoon ground ginger
½ teaspoon ground allspice
pinch of ground nutmeg
2 cups all-purpose flour
1 teaspoon baking powder
1 teaspoon baking soda
½ teaspoon salt
1/4 cup roasted pepitas
---
Instructions
In a large mixing bowl, whisk together pumpkin, eggs, oil, and sugars until combined  Next add in the spices: ground cinnamon, ginger, allspice, and nutmeg.
Add all-purpose flour, baking powder, baking soda, and salt.
Gently whisk together until well combined.
Grease a 9×5 loaf pan.  Pour prepared batter into loaf pan.  Sprinkle roasted pepitas on top.
Place in a preheated oven at 350 degrees F.  Bake for 35-40 minutes or until a toothpick comes out clean. 
Let cool completely before slicing.
---
Want to pin this for later? Click on the image below!