Looking to take your weekend brunch up a notch? This poached pear dutch baby will make you feel like you're dining in a 4 star restaurant! Grab a mimosa and get ready to fall in love with this baby german pancake!
My favorite thing to do during fall is go to the farmer's markets. There are a few different ones in Chicago and I love the different fall produce that is available this time of year. I spotted these gorgeous bosc pears that were just calling my name. When I got home, I gave them a quick poach with honey, cinnamon and cloves and made a gorgeous dutch baby to pair with them.
What's a dutch baby?
Dutch babies were made famous in the United States, but they're similar to a baked german pancake. Dutch babies were introduced in the first half of the 1900s at Manca's Cafe, a family-run restaurant in Seattle owned by Victor Manca. While these pancakes are derived from the German pancake dish, it is said that the name Dutch baby was coined by one of Victor Manca's daughters.
Can I make a dutch baby if I don't have a cast iron pan?
Traditionally, dutch baby pancakes are made in a cast iron pan. The cast iron gives the dutch baby a nice crust on the bottom and they're easy to transport from the stove to the oven. Even if you don't have a cast iron pan, you can still make a dutch baby! Make sure you use a skillet that is oven proof!
How do you make a dutch baby pancake?
This is the simplest part. Combine your milk, flour, eggs and vanilla in a blender and puree until smooth! You can whisk it by hand if you'd like, but I prefer the blender method, just to make sure you get all the lumps out of your batter. Once the batter is smooth, pour it into your hot skillet loaded with melted butter, pop it in the oven, and watch it rise!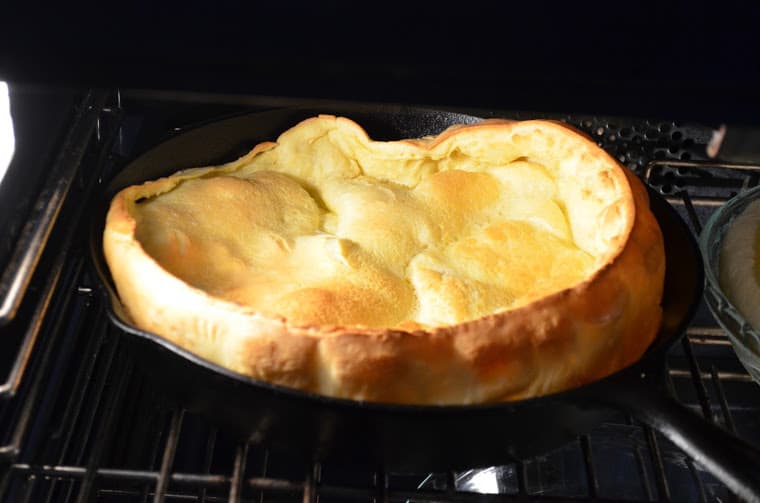 The best thing about these fluffy baked pancakes is that you can top them with anything! Fall flavors have been my jam lately, so this poached pear, some yummy apple butter and a dusting of powdered sugar really hit the spot.
What would you top yours with? I'd love to hear all your favorite combinations!
If you loved this recipe, be sure to check out my yeast waffles.
Print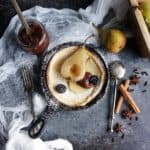 Poached Pear Dutch Baby Pancake
Author:

Nicole Triebe

Prep Time:

5 minutes

Cook Time:

20 minutes

Total Time:

25 minutes

Yield:

2

1

x
---
3 eggs
1/2 cup flour
1/2 cup milk
1 tbl sugar
1/8 tsp nutmeg
1/2 tsp cinnamon
4 tbl butter
Powdered Sugar
Poached Pears
---
Instructions
Combine milk, flour, eggs and vanilla in a blender and puree until smooth. Melt butter in hot cast iron pan on the stove. Pour batter into hot cast iron loaded with melted butter, bake at 425 degrees for 15-20 minutes, or until golden brown. Remove from the oven and top with poached pears, powdered sugar and apple butter
---
Want to pin this for later? Click on the image below!