This easy pea shoot pesto recipe comes together in just 10 minutes! Use it to toss with pasta, as a spread for sandwiches, and more!
Why we love this pea shoot pesto
Homemade pesto is so easy to make, and you'll never go back to store bought again! This pesto recipe using pea shoots comes together in just minutes, and it's perfect for pasta, sandwiches, toast, and more! It's perfect for lots of entertaining recipes! Try it with this chicken pesto pasta or easy pesto pasta salad!
Key Ingredients for this Recipe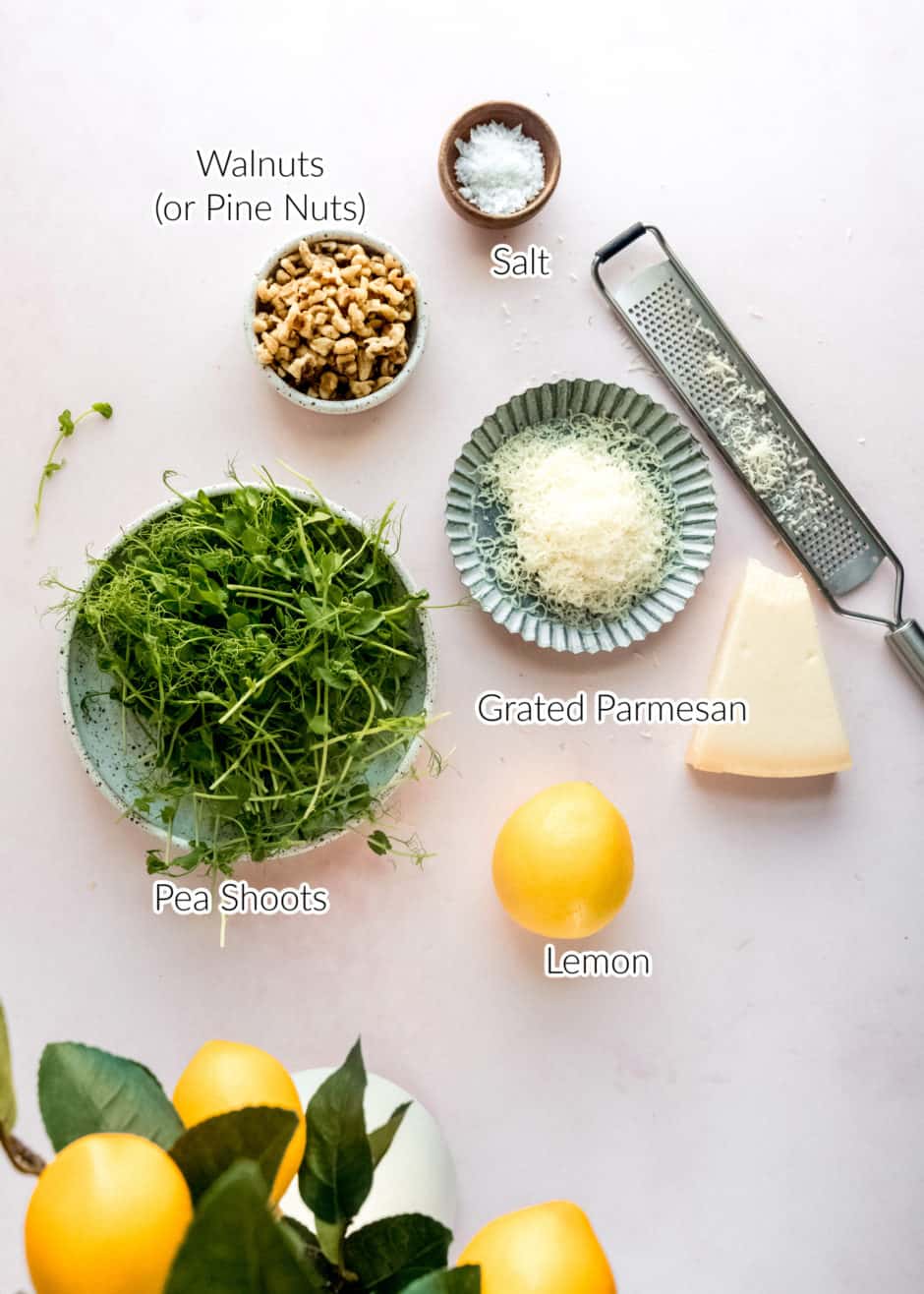 Fresh Pea shoots
Traditional pesto is made with basil or mint leaves, but pea shoots make a delicious pesto! Pea shoots come from the pea plant, usually from the snow or sugar snap pea varieties. They are harvested as young 2- to 6-inch shoots, including two to four leaf pairs and the immature tendrils. Pea shoots have a subtle pea flavor that is slightly sweet, and a light and crunchy texture. This pesto recipe using pea shoots s beautifully mellow! Additionally, pea shoots have dietary fiber, vitamins A, C and E, and potassium, so this pesto is good for you too!
Garlic cloves, peeled
Full cloves of fresh garlic is best for pea shoot pesto.  When in a pinch, you can use jarred minced garlic. I do not recommend using garlic powder.
Pine nuts or walnuts
Pine nuts are used to add structure to any pesto recipe. Pine nuts are traditionally used, but I substituted walnuts for this recipe.
Grated parmesan-reggiano
Finely grated Parmesan cheese lends a salty, nutty bite to this pesto recipe, and also acts as a thickener! Alternatively, you can use Asiago or Pecorino romano.
Lemon Zest and Juice
Adding lemon zest and lemon juice to any pesto recipe brightens the flavor and keeps the pesto bright green much longer in the fridge!
Extra-virgin olive oil
Choose an olive oil that you like the flavor of on its own. As a taste test, pour the olive oil onto a plate, sprinkle with salt and pepper, and then dip in some bread. If you'd order it at a restaurant, you've got good olive oil!
Additional ingredients
Red pepper flakes
Kosher salt
Step by
FAQ and Expert Tips
Grate your own Parmesan cheese – fresh blocks of cheese from the cheese counter are of higher quality than the pre-packaged cheese on the shelves. However, it comes with a higher price tag, so it all depends on your budget! If you must go for pre-shredded, avoid the powdered stuff in a shaker! Buy the pre-shredded in a container!
Choose a high-quality olive oil – Choose an olive oil that you like the flavor of on its own. As a taste test, pour the olive oil onto a plate, sprinkle with salt and pepper, and then dip in some bread. If you'd order it at a restaurant, you've got good olive oil!
Toast your nuts – toasting the nuts that are added to this pea shoot pesto, helps to add a rich, roasted flavor. However, if you're short on time, it's perfectly fine to leave them raw.
Add citrus. When lemon juice and/or zest are added to a pea shoot pesto, it can help brighten the flavor! I like to save a little zest to add to the top of pasta dishes made with pesto, too!
Got leftovers? Pesto can be stored in the fridge for up to 5 days in an airtight container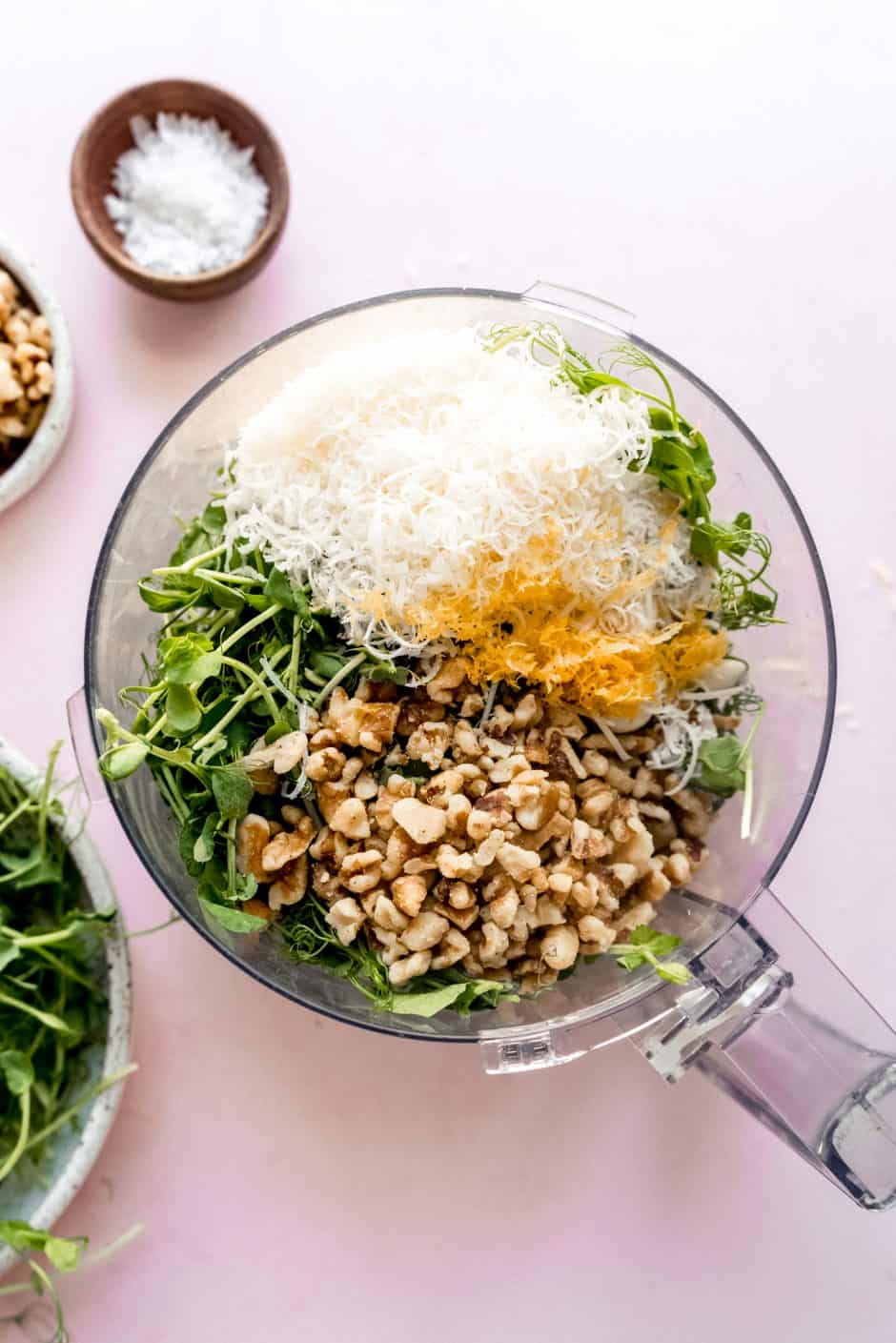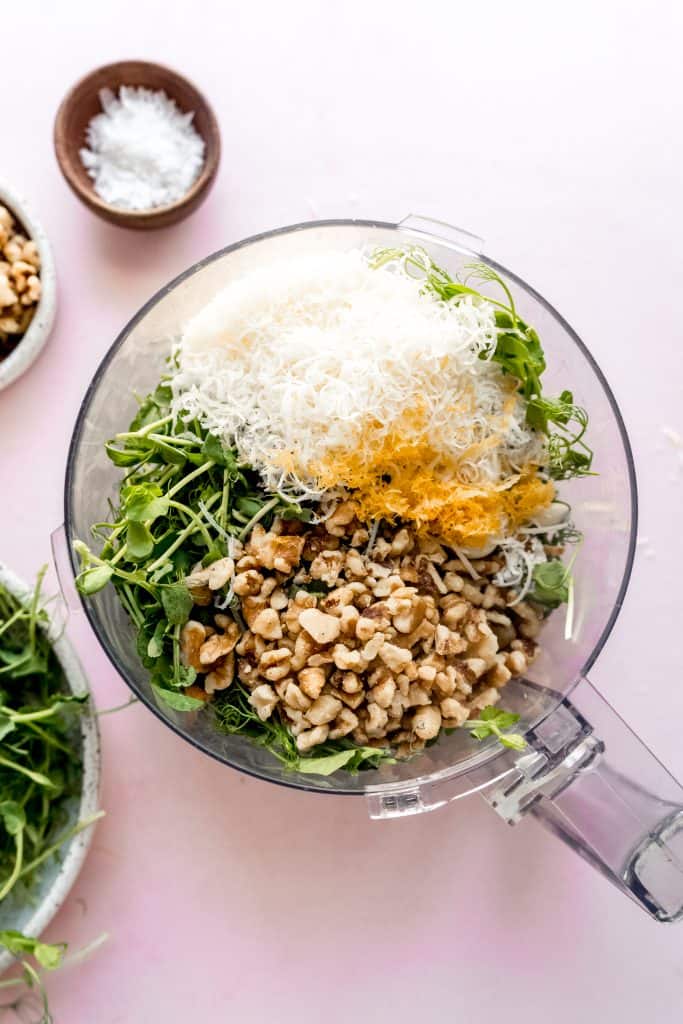 How do you use pea shoot pesto?
This easy recipe is perfect for so many dishes! Check out some ideas below
Add to soup – add a fresh burst of flavor to your soup by stirring in a scoop of pesto after the soup has been taken off the heat and before serving.
Spread on Bread. My favorite way to use pesto is as an alternative to mayo! Spread a spoonful of pesto on crusty bread and layer on your meats and cheeses! It adds a colorful layer of freshness to any sandwich.
Use as a pasta sauce – Toss your hot pasta with any pesto for a light dish for dinner or lunch!
Toss with potatoes – one of my favorite side dishes is roasted potatoes tossed with a nice green pesto!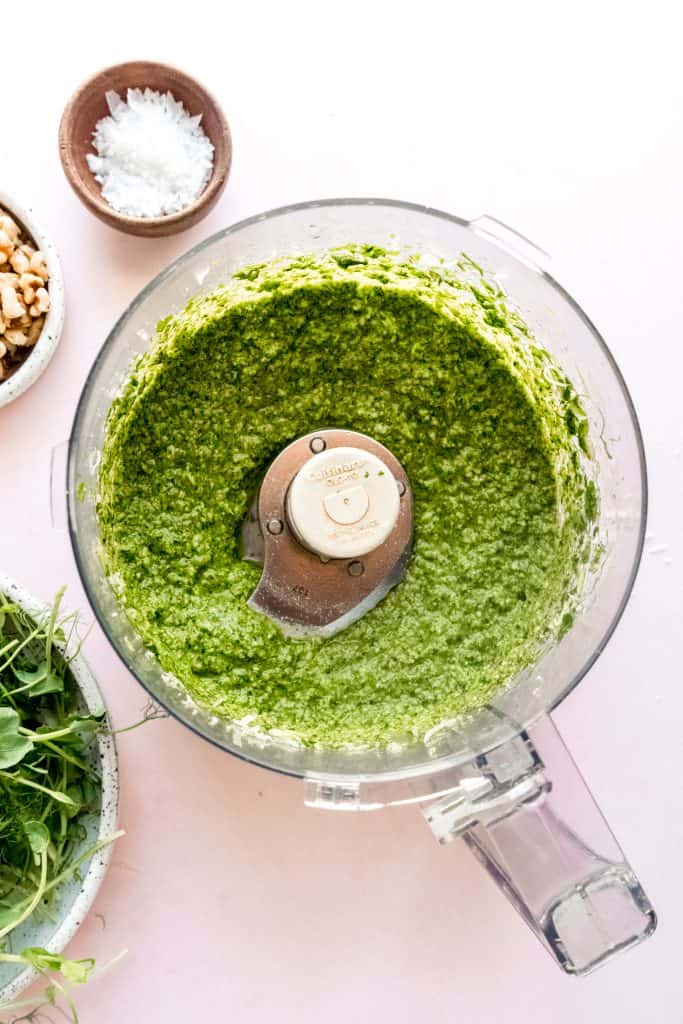 Other recipes using pea shoots
Chickpea and pea shoot salad – This Chickpea and Pea Shoot Salad is light, fresh, and tasty. It has a homemade Basil Lime Vinaigrette dressing and it is bursting with flavor and crunch.
Thai Pea Soup – made completely in the blender, this Thai pea soup is full of fresh spring flavor!
Shrimp Salad Croissant Sandwiches – fresh baby shrimp mixed with a creamy dill mayo in a flaky, buttery croissant. These shrimp sandwiches are perfect for lunch!
Sweet Pea Lemon Crepe Cake – this sweet pea lemon crepe cake is made with grain free crepes and layered with a sweet pea, ricotta lemon and creme fraiche filling making it the perfect spring dessert!
Print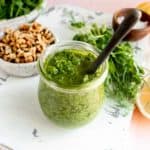 Pea Shoot Pesto
Author:

Nicole Triebe

Prep Time:

5 minutes

Total Time:

5 minutes

Yield:

1 1/2 cups

1

x

Category:

Sauce

Method:

Raw

Cuisine:

Italian
---
4 cups pea shoots
3 cloves garlic, peeled
1/2 cup pine nuts or walnuts, toasted
1/2 cup parmesan-reggiano
Zest and juice of one lemon
1/4 tsp red pepper flakes
1/2 cup extra virgin olive oil
1/2 tsp salt
---
Instructions
Roughly chop pea shoots. 
Add all ingredients but oil to blender and pulse to combine. 
Add olive oil in a steady stream while pulsing until the ingredients form a loose paste. 
If the mixture is too thick, add olive oil one tablespoon at a time until you reach the desired consistency.  
---
Keywords: pesto; pea shoots; sauce
Want to pin this for later? Click on the image below!