My Parmesan Artichoke + White Bean Dip is A new twist on the standard artichoke dip! With the addition of white beans and a blend of cheeses, this Is the BEST Artichoke Dip Recipe, And The Ultimate Dip For Any Get Together! So flavorful, Served Perfectly With Chips, Bread Pieces Or Veggies.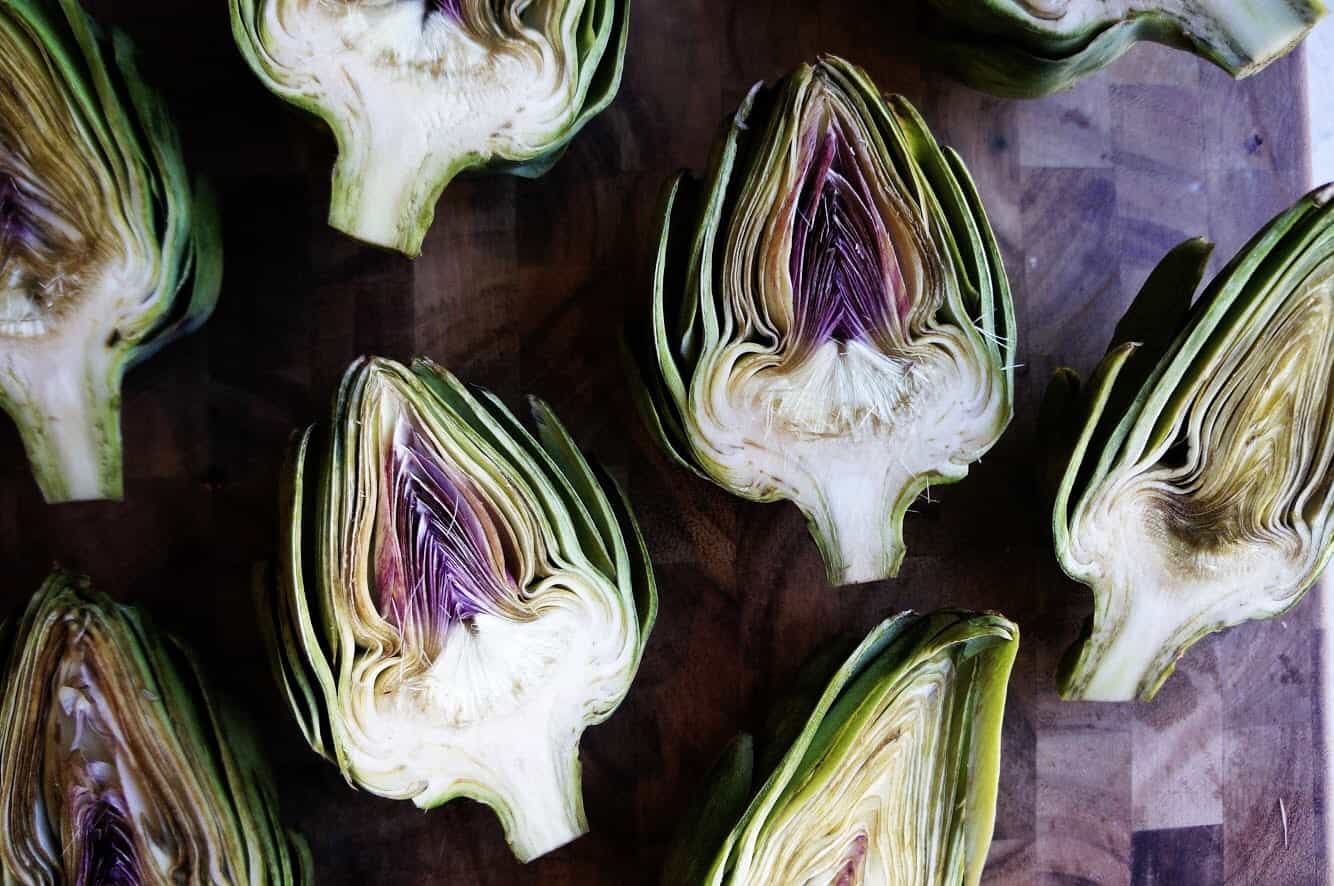 I love making all kinds of appetizers at our house.  They're easy, and perfect for parties, get togethers and holidays! We always spend New Year's Eve at home and plan a nice dinner with friends, and of course have to start the night out by putting together a ton of appetizer recipes to enjoy.   I wanted to share the best artichoke dip and one of my favorites with you today. It's for this Parmesan Artichoke + White Bean Dip! Ever since I can remember, artichoke dip has been one of my favorite appetizers, and it's one we often get when we got out to eat. This is a slight twist on the standard spinach and artichoke dip, and a little healthier for you!
Are artichoke hearts good for you?
Because of their tough outside leaves, artichokes take some time to prepare, but your efforts will be rewarded! This green veggie is a good source of folate, dietary fiber, and vitamins C and K. Artichokes are also packed with antioxidants; they're number 7 on the USDA's top 20 antioxidant-rich foods list!  Who knew?   
How do I store artichokes?
You should store your artichokes in the fridge. They will usually keep for a week or longer if you don't get to use them right after purchasing.
How do you prepare artichoke hearts?
Start by  removing the tough outer leaves close to the stem. It's easiest to use your hands to do this.  Work around the artichoke, snapping off the outermost leaves, until you reach the leaves that are almost completely yellow and feel softer than the outer ones.
Use your paring knife to trim off the green outer skin around the base of the artichoke, including the stem. The stem is actually an extension of the artichoke heart and super yummy. Finish by cleaning up all the broken edges left from snapping off the outer leaves and cutting a half-inch or from the end of the stem. Rub the outside with your lemon to keep it from browning.
Cut off the top inch the artichoke. This will remove all the pointy tops and any remaining green, leaving behind only yellow leaves. The "choke" of the artichoke is that bundle of silky white and purple leaves you see in the middle. Below those leaves is a bed of hairy-looking fibers. Remove the heart entirely, and when you're finished, rub the outside with the lemon to keep it from browning so quickly.
On a rimmed baking sheet, toss the artichokes and 3 cloves garlic with 2 Tbs. oil and 1/2 tsp. salt, spread in a single layer, and roast until the artichokes are golden on the bottom, about 20 minutes. Flip and roast until golden brown in places, 5 to 7 minutes.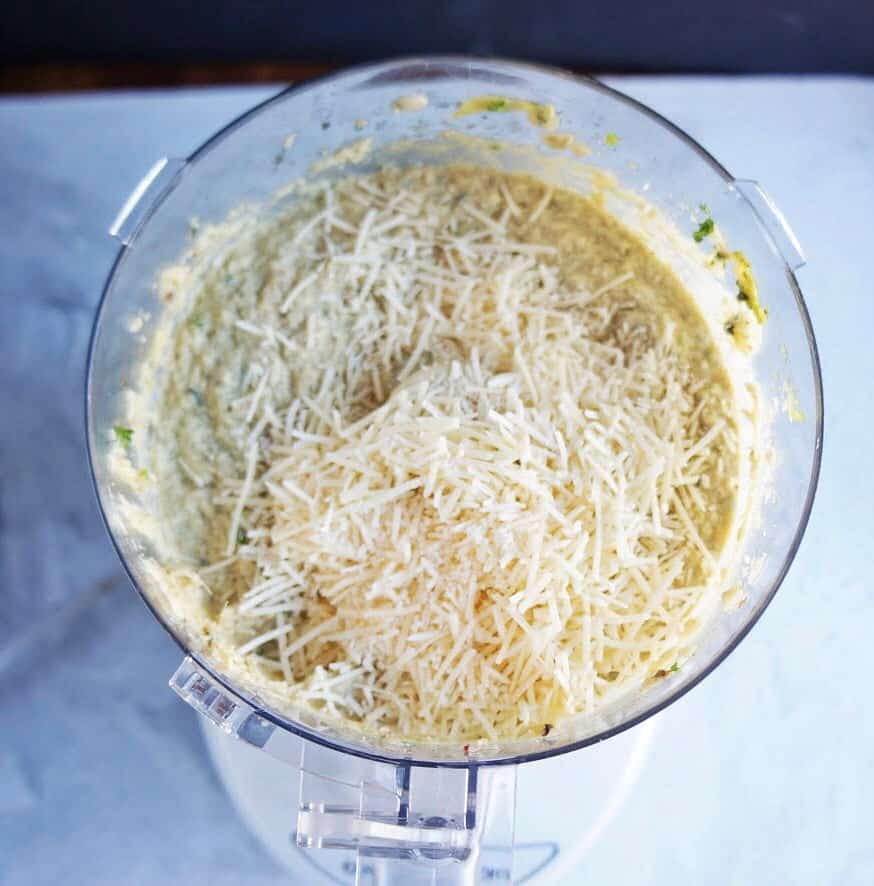 How far in advance can I make the Parmesan Artichoke + White Bean Dip?
The best part about this Parmesan Artichoke + White Bean Dip is it tastes better the next day! So prep this the night before (or two even) and let those flavors marinade overnight. Store in an airtight container and you're all set!
Hope you enjoy!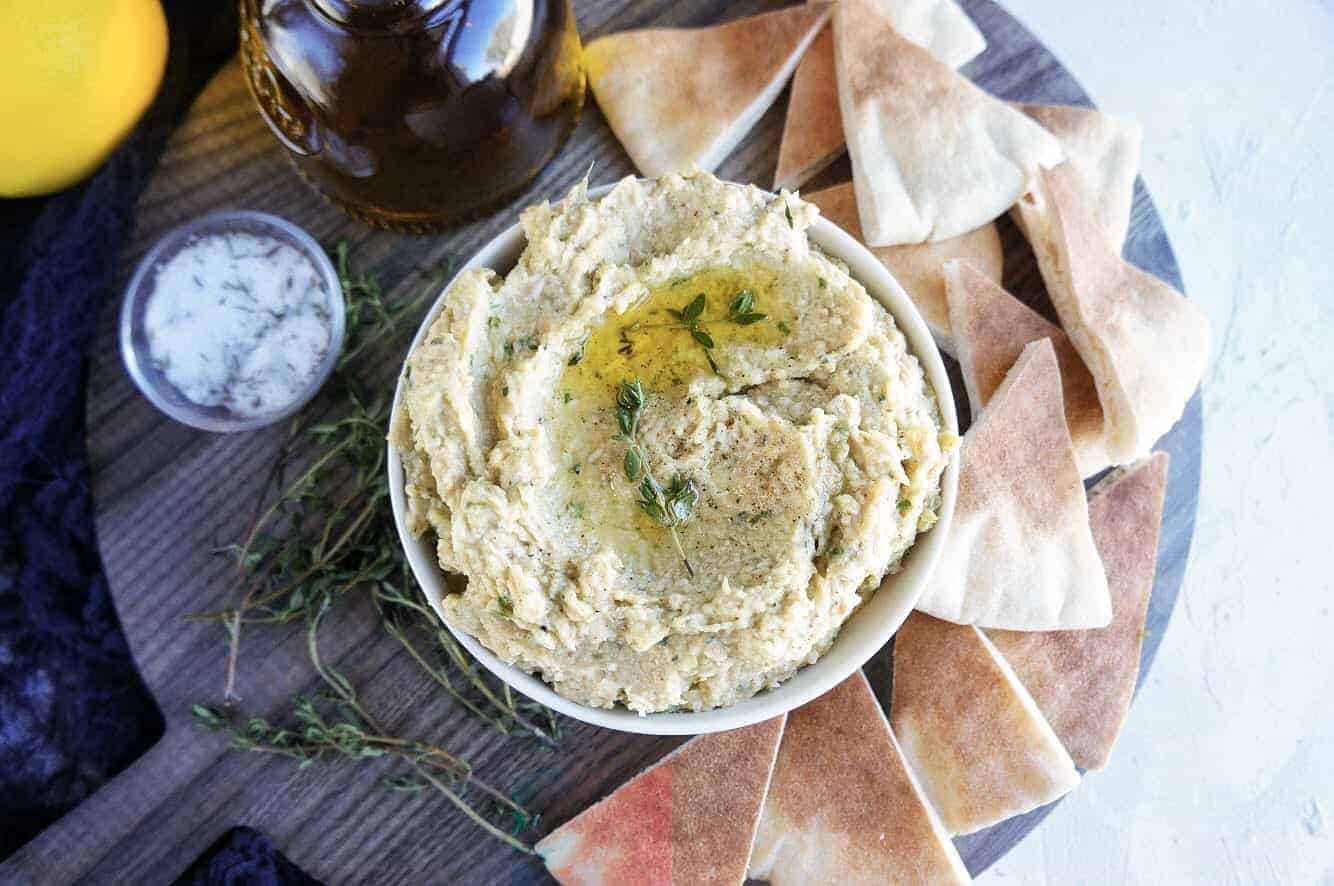 Loved this recipe? Be sure to check out how to make a beautiful fall cheese board!
Print
Parmesan, White Bean + Artichoke Dip
Author: Nicole Triebe
Prep Time:

10 minutes

Cook Time:

7 minutes

Total Time:

20 minutes
1

15oz roasted Artichokes (or store bought marinated, drained)

1

15oz can White Cannellini Beans (rinsed & drained)

1/2

Lemon, juiced and zested (

1 Tbsp

juiced)

2 Tbsp

Olive Oil

2 tsp

fresh Thyme

2 tsp

fresh Oregano

2 tsp

fresh Basil

1/4 tsp

Salt
Black Pepper (to taste)

2

cloves garlic, minced

1/2 cup

Trader Joes Quattro Formaggio, or any Italian cheese blend
Instructions
Place roasted artichoke hearts, white beans, lemon juice and zest, olive oil, thyme, basil, salt and pepper into a 7-cup food processor or blender; pulse until well-combined; add cheese and pulse until smooth.
Transfer to a serving or storing bowl; cover and refrigerate up to two days in advance of serving.
Serve chilled.
Want to pin this for later? Click on the image below!