This No Bake Pumpkin Cheesecake makes for a mouth-watering holiday dessert! With just a couple ingredients, you can have a delicious pumpkin cheesecake that light, flavorful and oh-so-good!
The holidays are quickly approaching and if you're looking for a no-fuss dessert, look no further! No bake pumpkin cheesecakes are always so easy and always come out unbelievably delicious. They're perfect for making ahead of time, which is great for when you need to complete the rest of your holiday menu. I'm partnering with Solo Cup today to show you how to make these individual no-bake pumpkin cheesecakes for your next friendsgiving or holiday!
When it comes to holidays parties, it's all about socializing, am I right? I love catching up with friends and family that you don't see all year. At any holiday party I attend, I prefer to graze rather than have a formal sit down dinner, so individual servings are the way to go! It's so much easier to catch up with your great aunt Susie or Uncle Al when you are walking around with a small dish of little things to snack on, as opposed to a big plate with a full meal. As an added bonus, smaller bites mean you get to sample more! I think the same should go for dessert. Why have one big slice of pie when you can have a small serving of a cake or pie! Solo Cup's clear 9 0z cups are perfect for these individual no bake pumpkin cheesecakes!

Grab yourself some ginger snaps, cream cheese, pumpkin, and a your favorite holiday spices from the cabinet to whip up these awesome no bake pumpkin cheesecakes. These desserts couldn't be easier!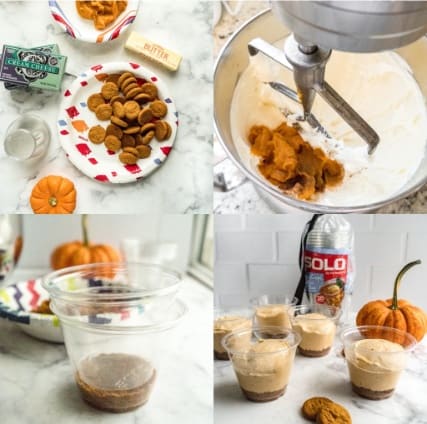 How do I make individual no bake pumpkin cheesecakes?
Start by gathering your ingredients. You'll need:
Ginger snap cookies
Butter
Cream cheese, softened
Heavy whipping cream
Pumpkin puree
Cinnamon, nutmeg and allspice
Powdered sugar
Crush gingersnaps in food processor, or if you don't have a food processor, crush them by hand. Make sure no big pieces of gingersnap remain. Melt butter and add to the crushed gingersnaps.
Press gingersnap mixture into the bottom of a 9 oz clear solo cup. Press down on the gingersnaps with another 9 oz solo cup until they're compact at the bottom to form the crust.
Refrigerate at for 20 minutes until the crust is firm.
In a large bowl (I used a KitchenAid stand mixer) beat cream cheese, powdered sugar and cream for 4 minutes on high until smooth.
Add in pumpkin, vanilla, and spices. Beat until fully incorporated.
Spoon pumpkin cream cheese mixture on top of the crust in each Solo cup. Tap each cup on the counter to get rid of any air bubbles and smooth out the top of the cheesecake layer.
Refrigerate at least 2-3 hours. Garnish with whipped cream or cool whip and a gingersnap cookie. I used some of my leftover gingersnap crust crumbles for the top as an added crunch!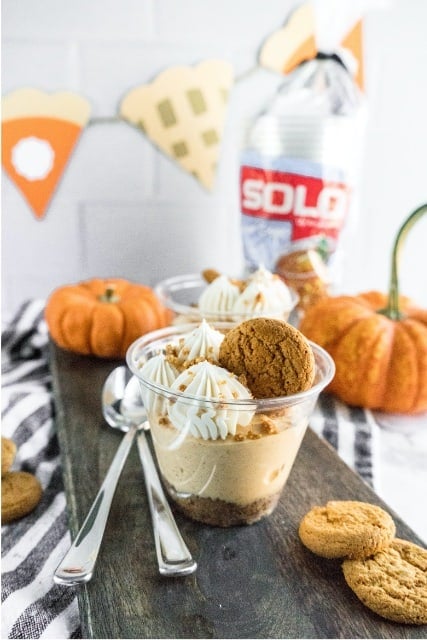 Loved this recipe? Be sure to rate it five stars in the comments below!
Still hungry? Check out my snickerdoodle cheesecake bars! Need a Thanksgiving cocktail? Check out my apple cider sangria!
Print
No Bake Pumpkin Cheesecake
Author:

Nicole Triebe

Prep Time:

15 minutes

Cook Time:

0 minutes

Total Time:

6 hours 15 minutes

Yield:

1

0

1

x
---
2 cups Ginger snap cookies, processed in food processor (reserve some for garnish)
1/2 cup butter, melted
24 oz Cream cheese, softened
1 cup Heavy whipping cream
15 oz (1 can) Pumpkin puree
1 cup powdered sugar
1 tsp cinnamon
1/2 tsp nutmeg
1/2 tsp allspice
1 tsp vanilla
Bourbon whipped cream (optional for garnish)
1 cup heavy whipping cream
1/4 cup powdered sugar, sifted
1 1/2 tbl bourbon
---
Instructions
In a small mixing bowl, combine processed ginger snaps and melted butter. Stir to combine.
Put 2 tbl of the gingersnap crust into each Solo cup and press down with another 9 oz Solo cup to form the crust.
In a large mixing bowl, combine the heavy whipping cream and cream cheese and beat on high until light and fluffy, 4 minutes.
Add the powdered sugar, pumpkin puree and spices and vanilla and beat until smooth.
Spoon the cream cheese mixture on top of the ginger snap crust in each solo cup.
Cover and refrigerate for 6 hours.
To make the bourbon whipped cream
In a medium bowl, whip cream until soft mounds form. Gradually add powdered sugar, whipping until cream forms stiff peaks. Gently fold in bourbon. Chill and pipe on top of individual cheesecakes. Serve with a gingersnap cookie
---
Want to pin this for later? Click on the image below!