Ringing in 2021 at home? Count down to the ball drop with this New Year's Eve Dessert Charcuterie Board!
Who is ready for 2020 to come to an end? I think we're all going to breathe a sigh of relief once the last calendar page is torn off, right? Most of our friends and family are spending the holiday at home watching the ball drop on TV rather than out at a bar this year, so why not make the most of it with a beautiful dessert charcuterie board?
Top projected trends of 2021 are more charcuterie boards, and even better, putting a twist on the original! We've done a couple different breakfast option like this crepe platter and a bagel board , but I wanted to throw in another sweet platter, and New Year's Eve was the perfect occasion!
The best thing about this New Year's Eve dessert charcuterie is that it doesn't require any cooking! This makes it a perfect edible centerpiece for your small gathering. It is a great way to use up nuts, cookies, (or all those corporate gifts your office receives) fresh fruit, chocolate of all sorts in your pantry. For this board I had a very gold and "black" theme going, but as a there's no hard and fast rule for combination of flavors! You can pick and choose your family favorites or what is in season and it will be beautiful any way.
How do I choose what goes on my dessert board?
As a general rule of thumb for charcuterie boards, I like to go for a variety of different colors, shapes, textures, and flavors to keep your palate on its toes! For this New Year's Eve dessert charcuterie board, I chose golds, dark browns, and pops of white to create a festive New Year's Eve vibe! You can be as creative as you'd like!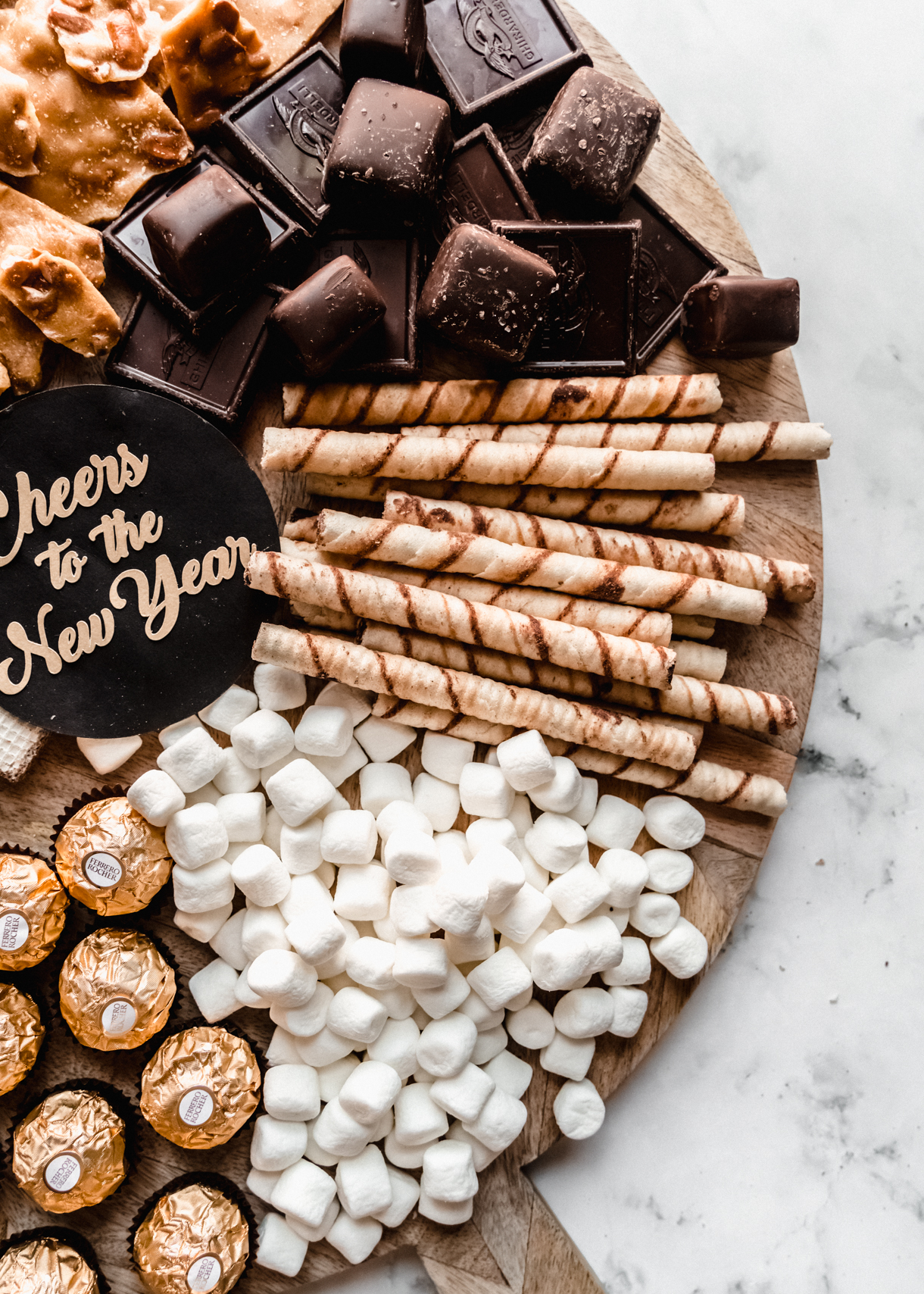 Start with a chocolate element
Everyone's favorite! I'm including some dark, milk, and white chocolate on this board. For our dark chocolate, I included chocolate covered caramels and chocolate-covered espresso beans. For the milk chocolate, I'm including chocolate wafers, Hazelnut Pirouettes, and Ferrero Rocher chocolates with their beautiful gold wrapping
Next Include something crunchy
For some variety in texture, I chose to include peanut brittle. This Christmastime favorite has a gorgeous golden color and adds the perfet amount of crunch to this New Year's Eve Dessert Charcuterie Board.
Add something salty.
The salted caramels and chocolate covered pretzels have both a salty and sweet element in them, so this board is totally balanced! Include other nuts like pecans or almonds if you'd like!
Add a creamy element
I'm adding some mini marshamallows to stay with the color scheme on here, but these are always a crowd pleaser, especially with the kids! You can also include a bowl of your favorite fruit dip or nutella in the middle!
How do I assemble the dessert charcuterie?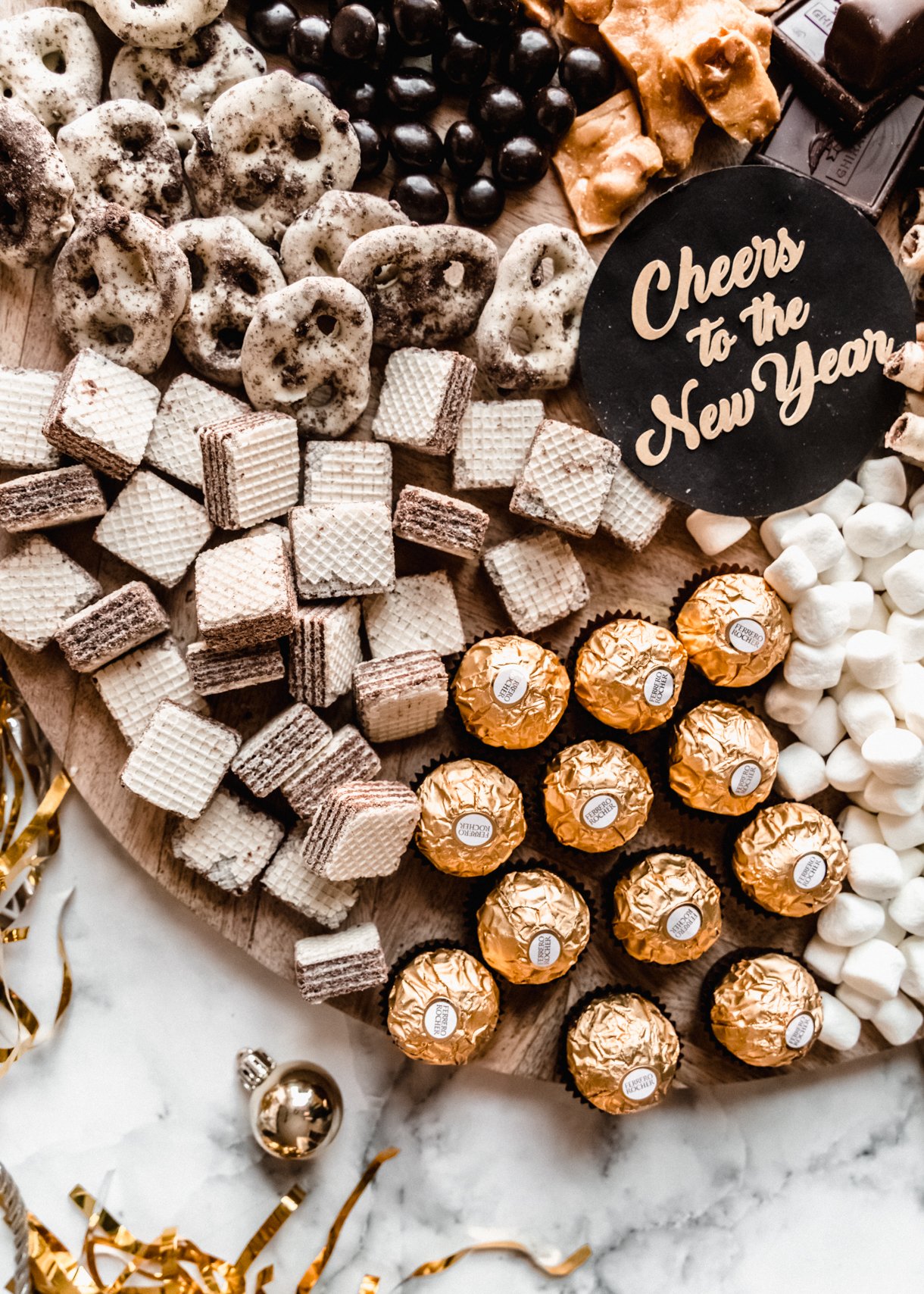 If you're entertaining a crowd, a large round platter is the best option. I used a round platter, you can find similar ones here, here and here. Another popular pick is this large wood cutting board. If you're making a small cheeseboard for date night, a small square or rectangular board is a great option. This also works if you have other appetizers you're serving at a party, and a smaller charcuterie board.
If you are using a dip on the board, place that in the center and build outwards. Alternate colors so that the dark chocolate components aren't right next to each other.
Don't be afraid of overflow! Make sure the surface below the board is clean and let those marshamllows and and chocolate covered espresso beans spill off the edge a little.
How do I pair wines with a dessert charcuterie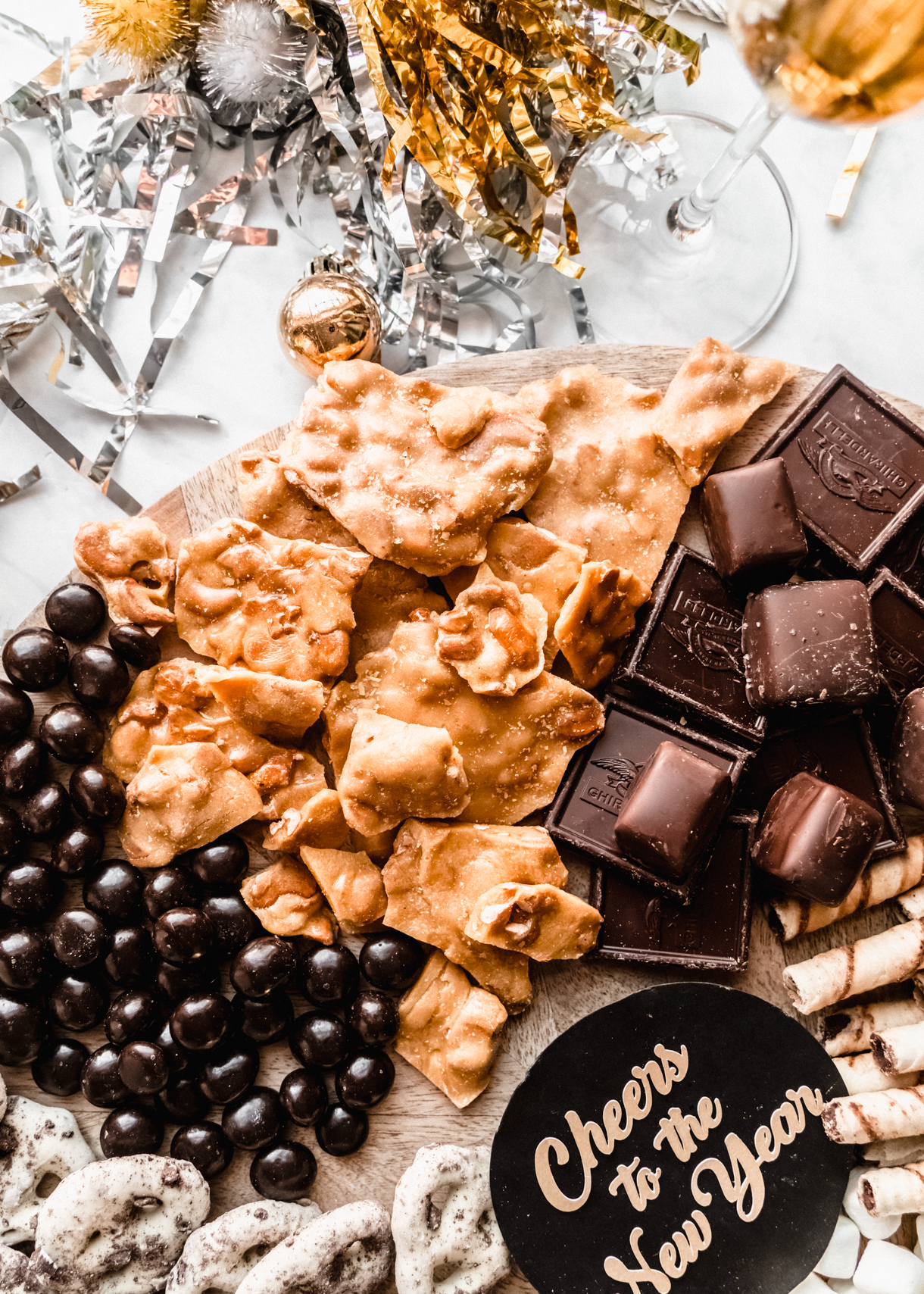 Here are some basic recommendations for pairing wines with different chocolates:
White chocolate: Ice wines, late-harvest rieslings, moscato, cream sherry
Milk chocolate: Pinot noir, merlot, port, Madeira
Dark chocolate: Zinfandel, syrah/shiraz, port, sherry
Hope you loved my tips on creating this delicious New Year's Eve dessert charcuterie! Let me know what you put on yours in the comments below!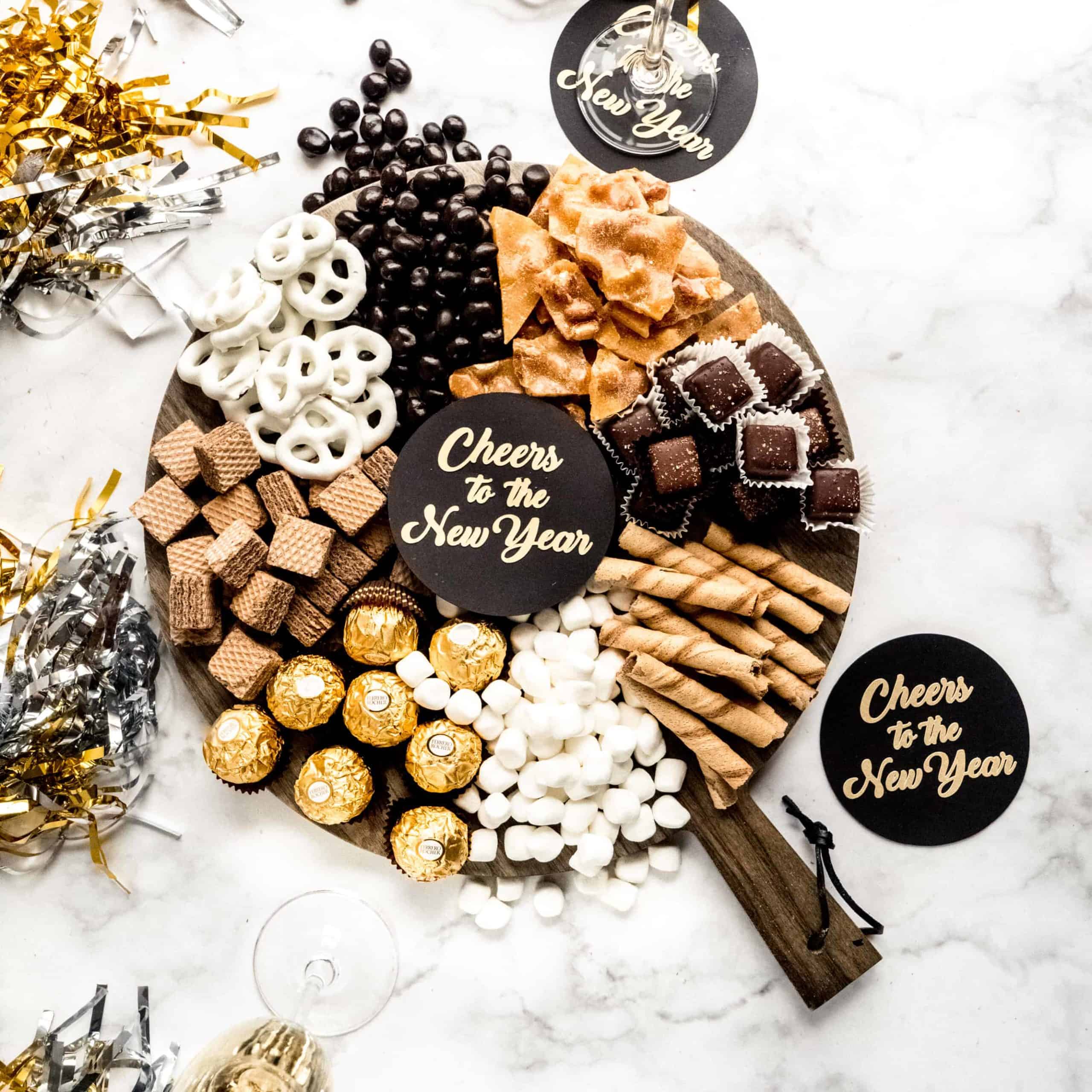 If you loved this post, please come back and let me know how you like it by leaving a star rating and review.
You can also FOLLOW ME on social media on INSTAGRAM, PINTEREST, and FACEBOOK for more new recipes!
Want to pin this for later? Click on the image below!