This Lemon Berry Layer Cake has layers of moist lemon cake, fresh berries and fluffy buttercream frosting! It's light, fruity, and perfect for spring!
Layer cakes may be intimidating at first glance, but I'm showing you today how to create a beautiful lemon berry layer cake that will impress your guests, and won't leave you with fried nerves!
The best berry seasons are upon us, and they make the perfect cake filling for warm weather celebrations! If you're celebrating a special occasion in quarantine, this cake couldn't be easier to make and will make the guest of honor smile, every time!
How to make a lemon berry layer cake
This lemon berry layer cake starts with an easy, moist lemon cake. The batter is so simple to put together, no stand mixer is needed! Just combine the dry ingredients and wet ingredients separately, then add them all together with a whisk! How easy is that?
Then comes the fresh berry filling. I used an even mix of strawberries, blueberries, blackberries, and raspberries, but you could use whatever combination of fruits you like. No prep is needed for the berries either, we're just placing them right on top of a fluffy layer of buttercream! It couldn't be any easier.
The fluffy whipped buttercream frosting is used as a filling and frosting in this lemon berry layer cake. The secret to this light and fluffy buttercream is whipping it for 5 minutes, no less! Lots of cake decorators swear by Italian or Swiss meringue buttercreams, but if you make American buttercream this way, it tastes even better. Promise!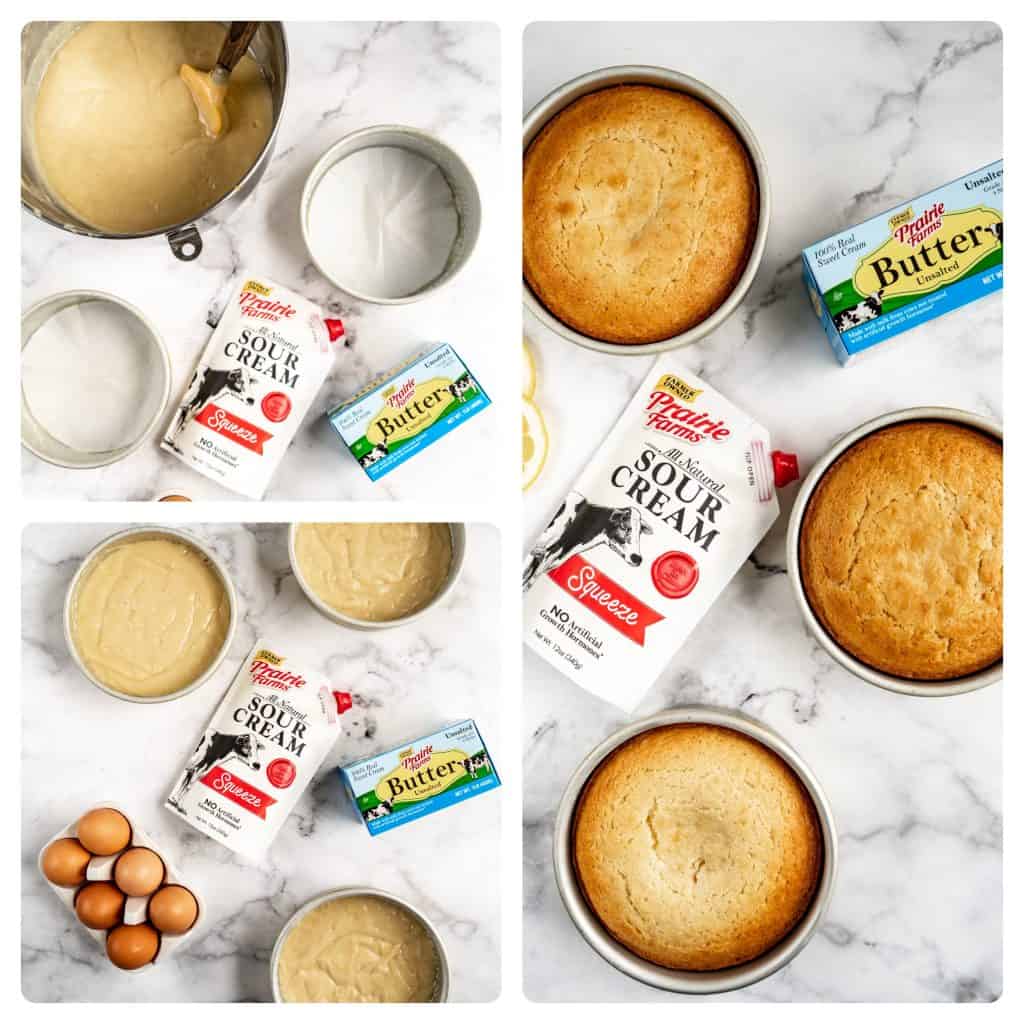 What is American buttercream?
There are three different types of buttercream that are typically used in cakes: Italian, French and American.
Italian and Swiss buttercreams both require you to make a meringue first, which requires a double boiler to heat the egg whites and sugar. This mixture is beaten into a meringue and then butter and extracts are added to flavor the buttercream.
American buttercream is the easiest, and least likely to separate.
The method itself is easy: just three simple steps.
Start with room temperature butter. If the butter is too cold, you'll end up with a lumpy buttercream.
Add that to a stand mixer bowl and add your powdered sugar. I used to sift the powdered sugar before making buttercream, but realized after whipping it, all the lumps smoothed out, so to save time, I skip this step now!
Whip it on high for 5 minutes! This is so important. That time allows air to incorporate into the buttercream, creating a super light and fluffy frosting.
Add your flavoring: After the 5 minutes is up, I add 2-3 teaspoons of good quality extract. I love this vanilla extract from Costco! In my opinion, it gives me the best vanilla flavor.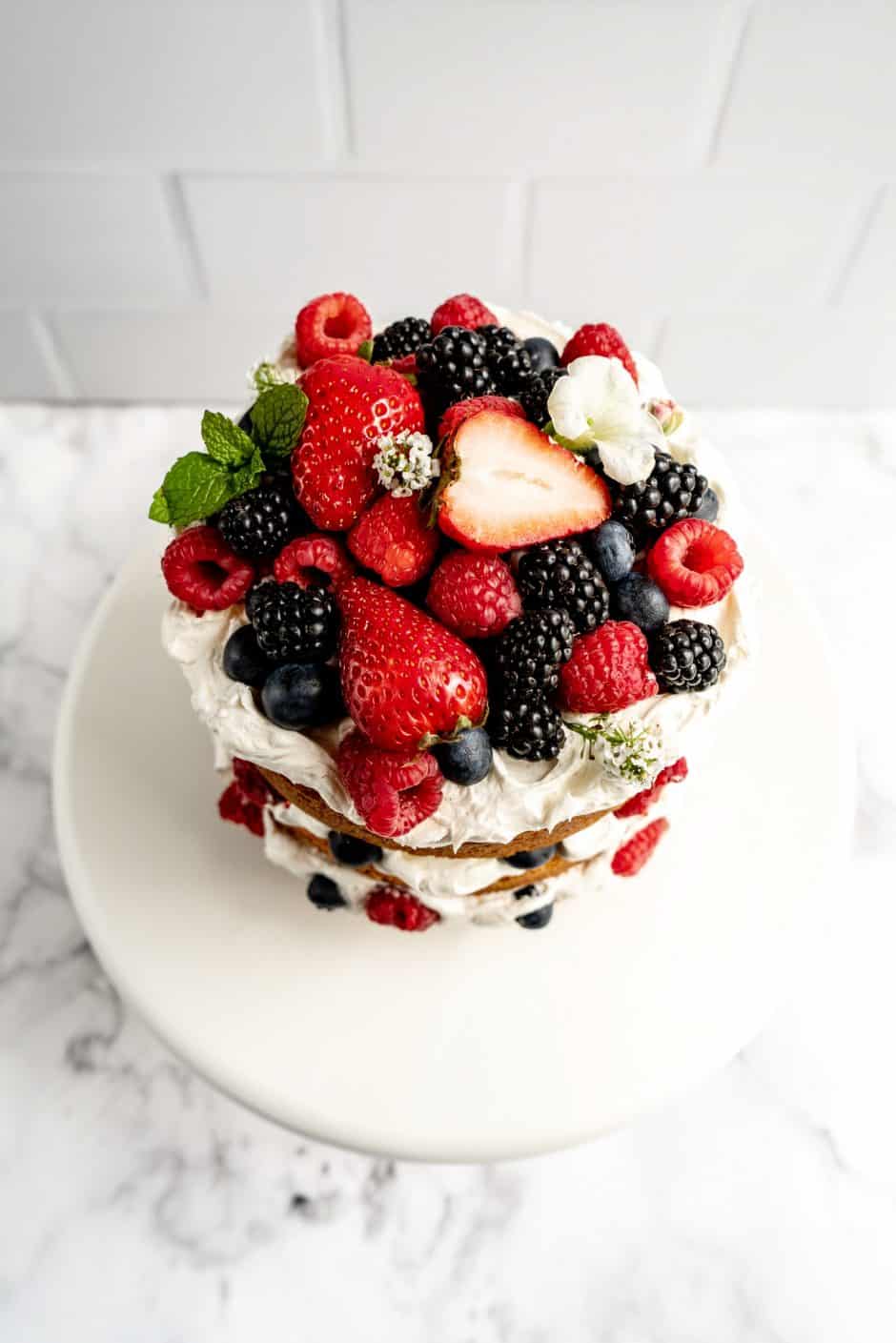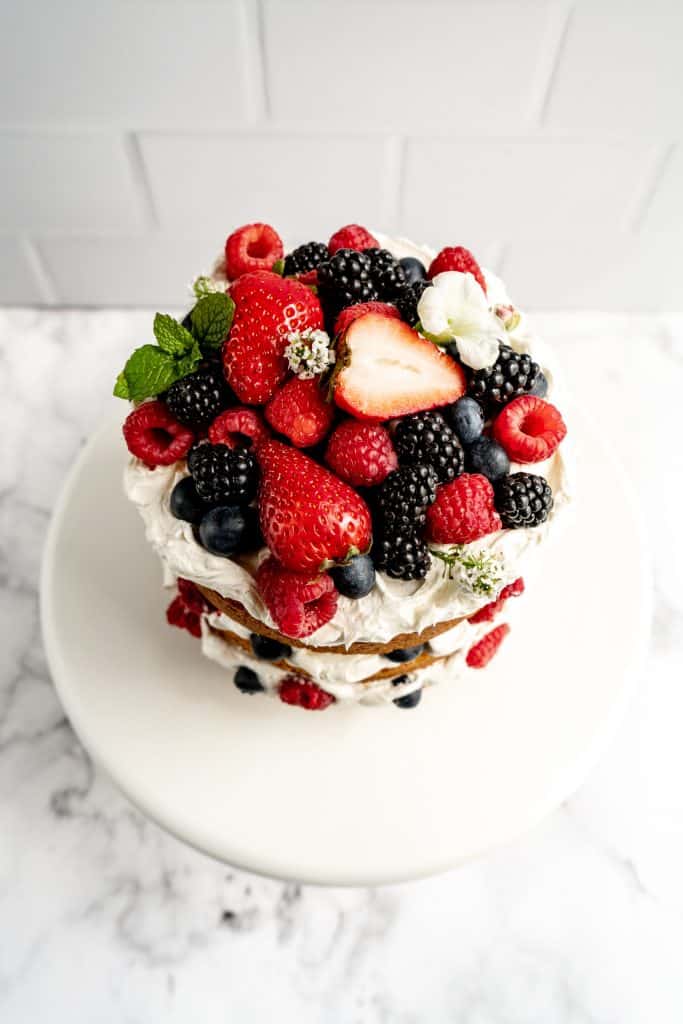 How to assemble the layer cake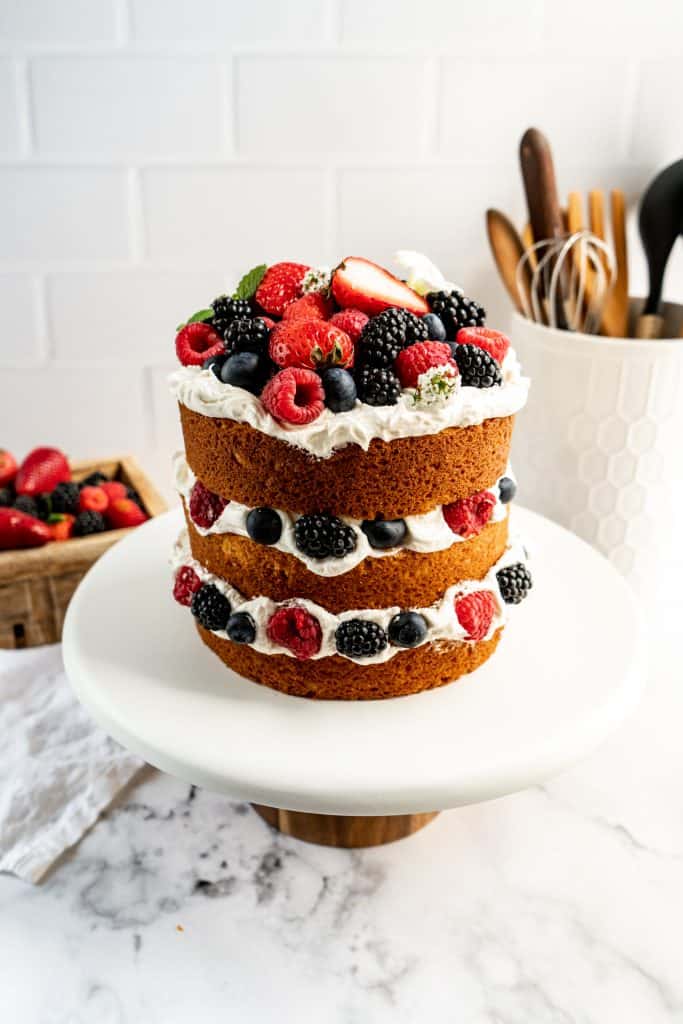 Still hungry? Check out my strawberry spinach salad with goat cheese!
Print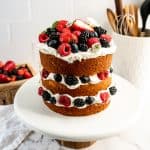 ---
1/2 cup canola oil
2 cups sugar
3 eggs
1/2 cup Prairie Farms sour cream
2 tsp lemon extract and zest from 2 lemons
1 tsp vanilla extract
2 1/2  cups all purpose flour
3 tsp baking powder
1 tsp salt
Vanilla buttercream
2 sticks of Prairie Farms butter
3 cups of powdered sugar
1 tbl milk
2 tsp vanilla extra 
---
Instructions
Combine the sugar, oil, eggs, lemon extract and zest and sour cream in a bowl.  Whisk to combine.  
In a separate bowl, sift the dry ingredients together.  Add to the bowl with the liquids and mix until just combined.  Use a hand or stand mixer if necessary.  
Cut parchment rounds out and place them at the bottom of each cake pan.  Spray the sides of the pan with baking spray.  Pour batter evenly into 3 6″ cake pans.
Bake for 30-35 minutes or until toothpick comes out clean.  
To make the buttercream:
Add room temperature butter to stand mixer bowl.  Add powdered sugar and milk and whip on high with paddle attachment for 5 minutes.  Add vanilla and whip for another 30 seconds.
Assemble cake.
---
Want to pin this for later? Click on the image below!