Say goodbye to slaving over the stove for creamy risotto! This no-fuss Instant Pot Mushroom Gorgonzola Risotto is quick, easy, and delicious!
**Thank you Decoy for sponsoring this post**
Risotto was once a meal that was saved for a special occasion. Ever since the Instant Pot came along, this classic Italian dish is easier and quicker than ever! The time it took to prepare went from an hour to just 15 minutes and I couldn't be more excited!
Fall is Merlot season, so I'm pairing this Instant Pot Mushroom Gorgonzola Risotto with a nice glass for a great at-home date night idea! You'll want to Merlot all month long with this wine and food pairing! Decoy Merlot is also a great pair with a beautiful fall charcuterie board for another at-home date night! Who's joining me in celebrating the grape?? Follow the hashtag #merlotme on social media to see how everyone else is celebrating Merlot this season!
I'm still amazed that someone can make risotto in an Instant Pot. And to be honest, this may be one of the best mushroom Risotto recipes I've ever tasted! So creamy, so flavorful and the perfect meal.
What kind of rice do you use for Instant Pot Mushroom Gorgonzola risotto?
There are many varieties of rice out there, but only one that is made for risotto. Risotto needs a high-starch round medium or short grain white rice. These types of rice are able to absorb liquids and release starch, which gives risotto that sticky texture. Arborio rice, which is an Italian short grain rice, is typically the rice used to make dishes like this Instant Pot mushroom gorgonzola risotto.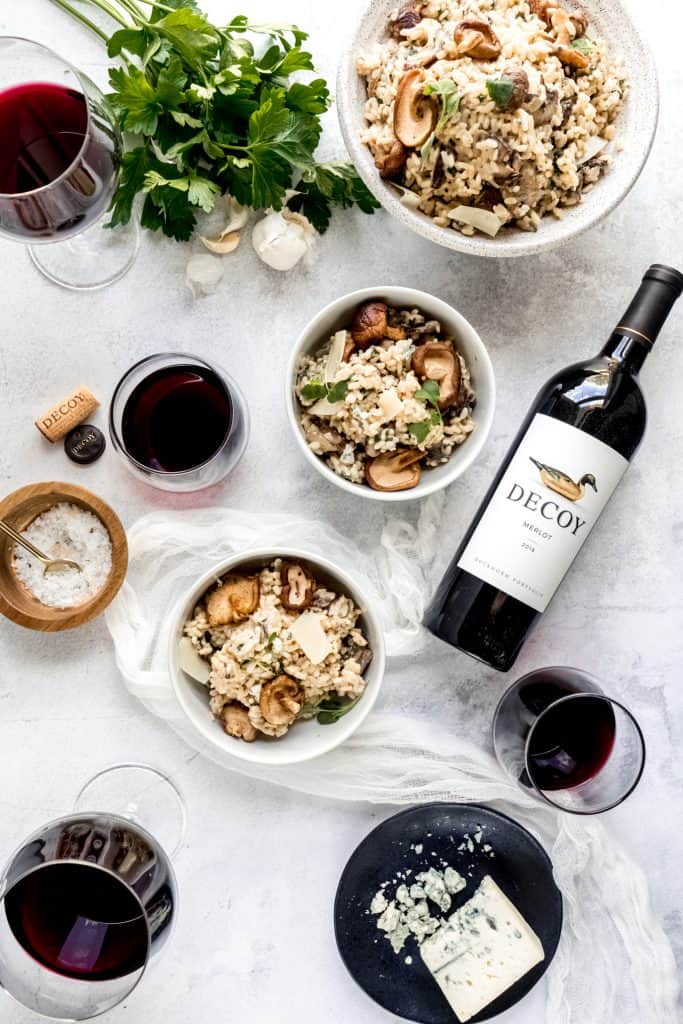 Tips for making the best risotto:
Don't rinse your rice! All rice, including arborio rice, is covered in a rice starch that will thicken during the cooking process and make your rice creamy delicious! So don't rinse your rice before adding it to the Instant Pot.
Use a variety of good quality liquids! Arborio rice will absorb all the flavors that it's cooked in, so make sure you're using a good quality chicken stock (preferably low sodium, as the flavors will concentrate as the liquid reduces and the risotto will be too salty), a flavorful wine and other herbs in the pot. All of those delicious flavors will shine in your risotto when all is said and cooked!
When in doubt, over cook. Generally most pasta dishes are cooked to al dente, but when it comes to risotto, it's better to over-cook than under-cook. No one wants a crunchy risotto or one that gets stuck in your teeth!
Serve immediately! Once the Instant Pot Mushroom Gorgonzola risotto leaves the pot, don't wait to sit down to dinner! Garnish with some grated cheese, freshly chopped parsley and dig in! Cold risotto just isn't the same.
Pairing wine with your risotto
Celebrate the grape with your dish! Decoy's Merlot is full of black cherry, blueberry and cassis flavors, with hints of vanilla and cocoa. These pair wonderfully with the gorgonzola and mushroom in the risotto, so it makes it a match made in culinary heaven! Who's ready to #MERLOTME?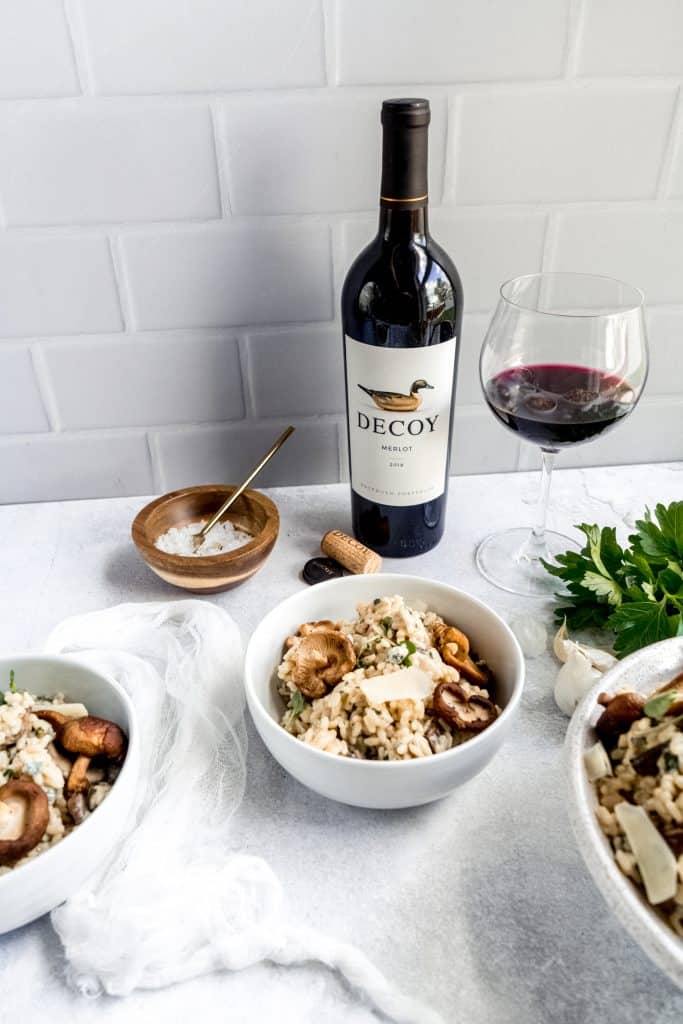 Print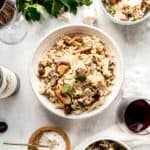 Instant Pot Mushroom Gorgonzola Risotto
---
4 tbl extra virgin olive oil
1 pound baby portabello mushrooms, cleaned and sliced 1/4″ thick
1 medium onion, diced finely
3 medium garlic cloves, minced
12 oz arborio rice
3 cups low sodium chicken or vegetable broth
1/2 dry cup white wine
1/4 cup heavy cream
1/4 cup gorgonzola cheese, crumbled
1 oz grated Parmigiano-Reggiano cheese, plus more for garnish
Handful of chopped parsley
---
Instructions
1.             Saute the mushrooms: Heat the olive oil on browning mode in the Instant Pot on browning mode.  Saute the mushrooms until softened, about 8 minutes.
2.             Add onion, garlic and rice: Add the onion and garlic and cook for one minute, stirring constantly. Add the rice and cook for 1-2 minutes or until the outside of the rice is translucent.
3.             Add the stock and wine: Stir well and cook for about about 2 minutes. Close the Instant Pot and turn the valve to seal.
4.             Cook the risotto: Cook on low pressure for 6 minutes. Release the pressure by using the release valve on the Instant Pot. 
5.             Add the cream and cheeses: Cook the risotto for an additional 1-2 minutes with the lid open on browning mode, stirring constantly, until creamy.  Add the cream, Parmesan and gorgonzola, stir to combine.  Add the parsley and stir well. Serve immediately with extra cheese and parsley.
---
Want to pin this for later? Click on the image below!