The sweet charcuterie board of your dreams – this ice cream sundae board has everything you need for the ultimate ice cream treat!
Are the kids headed back to school soon? Summer is winding down and we are counting the days until the kids are back in school. A perfect send off party needs this dessert charcuterie board! This ice cream sundae board is packed full of every ice cream topping you could dream of!
What should you include on your sweet charcuterie board?
Here are just a few ideas to get you started, but this ice cream sundae board is completely customizable! I like to include a mix of crunchy and creamy, just like any charcuterie board! Hot Fudge or melted chocolate
Sauces: Chocolate sauce or syrup, caramel sauce, whipped cream or roasted strawberries are must haves for any ice cream sundae.
Cookies: Think Mini Vanilla Wafers, mini oreos, chocolate wafer cookies and broken up waffle cones to sprinkle on top of your sundae.
Fruit: What ice cream sundae is complete without a cherry on top? Add some sliced bananas and strawberries in for good measure!
Other fun toppings: Sprinkles, Mini Marshmallows, M&Ms, Reese's pieces, or any of your favorite candy pieces!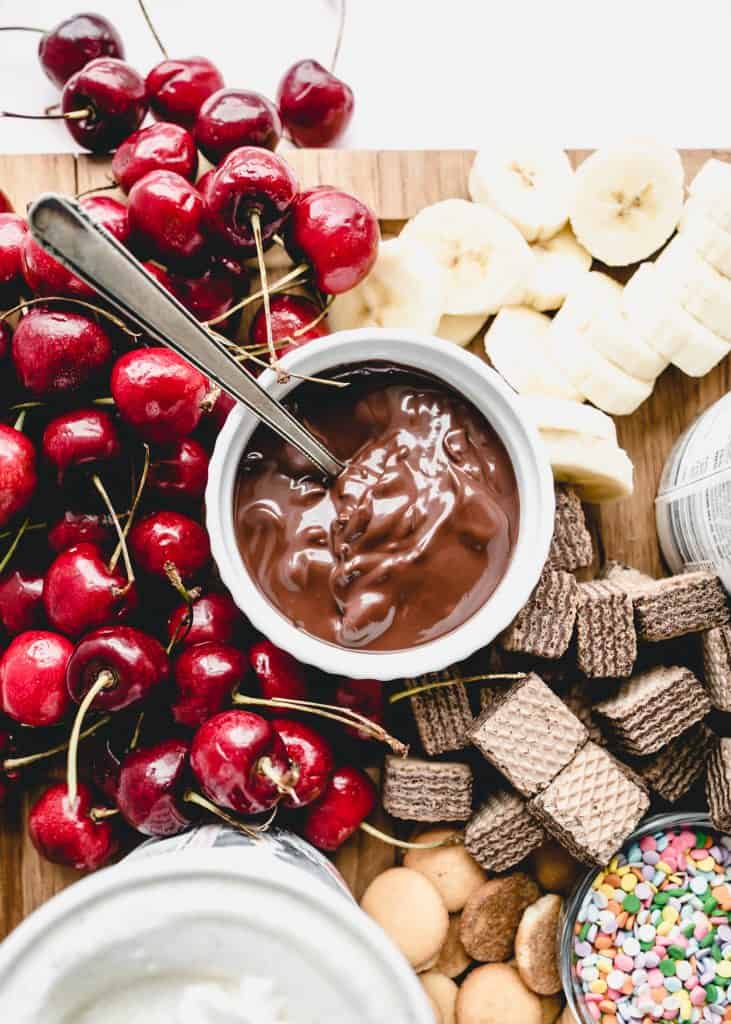 How to assemble your ice cream sundae board
Start with a large board. You can use a charcuterie board, a cutting board, or a large platter, Anything that can fit a lot of toppings!
Next place small bowls for toppings. They act as the foundation for the board. Fill them up with smaller items like sprinkles or sauces that would otherwise make the board extra messy.
Next place the lids of your ice cream pints to act as a place holder for each ice cream flavor. Plan on having two to three flavors per board. I chose the classics, chocolate, vanilla and strawberry! Right before serving, replace the lids with the pints of ice cream so it doesn't melt completely before your party!
Surround the bowls with larger toppings. Adding in larger toppings around the bowls, with the lighter toppings in the middle. The heavier fruits and toppings will fall off the board so keep that in mind when planning the dessert road map.
Fill in the remaining area with smaller toppings.
Make sure to include bowls and lots of spoons for scooping and sharing!
Enjoy!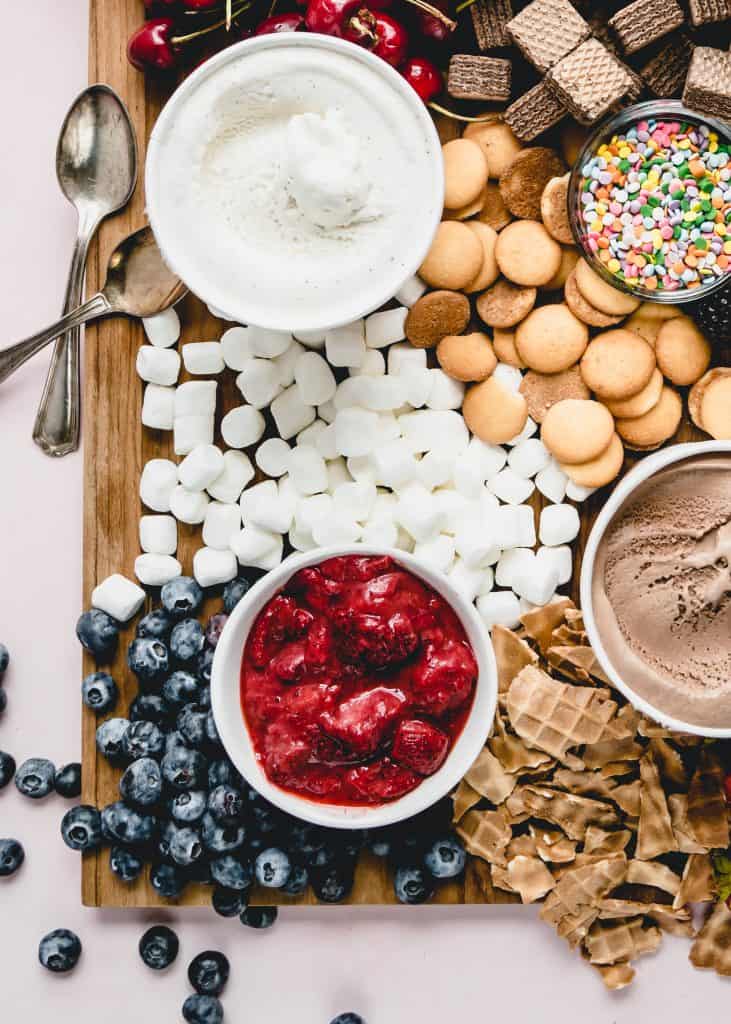 This decadent board is one the whole family will love! Which toppings are you choosing for your sundae??
Want to pin this for later? Click on the image below!