The key to summer entertaining is a great summer charcuterie! Pair this board with your favorite wines for the ultimate summer grazing board!
Happy first day of summer! Chicago is open at full capacity now after what has felt like the longest year ever. We are fully vaccinated here at the Dinner Fairy household, and I'm so excited to have friends over for some summer entertaining!
Any and all gatherings at our house start with a beautiful charcuterie board. What I love about charcuterie boards is not only how beautiful they are but also how easy they are to change up for each season and holiday! With all the gorgeous summer fruits and veggies, summer charcuterie boards may be my all time favorite!
You will definitely win the hostess with the mostess award when you bring out this gorgeous summer charcuterie board! It looks so impressive, but takes little effort to make! It doesn't get much better than that!
What should I include on my summer charcuterie board?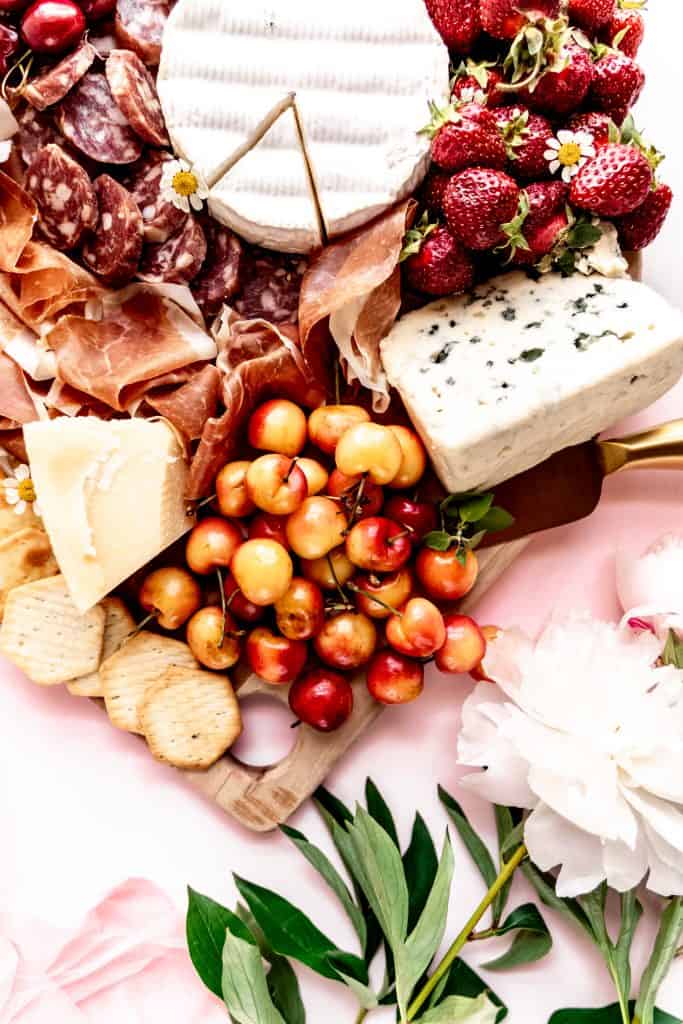 These summer fruits are perfect pairs with your traditional meat and cheese:
Strawberries: not only are these little red fruits delicious, they're high in fiber and vitamin C. They go great with goat cheese and sharp white cheddar. I picked up some strawberries from a farmers market in Chicago and thought they were so cute with the stems left on.
Cherries: These plump summer fruits are an excellent source of potassium and help with blood pressure! Pair them with and port wine and blue cheese or brie!
Peaches: This stone fruit is best in the summer, specifically in June in Illinois! Pair it a creamy blue cheese and a glass of Muscat or Riesling
Kiwi: Rich in Vitamins A, C, and B6, these little green fruits are juicy and so delicious! Pair them with a glass of Sauvignon Blanc or Pinot Noir and a tangy goat cheese!
Meats: I kept it simple and included prosciutto and a hard salami on the board. Any cured meat works!
Crackers: Keep the flavors mild so that they don't overpower the cheese flavors.
Nuts and spreads: every charcuterie board needs some crunch! So include some pecans or almonds on the board if so inclined. Place jams or honey in small bowls on the board for easy spreading! This cookie butter dip is perfect for the fruit on this board!
Get your favorite summer wines delivered right to your door here!
How do you assemble a summer charcuterie board?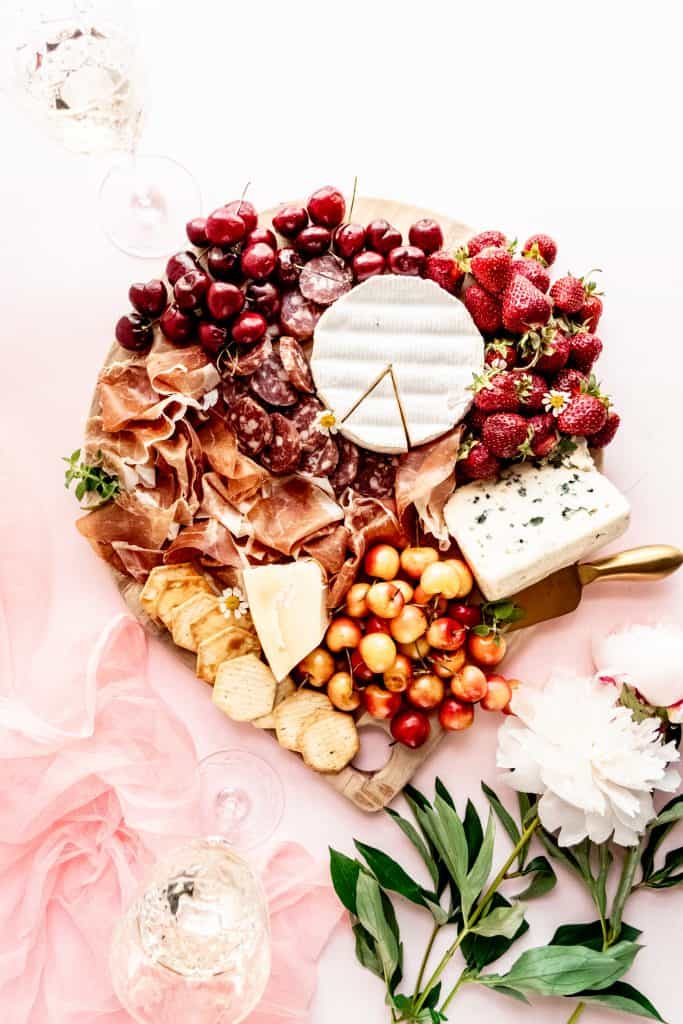 When putting all of these delicious elements, you'll want to remember these tips:
Arrange everything so it compliments each other.
I love to alternate meat, cheese, and fruit. I also love to fill in the spaces with spiced nuts, which are great to pair with both cheese and cold cuts. And we can't forget the crackers! I stick the crackers in-between spaces on the platter.
How should I present the meat?
To create a gorgeous presentation of meats, if they're round, fold in half and then half again, and place the open end up on the board. If you're including prosciutto on your board, pull the thin slices apart and allow them to fall on top of each other like a curly ribbon
Should I cut the cheese?
If you're including large rounds of cheese in addition to the smaller squares that often come in packs from the grocery store, I like to cut the rounds into wedges for easy access for your guests. Keep them placed together so that the cheese doesn't dry out too much. That allows your guests to easily grab a slice and it still looks gorgeous. Include party toothpicks near the board for easy access.
I also included some edible flowers from a local vendor for an extra summery touch on this summer charcuterie board.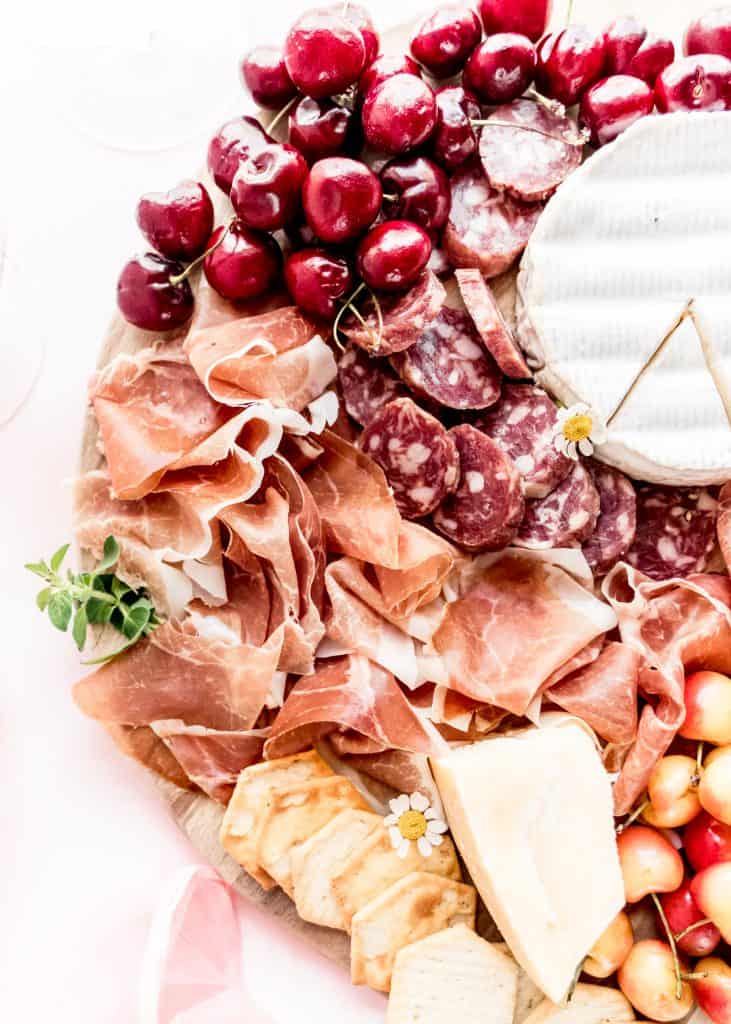 How much cheese and meat do I need?
To make sure you have enough cheese and meat for your guests to snack on, I recommend having about 2-3 ounces of cheese and 2 ounces of meat per person, if you're serving the plate as an appetizer. However, in this case, we're serving lots of extra fruit, so people will likely eat less cheese and meat.
If you're making a charcuterie board for a meal plan for 4-5 oz. of cheese and 3 ounces meat per person and add plenty of fruits and veggies. I would also suggest using crostini or French bread in place of some of the crackers.
Want to pin this for later? Click on the image below!