Step up your tailgating game with a football charcuterie board! It will be a hit no matter which team you're cheering for!
Although tailgating may look a little different during times of covid, doesn't mean that they have to taste any different! An intimate gathering can still have an epic spread to watch two of your favorite teams battle it out.
When gathering ingredients for this football charcuterie board, you'll want to consider what your guest's favorite game-day snacks are. At the Dinner Fairy house, we love soft pretzels and spicy cheese dip!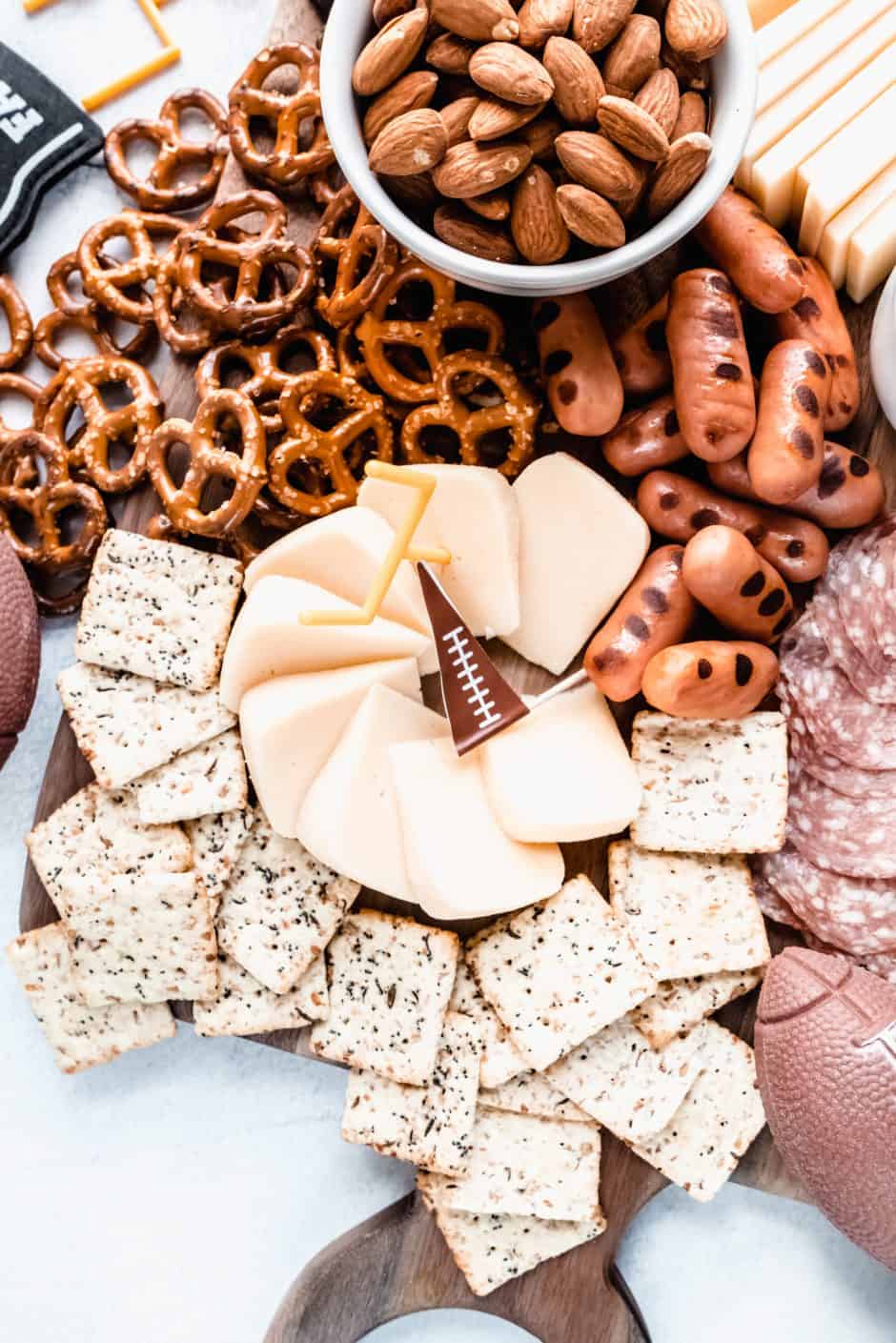 What should I include on my Football Charcuterie Board?
Cheeses: My standard rule of thumb for any charcuterie board is to pick an assortment of mild, medium, and bold flavors. On this board, I'm including a smoky gouda, a nutty gruyere cheese, and a classic Cheddar Cheese sauce for dipping! You can find the easy cheddar cheese sauce recipe below!
Meats: Grilling is a football tailgate tradition, so for meats, I'm including a hard salami and some grilled Lit'l Smokies® sausages for that festive football tailgating feel!
Include something pickled: I love anything pickled for perfect complement to your meats and cheeses. Pickled vegetables, such as gherkins or pickles, olives, pickled jalapenos or pepperoncinis are great on charcuterie boards. They pair so easily with everything on the board and add a little tang.  Add these right on the board!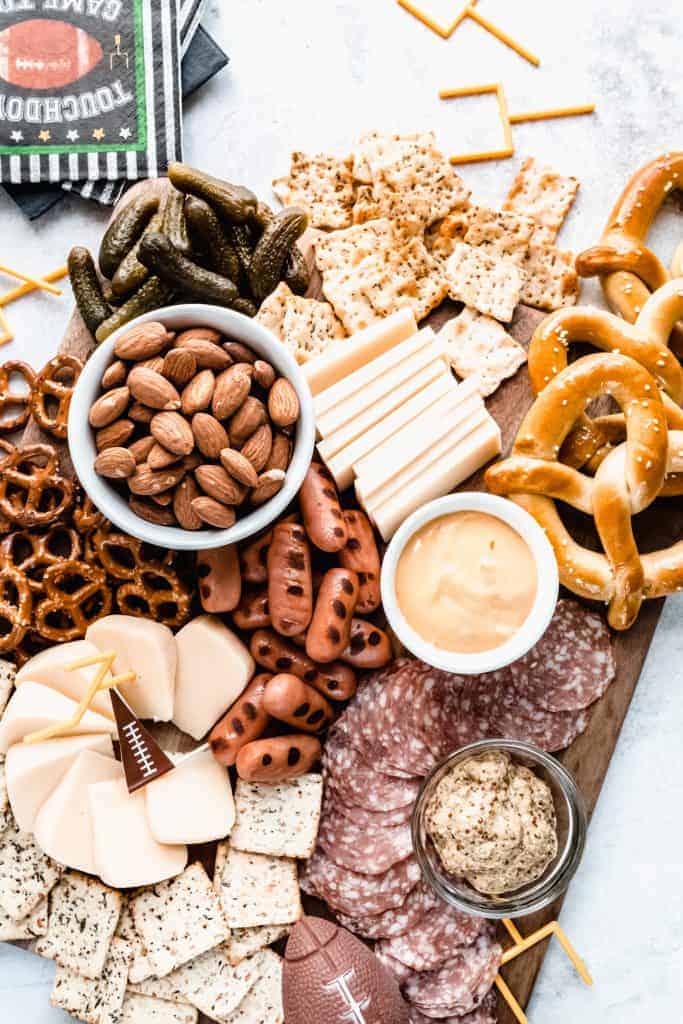 Other spreads: You may also include any of your favorite spreads, such as stone-ground mustard, which pairs with both the cheese and pretzels on this board!
Crackers & pretzels: While your tailgaters can get along perfectly well without crackers to pair with their cheese and meats, these items can be great for pairing a variety of ingredients for providing a edible vessel. I choose these crackers with everything bagel seasoning that I found at my local grocery store, and some Mini Pretzels to go along with the football theme! Choose crackers that don't have a strong flavor to overpower the cheese and meats on your board. I also included some roasted almonds for a nice crunch, and some cheddar and caramel popcorn on the side.
How do I lay out my charcuterie board?
Start the layout of any charcuterie board with placing the larger objects or dips in bowls: in this case, the soft pretzels, almonds, cheese sauce and smoked gouda.
From there I like to fan my meats and cheeses around each bowl to create a beautiful football charcuterie board. I fanned the hard salami around the mustard and cheese dip bowls. I sliced the smoked gouda in wedges and layed them in a fan pattern. For the sliced gruyere, instead of laying them flat on the board, I stood them up and staggered them just slightly to add a little variety.
In the spaces that are left, add your crackers and Lit'l Smokies. These are hard to lay in an organized fashion, and look better in a little pile between everything else.
Adding some Football flair
To add an extra festive touch to this football charcuterie board, add some true football elements! I got these small footballs at my local party supply store, as well as some mini field goal posts that double as party picks for picking up cheeses! These cute football party picks also are a fun decorative touch. I threw in some mini foam fingers and football napkins around the board as well!
I hope you enjoyed this post! If you're still hungry, check out my brie with balsamic onion jam or check out how to make some football cupcakes!
Print
Spicy Pretzel Cheese Dip
1

 

Tablespoon

 

unsalted butter

1

 

Tablespoon

 

all-purpose flour

1

 

cup 

 

whole milk

8

 

ounces sharp

 

cheddar cheese

1

x 4 oz can mild green chiles
salt and pepper, to taste
Instructions
Melt the butter in a small saucepan over medium heat. Add the butter, stirring constantly and cook for 1 minute until it forms a thick paste.

Whisk in the milk and cook until slightly thickened.

Turn off the heat and slowly stir in the cheese until melted. Stir until smooth. Add green chiles. Season with salt and pepper, to taste. If it's too thick add a Tablespoon or more of warmed milk.
Want to pin this for later? Click on the image below!