Easter is only a few weeks away, and it's time to start planning your Easter tablescape! Gather all your beautiful pastel decor, and let's get decorating!
Is it just me, or has spring completely snuck up on us?! I feel like I was just planning my Christmas menu, and now I'm scrambling to figure out what we will be snacking on for Easter brunch! If you're looking for some last minute inspiration for your friend's and family's gatherings this upcoming holiday, I have some easy tips to create a stunning Easter tablescape with decor you may already have!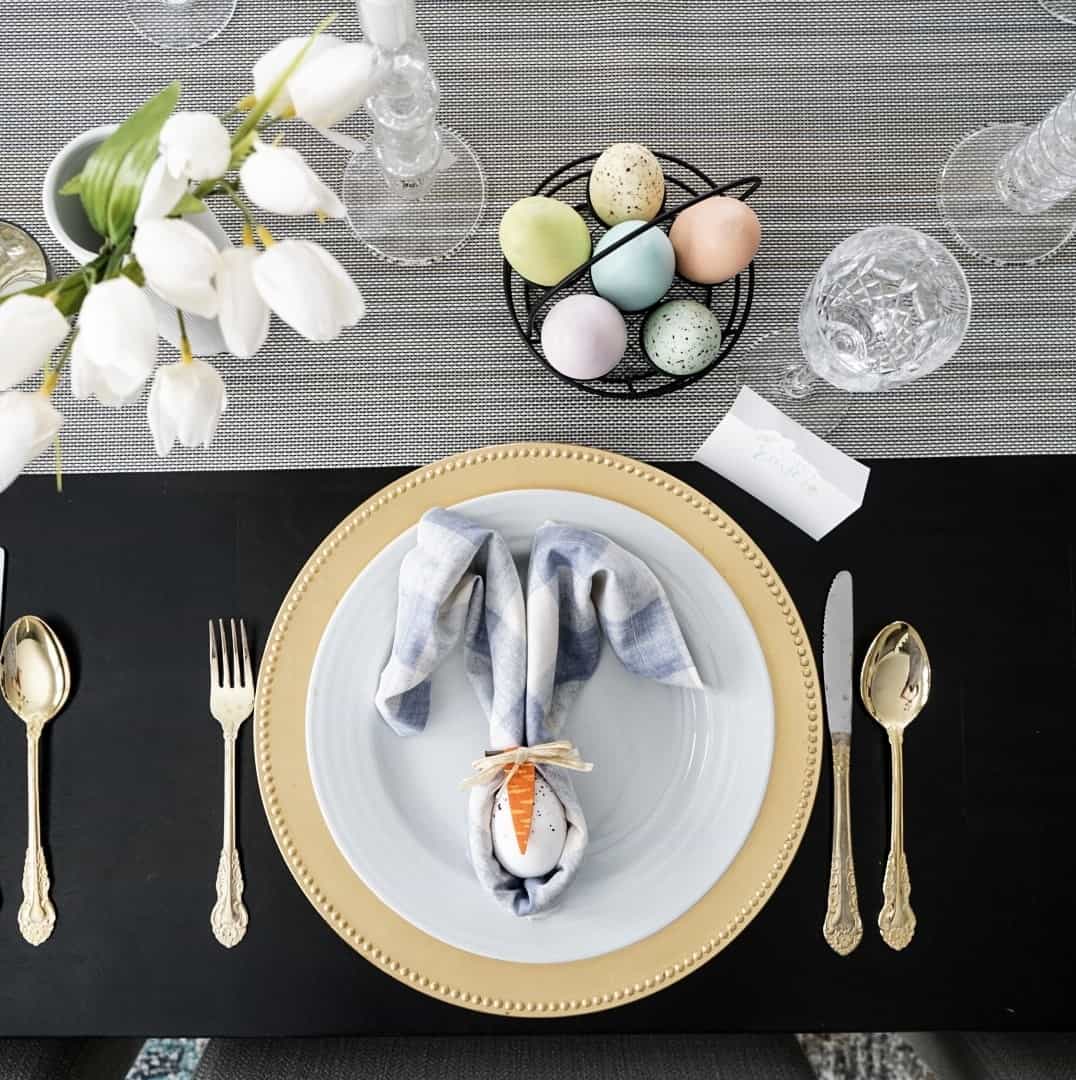 Planning a gorgeous tablescape for any holiday is one of my favorite things to do, and Easter is no exception!  After months of bitter cold weather in Chicago, I'm ready for all the fresh spring colors, flowers, and warm weather. I love changing the colors in our house just slightly.  It makes all the difference and it's so simple to do!
I tend to decorate with neutral colors in my house.  My walls were painted grey when we moved in, and it was exactly what I would have chosen for myself if we had painted!  I love to decorate with a neutral palette so that when the seasons do change, you can throw in seasonal pops of color and it will look like a whole different room!
How do I change up my decor for spring?
So for Spring, I changed things up with some gorgeous pastels.  I am a huge fan of the dollar section at Target for picking up seasonal decor that will just add a simple touch to my tablescape.  I found this black wire egg basket which holds 6 eggs and I placed it in the center of the table.
If you've been following me for a while on Instagram, you know that I picked up these adorable black house frames over the Christmas holiday.  They were originally for a photo shoot I did with Compass, but I ended up using them for my own holiday decor afterwards.  I'm so happy I did! I'm able to utilize them for all the seasons by just changing out little details.  I always keep the small candle in place. To make it festive for Easter, I added this cute little grapevine "nest" I got from save-on-crafts, added some green moss and a faux speckled Easter egg!  The nests also double as napkin rings!
I have simple white vases of different heights from CB2 with a pretty geometric designs on each that span the table.  I switch out different faux florals for each season.  As much as I love fresh florals, they don't last as long as I'd like, so I opt for some beautiful faux florals.  Michaels always has a great selection and if you have their app, there's always a coupon for a discount! I alternate the vases with clear candle holders 
How do I make the Easter Tablescape Bunny Napkin?
For a final festive touch, I folded some light blue napkins and created an adorable Easter bunny place setting! Instead of placing the napkin next to each plate, you can easily fold any napkin to make it so cute for Easter! Check out how easy it is to create in my video below!
Now that the table is set, do you have any ideas for the menu?  To get some ideas flowing, check out my deviled egg bar and finish with these adorable easter egg cupcakes!  Happy Easter!
Want to pin this for later?  Click on the image below!