Create a beautiful Easter tablescape with some classic neutral and pastel pieces!
After a long winter, our minds start dreaming about beautiful spring colors and bunnies hopping about. This beautiful Easter tablescape was so easy to put together with simple spring decor pieces you may already have in your own home!
Is it just me, or has spring completely snuck up on us?! I feel like I was just planning my Christmas menu, and now I'm scrambling to figure out what we will be snacking on for Easter Sunday brunch! If you're looking for some last minute inspiration for your friend's and family's gatherings this upcoming holiday, I have some easy tips to create a stunning Easter tablescape with decor you may already have!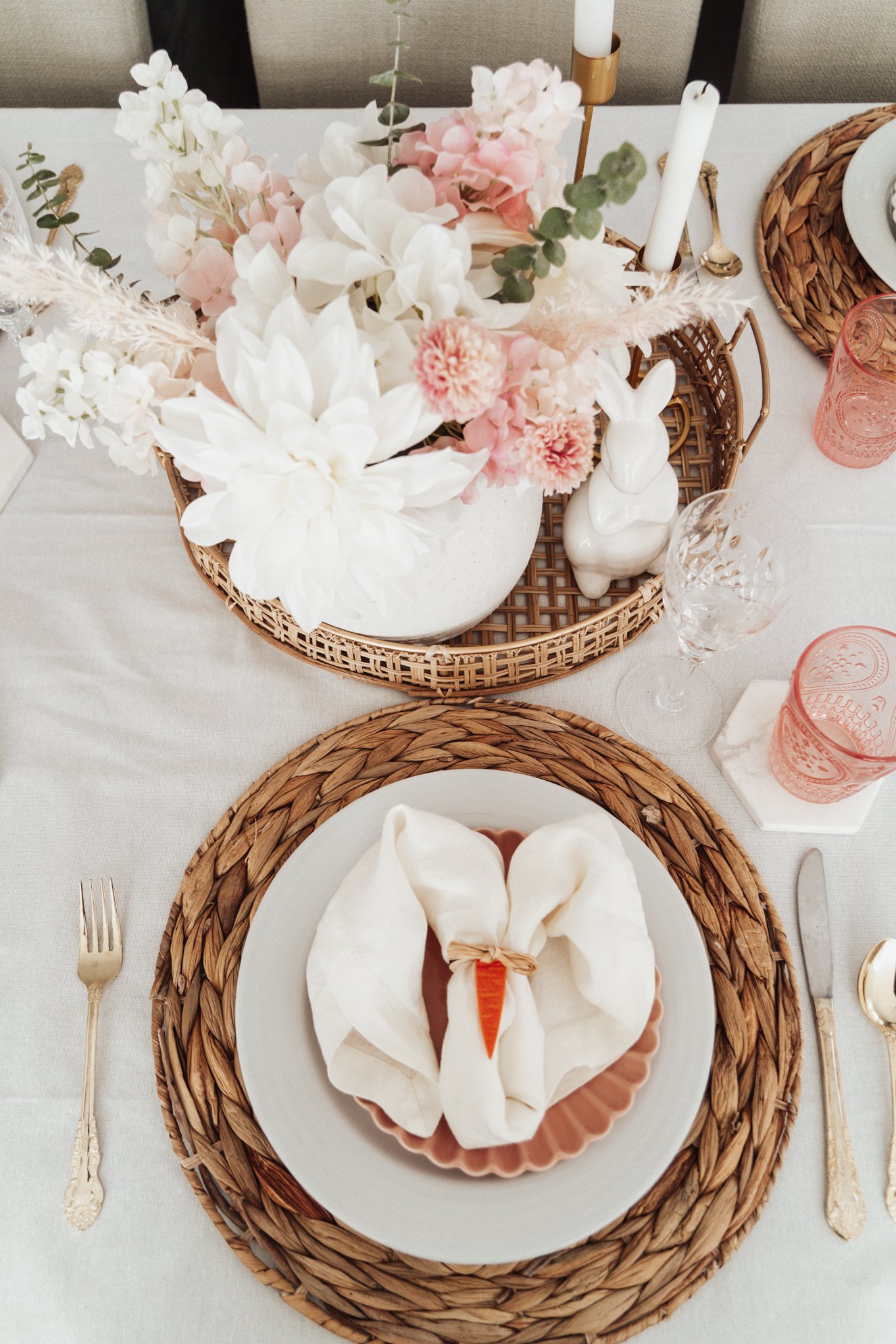 Planning a gorgeous tablescape for any holiday is one of my favorite things to do, and Easter is one of my favorite holidays!  After months of bitter cold weather in Chicago, I'm ready for all the fresh spring colors, flowers, and warm weather. I love changing the colors in our house just slightly.  It makes all the difference and it's so simple to do!
How do I change up my decor for spring?
When changing things up for spring, think about adding pops of beautiful colors of spring! Start with a white tablecloth and some natural elements like these water hyacinth charger placemats. Add classic white plates and white dishes and add a pop of pink with these scalloped plates. The dollar section at Target has beautiful seasonal decor that adds a simple touch to any tablescape.  I found some white ceramic bunnies and added one to my rattan tray that I've used all year round, and added some white and pink florals to this vase. This look can be achieved with fresh flowers from Trader Joes or silk flowers!
Adding pops of color to your tablescape
I love a beautiful neutral color palette so that when the seasons change, you can throw in seasonal pops of color and it will look like a whole different room! This neutral tablescape has subtle pops of pink, green and orange that will create a beautiful color combination and a very calming experience for your guests during a yummy Easter brunch.
Here are some other ways of adding pops of color to any gorgeous table:
Colored Glassware
Add pop of pink with glasses like these or these. Pottery Barn carries a line of glassware in a few different colors that would be perfect for your Easter table settings!
Colorful napkins
Changing up your napkins is a perfect way to add color to any table. These beautiful spring napkins are a great way to add subtle colorful details to your spring table, perfect for everyday use or casual dinner parties.
Simple gold flatware is a great addition to any tablescape, and adds a touch of elegance to your pretty table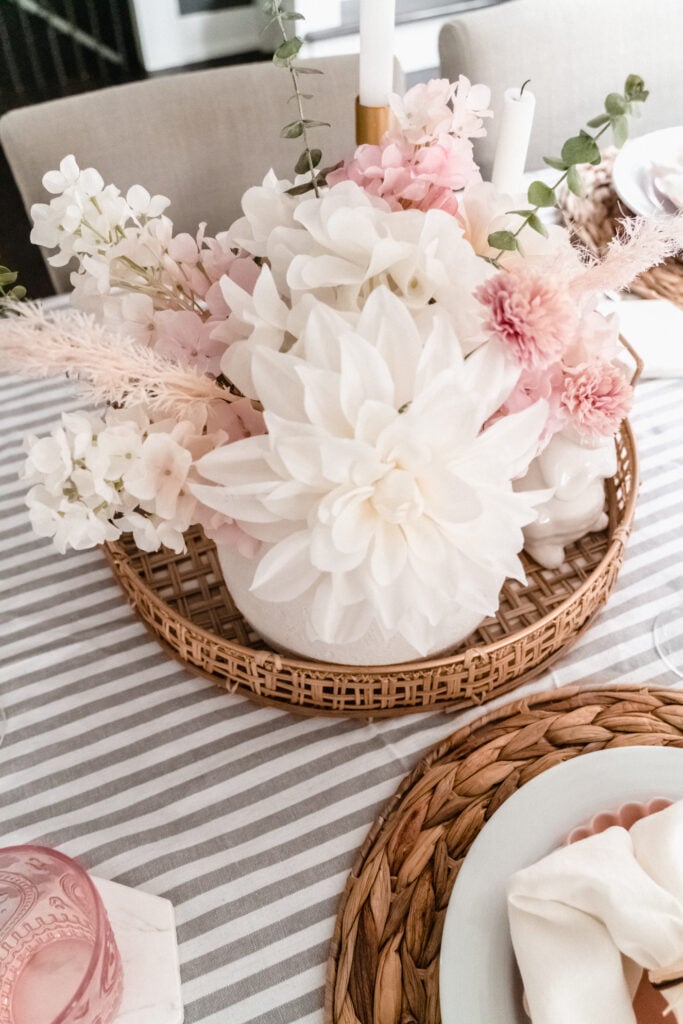 How do I make the Easter Tablescape Bunny Napkin?
For a final festive touch to this gorgeous Easter tablescape, I folded a linen napkin and created an adorable Easter bunny place setting! Instead of placing the napkin next to each plate, you can easily fold any napkin to make it so cute for Easter! Check out how easy it is to create in my video below!
Now that this lovely easter tablescape is set, do you have any ideas for the menu?  To get some ideas flowing, check out my pink deviled eggs, easter egg cupcakes or these 30+ other ideas!  Happy Easter!
Want to pin this for later? Click on the image below!