This fruit charcuterie board is perfect for easy entertaining!  Creating party food platters and small bites that can be prepared with minimal effort is the key to staying sane while hosting.
Now that summer is here, I'm taking advantage of the rainbow of gorgeous fruit that this season has to offer. I find myself browsing fancy grocery stores for hours, primarily hanging out in the produce section.  My eyes are drawn to the stunning colors of Rainier cherries, ruby red strawberries and don't even get me started on fresh figs! I wish these were available year-round, don't you?!
We recently had a small get-together for the 4th of July, so I decided that this was a perfect occasion to build the perfect fruit charcuterie board!
If you're not familiar with the word, charcuterie (pronounced shar-kood-eree) boards are meat and cheese boards that typically include a variety of items that can be paired in so many different ways, all equally delicious! I love fruit charcuterie boards because they are crowd-pleasers, and are so stunning!  This board is different from the traditional charcuterie in that it's primarily made up of fruits rather than meats and cheeses, but we still included some of those in there as well!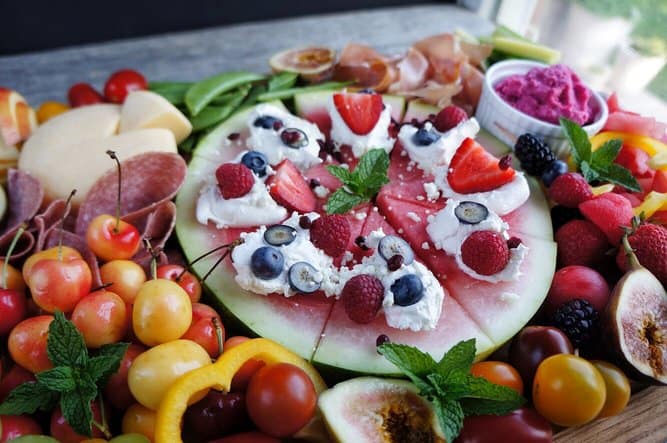 Tips to making a beautiful fruit charcuterie board
Select a colorful variety of fruits! Pick an assortment of colors and flavors for your fruits. Tart cherries, juicy watermelon, sweet strawberries, and crisp granny smith apples.  I did a fun watermelon "pizza" in the middle of my board for some extra fun.  Super simple to make, just slice one watermelon round like a pizza, and on each individual slice, place a little cool whip (you'll have to use a scoop or spoon, spreading the cool whip on there is difficult). Top with raspberries, strawberries, blueberries and pomegranate seeds to garnish.  I threw on some feta for extra tang and garnished with mint for color and flavor.
Mix up your shapes.  I like to have a variety of shapes on my board.  I used a star cutter to cut out my watermelon because this was for the Fourth of July, but any shape is fun! I created a skewer of watermelon balls, strawberries (I kept the green leaves on for appearance), blueberries and blackberries. I always slice my apples and fan them out in sections.  Be sure to cut and add these at the end, so try and lessen as much oxidation as you can.  Here are some tips on how to slow the oxidation process.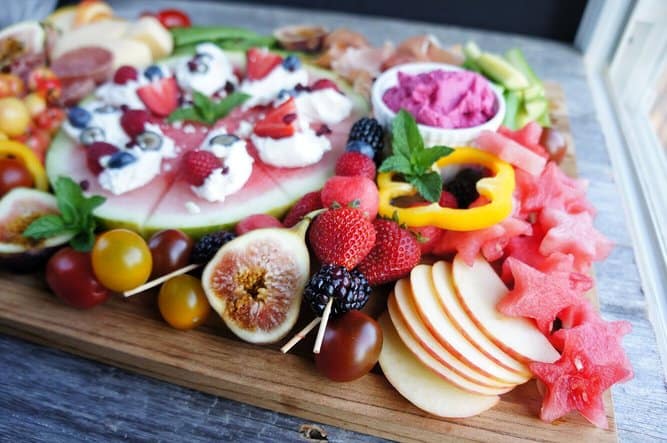 Throw in some veggies.  Cold veggies are always a must on hot summer days.  They're light and filling without making you feel like you're going to float in the pool.  I included some sugar snap peas, mini cucumbers which I sliced into sticks rather than rounds,  some mini heirloom tomatoes for color variety, and finally I included some slices of bell peppers (sliced horizontally) and tossed those on top for some shape variety! I just love the curves of those veggies.
Dips: For this board, just a couple dips are needed, if any.  I included a beet hummus on here for the color (I mean, how stunning is that red?) but regular hummus is perfectly delicious. If you'd like to make the board just a little sweeter, you can include a yummy fruit dip or just leave them as is.  It also depends on how much room you have left on your board! I tend to get a little carried away with the mains, so it doesn't leave a lot of room left for multiple dips, but they're not really needed on this beauty.
Don't forget the meat and cheese!: Did you think I was going to leave this out on a fruit charcuterie board? I could never! Yummy deli slices and creamy cheeses are always the perfect compliment to fruits.  They're not the star of this board, but it doesn't mean you have to leave them off completely!  I chose some genoa salami and thinly sliced prosciutto to compliment my fruits, and also included a smoked gouda for a little extra love.  When placing your meat on the board, lay them in a beautiful way.  I pretended like the prosciutto was like a ribbon and bunched the slices up in a ruffle manner.  For the salami, I folded the round in half, and then in half again, and placed the open ends facing up, keeping them in place with my wheel of gouda and cherries. I think it adds an extra stylish touch to the board.
Alcohol: When appropriate, include alcohol to your fruit charcuterie board experience. There are so many different combinations of wine and fruits that work well together, so really any wine you choose will go well with this board.  Generally speaking, you want to pair bold-flavored meat and cheese with bold-flavored alcohol. A dry Prosecco always pairs well with strawberries, and my favorite  Sauvignon Blanc pairs well with grapes and melons.  Really, the possibilities are endless!
Crackers & bread: I didn't include any crackers on my board, but if you have more cheese and meat than I do, feel free to include them! I love these water crackers.  They don't have a lot of herbs or salt added so they won't detract from all the other flavors here.
The finished product: When putting all of these elements, you'll want to alternate the meat, cheese and fruit.  I started with placing my watermelon "pizza" in the middle. I like to frame my board with grapes, and place the rest around the middle.  Don't be afraid of overflow! I like a little spilling off the board.  In this case, more is more.  You want your board to be the star of the show, so the more dramatics, the better!  I used this large teak board from Crate & Barrel, but any large platter will do.  Garnish with extra sprigs of mint for a beautiful green touch.
All in all, have fun with it! I can't wait to see what you create!
If you love this post, be sure to check out how to host an epic s'mores party! 
Want to pin this for later? Click on the image below!