Fall is around the corner and so is the cooler weather!  Warm up after a day playing in those beautiful changing leaves with a hot apple cider bar! 
Fall is by far my favorite season!  I'm not a warm weather person (hi, I got married in February) and so as those summer months drag on, I long for the days when the leaves change and I can wander the streets of Chicago in a sweater, jeans and boots.  Who's with me??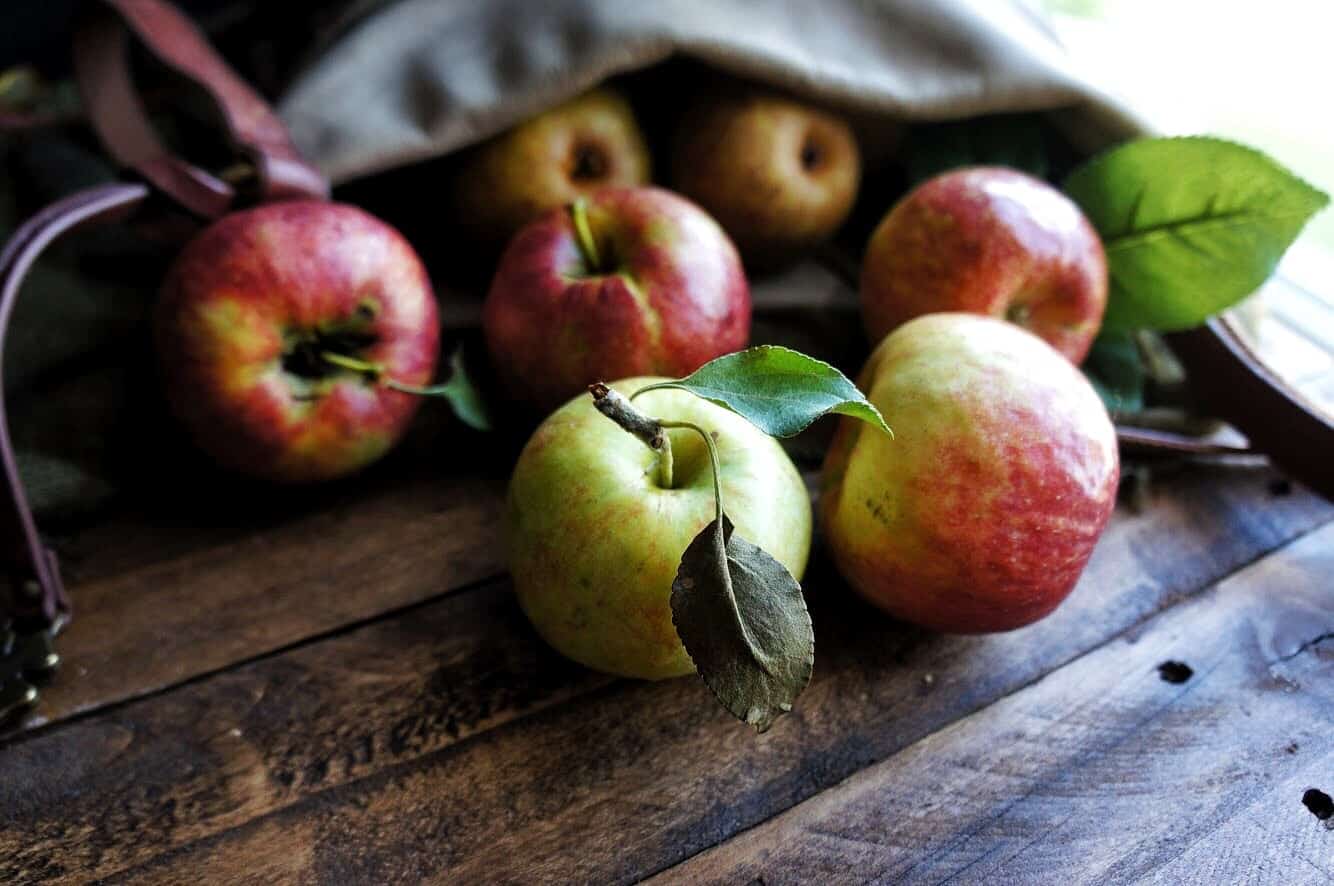 Last year I made it a goal for myself to find an apple orchard outside of the city and go apple picking.  So now I'm envisioning the perfect fall Saturday, complete with apple picking, maybe a hay ride, then coming home to warm up with a hot apple cider bar! I can't think of an easier and more delicious way to end the day!  I'm partnering with Solo Cup to show you how easy it is to put together this festive hot apple cider bar!
What do I need for a hot apple cider bar?
First things first, you'll need apple cider! Whether you go homemade or store bought, warm up the apple cider with a big crockpot or dutch oven.  You can either leave it in the pot or put it into a festive beverage dispenser.  Make sure that the beverage dispenser can handle hot beverages!
Toppings! 
Any beverage bar isn't complete without some delicious toppings! For my hot apple cider bar, I chose the following:
Cinnamon Sticks
Caramel squares
Fresh orange slices
Apple chips
Torani Flavored syrups (my favorite are bourbon caramel and, what else, pumpkin spice!)
Whipped cream
Bourbon or Whiskey (for the adults!)
Have more to add? Let me know in the comments below!
How should I display my hot apple cider bar?
Presentation is EVERYTHING! Whether you're working with a chic bar cart, or a sideboard like I have, get creative with your presentation!  I am all about making things look festive and adorable, so I'm going all out this season!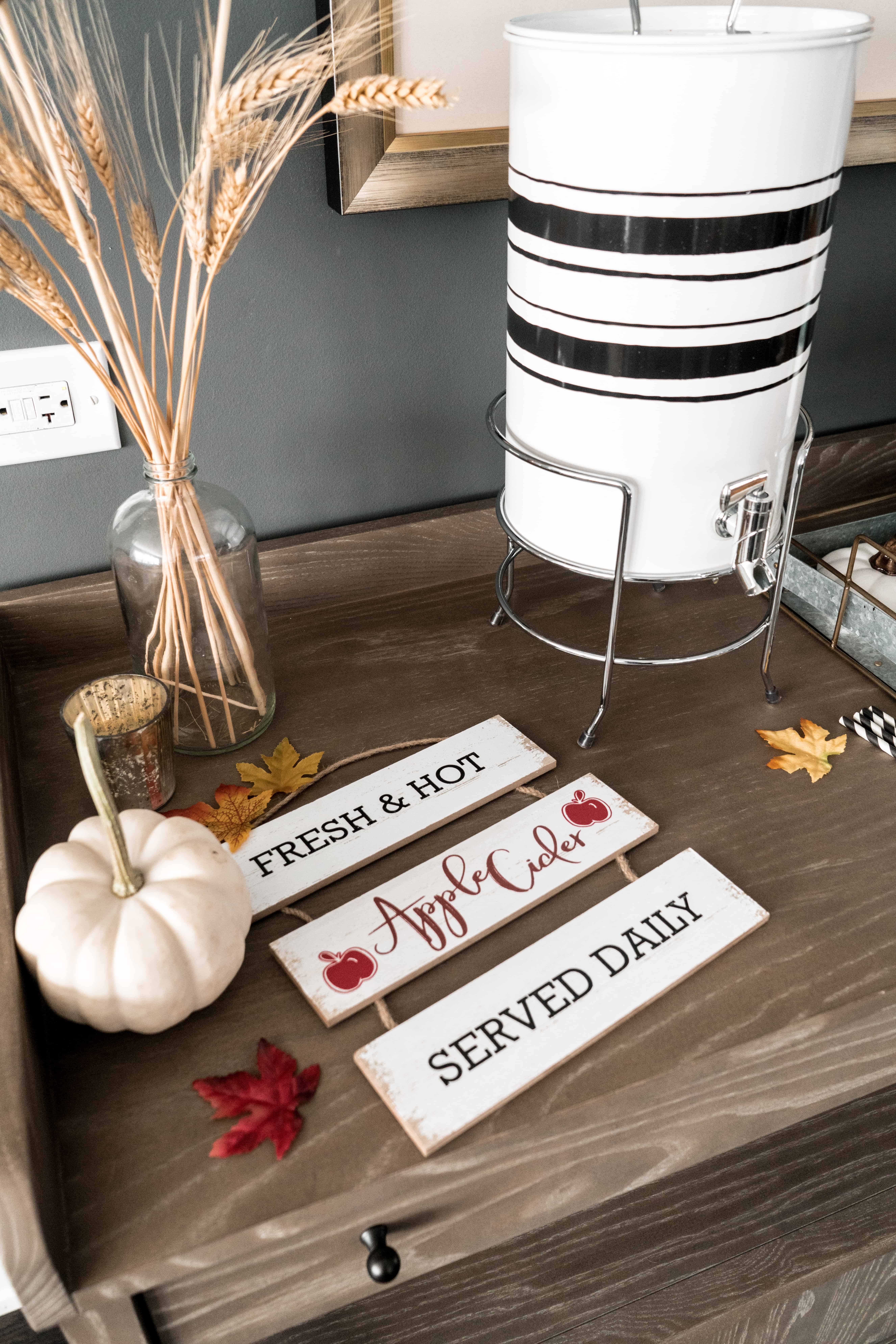 Start with a cute sign! I found this adorable one from Target in the $3 section and I'm obsessed.   If you're not up for going out to the store, there are plenty of free printables out there! Some of my favorites are here and here and here.
Display your toppings! Using clear 9 oz Solo Cups, display your toppings on their own or in a tray like this one. Guests can serve themselves and add their own flavor combinations for the perfect custom fall drink!
Be sure to have cups of different sizes for your guests! I am putting out the classic red solo cup in 9 oz for the kids and a hot cup to go in 16 oz for the adults! If you're enjoying this festive hot apple cider bar before trick or treating, it's perfect for mom and dad to take on the go! They have reclosable lids provide insulation so that your trick or treating commute is always seamless!
Last but not least, include some snacks at the end! I picked up some pumpkin donuts from my local donut shop, and included some granola for healthy snacking!
This hot apple cider bar is the easiest way to entertain friends on a brisk fall day! Now sit back and enjoy!
I hope you enjoyed this post! If you loved it, be sure to give me 5 stars in the comments below! 
If you're looking for more family fun activities, spend the night under the stars with some
easy camping recipes! 
[simple-recipe:10671a]
Want to pin this for later? Click on the image below!