This Gruyère and Caramelized Onion pizza has a perfect balance of salty and sweet! Slice it up and serve with some sparkling wine at your next gathering!
**This post is sponsored by Wines of Germany. All opinions are my own**
Having a baby sure does make you feel like a grown-up, doesn't it? Mom life has been exhausting, rewarding, frustrating, and wonderful all at the same time. The second after bedtime is over, this mama is craving a glass of wine and an easy dinner option. Enter this Gruyère and Caramelized Onion pizza! The sophisticated flavors on this pie make it a grown-up pizza just for those pizza-loving moms and dads!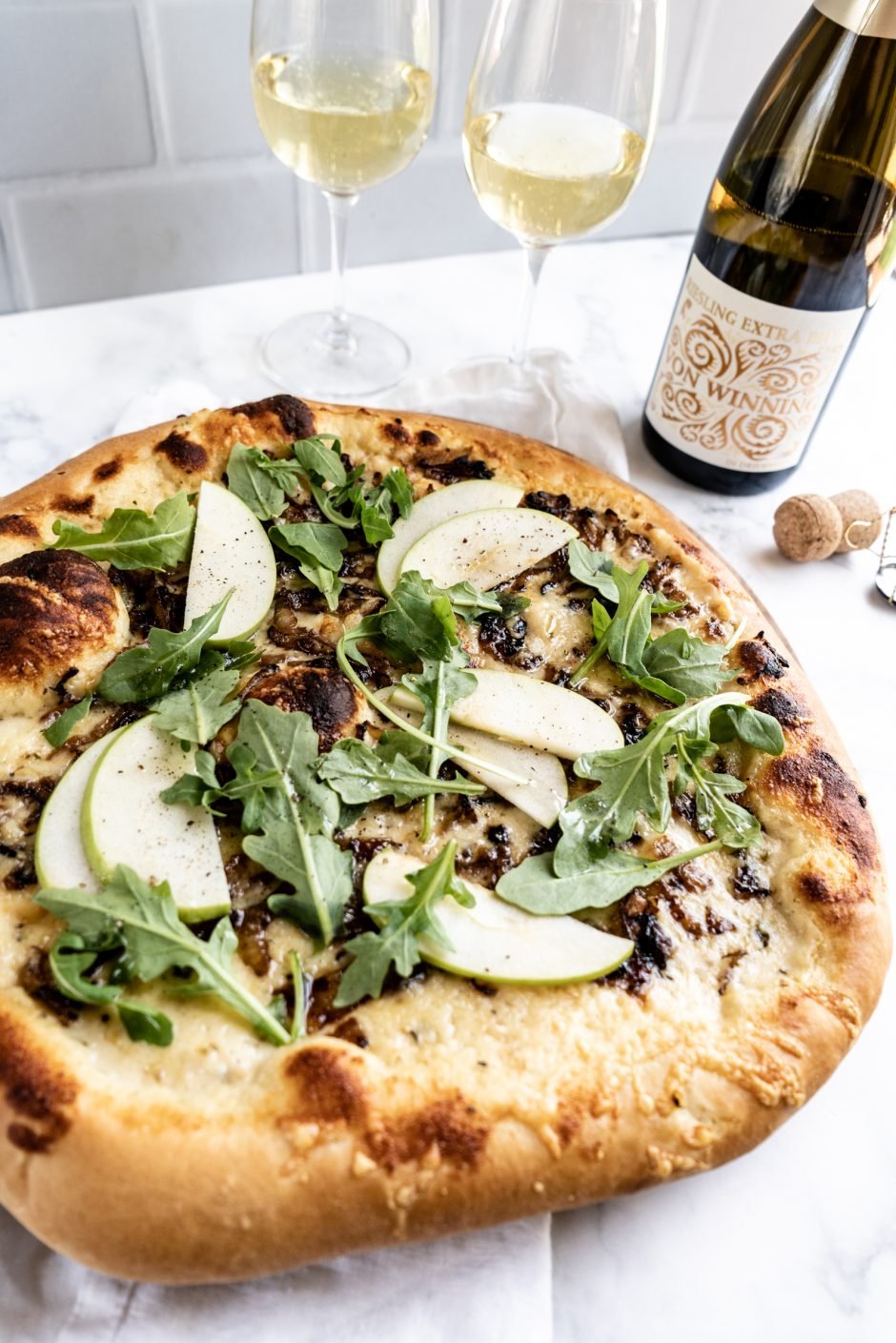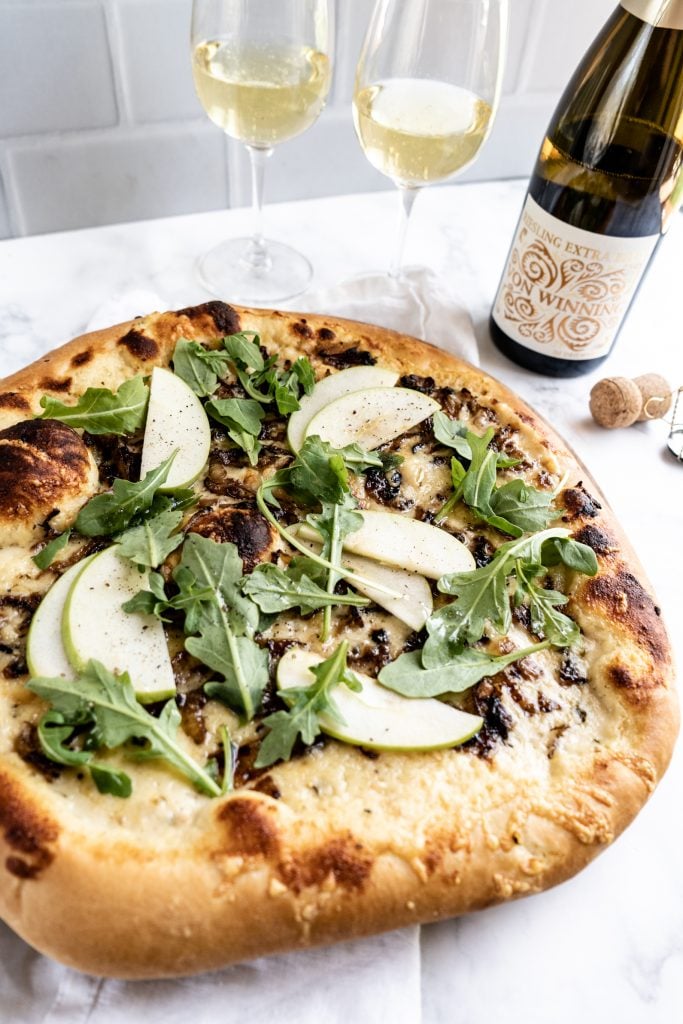 How do I make pizza dough?
This pizza dough has just a few ingredients and takes just minutes to put together. I was able to mix it up before bedtime, let it rise while my son was in the bath, and then the whole thing took just 10 minutes to bake! I paired it with a delicious sparkling glass of wine and had my own little happy hour at home!
Tips for making pizza dough:
Make sure the water temperature is perfect! Yeast is a living thing and is killed off at higher temperatures, right around 140 degrees F. This is very important, especially when you're rehydrating active dry yeast, which is what you typically find in the grocery store. The water should be right around, 105 degrees F to 115 degrees F. I actually used an instant-read thermometer to make sure it was just perfect. I recommend investing in this kind of thermometer for all things in the kitchen!
If you're not sure if your yeast is still active, add some sugar to it! A pinch of sugar will make yeast bubble up, thus proving that the yeast is still active and hasn't expired.
Make sure the oven is HOT: We are baking the pizza at an oven temperature of 500 degrees today, which is well above the standard oven temperature for baking. Additionally, put the pizza on a surface that will stay hot. A pizza stone works great, or an overturned sheet pan.
Use a thin layer of sauce: Too much sauce will cause your crust to become soggy, so thin it out to ensure a crispy crust!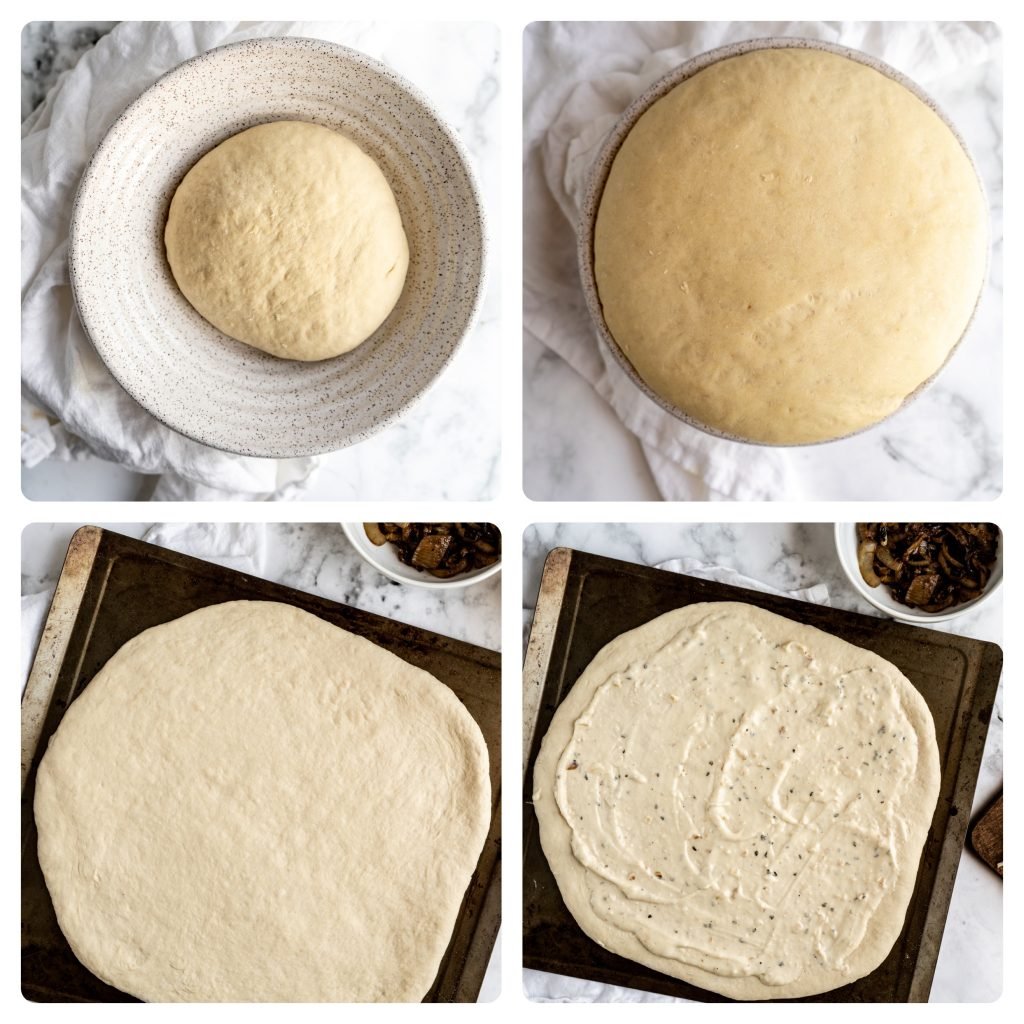 What wine can I pair with my Gruyère and Caramelized Onion pizza?
This grown-up Gruyère and Caramelized Onion pizza is best enjoyed with a nice glass of wine. Germany has so many delicious wines to choose from – the country's 13 winemaking regions offer a range of white, rosé, and red, still and sparkling – but ultimately I paired it with their Von Winning Riesling Sekt Extra Brut from the Pfalz region!
"Sekt" is the German name for sparkling wine, which can be made from any grape variety in Germany. Producers of Sekt sometimes use the same or similar terms for sweetness levels as Champagne, making it easy for lovers of other countries' bubbly to branch out to Sekt. This Extra Brut Sekt from Von Winning is dry with a hint of fruity sweetness, making it great for pairing with a variety of food and cheeses. It was a perfect match for this Gruyère and Caramelized Onion pizza. Both the Gruyère and the Riesling have just the right amount of aroma and complexity to them, without overpowering the other. The addition of sliced granny smith apples gives this pizza a nice sweet crunch to it as well! And I love throwing a little arugula on top for good measure. Does anyone else feel this way? That peppery green adds a little freshness! Slice your pizza on this beautiful wood cutting board!
You can pick up a bottle of Von Winning Riesling at your local Binnys! Visit Wines of Germany USA to check out more wines that Germany has to offer.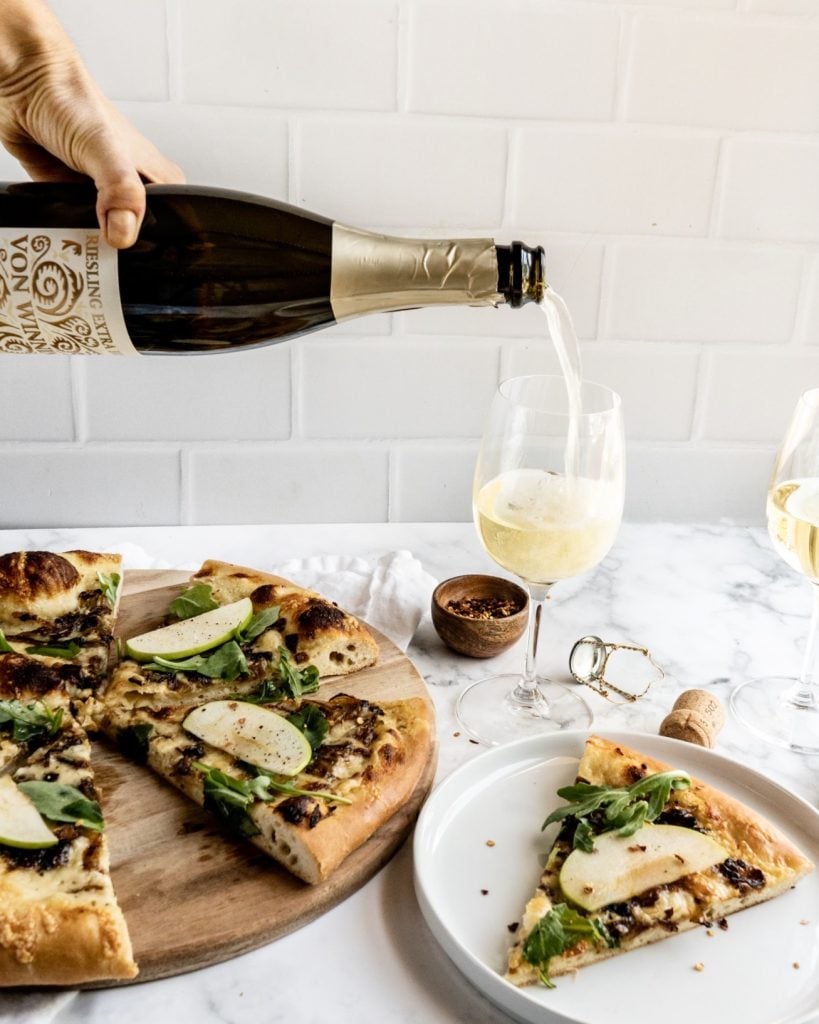 Still hungry? Start the meal with my kale and pear salad!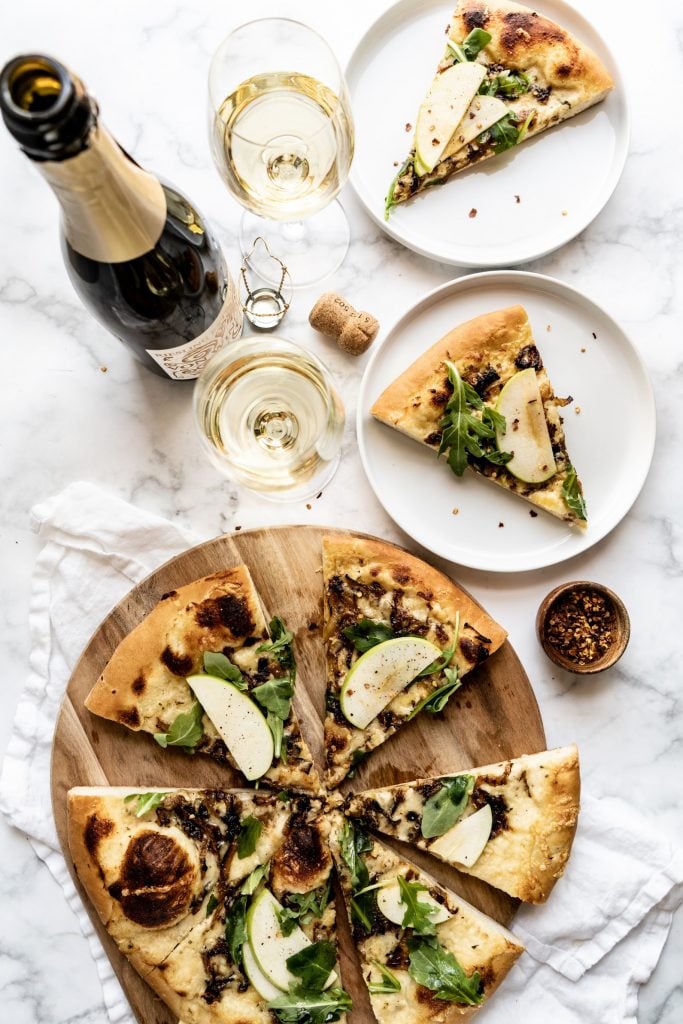 Print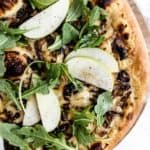 Gruyère and Caramelized Onion Pizza
Author:

Nicole Triebe

Prep Time:

15 minutes

Cook Time:

10 minutes

Total Time:

1 hour 25 minute

Yield:

4

1

x
---
For the pizza dough:
2 tsp active dry yeast
1 tsp sugar
1 cup warm water (115 degrees)
3 tbl olive oil
1 tsp salt
2 1/2 cups all-purpose flour, plus more for dusting
1 Tbs. roughly chopped fresh rosemary
For the white sauce:
1 tbl olive oil
1 cup cream
1/4 cup white wine
1 shallot, minced
1 large clove garlic, minced
1/2 cup grated parmesan
1/2 tsp oregano
1/2 tsp salt
1/4 tsp black pepper
For the topping:
1 granny smith apple, cored and cut into 1/4-inch half rounds
3/4 cup grated Gruyère cheese
2 medium onions, sliced and caramelized 
Handful of Arugula
---
Instructions
Make the pizza dough by combining yeast, sugar and warm water in a large mixing bowl.  Let stand 3 minutes until yeast begins to foam. 
Add olive oil and salt to the yeast mixture.
Mix in 2 cups of flour and rosemary using either a spatula or a dough hook on a stand mixer.  Mix until the dough starts to come together.  The dough shouldn't be too wet or too dry.  If it's still quite sticky, add 1/8 cup of flour in and knead until the dough forms a ball.  If the dough is too dry, add a little bit of water and knead.
Place dough in a bowl covered by a tea towel and place in a warm spot in the house to rise for 1 hour.
While the dough is rising, slice the onions into half-moons  1/4″ thick.  Heat olive oil in a large, heavy-bottomed saucepan.  Cook over medium-high heat stirring only occasionally so that the onions caramelize. Add olive oil as needed.  This should take about 10-15 minutes.  Set aside.
Make the white sauce by heating olive oil in a small saucepan over medium heat.  Add shallot and garlic and cook until fragrant.  Add flour and whisk to create a roux, about 2-3 minutes.  Add cream, white wine, parmesan cheese, salt pepper and oregano and whisk until the cheese is melted and the sauce begins to thicken, about 5 minutes.  Set aside. 
Once the dough has proofed, turn it onto a floured surface, dust the top with flour and roll or shape as desired.  Top with white sauce, Gruyère cheese and caramelized onions.  
Preheat oven to 500 degrees and place on a pizza stone or inverted baking sheet.  Bake for 8-10 minutes or until the crust is golden and the cheese is bubbling.  
Remove and top with fresh arugula and sliced apples.  Drizzle a little olive oil over the arugula if desired. 
Serve with a glass of Von Winning Riesling Sekt Extra Brut
---
Want to pin this for later? Click on the image below!