Grilled Peach and Steak Salad with blue cheese, red onion, and a light vinaigrette. You will love this fresh and simple summer salad!
This post is sponsored by ALDI. All opinions are my own.
Grilling season is in full swing, and I'm craving a really delicious salad! I was at my local ALDI last weekend, and they had everything I needed to make an entree salad that would keep everyone will keep everyone full and satisfied! Whether you're attending a summer BBQ or dining al fresco at home with the family, this grilled peach and steak salad will be a hit with everyone!
If you have been following me for a while, you know that baby dinner fairy is keeping me running around the neighborhood. I clocked in 12,403 steps yesterday, and I have a feeling that it's just going to increase exponentially this summer. That means I'm making as many meals as possible outside this summer!
Enter ALDI. They have all I need to fulfill my summer menu plan! They have all the fresh, affordable, high-quality ingredients and even a great selection of meats and produce for grilling! I picked up their Simply Nature Organic Mixed Greens, Specially Selected Ciabatta Sandwich Rolls for homemade croutons, fresh peaches, Emporium Selection Blue Cheese Crumbles, and delicious Black Angus Petite Sirloin Steaks to throw on the grill for this grilled peach and steak salad!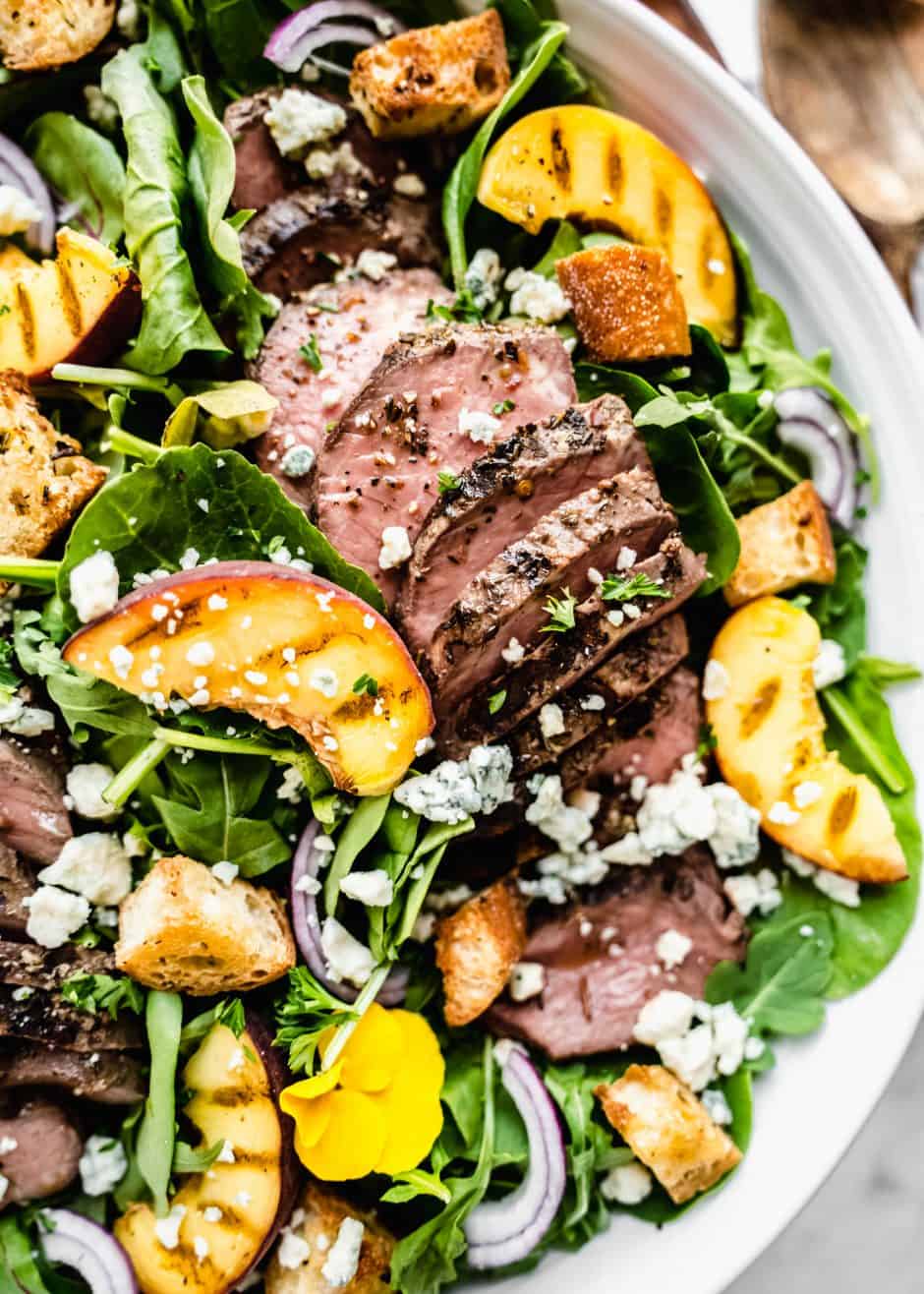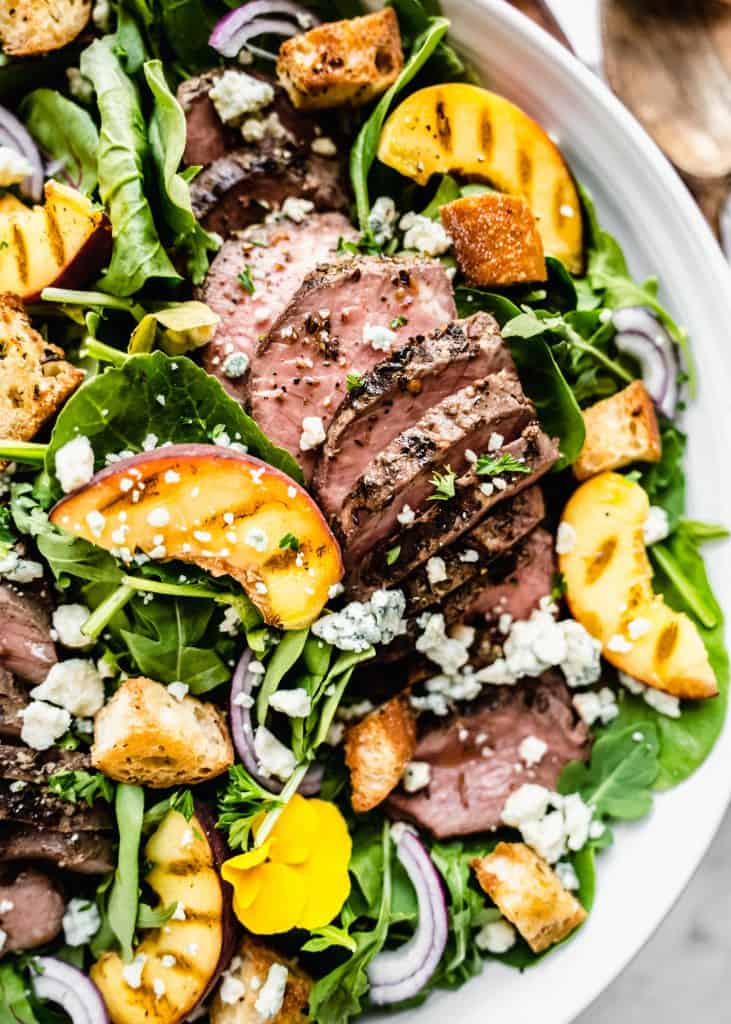 Tips for grilling the perfect steak
ALDI has a great selection of steaks for all of your summer grilling needs! Everything from skirt steak to ribeyes to top sirloin! Their Black Angus petite sirloin steaks were the perfect addition to this grilled peach and steak salad. Here are some of my tips for grilling the perfect steak:
Bring the steak to room temperature: When you take a steak from fridge to fire, the steak will cook unevenly! The outside will cook faster than the inside, so take your meat out of the fridge about 30 minutes before you plan on cooking to ensure the perfectly grilled steak
Use a thermometer: For thicker cuts of meat, it's best to use an instant-read thermometer to check the internal temperature of your steak. For rare, remove steaks at 120 F to 125 F, medium rare 125 F to 130 F, and medium 130 F to 135 F. If you're cooking skirt steak or a thinner steak, it's harder to get an accurate read on the internal temperature, so use this as a rule of thumb: For 1-inch thick steaks, cook them 3 minutes each side over high heat for quite rare, 4 minutes each side for medium-rare and 5 minutes for medium.
Let the steaks rest: This step is crucial to a juicy steak. Once they're removed from the grill, let them rest for 5 to 10 minutes before serving or cutting them. This gives the juices a chance to redistribute throughout the steak, which helps it finish cooking and keeps the meat juicier and flavorful. Place the cooked steaks on a cutting board and cover loosely with aluminum foil.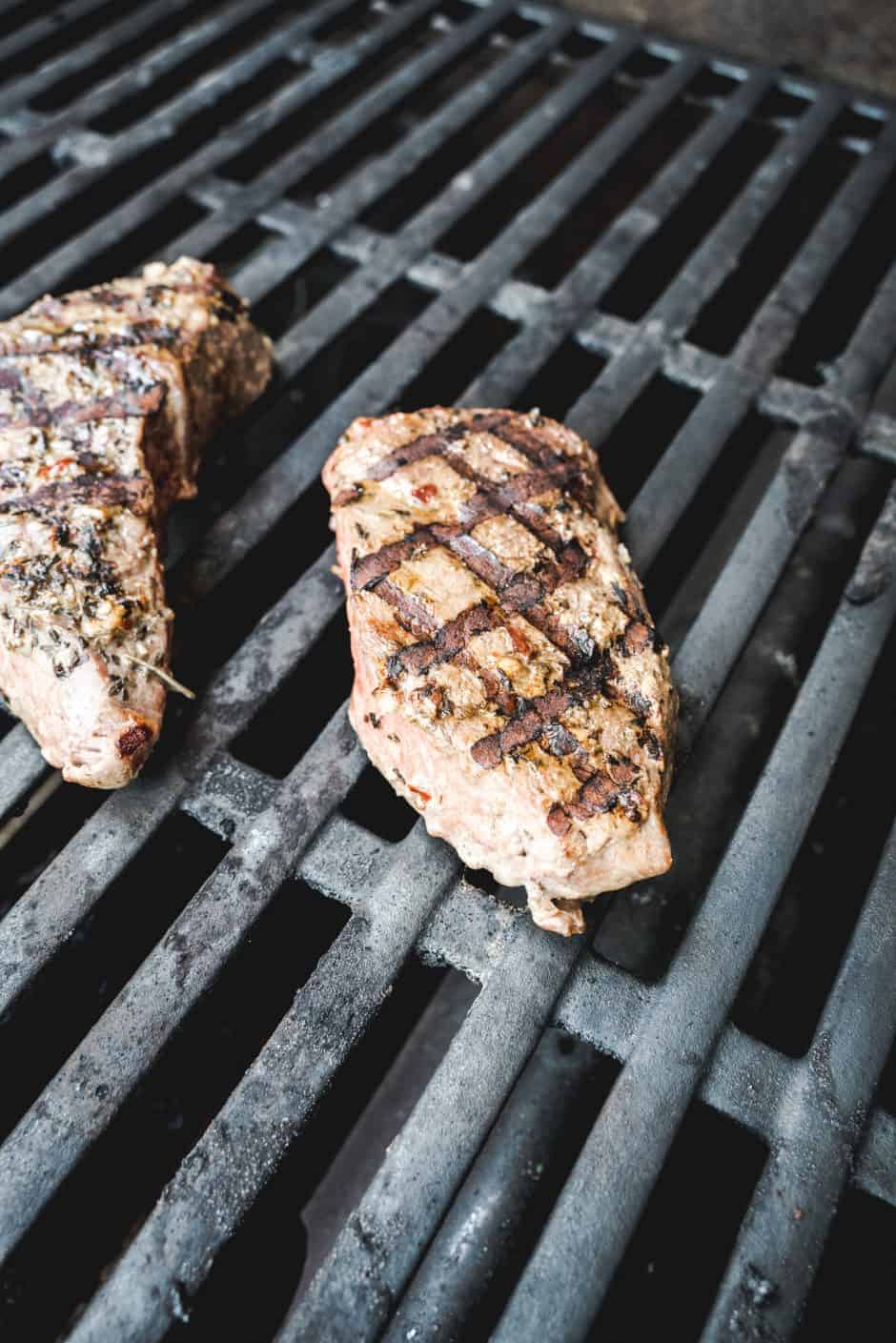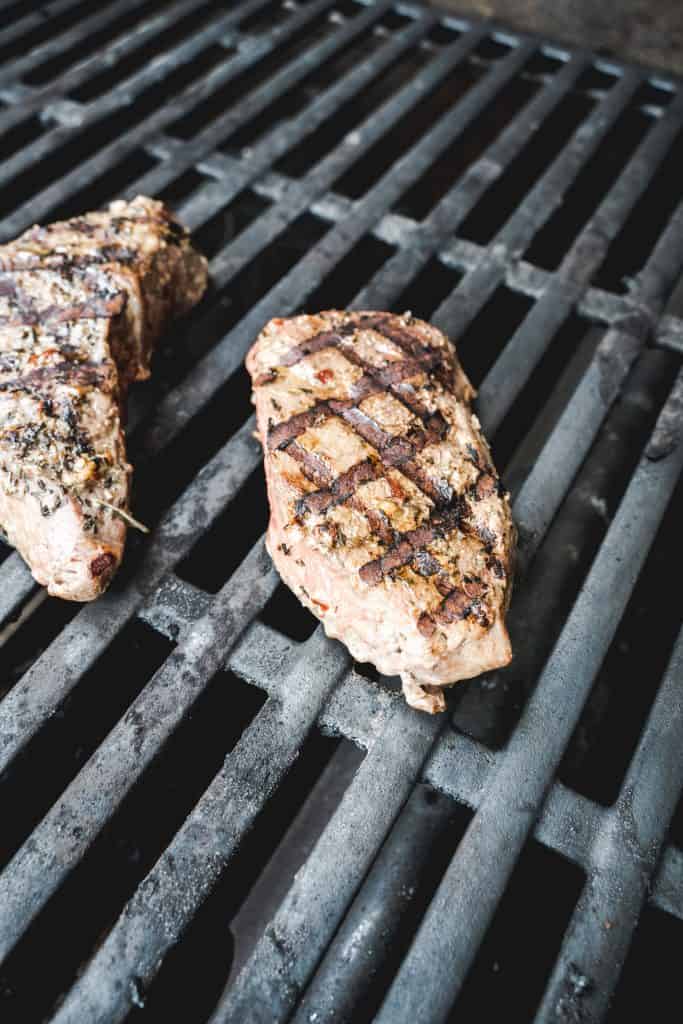 Why should you grill peaches?
Peaches are one of my favorite summer fruits! This stone fruit is even more delicious when grilled. Grilling peaches is a great way to bring out the natural sweetness and slightly caramelize it perfectly. When it comes to grilling, you'll want to look for peaches that are still firm when squeezed. Really ripe peaches have more sugar, which will cause them to burn quickly.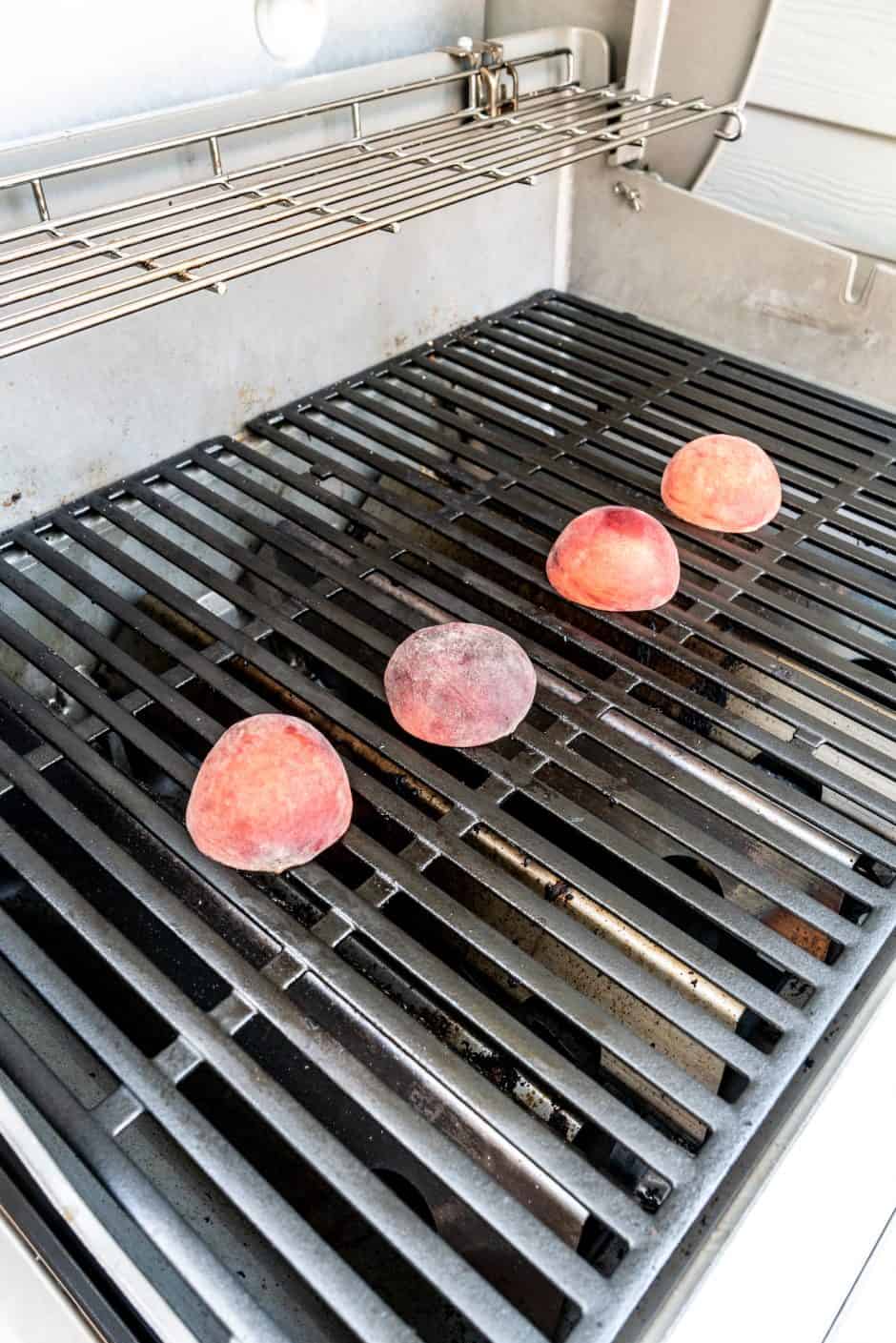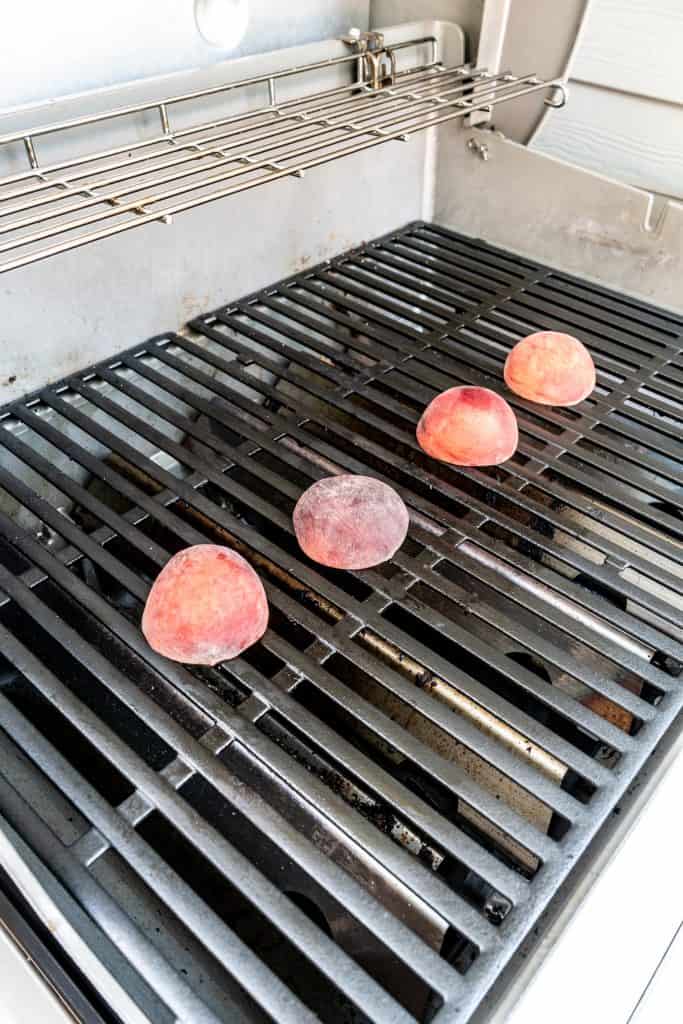 What should I serve with this salad?
Although this salad is hearty enough to be an entree, you can pair it with these dishes for a larger feast! Most of the ingredients for these dishes can also be found at your local ALDI! You can shop in-store or online for delivery or curbside pickup!
Tomato Bruschetta with Homemade Pesto
Lavender Blackberry Shortcakes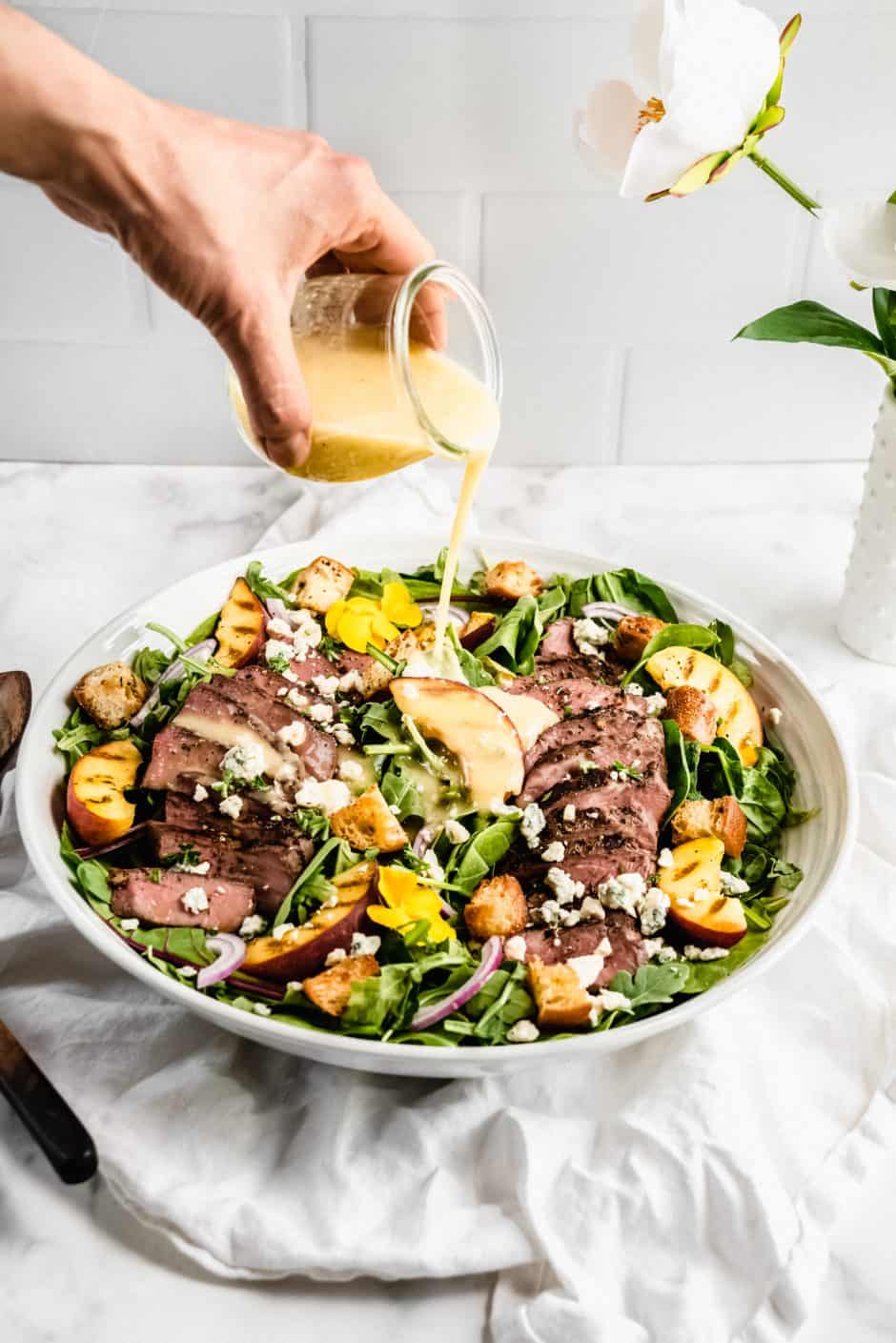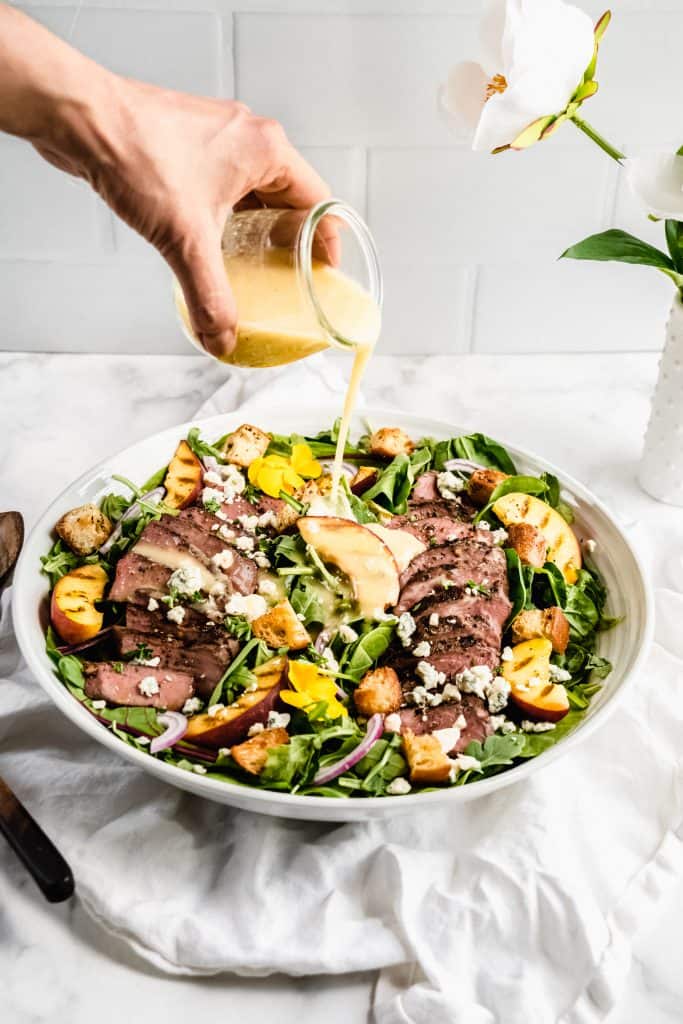 Print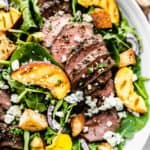 Grilled Peach and Steak Salad
Author:

Nicole Triebe

Prep Time:

10 minutes

Cook Time:

30 minutes

Total Time:

40 minutes

Yield:

2

1

x

Category:

Salad

Method:

Grill

Cuisine:

American
---
For the salad dressing:
1/2 cup extra virgin olive oil
1/4 cup Red wine vinegar
1 tsp Dijon mustard
1 clove garlic, minced
1/2 tbl red onion
For the salad:
3/4 lb Black Angus Petite Sirloin Steak
Salt and pepper
3 cups Simply Nature Organic Mixed Greens 
1/4 red onion, sliced thinly 
4 oz Emporium Selection Blue Cheese Crumbles
2 grilled peaches, sliced
For the homemade croutons:
1 package Specialty Selected Ciabatta Rolls, cut into 1" cubes
1/2 cup olive oil
3 teaspoons Italian seasoning, homemade or store-bought
2 garlic cloves, minced or pressed through a garlic press
1/4 cup grated parmesan cheese
3/4 teaspoon fine sea salt
1/2 teaspoon black pepper
---
Instructions
Make the croutons by tossing the cubed bread in a large bowl with olive oil, garlic, parmesan cheese and seasoning.  Bake at 400 for 15 minutes or until golden brown.  Remove and set aside
Bring steak to room temp 30 minutes before cooking while you make the dressing.
Combine all the dressing ingredients in a blender and blend until smooth.
Heat the grill to 450° (Medium to medium high on most grills)
Lightly season the steak with coarse salt and pepper.
Place the filets on the grill. Close the lid. Grill on the first side for 6 minutes. Rotate half the way though for these nice crossed grill marks. Flip and grill until you reach the correct internal temperature for your taste. 
Let the steaks rest while the peaches cook.
Lower the grill to medium-high heat on half the grill and low heat on the other half of the grill.
Brush the cut sides of the peaches with oil.
Place peaches on the grill, cut side down over direct heat until the fruit has developed grill marks, and started to soften about 4 to 5 minutes.
Brush the tops of the peaches with oil, turn over and move to the indirect heat side of the grill to continue cooking, another 4 to 5 minutes.  Remove from grill
Assemble salad by mixing greens with red onion, blue cheese.  Top with sliced grilled steak and grilled peaches.  Toss with dressing.
---
Keywords: peaches; steak; salad
Want to pin this for later? Click on the image below!