Hearty and delicious Greek Chicken Bowls are loaded with juicy chicken, roasted chickpeas and fresh veggies! Perfect for a healthy dinner!
We had snow in the middle of April, and all I want to do is drown my sorrows in food.
Between all of the cookies, pasta, more cookies and pasta again, this light and fresh bowl was long overdue to get me out of this funk, and now I'm obsessed! It's like a deconstructed gyro and it's the best thing I've had all quarantine! The best part is they're so simple to make! If you have been following the Windy City Dinner Fairy for a while, you know I'm a huge fan of Greek food so I have a feeling I'll be making this Greek Chicken Bowl pretty often.
My mom grew up in Croatia, which is a neighbor to Greece, and so these greek flavors feel like home to me. As a kid, my mom would eat cucumber and tomato salads for lunch every day topped with the most delicious vinaigrette. Today I'm using that same vinaigrette to marinate the chicken in this Greek chicken bowl, as well as using it as a dressing! The vinaigrette takes just a minute to whip up and has all the authentic Greek flavors you love!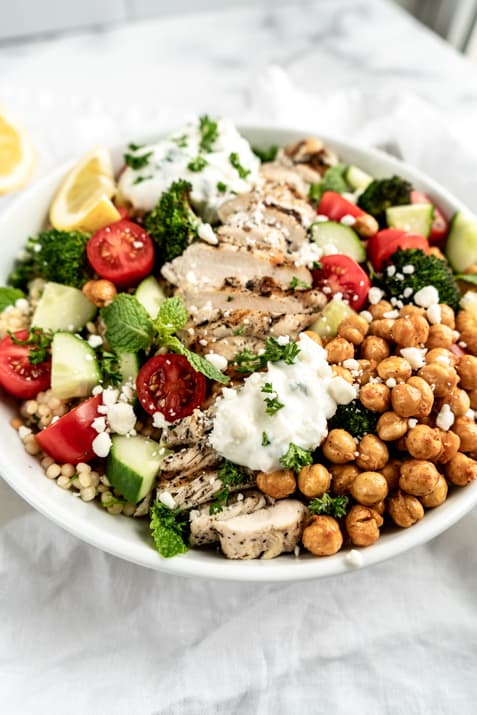 What does marinade do to chicken?
Marinating is a process of soaking meats in a seasoned liquid, or a "marinade", before cooking. The important ingredients in most marinades is an acid (like vinegar) or citrus juice. In this marinade, we're using red wine vinegar and extra virgin olive oil. A good marinade has the right balance of acid, oil, and seasonings.
What do I put in a Greek Chicken Bowl?
These yummy bowls are completely customizable! Start with a base, to add the marinated chicken, and top with your favorite veggies! Lastly, drizzle some creamy garlic greek yogurt sauce for the best lunch you'll ever have!
For the Base: Appropriately named, this forms the base of your Greek chicken bowl, and gives you something to work the rest of your ingredients around. Some ideas:
Couscous
Brown Rice
Cauliflower Rice
Quinoa
Mixed greens
I chose couscous for my base because I had it in my pantry and #quarantine. It was a nice change from my usual rice base, and I found out that couscous is a healthy alternative to white or brown rice! One cup of cooked couscous has fewer calories and carbohydrates than both brown and white rice, and it has more fiber! I tossed it with a little of the reserved marinade from the chicken, which doubles as a salad dressing!
For the filling: The filling of these Greek Chicken bowls can include one or more of the following items:
Roasted chickpeas: I actually air-fried for 15 minutes these with some olive oil and paprika for a nice crunchy addition to my bowl!
Roasted vegetables: I included some roasted bell peppers and broccoli, but zucchini, eggplant, red onions are all great options!
Cherry tomatoes, cucumbers and feta: the classic greek salad was a must-have for this mouthwatering bowl. I skipped the olives this time, but don't forget to include them if you're a fan!
A garlic yogurt sauce: slightly different from the traditional Tzatziki, this sauce is so addictive! I want to put it on everything!
Herbs: Mint and parsley were perfect add-ons as a garnish!
In the end, you can make this greek chicken bowl your own! Did you add use quinoa? Add extra olives? Tell me how you like your bowl in the comments below!
Still hungry? Be sure to check out my air fryer greek french fries!
If you loved this recipe, please rate it 5 stars in the comments below! If you made it, please tag me on Instagram!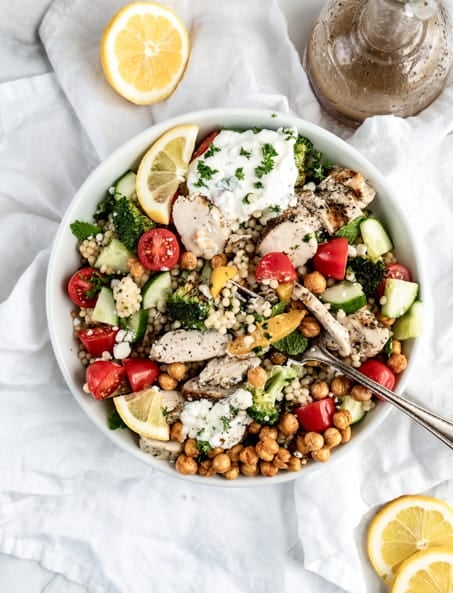 Print
Greek chicken bowls
Author: Nicole Triebe
Prep Time:

10 minutes

Cook Time:

15 minutes

Total Time:

25 minutes

Yield:

2

1

x
Category:

Dinner

Method:

Grill

Cuisine:

Greek
For the marinade:
1/2 cup

red wine vinegar

3

garlic cloves, minced

1 teaspoon

dried basil

1 teaspoon

dried oregano

2 tablespoons

lemon juice

3/4 cup

olive oil

Salt and pepper, to taste
For the bowls:
1

lb chicken breast

1 cup

Cooked quinoa, orzo, rice or couscous

1/4 cup

sliced cucumbers

1/4 cup

grape tomatoes, cut in half

1/4 cup

roasted broccoli

1/4 cup

roasted bell peppers

2

tbl feta

1/4 cup

roasted chickpeas
Fresh mint
For the yogurt sauce:
1 cup yogurt
3 cloves garlic, pressed through garlic press
2 tbl olive oil
2 tbl lemon juice
2 tbl feta
1 tbl chopped parsley
Instructions
Add ingredients for the marinade to a blender and blend to combine.
Use half the marinade to marinate chicken for one hour, up to overnight.  Reserve the rest for a dressing for the bowl.
Preheat grill.  Over medium heat, grill chicken until internal temperature reaches 165.  Remove from grill and let rest while the salad is assembled.
Cook quinoa, rice or couscous as instructed on packaging.
To make yogurt sauce, combine all ingredients in a bowl and whisk to combine.
Assemble bowls starting with cooked quinoa, couscous or rice, top with chicken, veggies, chickpeas and herbs as desired.
Top with garlic yogurt sauce and garnish with fresh herbs and additional feta.
Enjoy!
Keywords: greek; chicken; bowls
Want to pin this for later? Click on the image below!