Take advantage of the end of summer produce by making these fig and goat cheese flatbreads. They are so full of flavor and so easy to make. You'll love this flavor packed flatbread and be craving it all. fall. long. Trust me, you won't want to share these babies with anyone!
There are two seasons I wish would last forever. Peony season and fig season. Labor Day just passed and we spent the weekend celebrating some friends getting married. They had their celebration in the middle-of-nowhere Indiana (like no cell reception all weekend middle-of-nowhere) at the most stunning venue and I had the honor of making the cake (and cupcakes).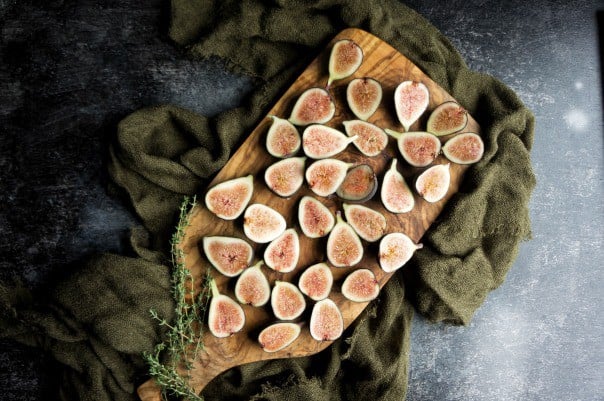 The brides chose a semi naked small two-tiered cake with a dark caramel drip and let me choose the rest of the decor. I found some figs at our local Trader Joes and I knew I had to utilize them! I cut up a couple and placed them next to some gorgeous deep red dahlias I got from my favorite florist, Fleur in Chicago. I love using fresh fruit as a fresh garnish on cakes when it's appropriate. Figs especially! When they're ripe, the insides are just stunning, and steal the show most of the time!
Luckily, when we got back from the wedding weekend, figs were still in stock! I couldn't have been more excited.
I got them not knowing what I was going to do with them, or if I even had time to think something up, but it was a risk I took. And it paid off! If you don't know, these little beauties don't last very long. I've purchased them multiple times, put them in the fridge and a couple days later they were moldy. (insert crying face emoji)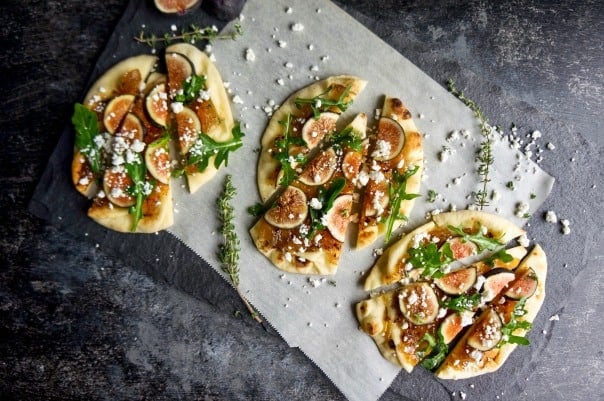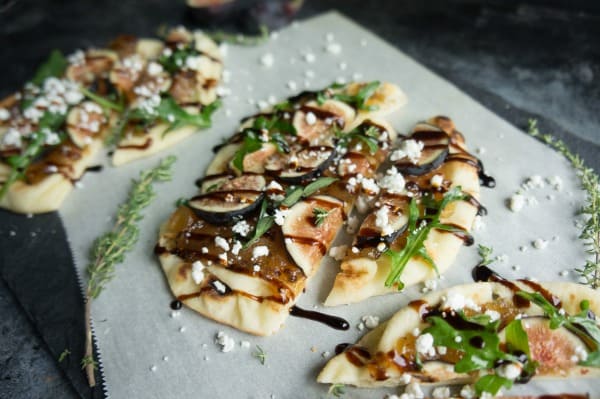 I had some mini naan in my fridge from Costco so these fig and goat cheese flatbreads were extra easy to make. If you haven't tried this mini naan, you must! Stick them in your toaster oven to warm up for a couple seconds and they're the lightest fluffiest naan you'll ever get from a grocery store. I keep them in my freezer and pop them in when we make any sort of mediterranean food for dinner. These are a must buy every time I go to Costco.
After making the onion jam, these little fig and goat cheese flatbreads have just a couple ingredients. That makes them so fun to make with the kids, or friends when you get together for game night. Pair with a nice glass of wine and you're all set!
Fresh flatbread is almost always guaranteed to be better than take-out pizza. Trust me, if your friends showed up to your house and were greeted with fresh, hot fig flatbread they would not be disappointed!
What should I serve with flatbread?
Pair these flatbreads with these yummy sides and salads
Roasted Beet and Goat Cheese Salad
Print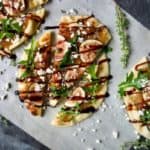 Fig and Goat Cheese Flatbreads
---
4 large onions, halved, peeled, and chopped
1/2 cup white sugar
1/4 cup vegetable oil
1/4 tsp salt
1/2 cups red wine vinegar
Fresh figs
4 oz crumbled goat cheese
Mini naan
Reduced balsamic glaze (optional)
Baby Arugula
Fresh thyme (optional)
---
Instructions
Heat vegetable oil in a heavy skillet over medium heat.
Stir sugar into vegetable oil with a wooden spoon, stirring constantly until mixture is a light caramel-color, about 10 minutes. Mixture will be very hot.
Stir onion, salt, and black pepper into sugar mixture. Onions will immediately start to caramelize. Stir frequently over medium heat until sugar has dissolved and onions are browned, about 15 minutes.
Pour red wine vinegar into onion mixture and simmer until mixture has a jam consistency, about 30 minutes. Let cool to serve.
To assemble the flatbreads, warm your naan in the oven, spread 1 tbl of onion jam, top with sliced figs, crumbles of goat cheese, and fresh arugula. 
For an extra sweet touch, drizzle reduced balsamic and top with a sprig of fresh thyme.
Enjoy!
---
Want to pin this for later? Click on the image below!