Cold nights are already here and the wine nights in front of the fire are on my mind. Pair a nice bottle of your favorite red wine with the a beautiful fall cheese board for a date night in or a fun game night with friends! I'm here today to tell you how to create this gorgeous platter with little effort!
What is a Cheese Board?
It's simple enough, a cheese board is a tray or platter for serving a variety of cheeses. You can enjoy this before or after a meal, as a starter or a savory dessert!
What kind of cheeses should I include?
It helps to think about categories of cheese when you're building a board. Three or four cheeses is a good number to aim for, depending on the size of your party. There are a couple different categories of cheese you can choose from: firm (cheddar, asiago, Manchego, Parmigiano-Reggiano); semisoft (havarti, Gouda, fontina, Monterey Jack); soft and/or ripened (brie, Camembert, mozzarella, goat cheese); and blue (Gorgonzola, Stilton, Roquefort). If you need help picking, go to a specialty cheese shop or the cheese counter at your grocery store. Whole foods always has a great variety of cheeses, both raw and pasteurized.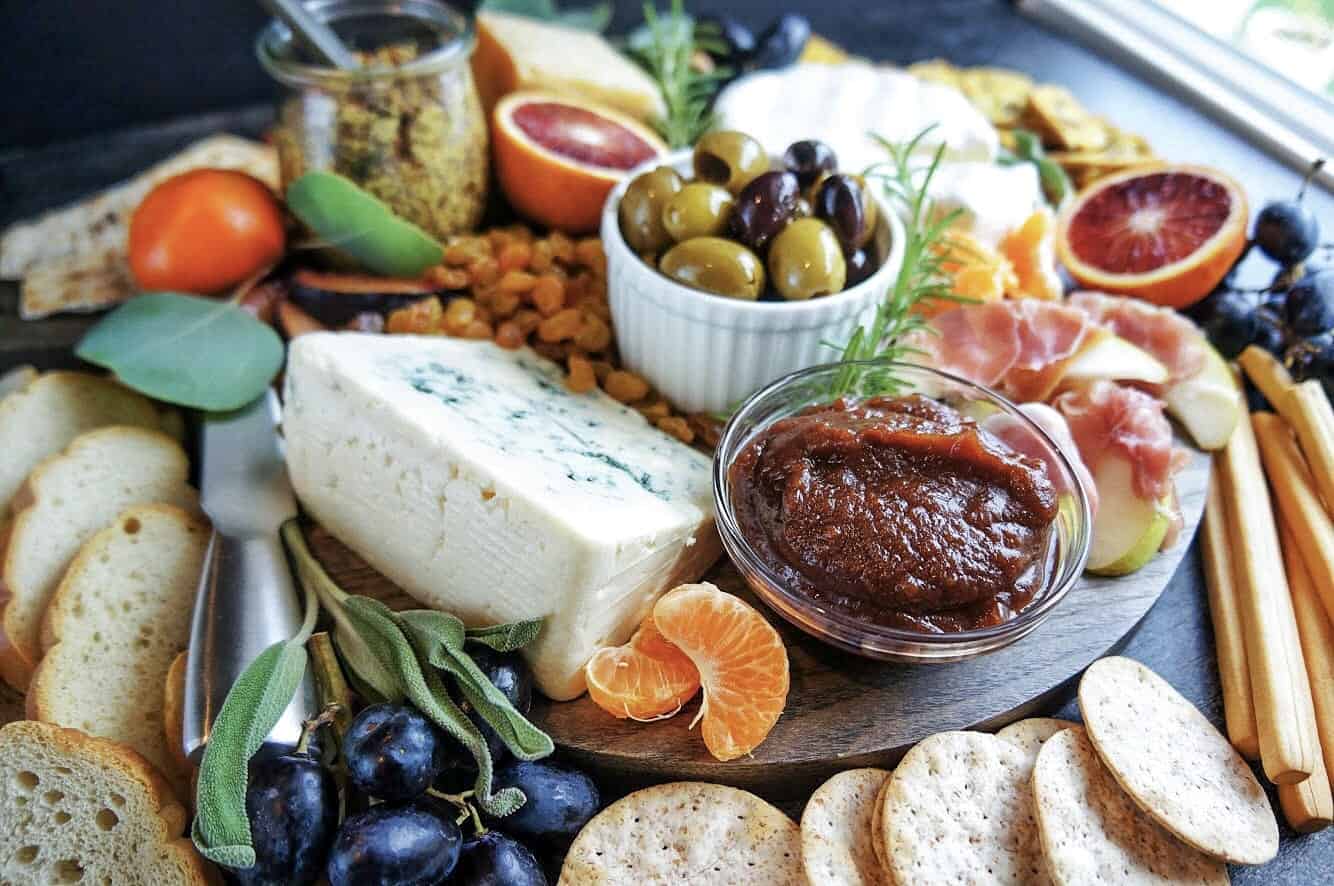 How do you serve each of cheeses?
There aren't any strict rules when you're serving cheese. Cheese is made and aged at cool room temperatures, so it is best enjoyed at the same temperature! You don't even really begin to taste the complexity of flavors in each cheese until it is at room temperature. You have to be careful during the hot summer months. If you let the cheese warm up too much, it'll start to sweat. It typically takes about an hour for refrigerated cheeses to come up to room temperature, so plan on assembling about an hour before your guests arrive!
Should I cut my cheeses?
For harder cheeses, pre-cutting it into cubes causes it to dry out sooner and makes it look like something you just picked up at the grocery store. I like to keep the block whole with the exception of a few slices to start your guests off. Make the cuts irregular (not square cubes) to make it looks a little more gourmet. I like to leave the rounds in tact as well (think brie or smoked gouda) with the exception of a small wedge cut out. That allows your guests to easily cut a slice and it still looks gorgeous.
What else should I include on my cheese board?
Cheese always needs a mate (or a few) on the board. They also fall into different categories. You'll need at least one (or two) of the following:
Crunchy: I always like to include a few different types of crackers. Water crackers are a must, Grissini breadsticks, and these pumpkin cranberry crisps from Trader Joes, which are so fun for fall.
Salty: Include a couple nut varieties. Walnuts and pecans are my favorite on any board. I included some smoked almonds to highlight the fall flavors. Although this is technically a cheese board, I like to include one or two meats like proscuitto or hard salami.
Sweet: Include a jam or preserve for some added flavor and sweetness to balance out the dry and salty meat and cheese. My homemade apple butter goes so well with many cheeses and meats, so this is a must have. Fresh fruit is always welcome. For this fall board I included some blood oranges, clementines, grapes, pears wrapped in proscuitto (can we say sweet and salty?!?)
Tangy: Green olives, a grain mustard and anything pickled are a necessity for every cheese board. Pickled vegetables, such as gherkins or pickles, olives are great on cheese boards. They pair so easily with everything, and add a little tang. They're a perfect compliment to your meats and cheeses.
How much cheese should I plan on buying?
1 ounce of cheese per person
1 to 2 tablespoons nuts
1 to 2 tablespoons condiments
4 pieces of fruit
1 to 2 ounces of meat.
What kind of crackers are best for a cheeseboard?
When it comes to choosing a cracker to serve on your cheeseboard, your local supermarket cracker aisle is full of choices. I like to include a variety of shapes and textures on all my cheeseboards. You don't want the crackers to overshadow the cheese, so try to stay away from crackers with a lot of herbs or spices. I did include a fall cracker with the pumpkin cranberry crisps from Trader Joes, but the rest are more mild in flavor. I also included some Grissini (breadsticks), water crackers, some toasted baguette slices and a crunchy flatbread.
When appropriate, include alcohol to your cheese board experience. Wine and beer pair excellently with cheese and can enhance the flavor experience. Generally speaking, you want to pair bold-flavored meat and cheese with bold-flavored alcohol. For instance, goat cheese, smoked salmon and prosciutto pairs well with white wine, while salami, cheddar and blue cheese go great with red wine.
Tips for Making the Perfect Cheese Board
When putting all of these delicious elements, you'll want to remember these tips:
Start with the cheese:
I like to start with the big elements. Place the large cheese pieces on your board, then the smaller elements (jams, mustards, etc) in between. Fill in the spaces with the smallest elements (nuts, raisins, orange slices) alternate the meat, cheese and fruit. And we can't forget the crackers! I stick the crackers in between spaces on the platter, or if you're out of room, around the board (make sure your surface is clean!)
To get a really fall feel for this cheese board, I kept in mind the following things: Seasonal flavors like fruits, herbs, and warming spices to make your Autumn Cheese Board truly feel fall-worthy. Pumpkin, apples and pears scream fall to me, so those were the best fruit components to incorporate. I threw in a couple sprigs of rosemary and some eucalyptus leaves to make this platter a little more fall themed as well.
Don't be afraid of overflow!
I like a little spilling off the board. In this case, more is more. You want your board to be the star of the show, so the more dramatics, the better!
Pick a beautiful platter and some fun props
I love this Ash Paddle Round Board for this fall platter. It's got a great handle and a large surface area and I love the color!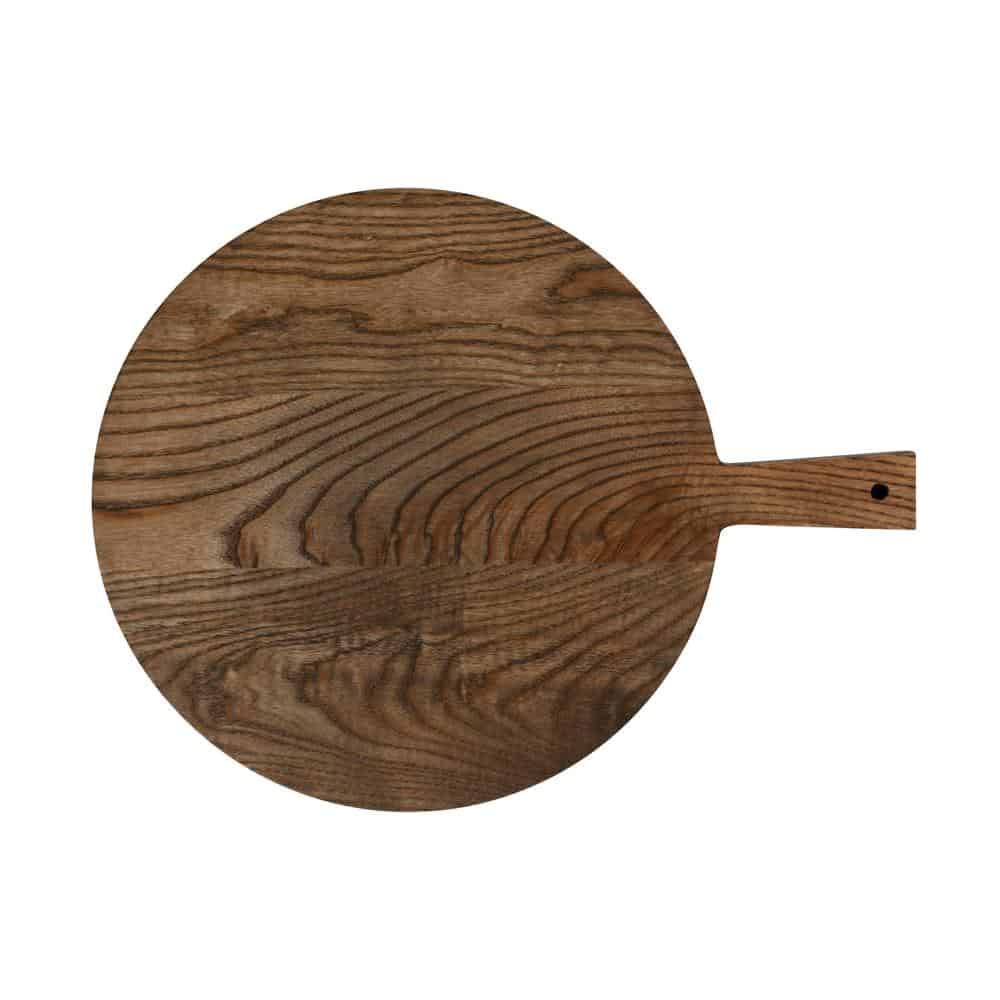 Another popular pick is this large wood slab platter. Make sure to include some cheese knives so that your guests can cut the larger chunks as they choose. Use different knives for different cheeses so the flavors don't get too mixed.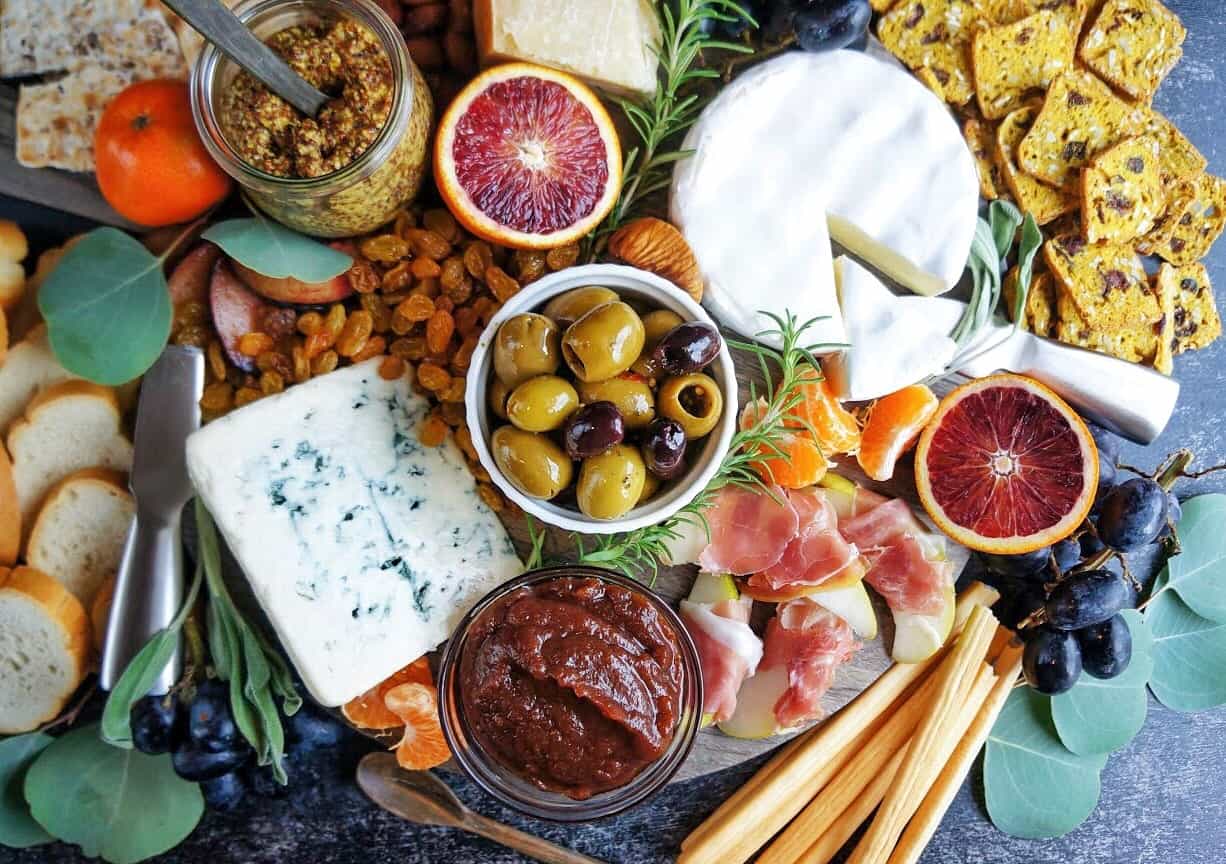 By following these steps, you really can't go wrong with whatever you decide to use to build your cheese-filled feast! Hope you have fun and celebrate responsibly!
If you want to pin this for later, click on the image below!