Gobble Gobble!  The kid's table will be gobbling up their dessert this Thanksgiving with these double-stuffed turkey cookies! 
I can't believe Thanksgiving is next week!  I'm finishing up my Thanksgiving menu and since we will be having my nieces over for dinner, I'm making sure the kid's menu is just as delicious as the adults!  I'm partnering with Solo Cup to make these adorable double-stuffed turkey cookies that are just as fun to make as they are to eat!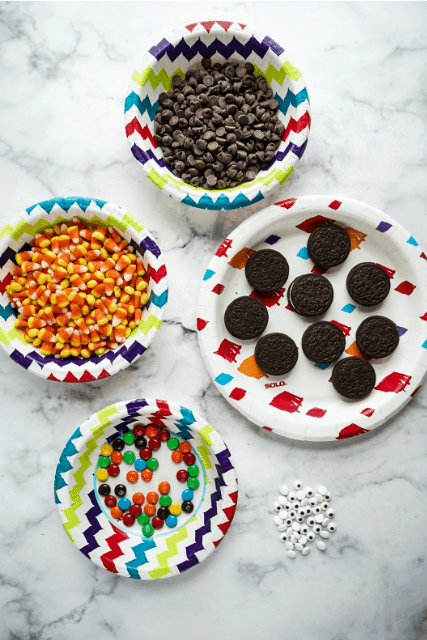 What do I need to make Double Stuffed Turkey Cookies?
These turkey cookies just require a few ingredients, and probably some you have leftover from Halloween! Here's what you need:
Double stuffed Oreos
Chocolate chips
Candy Corn
Candy Eyeballs
Orange M&Ms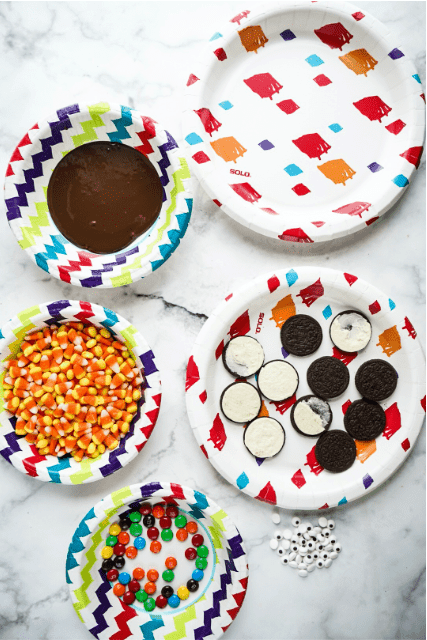 How do I assemble the Double Stuffed Turkey Cookies?
Start by separating each Oreo cookie.  Place them on a 10″ Solo paper plate for later
In a 20 oz Solo paper bowl, get the kids to help dump out leftover candy corn from Halloween.
In another bowl, take some leftover plain M&M's and separate the orange ones from the rest of the group.
In a third Solo bowl, measure out 1 cup of semi-sweet chocolate chips.  Melt in the microwave for 30 seconds at a time, stirring in between until the chocolate chips have melted completely.
Dip the half of the oreo with the cream filling (filling side down) in the melted chocolate.  Place 4 pieces of candy corn (wide end out) on one side of the oreo so that they look like turkey feathers on the double-stuffed turkey cookies.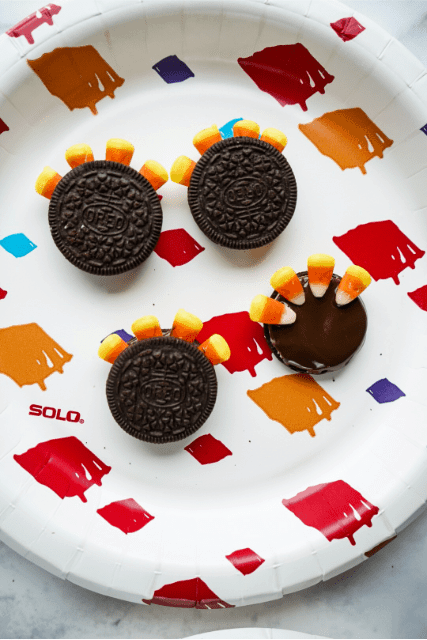 Take the cream-less side of the oreo and press on top of the feathers.  You may have to dip this side in the melted chocolate to ensure that the two sides stick together (especially if some of the cream is still stuck on that side).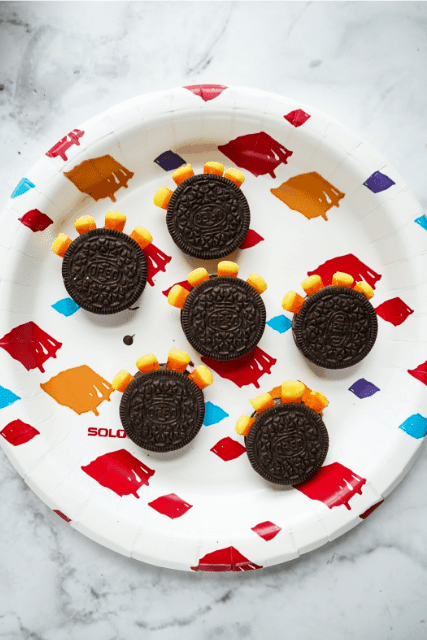 Let them sit for a minute and harden before placing on the candy eyeballs.
Dip candy eyeballs in the melted chocolate and place just above the center of the oreo.  You may have to microwave the chocolate for another 30 seconds if it has hardened.
Dip one side of an orange M&M and place just below the center of the two candy eyes.  Hold it in place for a few seconds so that it sticks.  Then your double-stuffed turkey cookies are done!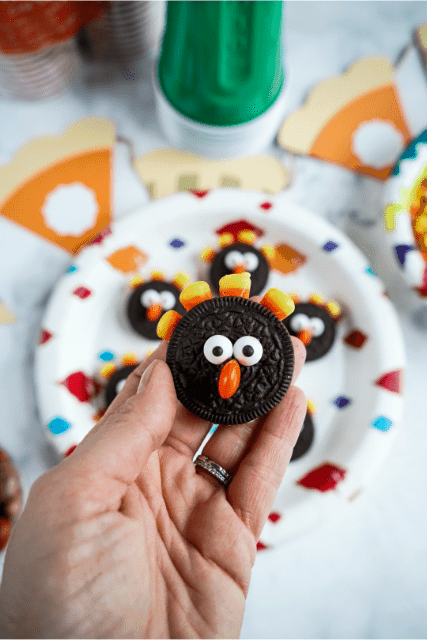 These double-stuffed turkey cookies are so cute and sure to be a hit with all the kids this Thanksgiving!  If you loved this tutorial, be sure to check out my no-bake pumpkin cheesecakes!
Want to pin this for later? Click on the image below!