Instead of choosing one deviled egg variety at your next party, create the ultimate platter: A DEVILED EGG BAR! Start out with the best deviled egg recipe, and surround these perfect beauties with the best toppings!
Is it just me or are deviled eggs gone within seconds of arriving at a party?  They're the perfect bite, and I know I can't help myself from eating at least 4 or 5 of them.  You can also dress them up however you'd like, and they're sure to be a crowd pleaser!
How do you make hard boiled eggs?
The best deviled egg bar start with hard-boiled eggs. My favorite way to make them is to p
lace the eggs in a pan over high heat until it reaches a boil. Turn off heat, cover and let it sit for 13 minutes. After exactly 13 minutes, remove the eggs from the pan and place them in an ice-water bath and let them cool for five minutes.
The whites that are perfectly firm but still tender and yolks that are set but still creamy. 
Carefully crack the eggs shells (making sure the majority of the shell is cracked).  I also discovered an easy way using a
tupperware container
! 
You can also make them very easily in your Instantpot! 
Are hard boiled eggs good for you?
Eggs are a very good source of inexpensive, high quality protein. More than half the protein of an egg is found in the egg white along with vitamin B2 and lower amounts of fat and cholesterol than the yolk. The whites are rich sources of selenium, vitamin D, B6, B12 and minerals such as zinc, iron and copper.  So you and your guests can feel good when eating from the deviled egg bar!
Here we go!
What you need for the best deviled eggs for your deviled egg bar:
12 eggs, hard boiled
1/2 cup mayonnaise (I use Sir Kensington's)
2 tbl milk
1/2 tsp finely chopped green onion
1/2 tsp ground mustard powder
1/4 tsp salt
1/4 tsp paprika (plus extra for dusting)
1/4 tsp black pepper
1/4 tsp garlic powder
Slice your eggs in half lengthwise and remove the yolks.  Put in a medium sized bowl.  Put the whites aside.
In the bowl with yolks, add the rest of the ingredients and mush with a fork, or even a hand held mixer, until there are no more lumps.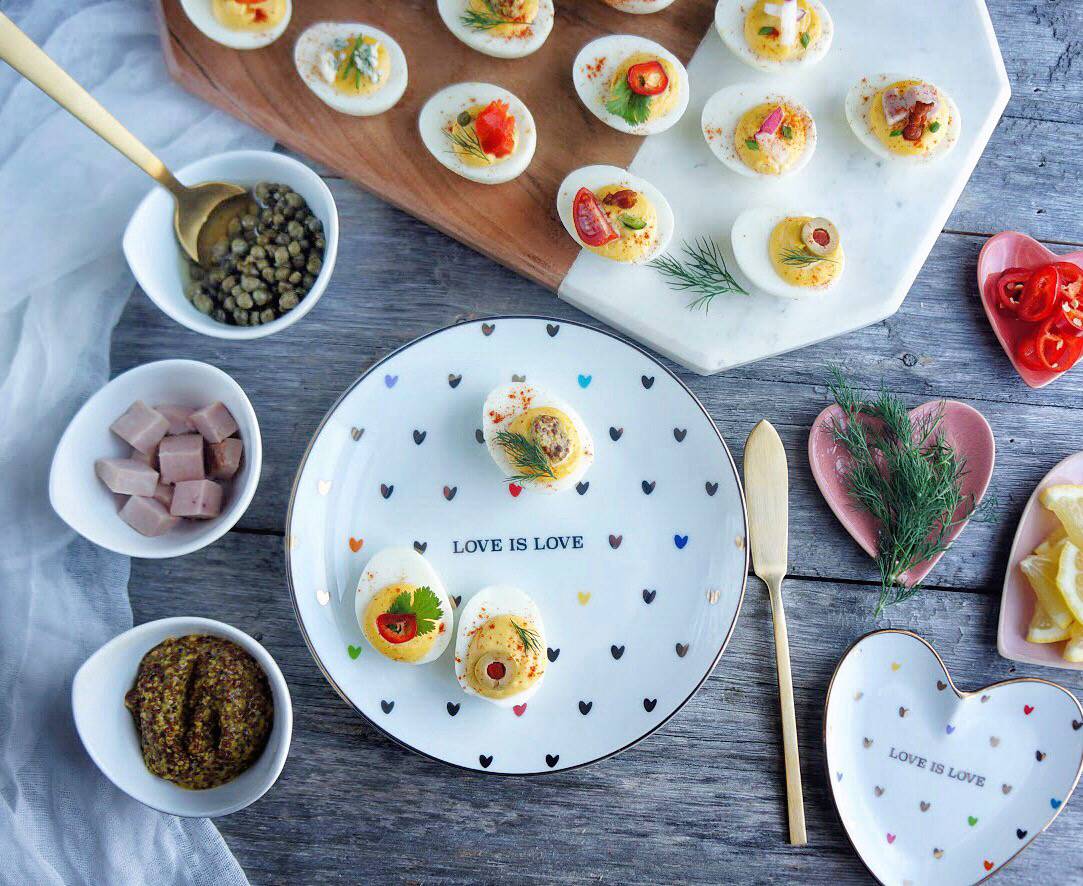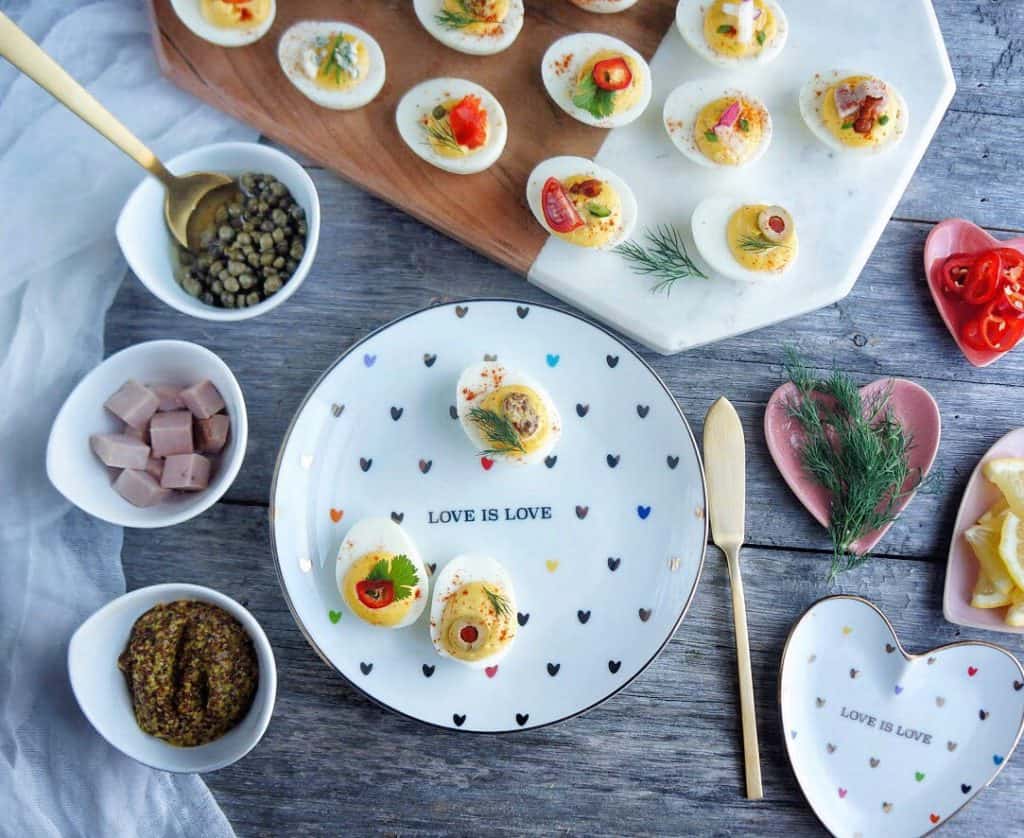 If you're not serving the eggs right away, put it in an air tight container and leave in the fridge.
If you're serving right away, put your yolk mixture in a piping bag and pipe yolks into whites.
How do I create the deviled egg bar?
In small bowls surrounding your eggs, you can put as many toppings as you'd like! Here's what I chose:
Blue cheese, chives and bacon
Dill and capers
Ham and bacon
Chili peppers and cilantro
Tomato, bacon and chives
Smoked salmon, dill and capers
The world is your deviled egg bar! Have fun with it.
Styling tips: I used this marble and wood beautiful serving platter from West Elm to display my deviled egg bar, and their #loveislove plates for my guests.  I garnished the board with a little dill and made sure to line my eggs up perfectly in a row.
If you loved this post, be sure to check out my fall cheese board!