This Creamy Roman Chicken Pasta recipe is just what you need for dinner! Sweet grilled bell peppers and prosciutto in a light cream sauce takes this chicken dinner to a whole new level!
**This post is sponsored by Amore. All opinions are my own**
If you've been following me over the past year, you know that my wife and I welcomed baby dinner fairy last October! I can't believe almost a year has passed since we became moms! I know one thing for sure, one thing that has definitely changed in the last year in the kitchen is the amount of time I spend making dinner! I try to find delicious short cuts to save time making meals for our family, whether that be using the Instant Pot or Air Fryer, or using high quality ingredients that are already prepared for me.
What are Amore Ready-to-Eat Vegetables?
I've been a huge fan of Amore Cooking Pastes for years, and I've recently discovered Amore brand Ready-To-Eat Vegetables. They've been a game-changer in the kitchen! Their Artichoke Hearts, Sun-Dried Tomatoes, and Grilled Peppers are incredibly delicious and make dinner time a breeze! They're made from high-quality ingredients sourced from the Mediterranean region, and ready to eat right out of the package! Their ready-to-eat grilled peppers were so easy to add to this creamy roman chicken pasta. I just added them to the warm sauce and the meal was ready to serve! Click here to find an Amore retailer near you!
Start by boiling a large stock pot of water. Cook the Cavatappi noodles while you prepare the chicken and the sauce!
Why should you let the chicken come to room temperature before cooking?
Pan searing exposes the chicken to high heat to brown their surface, creating a tasty crust on the outside. Before you begin, let the chicken breast rest at room temperature for about 15 minutes. This will allow the chicken to cook more evenly, helping you avoid a brown outside with a raw, undercooked inside. Start with a hot skillet over medium-high heat and a small amount of olive oil. Season the chicken and add it to the pan.
Let the chicken sear for several minutes on one side before flipping to get that nice brown crust. A chicken breast is ready to flip when it releases easily from the pan and has a nice, golden-brown sear. It's finished when the thickest portion of the cut registers 165°F on an instant-read thermometer. After the chicken is cooked through, remove it from the pan and set aside on a warming plate.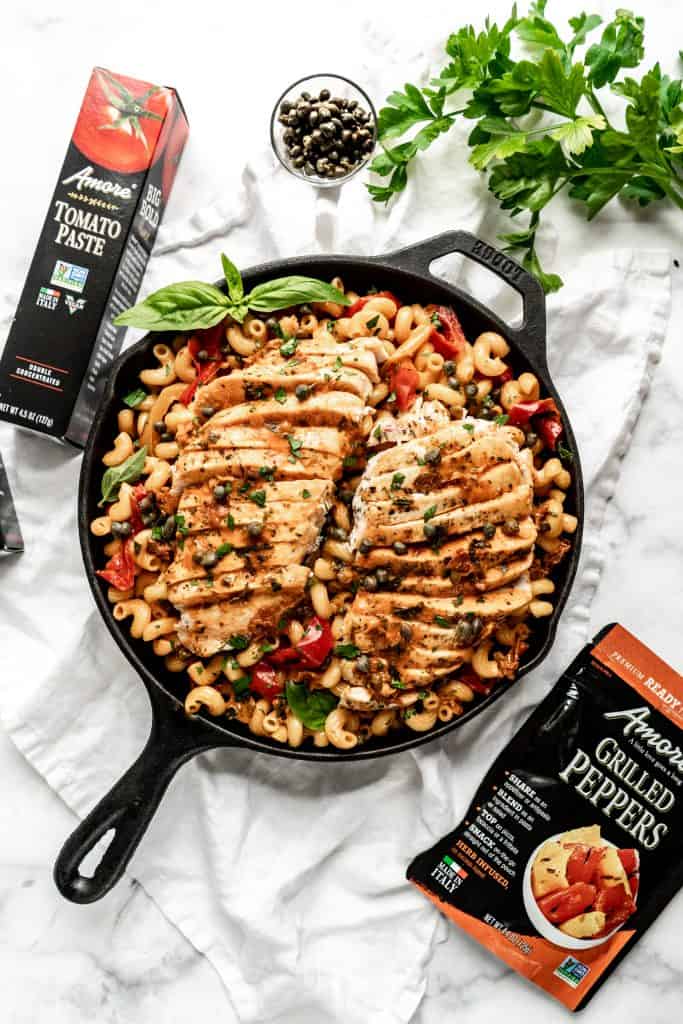 How do you make Creamy Roman Chicken Pasta?
After the chicken is cooked through, add the shallot and sliced prosciutto to the same pan the chicken was cooked in. Cook until the prosciutto is crispy, then add Amore Garlic and Tomato Pastes. Amore's Tomato Paste is Double-Concentrated, bold and vibrant, and brings all those delicious authentic Italian flavors to this creamy roman chicken pasta. I love using their garlic paste because it's quicker and easier than peeling and mincing garlic cloves. You can substitute 1-1.5 tsp for each garlic clove called for in your recipe.
Let the Tomato and Garlic Paste cook for a minute or two, then deglaze the pan with white wine. Deglazing is adding liquid to a hot pan, which allows all of the caramelized bits stuck to the bottom to release. By doing this, you'll let all the flavors incorporate and it results in a super flavorful sauce.
Add Amore's Grilled Peppers, cream, Parmesan cheese, and capers and stir to combine. Add the chopped fresh herbs and cooked pasta and stir until the pasta is evenly coated. Slice chicken and pour over extra sauce. Plate and serve!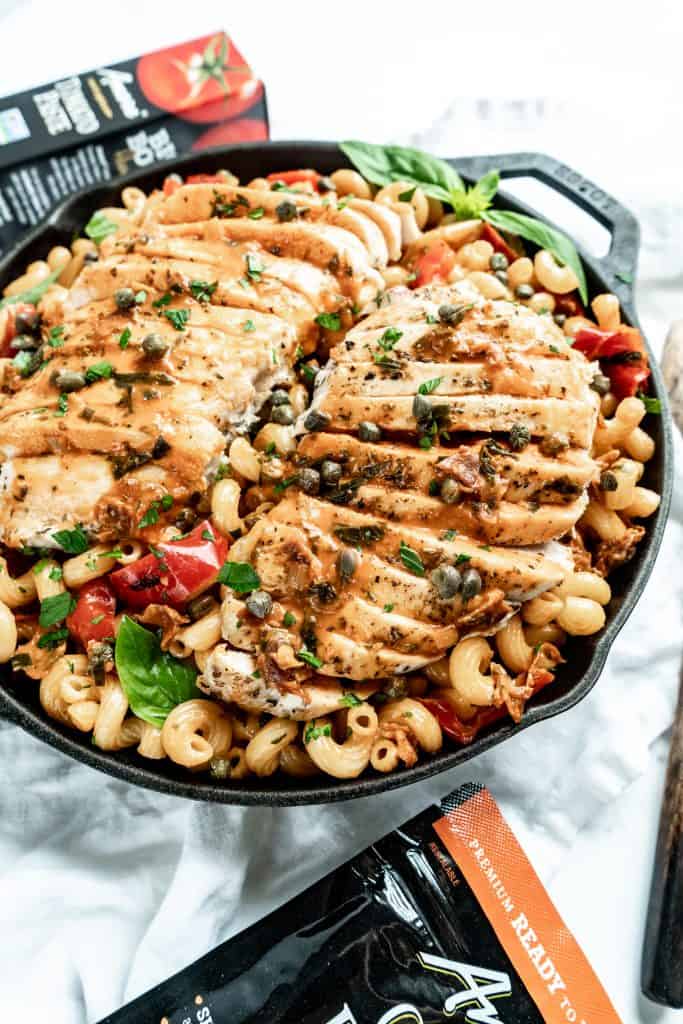 If you loved this recipe, be sure to check out my Instant Pot Mushroom Gorgonzola Risotto!
Print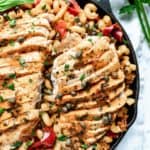 Creamy Roman Chicken Pasta
---
---
Instructions
Start by boiling a large stockpot of water.  Salt and add Cavatappi and cook until al dente, about 8 minutes.  Drain and set aside. 
In a large skillet over medium-high heat, add 3 tablespoons olive oil. When the oil is hot, add the chicken and cook for 3 minutes. When chicken is browned, flip and cook the other side for 3 minutes. Remove and transfer to a warm plate.
Into the same pan, add the prosciutto and shallots, and cook until the prosciutto is crispy. Add the garlic and tomato pastes and cook for about a minute.
Deglaze the pan with white wine, scraping up any brown bits from the bottom. Add chicken stock and Amore grilled peppers and stir to warm. 
Add cream, parmesan and capers and stir to combine.  Add fresh herbs and cooked pasta and stir until pasta is coated with sauce.  
Slice chicken and place over the top of the pasta.  Spoon any extra sauce over the chicken.  Plate and serve! 
---
Want to pin this for later? Click on the image below!