Eating salad just got a lot less boring! This cobb salad with avocado vinaigrette will be a dish you'll be excited to eat any day of the week! It's now even easier to make with my new favorite kitchen essential, the NEGG®!
I have to admit, I overindulged this holiday. Not only did I spend most of my December baking all the holiday goodies, Allison and I took a trip to Charleston, South Carolina for the new year and visited some of the top restaurants in this charming town. That means biscuits galore, and shrimp and grits almost every day.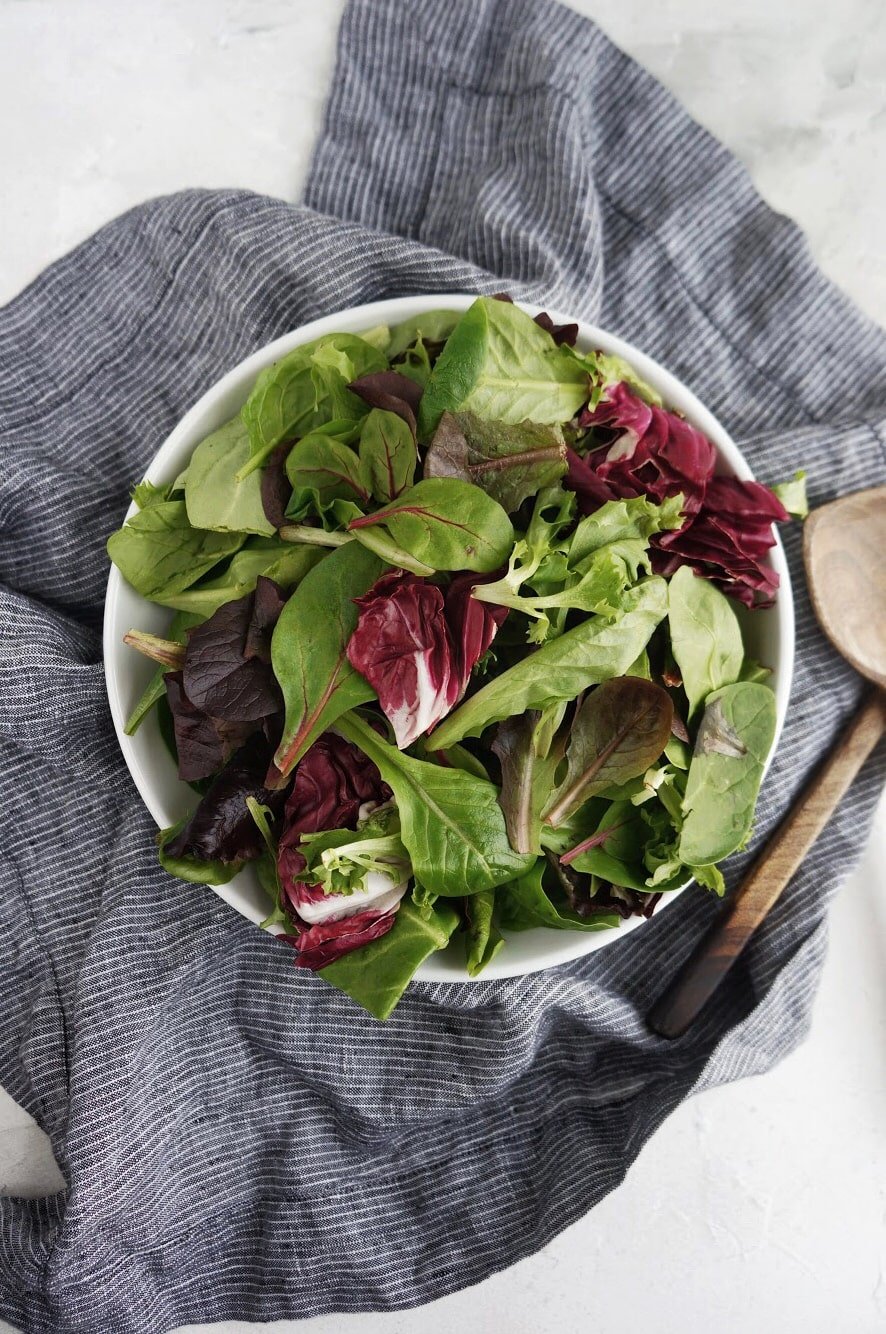 After this incredible culinary adventure, I needed a reset. I always love a yummy salad, but I'm craving them even more these days. Cobb salads are my all-time favorite, but I have a confession to make. I HATE making hard-boiled eggs. They just never used to come out right and peeling was the absolute WORST. That is, until I discovered the NEGG® Egg peeler.
I was invited to the Home and Housewares show last year and stopped by their booth to check out the product. I couldn't believe how easy it was to peel eggs with the NEGG®! I couldn't wait to get home and get my hands on one.
As you can tell from the video above, peeling eggs is a breeze with this tiny little device, and my salads (and life) will never be the same! I was able to put together this incredibly delicious cobb salad with avocado vinaigrette in just minutes!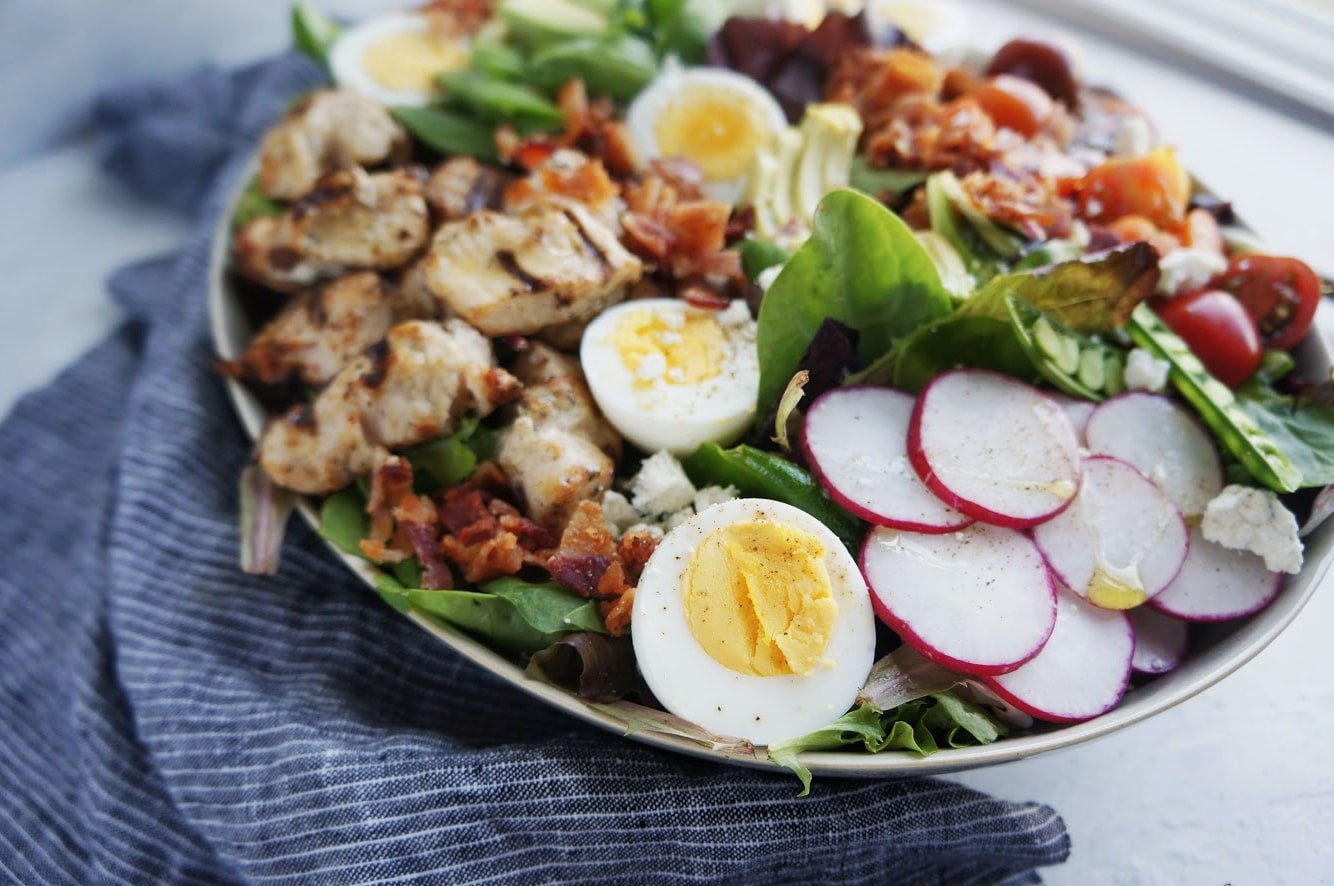 How much water should I put in the Negg®?
Just a little under 1/4 cup of water will do the trick. As a handy trick, use a measuring cup the first time and note where the water level falls on your Negg® for future use. Too much water will not allow the egg to crack. Too little water ends up scrambling the egg – shell and all.

How many shakes of my Negg® do I need?
This all varies. Some will peel in just a few shakes and others take longer. You will feel the egg start to soften while you're shaking, then you can take a look through the clear body to see the progress of the shell of the egg. When the white of the egg typically becomes visible you are done. Once it's peeled, slice and add to this cobb salad with avocado vinaigrette.
What should I put in a cobb salad?
This classic American salad is typically made with chopped greens (iceberg lettuce, watercress, endives and romaine lettuce), tomato, crisp bacon, boiled, grilled chicken breast, hard-boiled eggs, avocado, Roquefort cheese, and red-wine vinaigrette, but I'm pairing it with a creamy avocado cilantro vinaigrette today.
This dressing is so delicious and can also be used for so many different recipes. Try spooning leftovers over grilled fish, stirring it into cilantro rice for extra flavor, or drizzling it over tacos. Let me know what you experiment with!
Print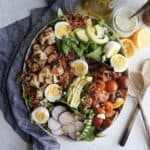 Cobb Salad with Avocado Vinaigrette
Author:

Nicole Triebe

Prep Time:

10 minutes

Cook Time:

10 minutes

Total Time:

20 minutes

Yield:

4

1

x
---
6

cups

fresh greens, such as romaine

1

cup

cherry tomatoes, halved

Handful snap peas, sliced

4

ounces

blue cheese crumbles

1

avocado, sliced

6

strips crispy bacon, crumbled

4

hard boiled eggs, sliced

2

cooked chicken breasts, sliced
For the Vinaigrette:
1

ripe avocado

1/4 cup

white wine vinegar
Juice of

one

lemon

3

tbl chopped cilantro
Salt and pepper, to taste

3/4 cup

extra virgin olive oil
---
Instructions
To make the dressing:
In a food processor, combine avocado, cilantro, vinegar, lemon juice, salt and pepper. Run processor until very smooth and creamy.
With processor running on low, stream in olive oil through the chute until just combined.
To assemble the salad:
In a large salad bowl, combine the greens, tomatoes, snap peas, and blue cheese. Top the salad with avocado, chicken, bacon, and eggs. Serve the salad alongside the avocado vinaigrette.
---
Want to pin this for later? Click on the image below!