Valentines Day is my favorite holiday.  I am a little biased because I got married on this oh so romantic day, but aside from the sappy love stuff, it's a holiday celebrating CHOCOLATE! Let's be honest, this holiday was essentially created by Hallmark and Godiva, am I right?  I not mad about it either.  My sweetheart's favorite dessert is a s'more, so what better dessert to make for her than this decadent chocolate marshmallow strawberry shortcake!  You can't go wrong with marshmallows, chocolate and strawberries, right?  I teamed up with 
XO Marshmallow
 to make this heavenly dessert to share.  I used their signature flavor for the month of February, Rose!  Let's get baking!
Don't these just look heavenly?!
Print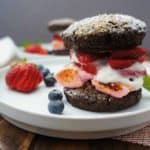 Chocolate Marshmallow Strawberry Shortcake
Author:

Nicole Triebe

Prep Time:

20 minutes

Cook Time:

20 minutes

Total Time:

40 minutes
---
For the Shortcakes:
1 cup all purpose flour, plus 3 tbl for dusting
1/3 cup granulated sugar
2 tbl Hershey's special dark cocoa powder
3/4 tsp baking powder
1/4 tsp salt
4 tbl. butter, frozen and grated
3 ounces milk chocolate, roughly chopped
2 eggs
1/4 cup heavy cream
1 tsp vanilla
Raw sugar for sprinkling
For the toppings:
XO Marshmallow Rose marshmallows
1/2 quart strawberries, sliced
1/8 cup granulated sugar
2 tsp powdered sugar
1/2 cup heavy cream
---
Instructions
Whisk the flour, sugar, cocoa powder, baking powder and salt in a large bowl. Take your frozen stick of butter and using a cheese grater, grate the butter. Add the grated butter to your flour mixture and using your hands, rub the butter into the flour mixture until it resembles sand. Add the chocolate and mix. In a small bowl, combine one egg, cream and vanilla with a whisk. Pour into the flour mixture and stir with a fork. Combine until there are few dry pieces, and turn out onto a lightly floured surface. Pat until 1 inch thick. Cut into 6 rounds with a round cookie cutter or a glass cup.
Place the rounds on a parchment or silpat lined baking sheet and freeze for 20 minutes. Beat the remaining egg and 1 tbl water in a small bowl and using a pastry brush, brush onto the chocolate cakes and sprinkle with raw sugar.
Bake for 20 minutes or until firm. Move to a rack and let cool.
For the toppings:
Slice strawberries and combine with 1/8 cup sugar and toss to evenly coat. Set aside. Whip your cream and sugar in a cold mixing bowl just until the cream reaches stiff peaks. Be careful not to over whip! Roast your XO Marshmallows right before assembling your shortcakes.
Assemble the shortcakes by layering a shortcake biscuit, whip cream, marshmallows and strawberries, and top with another shortcake biscuit. Top with additional whip cream if desired, and some powered sugar.
---