Skip those long bar lines and cover charge for this year and celebrate New Years Eve at home! Follow my tips for a delicious way to ring in the new year!
This post is sponsored by Whole Foods Market, opinions are my own. Must be 21+ to purchase alcohol, drink responsibly.
I'm not sure about you, but I've never been a huge fan of celebrating New Year's Eve out at a bar. Chicago bars start charging around $100 for a ticket, and you spend most of the night in line at the bar waiting for drinks. Not to mention the time you spend waiting for a cab at the end of the night. I'm partnering with Whole Foods and Babbleboxx this year to show you how to throw a delicious low-key party and celebrate new years eve at home!
For 39 years, Whole Foods Market has been the world's leading natural and organic
foods retailer. They offer the best local produce that will help elevate any dinner party at home! I started with a few of my entertaining must-haves (think an epic charcuterie board and dessert platter) and added some gorgeous lobster tails and a little caviar to host a stunning yet low-key New Years Eve celebration for a few friends at our home.
What should I serve?
Whole Foods and Babbleboxx put together a box of delicious goodies to get my party started, including organic chocolate truffles, Grace Hale sparkling sauvignon blanc, festive garland and confetti poppers to complete the evening! I stopped by my local Whole Foods to pick up some more key players to add to the evening, including a few of their local cheeses to complete my charcuterie platter and some gorgeous lobster tails! Their specialty department offerings are a one-stop-shop for elevating new years eve at home!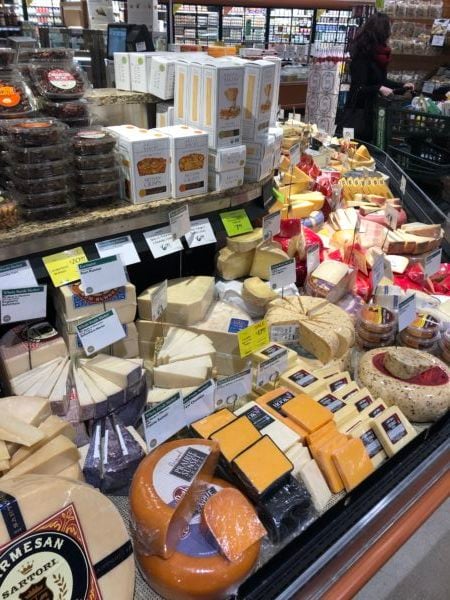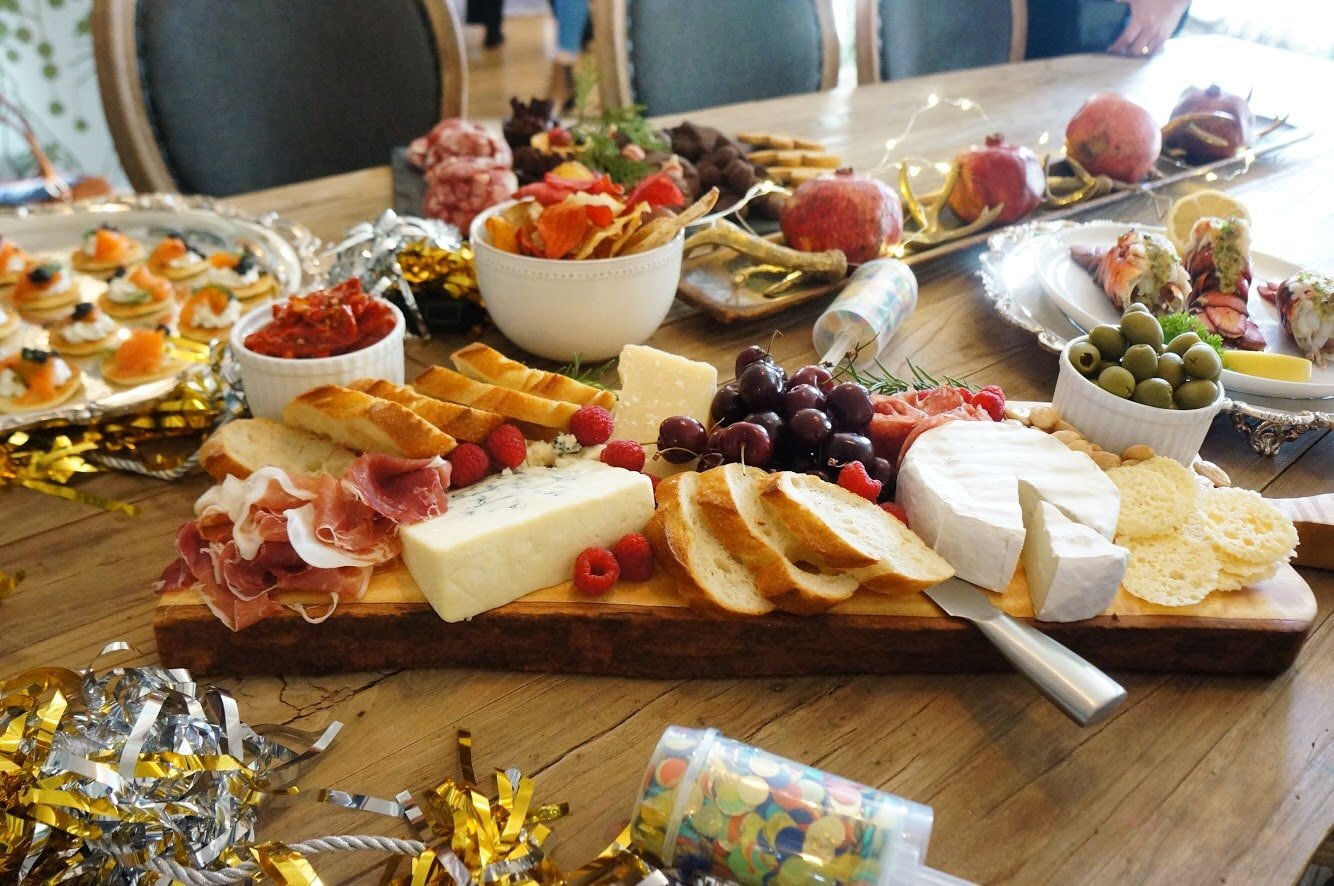 What cocktails should I serve?
Champagne is always a must on New Year's Eve, but how bout putting a twist on the classic? These Champagne Ice Cream Floats are perfect for the occasion, or try these sparkling peppermint holiday cocktails!
How do I cook lobster?
I'm embarrassed to admit I've never made lobster before prepping for this party. Seafood in general intimidates me. I hardly ever make it because Allison doesn't eat it, but for New Years I'm making an exception. The Whole Foods Market by my house had the most beautiful sustainable wild-caught lobster tails, and I couldn't resist purchasing them for our New Year's Eve at home celebration.
The expert fishmonger gave me some great advice on how to prepare the lobster tails, and they were so much easier that I expected! Not only were they easy to prep, they only took 15 minutes to cook! Put them on a plate with some fresh lemon wedges and you're all set! Talk about low-maintenance dinners! I'm including my recipe for garlic butter lobster tails below. Be sure to check it out!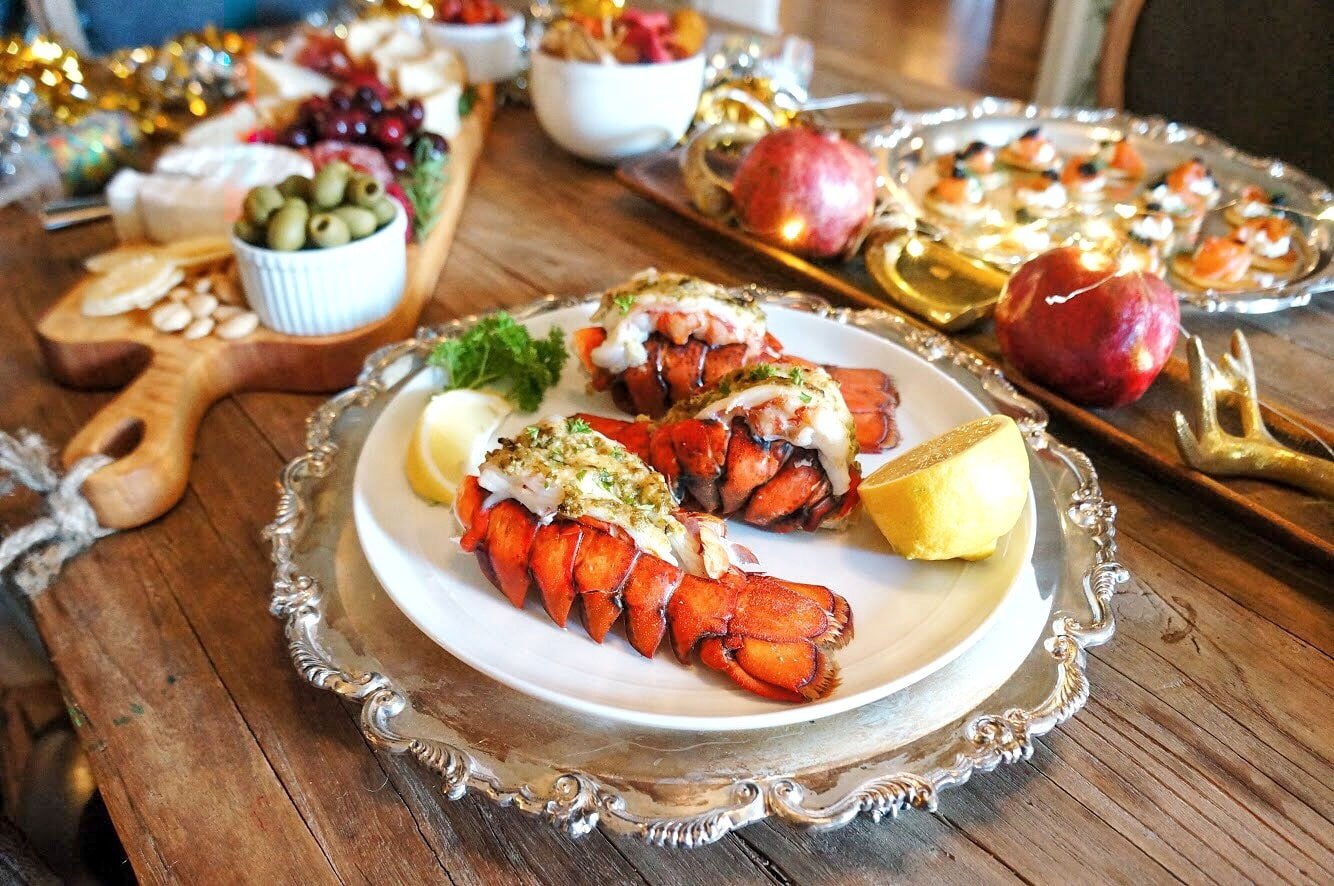 What are some other easy appetizers?
Right next to the seafood station I found some sturgeon caviar and ready-made cocktail blinis. I added some creme fresh and smoked salmon for a perfect appetizer that only took me 10 minutes to make!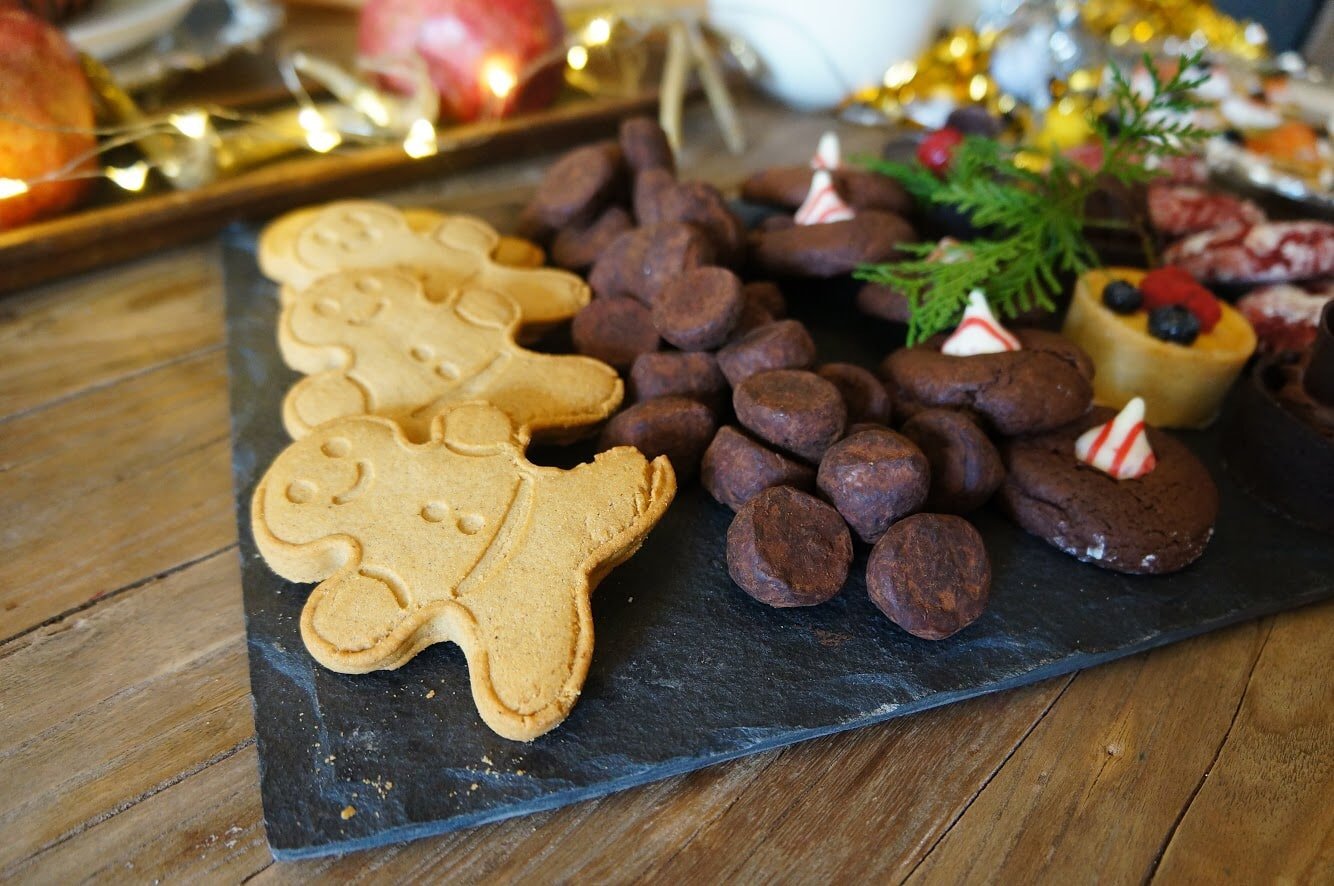 How do I create a dessert platter?
I created this gorgeous dessert platter using the organic truffles that Whole Foods Market sent me, perfect tartlets from Whole Foods Market and some of the holiday cookies I already had made at home! I lined them up beautifully on a slate board and garnished with some greenery to make it feel extra festive. Need more dessert charcuterie board ideas? Find them here!
So let's rim those champagne glasses with some peppermint candy, pour some bubbly, and get this party started!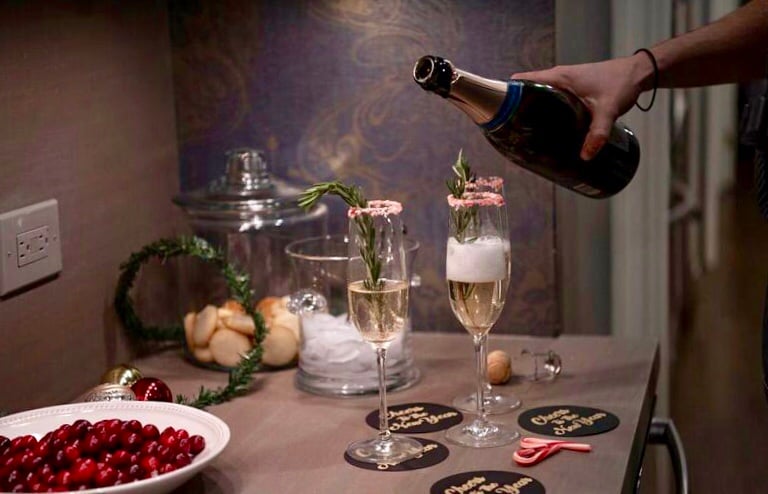 Kick your new year off comfortably in style with fantastic local product at Whole Foods Market you can't get anywhere else! What are your plans for New Year's Eve? Whatever you do, make sure you celebrate responsibly!
#LowKeyNYE #MakesMeWhole
Note:
Broiling Times for Lobster Tails:
Smaller (3 to 4 oz) lobster tail 6 to 8 minutes
Medium (5 to 6 oz) lobster tail 10-11 minutes
Larger (7 to 9 oz) lobsters tail 12-15 minutes (with rack in middle of oven)
Broil lobster meat until opaque and white in center, or 145˚F.
Print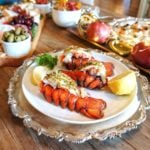 Lemon Garlic Butter Lobster Tails
Author:

Nicole Triebe

Prep Time:

10 minutes

Cook Time:

15 minutes

Total Time:

25 minutes

Yield:

4

1

x
---
4 4 oz Lobster Tails
1 Tbsp parsley
2 pressed garlic cloves
1 tsp dijon mustard
1/4 tsp salt
1/8 tsp pepper
2 Tbsp olive oil
1 1/2 Tbsp lemon juice
1 tsp lemon zest, chopped
---
Instructions
Use kitchen shears to cut through the top shell of the lobster tail, stopping at the base of the tail and snipping through the top portion of the meat as you go.
Flip the tail over to the back see-through side of the tail and crack the ribs in the center. This will help open the shell.
Open the shell using your thumbs and fingers and loosen the meat from the shell (remove vein if present). Work carefully – shells can be sharp! Lift the meat from the shell, keeping it attached at the base. Press the shell together and set the lobster meat over the top. The bulk of the lobster meat should be sitting over the top of the shell.
Place rack in center of oven so when you bake, the meaty tops of your lobster tails will be at least 6 inches from the top heating elements. Preheat oven to broil on high heat.
In a small bowl, add the marinade ingredients: 1 Tbsp parsley, 2 pressed garlic cloves, 1 tsp dijon, 1/4 tsp salt, 1/8 tsp pepper, 1 1/2 Tbsp olive oil and 1 1/2 Tbsp lemon juice and lemon zest. Stir to combine.
Broil lobster tails on high 10-11 minutes (or according to the lobster tail size – see chart below). When done, lobster meat should be opaque and white in the center and register 145˚F on an instant read thermometer.
Transfer lobster tails to a serving dish and garnish with fresh parsley if desired.
To make the Garlic Lemon Butter: drain drippings from the roasting pan into a small saucepan and combine with remaining 2 Tbsp butter, bring to a simmer and remove from heat. Pour over lobster tails or divide into ramekins and use as dipping sauce.
---
Want to pin this for later? Click on the image below!