With more nutritional benefits than you can count, you can feel good starting your day with a healthy bowl of caramelized banana steel cut oatmeal! 
It's almost guaranteed that any time I purchase bananas at the supermarket, they are half brown by the time I think to eat them.  Luckily for me, am a sucker for overripe bananas.  Not only do I prefer to eat them when they're covered in brown spots, but they're perfect for baking, cooking, and so many other things!
When I first started Windy City Dinner Fairy, I was a full time personal chef for 3 Crossfit athletes.  Their diets were strictly paleo, and steel cut oatmeal was the most popular breakfast request.  Not only is steel cut oatmeal delicious, steel cut oats are an excellent source of protein, vitamin B, calcium, soluble and insoluble fiber.  Because of the way they are processed, steel cut oats are better for you than the traditional rolled oats.
What makes Steel cut oatmeal different than regular oatmeal?
Steel cut oats are dense and chewy as a result of being passed through sharp, steel blades that cut them into thin slices that helps retain more fiber and protein.  Because of this it takes longer to digest, making us feel fuller for a longer period of time.
What other health benefits does steel cut oatmeal have?
Steel cut oats are a whole grain, which have been known to reduce cholesterol, high blood pressure and help prevent heart disease, cancer and diabetes. One of the most significant health benefits of Steel-cut oats is that they help eliminate fat and cholesterol from the body.  That means you can feel good when you eat caramelized banana steel cut oatmeal every morning!
How do you cook caramelized banana steel cut oatmeal?
My favorite way to eat them is to infuse the water you cook the oats in with cinnamon (just add a couple sprinkles to the water before you add the oats).  Cinnamon just happens to be a super spice, which means that it includes tons of nutritional benefits that are known to improve your health. Cinnamon has lots of antioxidants, anti-inflammatory properties, and may even reduce your risk for heart disease!  So much goodness in one bowl
You'll start by boiling the water on the stove top, adding the cinnamon and then the oatmeal.  Cover and let simmer for five minutes before adding the bananas and serving! It's that easy! When breakfast only takes five minutes, you have no excuse not to start your day with this warm bowl of deliciousness.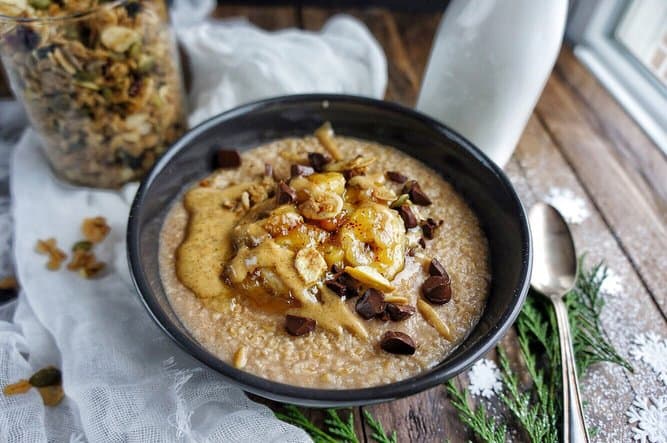 What toppings can I put on my caramelized banana steel cut oatmeal?
In this recipe, I added some caramelized bananas, some Chixi Chickpea Butter (which tastes just like peanut butter!) for some extra protein and some chocolate chunks for a little sweetness.  You can add granola, other fruits, chia seeds, and so much more! This little delicious bowl is perfect for cold winter mornings.
Print
Caramelized Banana Steel Cut Oatmeal
Author:

Nicole Triebe

Prep Time:

10 minutes

Cook Time:

5 minutes

Total Time:

15 minutes

Yield:

4

servings

1

x
---
1 cup quick cook steel cut oats
4 cups hot water
1 teaspoon vanilla extract
1 teaspoon cinnamon
1/4 tsp nutmeg
3 banana, sliced
3 tbl butter
3 tbl brown sugar
chopped chocolate
1 tbl Chixi Chickpea Butter
---
Instructions
Bring water and cinnamon to a boil in a deep sauce pan, add steel cut oats and cook covered for 5 minutes on low.
In a sauté pan over medium heat, add butter and bananas and sauté until slightly softened.
Add brown sugar and nutmeg to the banana pan.
Remove oats from heat and let sit for 5 minutes.
Serve topped sautéed bananas, chopped chocolate and Chixi Chickpea Butter
---