Weekends in the summer  is a time to relax with friends and family and celebrate the gorgeous weather, but it also means you're more than likely going to attend or throw a party of some sort. Most of my summer parties include American classics – corn on the cob, hot dogs, burgers, and ice cream! Take your party up a notch with a gourmet burger bar!
I've teamed up with Solo Cup to show you how you can take the stress out of planning a yummy get together!  Follow my guide for hosting an unforgettable summer party complete with this gourmet burger bar!
To take a little work off your plate, have your guests pitch in by creating a gourmet burger bar!  It's a fun way to involve your guests and ensure everyone's can have their burger just the way they like. This is all about presentation!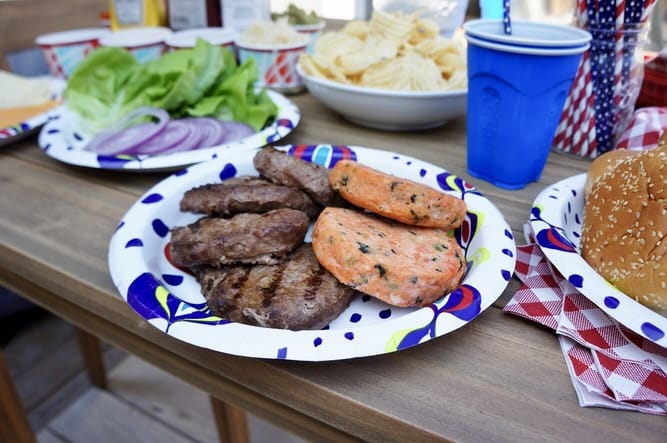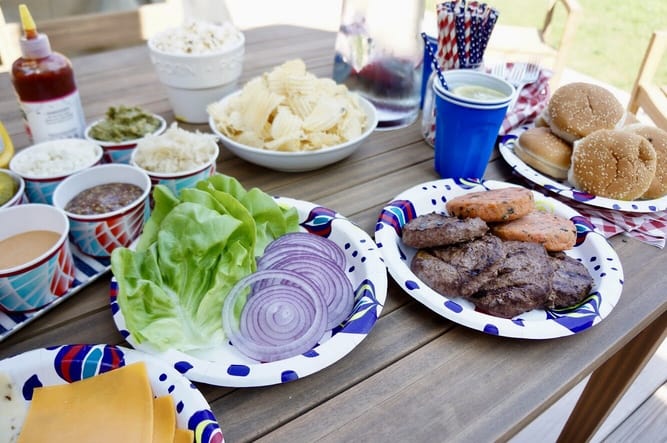 First things first: the serving ware! In this case, Solo's fantastic new paper plates.  I am loving the pattern on these!  So festive and perfect for summer! I used the large plates to put out all the ingredients for this mouth watering burger bar.  In Solo's smaller bowls to go, I laid out all of the possible condiments and toppings you could think of.
Now what we've all been waiting for: the FOOD!
The main component of the burger bar: the burgers! For variety in choices for your guests, try grilling beef and salmon patties, and even include grilled chicken breasts or portabello mushrooms for those veggie lovers!
For those who love cheeseburgers, set up a Solo plate with with cheddar, american, pepper jack, provolone, and any other type of cheeses you'd like! Make another plate with lettuce, tomato and raw onions. One last plate with buns of your choice.  I picked a classic sesame bun, but pretzel buns are fun, too!
Go nuts with sauces in smaller bowls to go, – ketchup, mustard, sriracha, spicy mustard, sauerkraut, guacamole, pickles, special sauce, blue cheese crumbles, jalapeños for those who like some heat, and bruschetta tomatoes! The more the merrier! Pour these in the smaller bowls with spoons for serving ease.
For a burger that will REALLY impress your guests, I'm giving you my famous southwestern turkey burger.  This has some heat, so get your frosty beverage ready in your Solo Plastic Party cup!
If you loved this post, be sure to check out how to host an epic s'mores party!
[simple-recipe:8188a]
Want to pin this for later? Click on the image below!