Start your morning with a warm bowl of blood orange steel cut oatmeal. The perfect yummy way to kickstart the day!
When I first started Windy City Dinner Fairy, I was a personal chef for a few of Allison's Crossfit teammates.  She was competitive for a few years before taking a big step back after becoming a principal.  If you're not familiar with crossitters and their diets, it's pretty strict.  They follow a pretty strict paleo diet.
If you've never heard of paleo, it's basically a diet that allows you to eat only those foods that humans ate when they first roamed the planet millions of years ago.  Sounds pretty crazy, right?  I jumped on the paleo train when we first started dating, because it was silly to make two different dinners for us when we had a date night.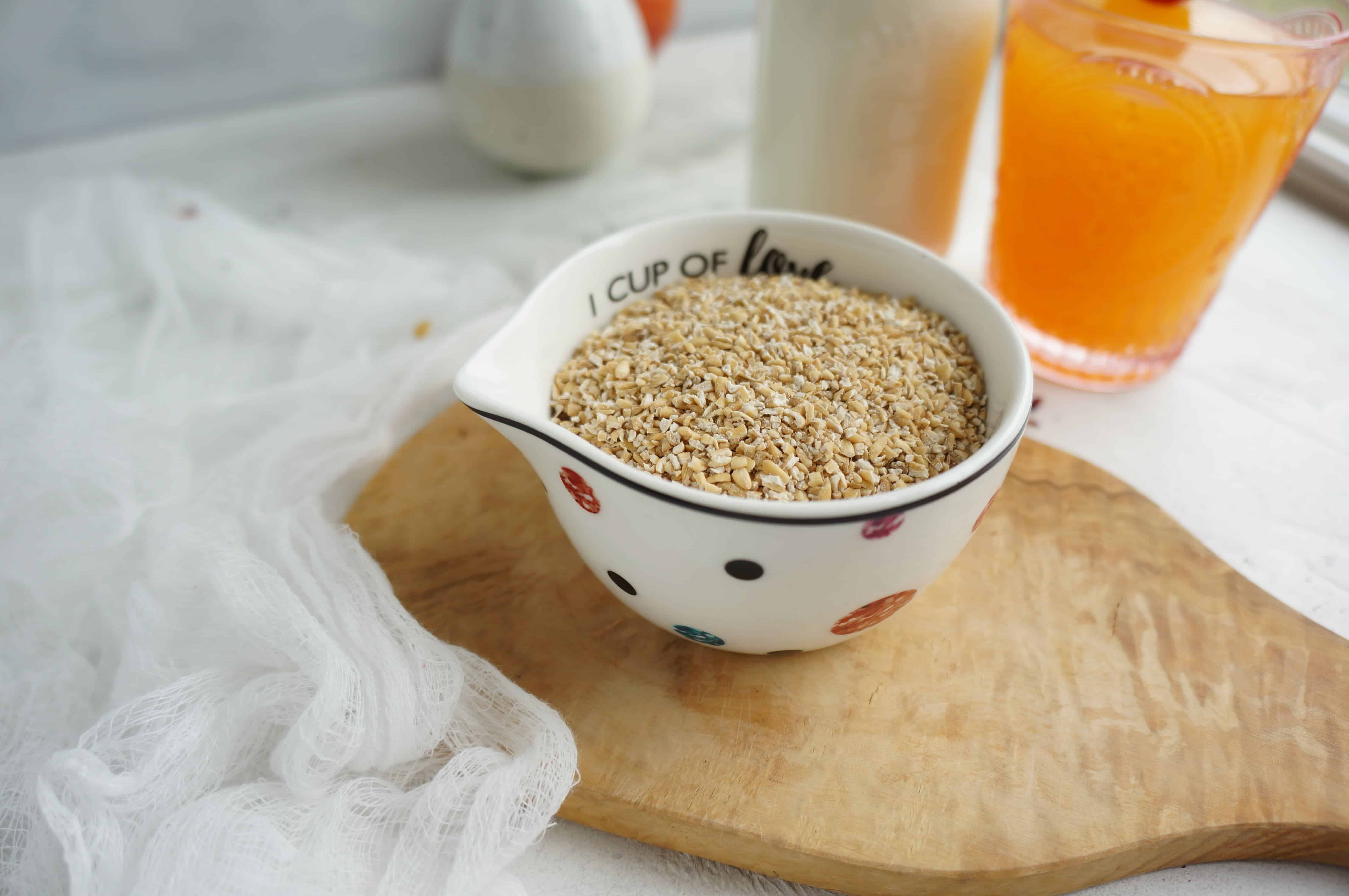 Breakfasts for her alternated between scrambled eggs or steel cut oatmeal with some fresh berries.  I had never been a huge oatmeal fan before discovering steel cut oatmeal.  I hated the texture and growing up I just remember hating everything about it.
Steel cut oatmeal is so much different.  They are dense and chewy as a result of being passed through sharp, steel blades that cut them into thin slices that helps retain more fiber and protein.
As an added bonus, they are an excellent source of protein, vitamin B, calcium, soluble and insoluble fiber. Because of the way they are processed, steel cut oats are better for you than the traditional rolled oats.  Because of this it takes longer to digest, making us feel fuller for a longer period of time.  Whole grains have been known to reduce cholesterol, high blood pressure and help prevent heart disease, cancer and diabetes. One of the most significant health benefits of Steel-cut oats is that they help eliminate fat and cholesterol from the body.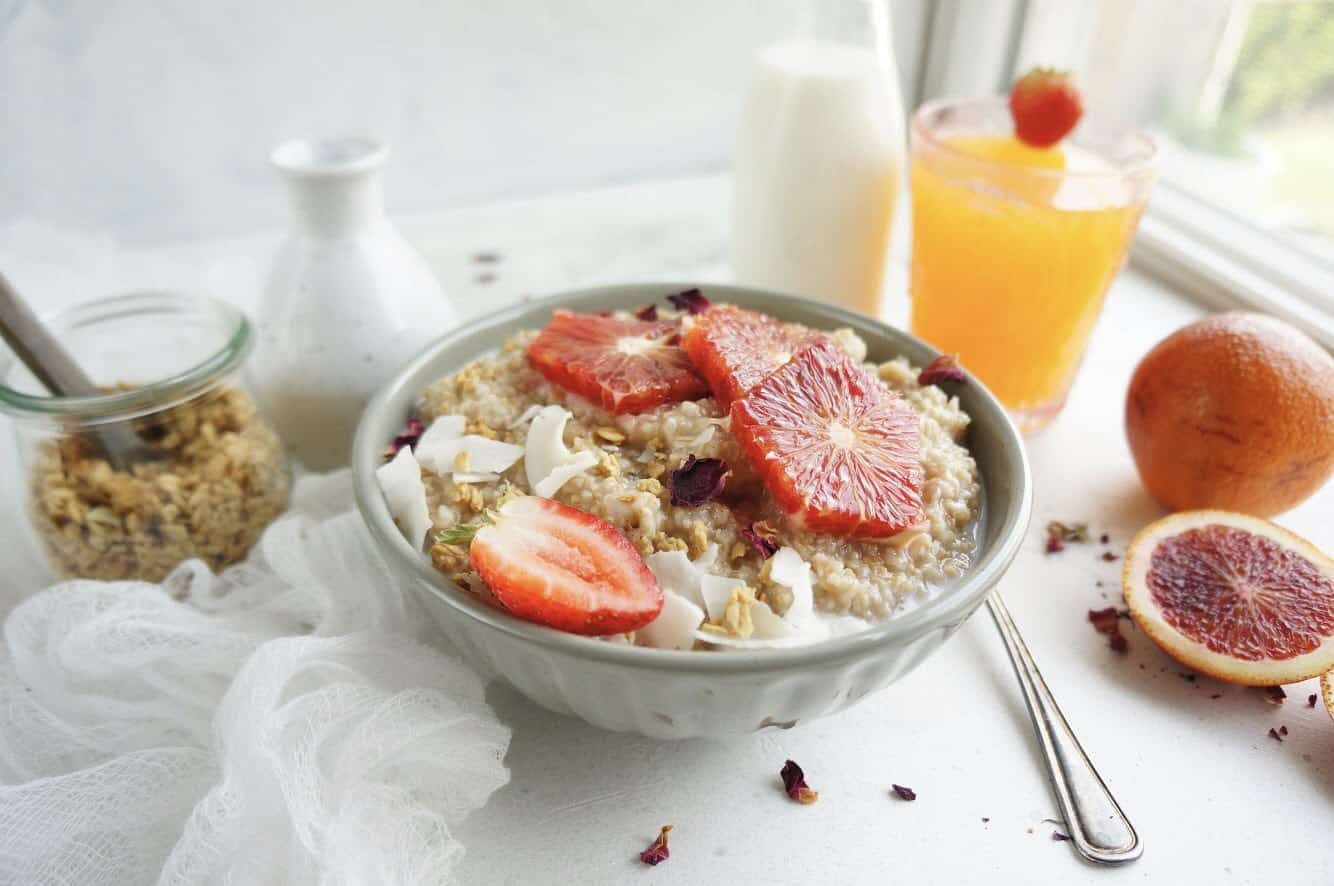 Although we don't follow a paleo diet anymore, I still love enjoying steel cut oatmeal in the morning, and especially love experimenting with different toppings so breakfast doesn't get boring. I love infusing the water I cook the oats in with cinnamon (just add a couple sprinkles to the water before you add the oats).
I found some blood oranges in our local grocery store the other day, and I couldn't help but pick up a couple.
Blood oranges may have originated in either China or the southern Mediterranean, where they have been grown since the 18th century. They are now the primary orange grown in Italy. The anthocyanins which give the orange its distinct maroon color will only develop when temperatures are low at night, as during the Mediterranean fall and winter.  Blood oranges cultivated in the United States are in season from December to March in Texas, and from November to May in California.
Blood oranges have a distinct raspberry-like flavor, and of course I can't help but love their gorgeous color.  I immediately knew I was going to top my warm bowl of steel cut oatmeal with these gorgeous fruits.
I hope you enjoy this variation of oatmeal and try some of your own toppings at home!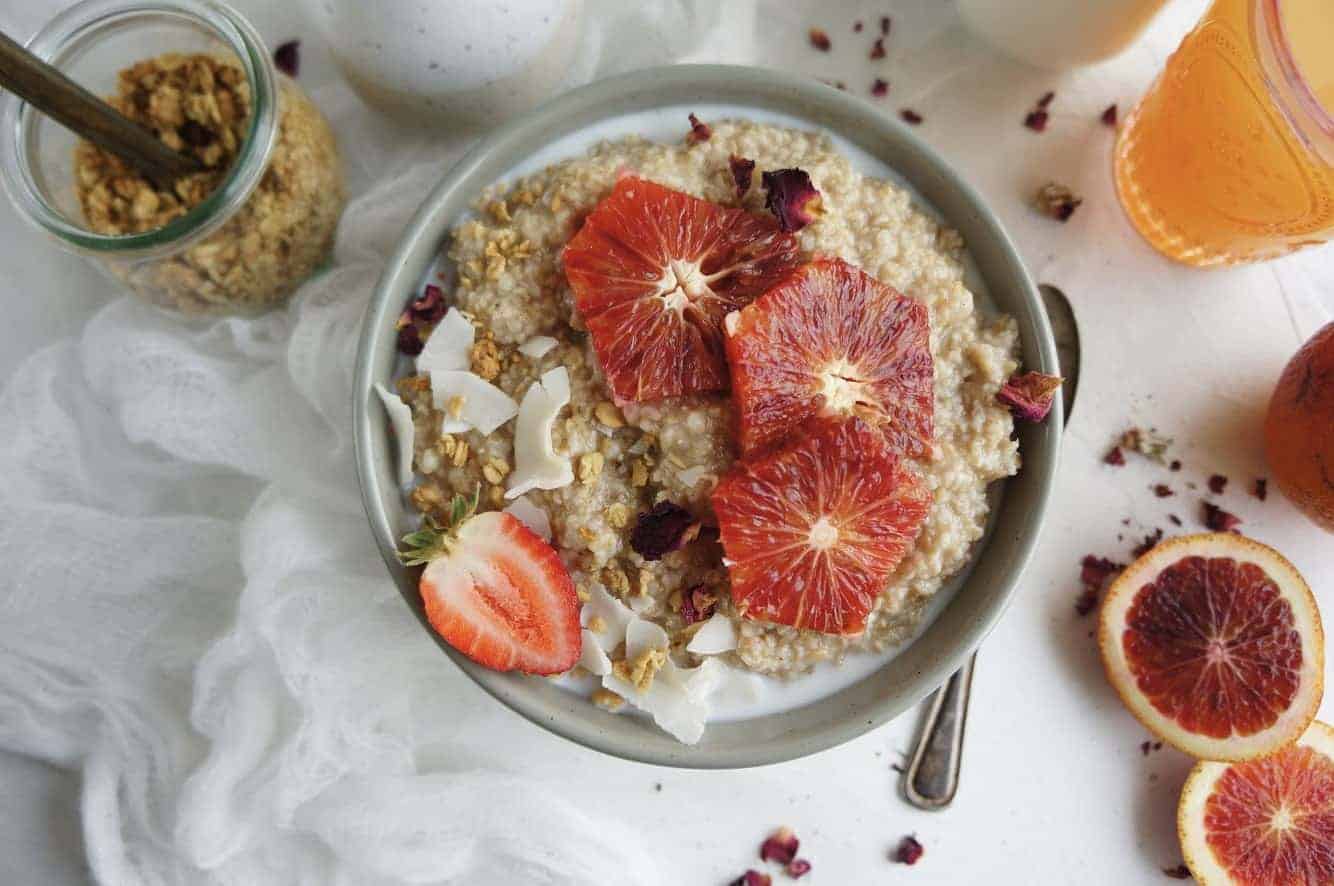 If you loved this recipe, be sure to check out my blood orange whiskey sour cocktail! 
Print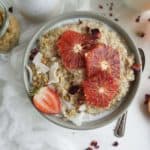 Blood Orange Steel Cut Oatmeal
Author:

Nicole Triebe

Prep Time:

5 minutes

Cook Time:

5 minutes

Total Time:

10 minutes

Yield:

4
---
1 cup quick cook steel cut oats
4 cups hot water
1 teaspoon cinnamon
1 blood orange
Granola (optional)
Coconut flakes (optional)
---
Instructions
Bring water and cinnamon to a boil in a deep sauce pan, add steel cut oats and cook covered for 5 minutes on low.
Slice blood orange, removing peel
Remove oats from heat and let sit for 5 minutes.
Serve topped blood orange, coconut flakes and granola if desired
---
Want to pin this for later? Click on the image below!