You know the best thing about being being my own boss? I can bake for fun again! Since I run my cake business full time now, I'm not confined to my corporate desk 9-5 and I have the freedom to bake all day long if I want to! Now I have to figure out what to do with all these baked goods!!
I always find myself buying too many bananas and never using them in a timely manner, and I don't think i'm alone in this boat.  I probably have 15 bananas in my freezer right now, so I thought i'd make these fluffy chocolate chip banana muffins to clear my freezer space a bit.  They were DELICIOUS, and needless to say, these didn't last long!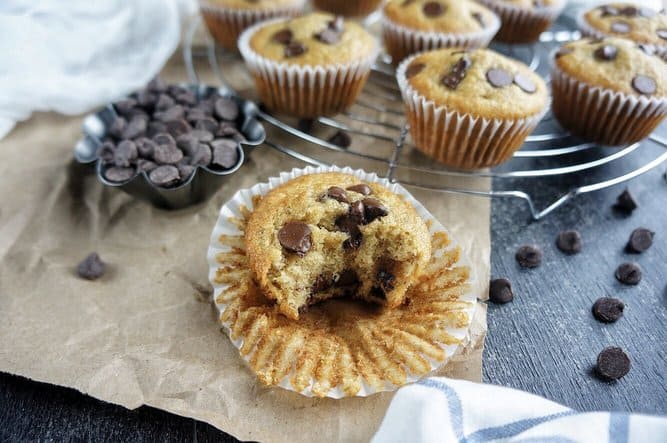 Print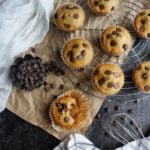 Banana Chocolate Chip Muffins
Author:

Nicole Triebe

Prep Time:

25 minutes

Cook Time:

13 minutes

Total Time:

38 minutes
---
1 1/2 cups ripened bananas (about 3 medium sized)
1 tbl lemon juice
3 cups flour
1 1/2 tsp baking soda
1/2 tsp salt
1/2 tsp cinnamon
3/4 cup oil
2 cups sugar
3 eggs
2 tsp vanilla
1 1/2 milk
1 cup chocolate chips
---
Instructions
Combine bananas and lemon juice in a small bowl and set aside for 15-30 minutes. Preheat oven to 375 F
In a large bowl, combine dry ingredients and whisk to get rid of any lumps. Add eggs, vanilla and milk and mix until just combined. Fold in bananas until combined.
Add 3/4 of the chocolate chips and fold in gently. Reserve the rest.
Line a muffin tin with muffin cups. Using a large ice cream scoop, scoop the batter into the liners. Bake for 7 minutes, open the oven and sprinkle the rest of the chocolate chips on the rising muffins. Bake for another 5-7 minutes or until the muffins have a nice golden brown color.
Remove from the oven and let cool.
---