Take your summer up a notch with Turkey Hill Ice Cream by making this mouth watering Bailey & S'mores Ice Cream Float.  There's nothing like a cold ice cream treat on a hot summer day! Am I right?
I can still remember patiently waiting for the sound of the ice cream truck when I was a kid.  I had saved all my quarters and had them ready for when that magical song neared my house.
Can you believe I still get just as excited about this frosty treat when it's summer. Let's be honest, I get excited in the middle of winter too.  I've recently discovered Turkey Hill Ice Cream and have fallen in love with it!  What started as a modest dairy farm and milk delivery route has grown into one of the nation's leading producers of ice cream and iced tea. Today, Turkey Hill products are available in 49 states and a dozen countries around the world.  
This all natural ice cream is made with the most simple ingredients: milk, cream, sugar and all natural flavors.
It doesn't use any artificial colors, and is made just like how ice cream was made over 80 years ago.  My favorite flavors are the Belgian style Chocolate and Cookies and Cream! These also happen to be my childhood favorites, too! I guess I know what I like, huh?? 😉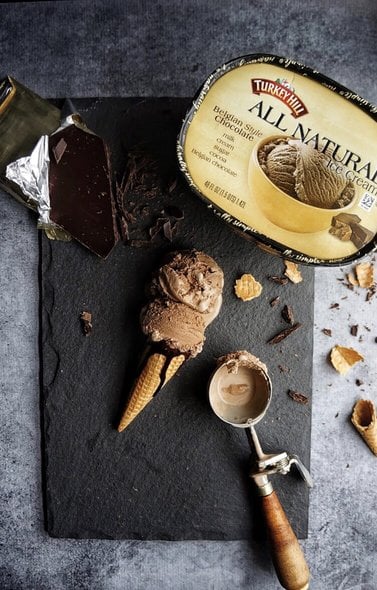 Turkey Hill Dairy is launching the Good Mooed sampling tour in select U.S. states spanning the East Coast to the Midwest. The sampling tour will focus on the brand's all natural ice cream line that launched last year. With limited ingredients, you can have a taste of Lancaster County, Pa., ice creams churned with all natural ingredients and a little extra cream for unforgettable richness. 
I used their Belgian Style Chocolate to make the most decadent Bailey & S'mores Ice Cream Float.
Print
---
4 oz milk
4 oz cold brew
Chocolate syrup
2 scoops Turkey Hill Belgian Chocolate Ice Cream
a pinch of salt
¼ tsp vanilla extract
Toasted Marshmallows
Graham cracker for garnish
1 oz baileys
---
Instructions
Combine the milk, Baileys, cold brew, salt and vanilla in a glass and stir to combine.
In a separate glass, drip chocolate syrup down the insides of the glass.
Place two or three scoops of Turkey Hill's Belgian Style Chocolate All Natural Ice Cream in the chocolate covered glass. Pour the milk/bailey's/cold brew mix over the top of the ice cream.
Toast your marshmallows and place on top.
Garnish with a graham cracker.
Enjoy!
---
Notes
Styling tip: after drizzling the glass with chocolate syrup, put extra around the rim and dip in crushed graham cracker crumbs.
For more information, visit the Dairy online at
www.TurkeyHill.com
, on Facebook, or on Twitter (@TurkeyHillDairy).
This post is sponsored by Turkey Hill but as always, opinions are my own.