Asian Turkey Meatballs in under 30 minutes! Drizzled with a spicy peanut sauce, serve as an appetizer or over rice to make it a healthy meal!
My favorite meals to make at home these days have two main ingredients: ginger and soy sauce.  These flavorful meatballs are no exception!  A staple in my refrigerator is Butterball ground turkey from Costco.  It comes in a pack of 6 and we go through it in no time!  Turkey has essentially replaced ground beef at our house because it's so much healthier!  I actually prefer it to beef these days!  I love using it for my red hot chili!
These Asian turkey meatballs combine my two favorite things: Asian cuisine and meatballs! Meatballs are a great food to do meal prep on Sundays because you can throw them over lots of things, or eat them alone!
How do you prepare the meatballs?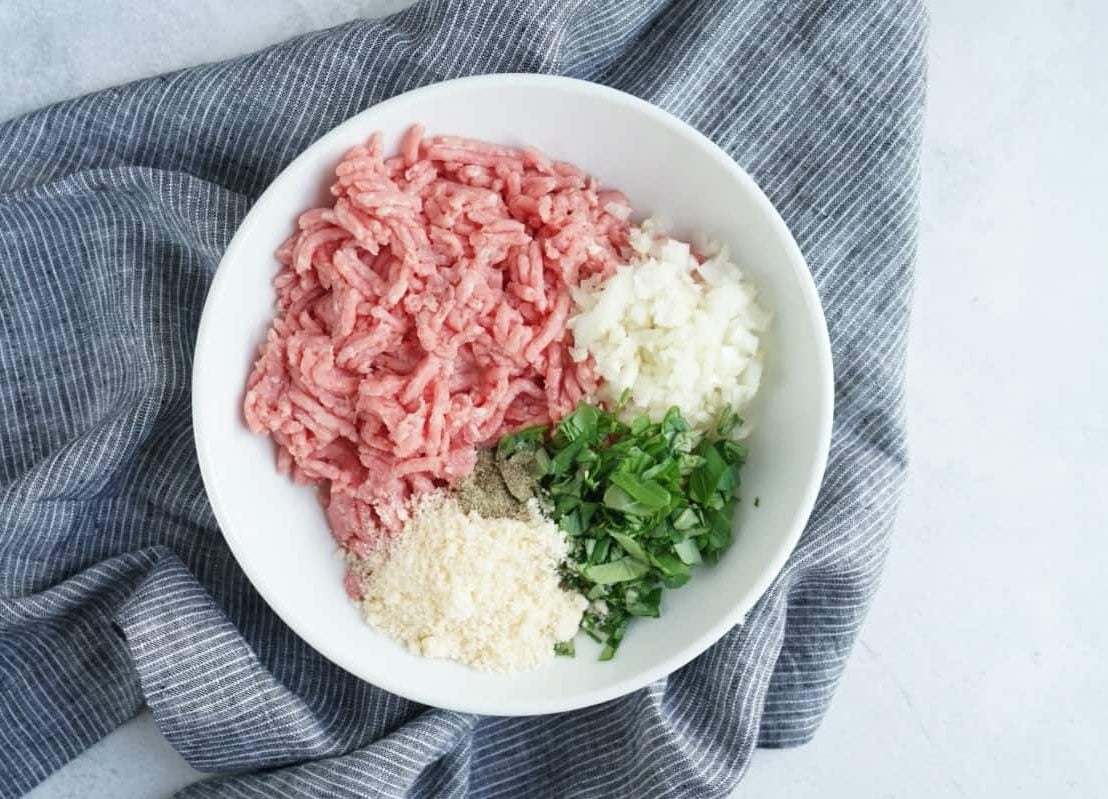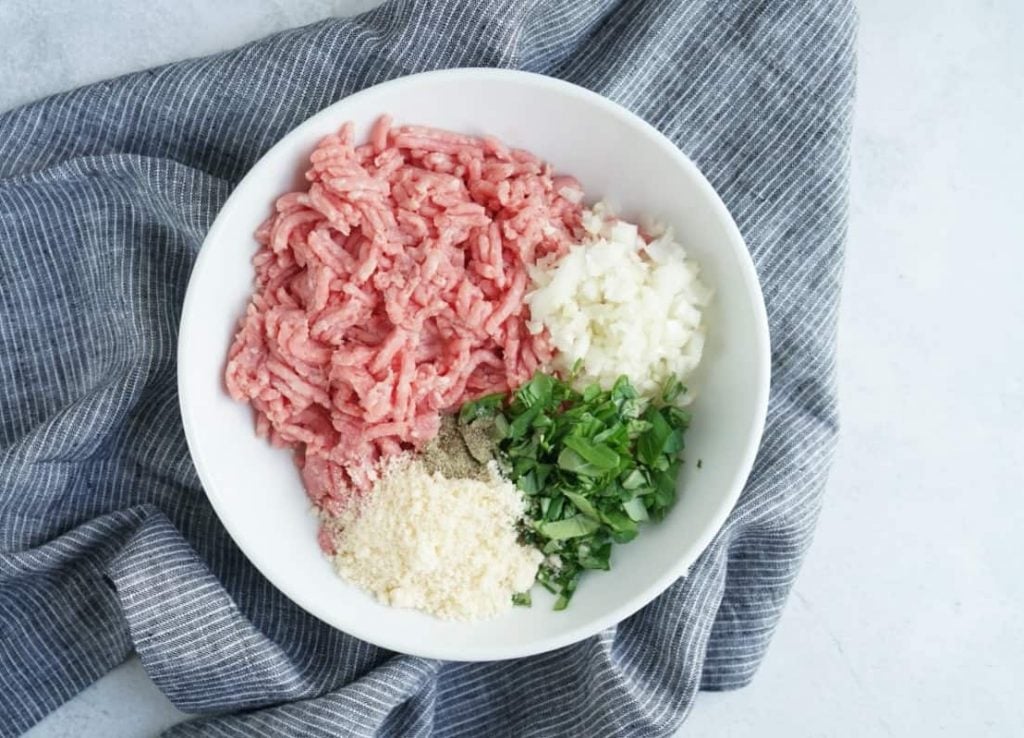 Mixing these up couldn't be easier! Simply combine ground turkey, herbs, breadcrumbs and an egg in a large bowl and mix together with your hands! I like to use a medium-size cookie scoop with release to form the balls, smoothing out any rough edges with my hands after.

How do you cook Asian turkey meatballs?
I baked these Asian turkey meatballs instead of pan-frying. It makes it a lot easier to cook the meatballs and they can be cooked in one batch. I use an oven-safe dish and space them out about 1/2″ apart. I'm also including instructions for the Air fryer if you'd like to go that route as well! If you use the air fryer method, you'll get a slightly crispier exterior, but the same juicy inside. While they're in the oven you can prepare rice or noodles or a healthy green vegetable to complete your meal while they cook! Today I paired my Asian turkey meatballs with some jasmine rice with cilantro, carrot and red cabbage made in my Instantpot!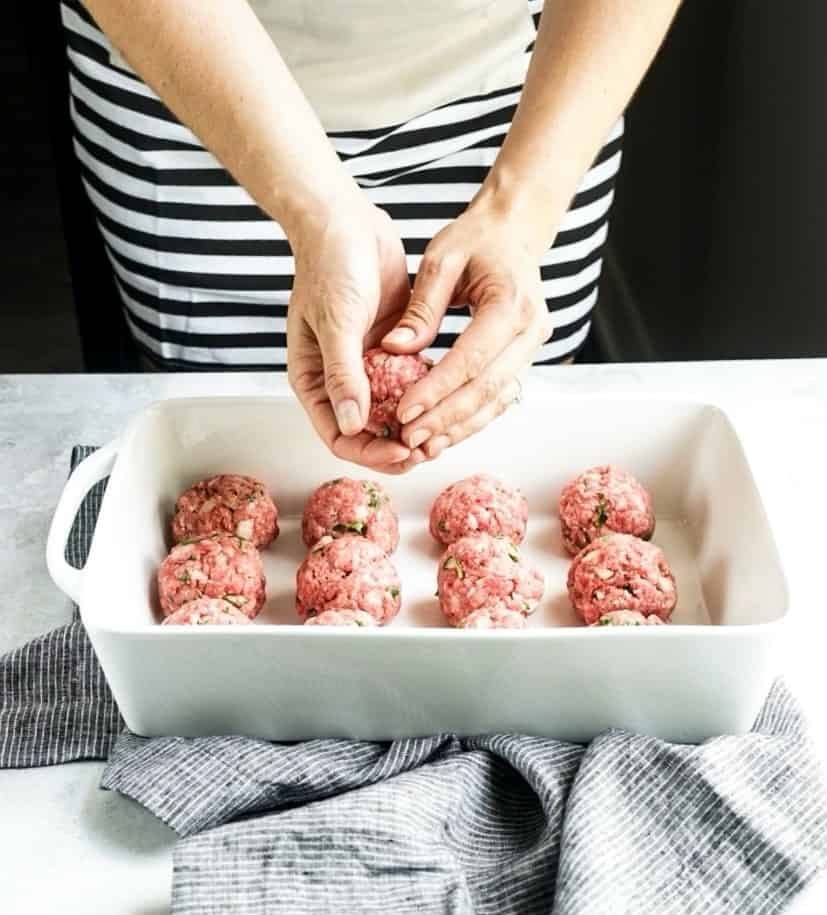 Can I freeze these meatballs?
As I mentioned before, these Asian turkey meatballs are great for meal prep! They keep in the freezer in an airtight container for up to 3 months. When you are ready to eat, either defrost the meatballs overnight and reheat in the oven or microwave. If you're reheating from frozen, bake the meatballs in a 350-degree oven until warmed through.
How do you make the spicy peanut sauce?
This is another dump and go recipe! This mouthwatering sauce adds a spicy nutty kick to your juicy meatballs. Just add all the ingredients for the sauce to a blender or food processor and hit blend! You can thin it down with water to your liking.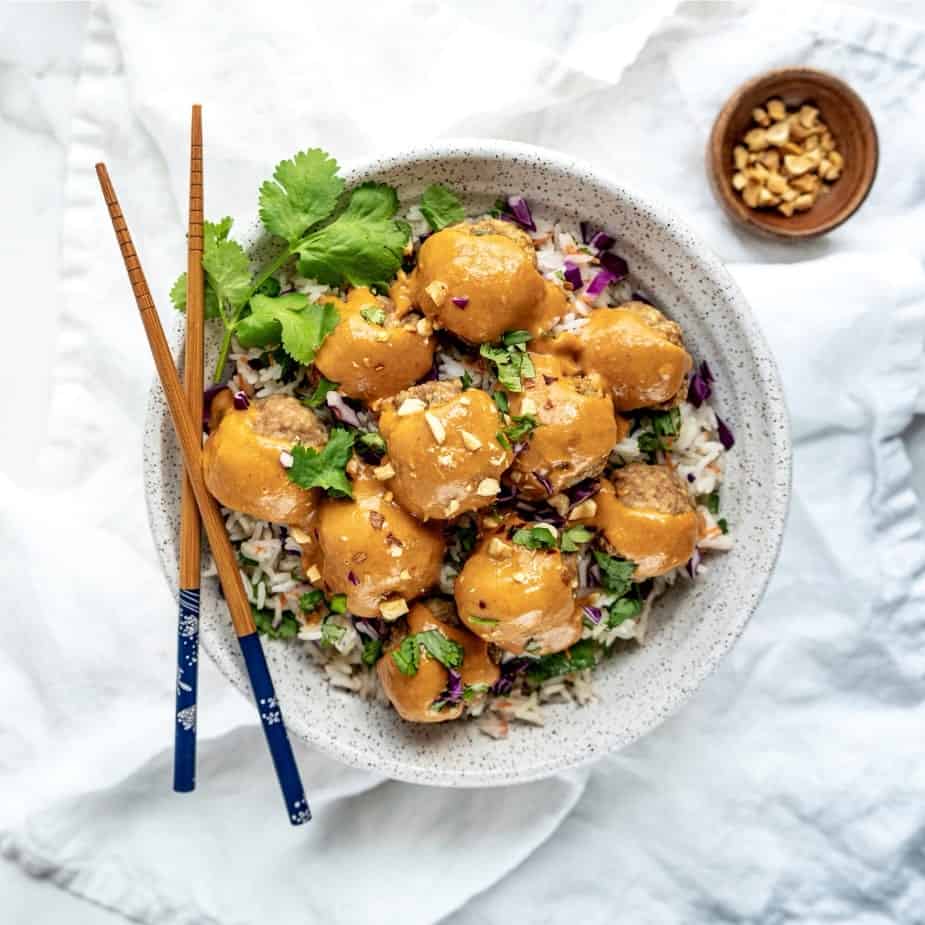 I hope you enjoyed this recipe! If you're still hungry, be sure to check out my air fried salmon bowl!
Print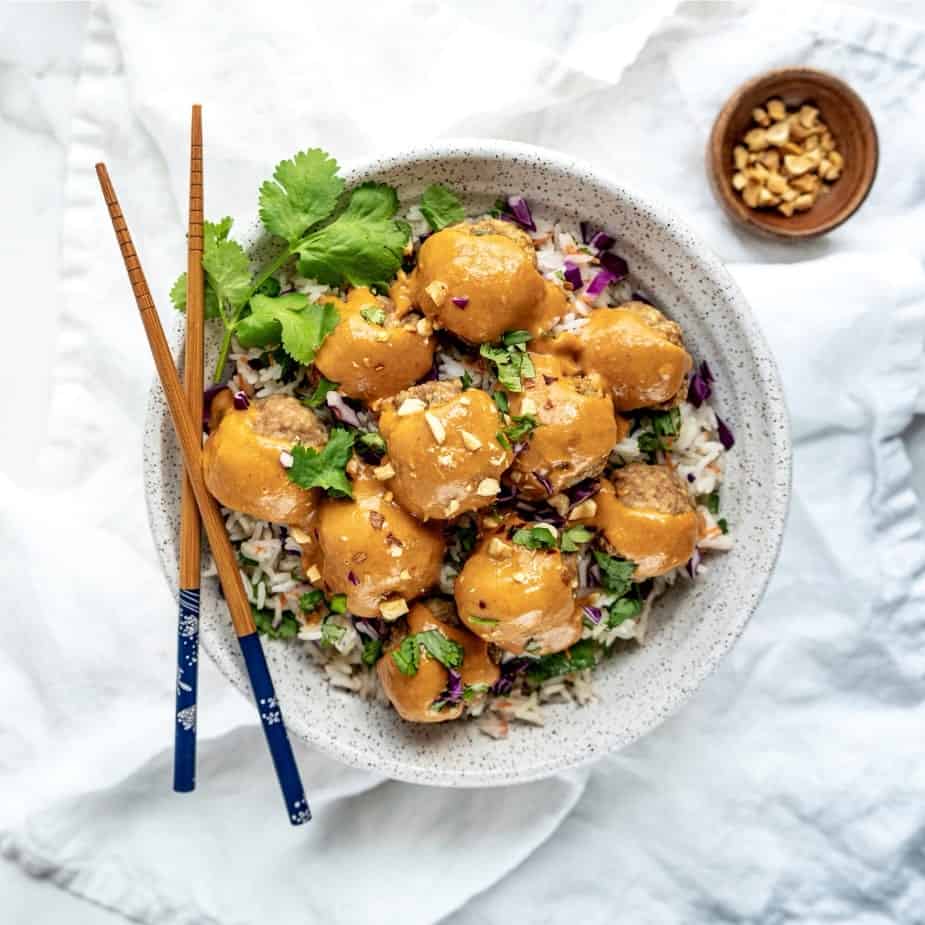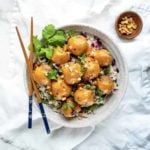 Asian Turkey Meatballs with Spicy Peanut Sauce
Author:

Nicole Triebe

Prep Time:

5 minutes

Cook Time:

20 minutes

Total Time:

25 minutes

Yield:

4

servings

1

x
---
1 lb lean ground turkey
1 tbsp ginger, minced
2 clove garlic, minced
1 egg, beaten
1/4 cup panko bread crumbs
1/2 tsp salt
1/4 tsp pepper
1/4 cup chopped fresh cilantro
1/2 small onion, diced
1 tbsp low sodium soy sauce
For the peanut sauce:
1/2 cup peanut butter ⠀⠀⠀⠀⠀⠀⠀⠀⠀
2 tablespoons Soy sauce⠀⠀⠀⠀⠀⠀⠀⠀⠀
2 tablespoon Sriracha ⠀⠀⠀⠀⠀⠀⠀⠀⠀
2 tablespoons rice wine vinegar⠀⠀⠀⠀⠀⠀⠀⠀⠀
2 tablespoons brown sugar⠀⠀⠀⠀⠀⠀⠀⠀⠀
3 cloves garlic, minced⠀⠀⠀⠀⠀⠀⠀⠀⠀
2 tablespoons grated fresh ginger
1/2 cup water
---
Instructions
Pre-heat oven to 350°F. Combine ground turkey, bread crumbs, egg, onion, cilantro, ginger, salt, garlic and pepper, and soy sauce mixing lightly until mixture is moist and combined.

Using an medium cookie scoop with release, scoop out meatballs and shape with hands. Place in a shallow baking dish and fill dish with water until the water reaches half way up the meatball.

Bake in 350°F oven 20 minutes or until internal temperature reaches 165. If using an air fryer, cook at 350 degrees for 10 minutes or until internal temperature is 165.

To make the sauce, combine all ingredients in a blender and blend until smooth. Thin out with water if necessary.
Spoon sauce over cooked meatballs. Serve alone as an appetizer or over rice for a healthy meal!
---
Want to pin this for later? Click on the image below!