Apple Cinnamon Steel Cut Oatmeal is a quick and delicious breakfast that's perfect for a busy morning!
Steel cut oatmeal continues to be one of my favorite breakfast options each morning.  Every bowl is so customizable, and will keep you full until lunch! I am putting  a festive fall touch on it today with some caramelized apples and cinnamon that you can enjoy all year round!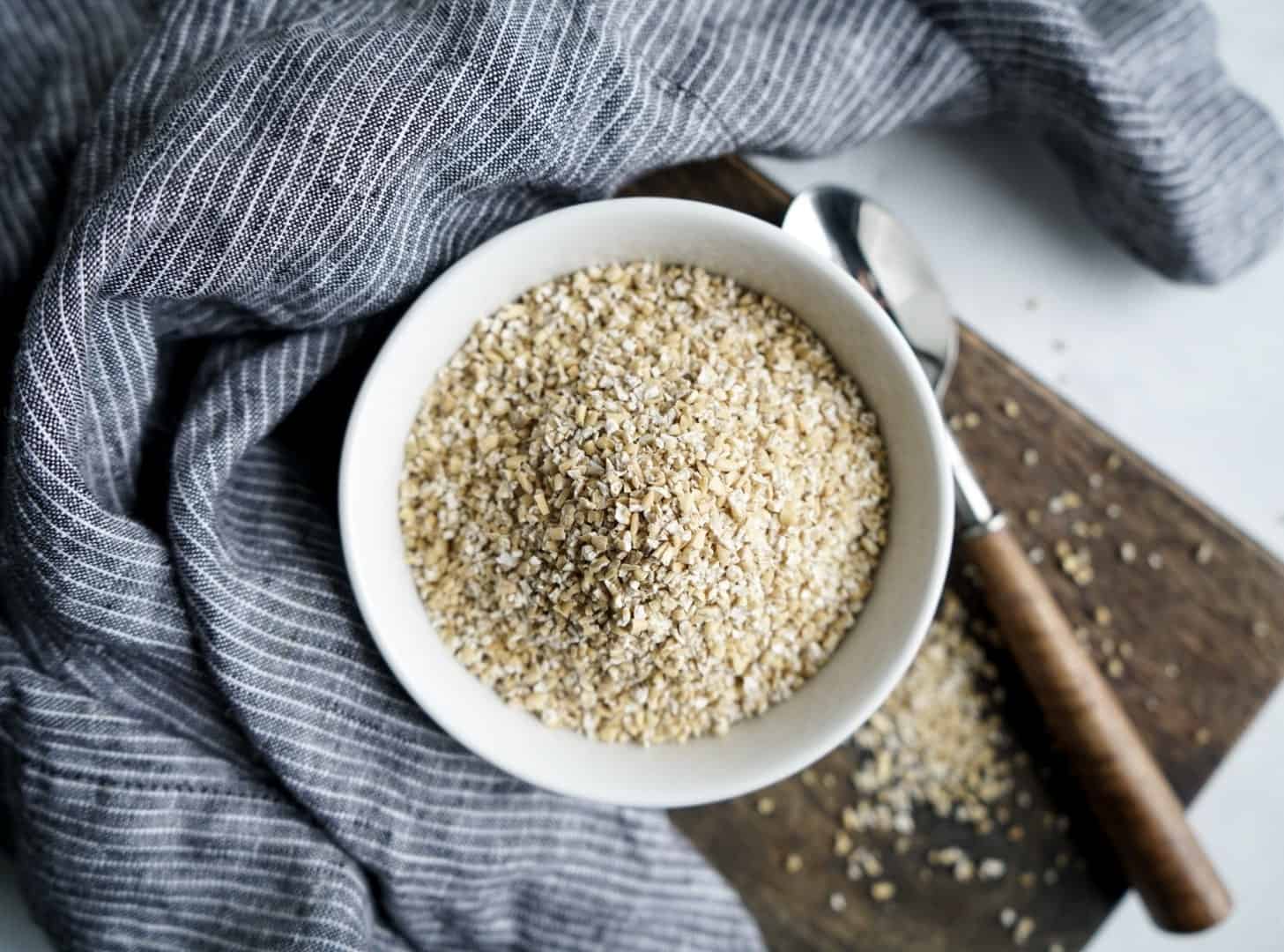 What makes Steel cut oatmeal different than regular oatmeal?
Steel cut oats are dense and chewy as a result of being passed through sharp, steel blades that cut them into thin slices that helps retain more fiber and protein.  Because of this it takes longer to digest, making us feel fuller for a longer period of time.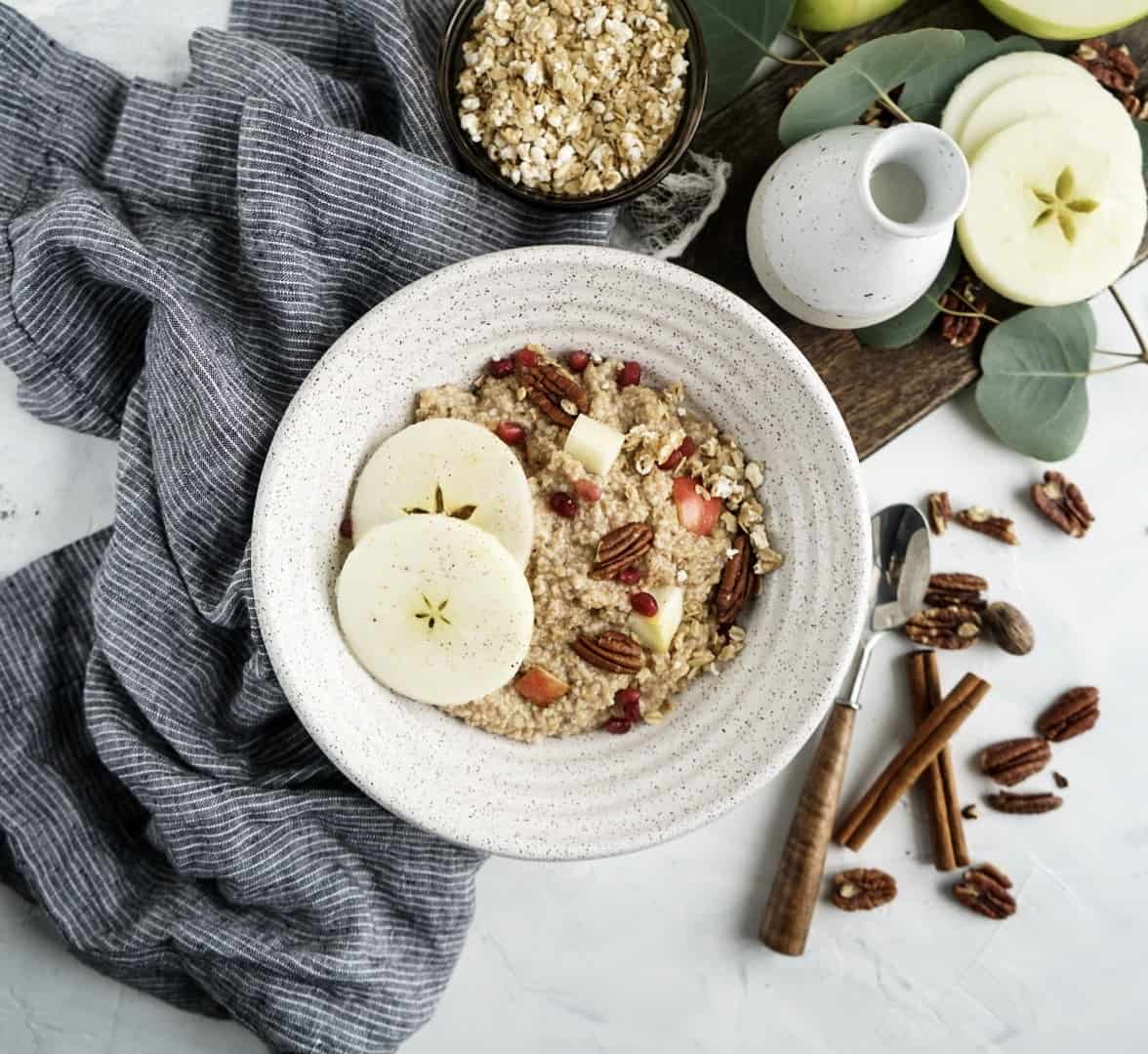 What other health benefits does steel cut oatmeal have?
Steel cut oats are a whole grain, which have been known to reduce cholesterol, high blood pressure and help prevent heart disease, cancer and diabetes. One of the most significant health benefits of Steel-cut oats is that they help eliminate fat and cholesterol from the body.  That means you can feel good when you eat caramelized banana steel cut oatmeal every morning!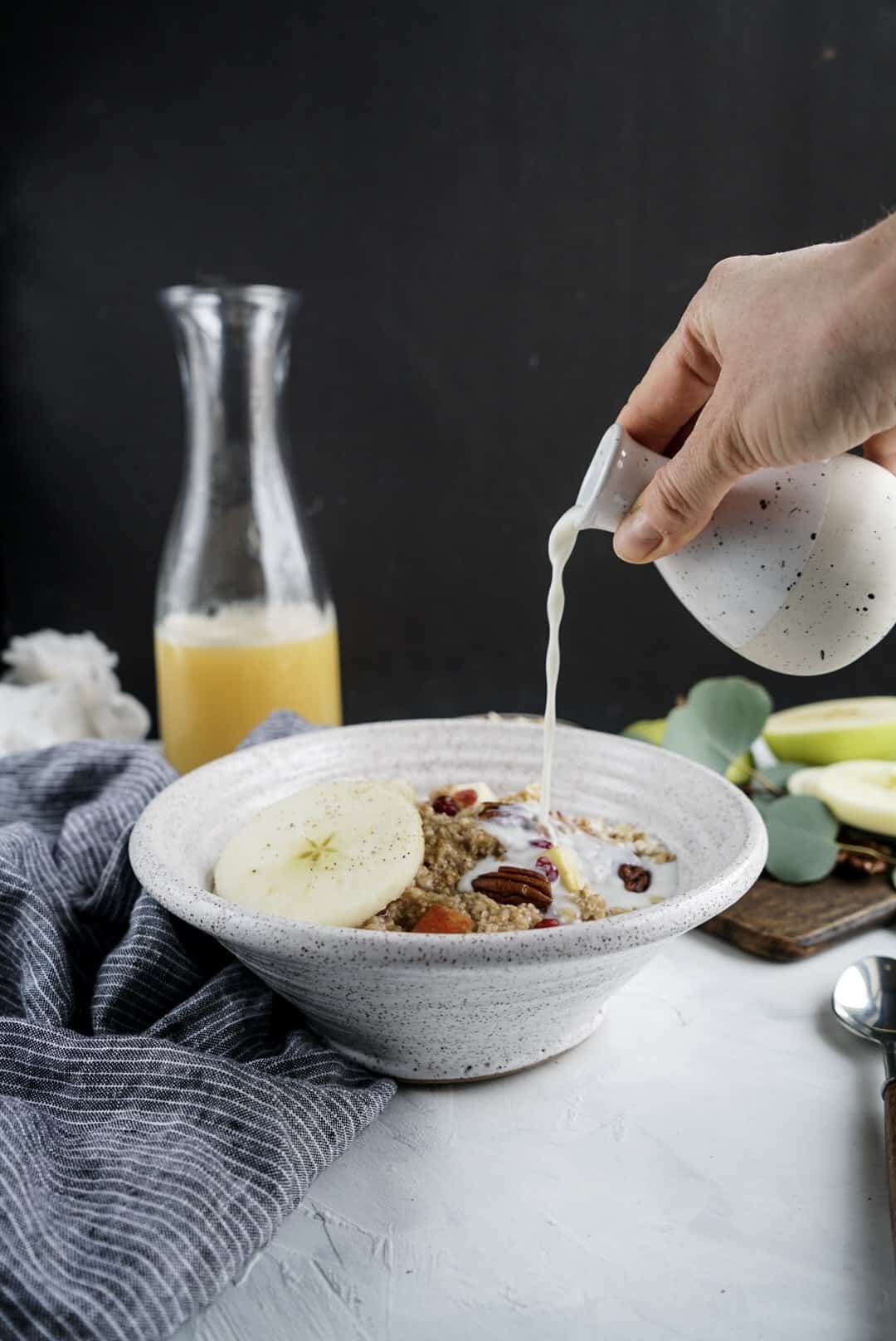 Are steel cut oats Keto?
While steel cut oatmeal is generally considered healthy because they come packed with key vitamins and minerals, their carbohydrate count is too high for those following a low carb ketogenic or Whole 30 diet.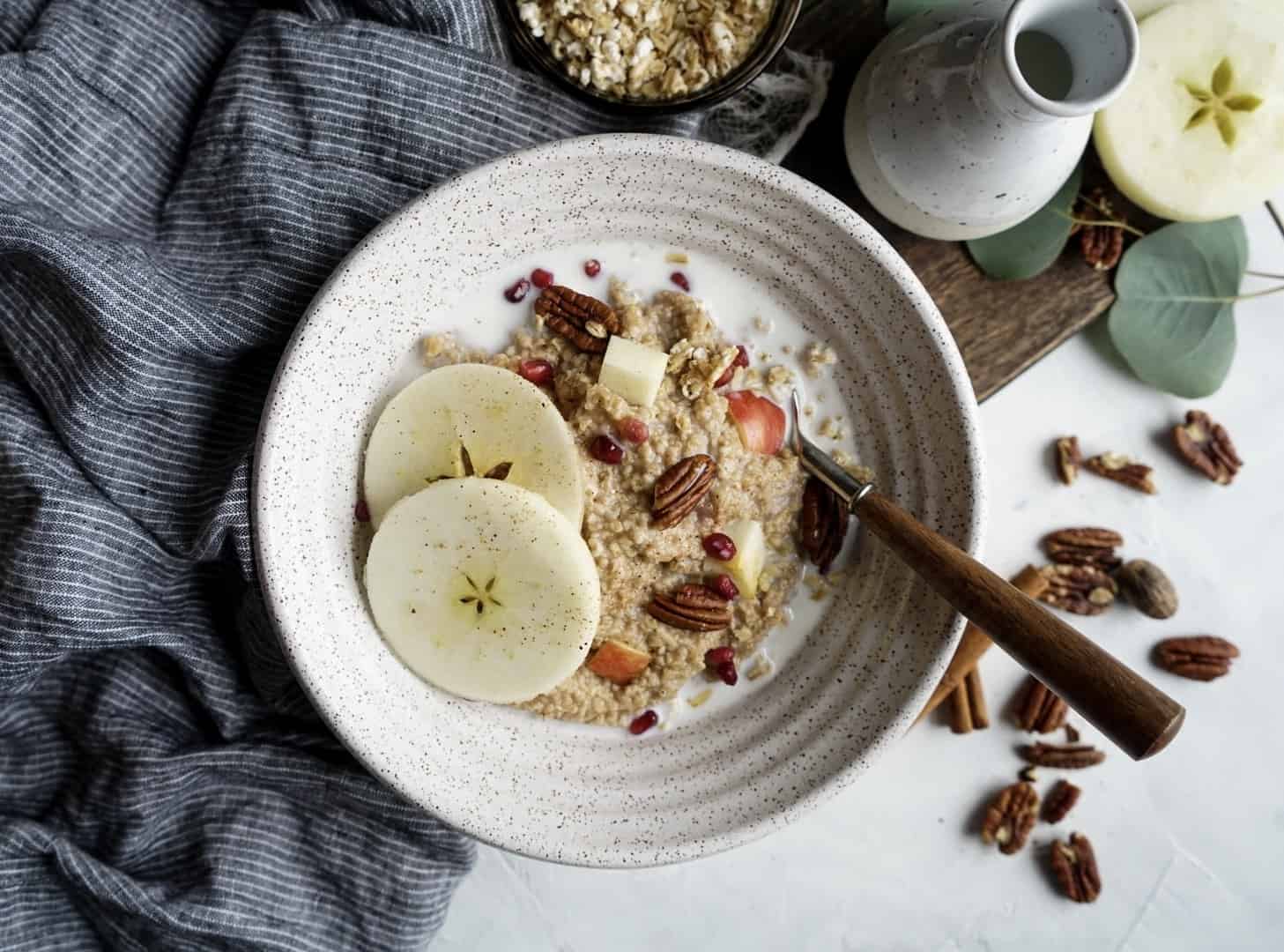 What is the ratio of water to steel cut oatmeal?
The basic ratio for making steel-cut oatmeal is 1 cup of oats to 3 to 4 cups of water.  I have found that less water keeps the oats more intact and chewy while more water makes a silkier oatmeal.  I like mine a little silkier.
How do I prepare Apple Cinnamon Steel Cut Oatmeal?
Start by dicing one medium apple into 1/2 inch pieces.  Melt 2 tbl butter in a non-stick skillet over medium heat and sauté apples for 2 minutes.  Sprinkle with 3/4 cup sugar and 2 tsp cinnamon and sauté for another 5 minutes until tender and lightly caramelized.
In a medium sauce pan, boil water and add a tsp of cinnamon.  Add steel cut oatmeal and cook for 5 minutes.  Add cooked apples and stir to combine.
Print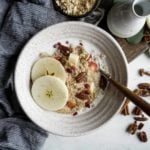 Apple Cinnamon Steel Cut Oatmeal
---
1 cup quick cook steel cut oats
4 cups hot water
1 teaspoon vanilla extract
1 teaspoon cinnamon
1/4 tsp nutmeg
2 medium apples, diced
3 tbl butter
1/8 cup sugar
2 tsp cinnamon
1/4 tsp nutmeg
---
Instructions
Bring water and cinnamon to a boil in a deep sauce pan, add steel cut oats and cook covered for 5 minutes on low.
In a sauté pan over medium heat, add butter and apples and sauté until slightly softened.
Add sugar and nutmeg to the pan with apples
Remove oats from heat and let sit for 5 minutes. Fold in apples.
Garnish with pecans and serve.
---
Want to pin this for later? Click on the image below!