Super Soft And Full Of Apple Goodness – This Apple Butter Snickerdoodle Cookie Recipe Is Sure To Be A Hit!
Sundays are becoming my favorite day of the week.  It's a day for sleeping in, late brunches, and afternoon bake sessions!  I rarely get to bake for fun, so i'm making a point this fall season to come up with some seasonal yummies that my family and friends can enjoy.  Remember the apple butter I made the other week? I put the leftovers to good use and made these apple butter snickerdoodles today and Allison has declared that they're the best thing she's ever eaten! Will you agree? Test out this chewy snickerdoodle recipe!
Why is it called a Snickerdoodle?
The Joy of Cooking claims that snickerdoodles are probably German in origin, and that the name is a corruption of the German word Schneckennudeln ("snail noodles"), a kind of pastry. Not sure how that word adapted, but I do admit that there is something sweet and fun about the word.
What's the difference between a sugar cookie and a snickerdoodle?
Although they're pretty similar, the true difference between snickerdoodles and sugar cookies comes down to one ingredient. While snickerdoodles and sugar cookies share a lot of basic ingredients (flour, sugar, butter), there is one key ingredient that's critical to the signature snickerdoodle taste: cream of tartar.
This chewy apple butter snickerdoodle also contains cornstarch!  Cornstarch is not only used to thicken sauces and mixtures, but it can be used in baked goods such as cookies or cakes, too! Cornstarch used in combination with flour can "soften" the harsh proteins of flour, making a more tender and chewy cookie.  In my opinion, this is the BEST kind of cookie.  Don't you agree?!?
Why is there cream of tartar in my snickerdoodle?
Cream of tartar is an acid and is typically combined with baking soda to making baking powder, which is the more typical ingredient in cookie recipes. It actually gives snickerdoodles a very distinctive flavor! 
I don't have any cream of tartar.  Can I substitute it?
If you don't have it in your pantry and your recipe calls for it, you can just substitute fresh lemon juice or white vinegar for the cream of tartar. For every 1/2 teaspoon of cream of tartar in the recipe, use 1 teaspoon lemon juice or white vinegar.  Add 1/2 teaspoon lemon juice per egg white.  Or 

Why do I have to chill my cookie dough before baking?
If you're impatient like me, chilling cookie dough before baking is torture!  But I have great news.  Chilling your apple butter snickerdoodle dough solidifies the fat in your cookies. As the cookies bake, the fat in the chilled cookie dough takes longer to melt than room-temperature fat. And the longer the fat remains solid, the less cookies spread.  It results in a chewier cookie!  
How can I store my apple butter snickerdoodles?
Most cookies can stay fresh when stored in an airtight container at room temp for about 3 days. If you are wanting them to last longer, you can freeze them!
Print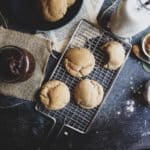 Chewy Apple Butter Snickerdoodles
Author:

Nicole Triebe

Prep Time:

25 minutes

Cook Time:

9 minutes

Total Time:

34 minutes

Yield:

3

dozen

1

x
---
3 1/4

all purpose flour

3 1/2 tsp

cornstarch

1 tsp

cream of tartar

1 tsp

baking soda

1/2 tsp

baking powder

1/2 tsp

salt

1 tsp

cinnamon

1/2 tsp

ground ginger

1/4 tsp

ground nutmeg

1/4 tsp

allspice

1 cup

sugar

3/4 cup

brown sugar

1 cup

shortening

1

egg yolk

3/4 cup

apple butter

2 tsp

vanilla
For Rolling:
1/4 cup

sugar

2 tsp

cinnamon
---
Instructions
Sift together the dry ingredients and set aside.
Using a paddle attachment on a stand mixer, cream butter, sugar and brown sugar until just combined. Scrape down the sides of the bowl during the entire mixing process. Mix in egg yolk, then apple butter and vanilla. With mixer on low, slowly add dry ingredients and mix until just combined. Cover with plastic wrap and refrigerate for 1 hour.
Preheat oven to 350 degrees.
Combine 1/4 cup sugar and 2 tsp cinnamon in a small bowl.
Using a cookie scoop with release, scoop out dough and roll in the palm of your hands. Roll cookie dough in cinnamon and sugar mixture and evenly coat the cookie dough ball.
Place on silpat or parchment paper lined baking sheet about 2 inches apart. Bake for 9 minutes. They'll look slightly underbaked when you remove from the oven. Do not overbake!
Cool on baking sheet for 5 minutes before transferring to cooling rack to cool completely.
---
Want to pin this for later? Click on the image below!