Tart Cherry Froyo Popsicles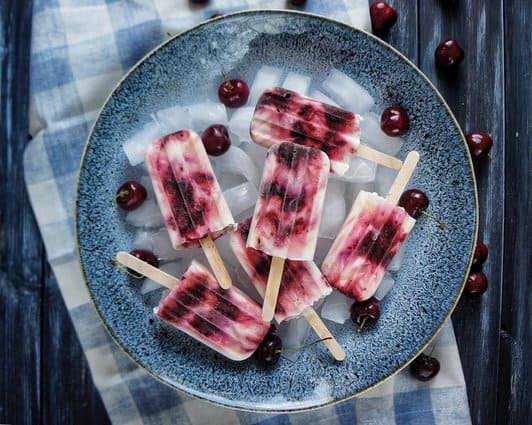 Summer is coming to a close, and i am taking full advantage of these last days of warm weather.  I teamed up with Biotta Juices to make these Tart Cherry Froyo Popsicles.  Once you see how easy these are, you'll never visit the freezer section of your grocer again!
1 cup plain Greek yogurt
1 Tbsp honey
½ tsp vanilla extract
3/4 cup cherries frozen
¼ cup biotta tart cherry juice
In a small bowl, combine yogurt, honey, and vanilla.
In a food processor, grind the cherries and Biotta Cherry Juice until fairly smooth.
Add a spoonful of yogurt to each mold, followed by a spoonful of cherry. Keep adding yogurt and cherry, in alternating layers, until the mold are full. Freeze until hard (at least 6 hours)
Enjoy!