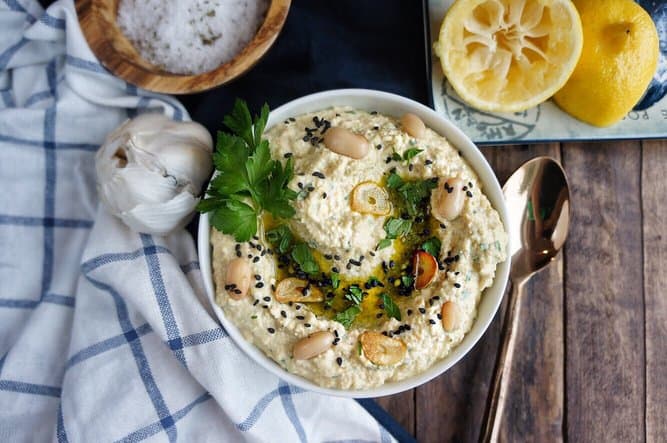 I find myself making Mediterranean food at least once a week these days.  Ever since buying our house last year, we haven't been able to find a great Mexican restaurant for take out, and Mediterranean food has been our new go to for ordering in.  I wanted to recreate these authentic Mediterranean meals, and a main component of that is hummus! This Lupini bean dip is a slight variation of the traditional hummus, but it's just as delicious!! Hope you love this recipe as much as I do!
Half head of roasted garlic
350 g Brami Garlic and Herb lupini beans
3 tablespoons tahini
Juice of a small lemon
2 tsp lemon zest
1 teaspoon sea salt
1/2 teaspoon pepper
Water, to thin
1 TBL fresh Italian parsley, chopped
To roast the garlic oil, add the cloves and oil to a small baking dish and roast at 390 F˚ until the cloves are soft, about 20 minutes. Let cool.
To make the hummus, squeeze the meat from half the garlic cloves into a food processor. Add the lupini tahini, lemon juice and zest, salt and pepper, parsley, and process to a paste. It will be really thick, so slowly add water to reach the consistency you like. Add salt and pepper to taste.
Garnish with additional olive oil and parsley.  Serve with fresh veggies or pita.
Enjoy!